School districts across the state of Ohio are developing extended learning plans to continue student acceleration of learning. This is the 5th blog in the series of Extended Learning Plans and the Simple View of Reading.
Literacy at the Foundation of Learning
Literacy skills lay at the foundation for all learning. Success in reading, writing, speaking, and listening competencies is directly related to the language and literacy skills that students possess and has a direct impact on all content areas and across all grade levels. It is for this reason that a focus on literacy is important to include in extended learning plans.
Let INFOhio, Ohio's PreK-12 digital library, be your school district's partner as you accelerate and extend student learning. INFOhio offers a variety of PreK-12 digital learning resources at no cost to Ohio's students, educators, and parents that can support the Simple View of Reading's foundational literacy skills including vocabulary acquisition across the Language and Literacy Development Continuum.
Simple View of Reading
Ohio's Plan to Raise Literacy Achievement is grounded in the framework of the Simple View of Reading and the instructional concepts that are needed in literacy development from emergent to adolescent language and literacy. Learning to read requires learners to develop two foundational skill sets: to read each word accurately and fluently within a text, and understand that the text conveys meaning. This is the Simple View of Reading.

Using this formula helps educators identify areas of instructional need for striving readers. The Simple View of Reading applies across all grade levels and can be used as a guide for your extended learning plan for literacy. Alphabet knowledge, fluency, background knowledge, vocabulary, and writing instruction are all components of the Language and Literacy Continuum that INFOhio resources can help to support. Let the instructional components of the Simple View of Reading and INFOhio help you help your learners this summer.
Vocabulary Acquisition
The Report of the National Reading Panel summarized several decades of scientific research and found that effective reading instruction includes five critical areas: phonemic awareness, phonics, fluency, vocabulary, and comprehension. According to the National Assessment of Educational Progress Report from 2012 there is a consistent relationship between performance on vocabulary and performance on reading comprehension. Additional data from "2011, [showed that] 4th and 8th grade students performing above the 75th percentile in reading comprehension also had the highest average vocabulary scores."
Strong vocabulary instruction includes explicit instruction of new words and the practice of using these words multiple times and in multiple ways. Exposure to higher level texts with new vocabulary also helps broadens students' knowledge base. Explicit instruction in vocabulary includes teaching students the meaning of words, techniques to determine word meanings from context, and the meaning of roots and affixes. While "dictionary work [alone] is not particularly helpful in increasing student vocabulary...multiple or enriched definition procedures, semantic mapping, and categorization provide learning advantages" (Shanahan, 2005).
Teaching vocabulary can be explicit through direct instruction or implicit through exposure to multiple texts and discussion. Try these strategies and additional strategies from Reading Rockets to support vocabulary acquisition with your students:
Word Walls or Word Lists
Frayer Model or Word Maps
Morphology-based Vocabulary Instruction
In many early elementary classrooms, word walls are organized alphabetically or sometimes even by letter sound and called sound walls to support phonemic and phonological awareness. High-frequency and sight words are added to help students with letter and sound recognition. In older elementary classrooms and beyond, word walls or word lists may be organized by content area or subject to help students understand the relationships between words.
No matter how they are organized just having the words displayed on the wall is not enough. It is important that students take ownership of determining categories of newly learned vocabulary words and placing words as they are learned in these created categories or creating new categories if needed. Using word walls in that way can "provide valuable opportunities for learning or self-teaching [and] require students to constantly review the vocabulary they were learning and to make decisions about word relationships" (Shanahan, 2021). Best practices for using word walls or creating lists of words should emphasize:
adding new vocabulary words on a regular basis.
focusing on content-area vocabulary to support curriculum.
having students categorize new words by meaning, type, or category.
having teachers refer to the word wall often for consistent and continued exposure to curricular vocabulary.
Using the Frayer Model, word maps, or visual organizers requires students to develop a definition, synonyms, antonyms, a drawing or image, and make a sentence for each new vocabulary word. Seeing a definition in multiple formats will help students develop a deeper understanding of each vocabulary word. Studying Greek and Latin roots, as well as the meaning of prefixes and suffixes, can also help students make connections between words. In the article, The Roots of Comprehension, "morphological patterns provide the foundation of much content-area vocabulary, as up to 76 percent of commonly occurring academic words share morphological roots" (Rasinski, et. al., 2017).
World Book Kids, World Book Student, and World Book Advanced
World Book offers PreK-12th grade students online encyclopedias that provide informational text articles, eBooks, videos, primary sources, activities, read-aloud options, and translation features. World Book Kids, Student, and Advanced offer an in-text dictionary. By simply double tapping on a word, it will open a pop-up window with the dictionary definition of the word along with pronunciation. Providing students with the definitions of words at their fingertips helps to build vocabulary and comprehension of a text. Combine the dictionary use in World Book with a Word Map so students can deepen their understanding of the word by requiring students to define it in multiple ways.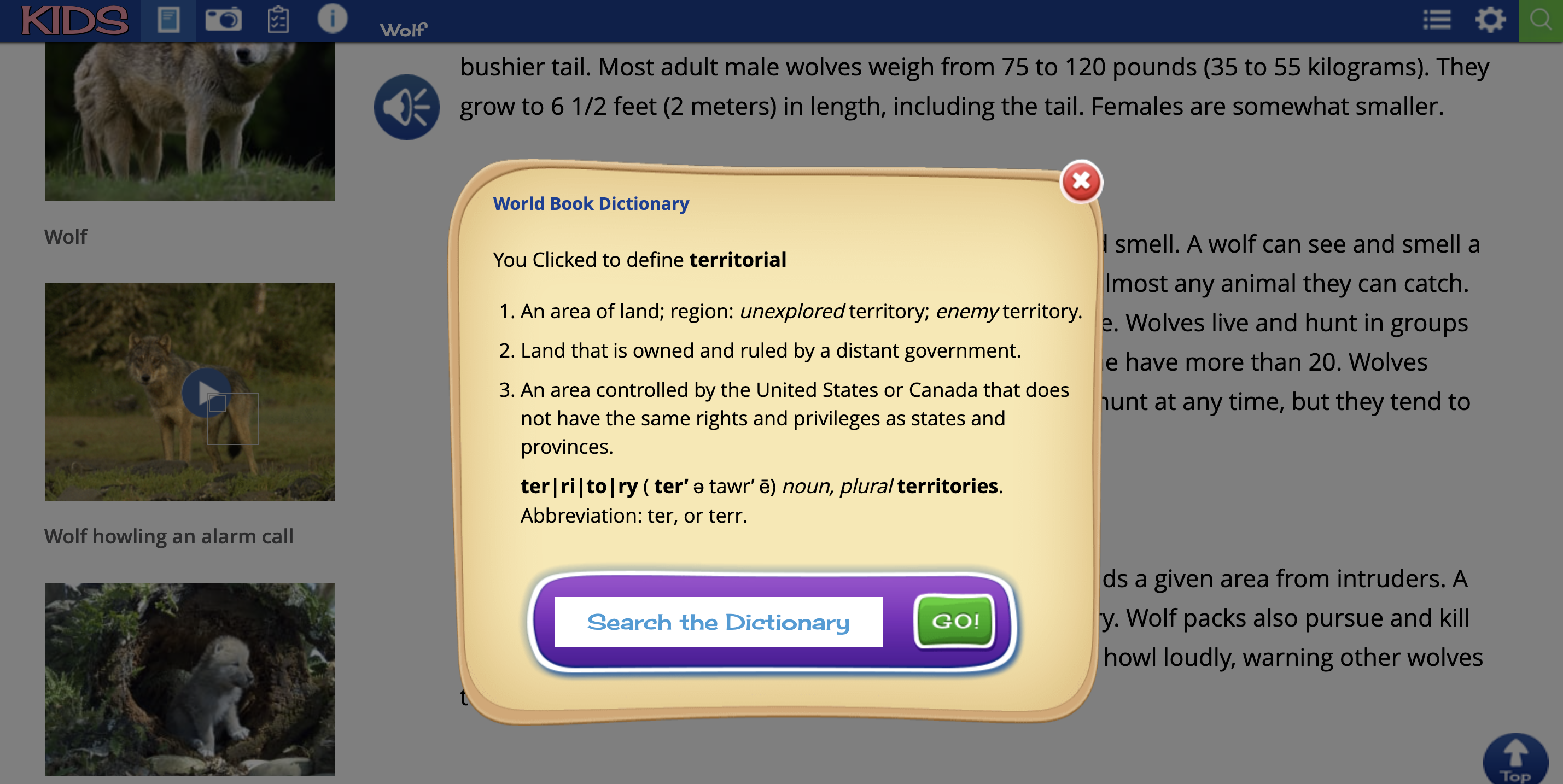 BookFlix
BookFlix includes more than 140 pairs of nonfiction and fiction titles on many different categories including people and places, animals and nature, and more. Nonfiction titles are in the form of eBooks and have a read aloud feature that can be turned on or off. Fiction titles are videos, provided by Weston Woods, that include captions of the story as it is played. BookFlix has a Word Match game for most of the nonfiction titles. This game uses targeted vocabulary words from the informational text book and combines matching definitions of the word to reveal an image. Read Africa by Allan Fowler and take the Word Match challenge, as seen in the image below. BookFlix also includes more games and activities that help with comprehension of the text and give students a way to Dive Deeper by providing additional outside websites in Explore the Web.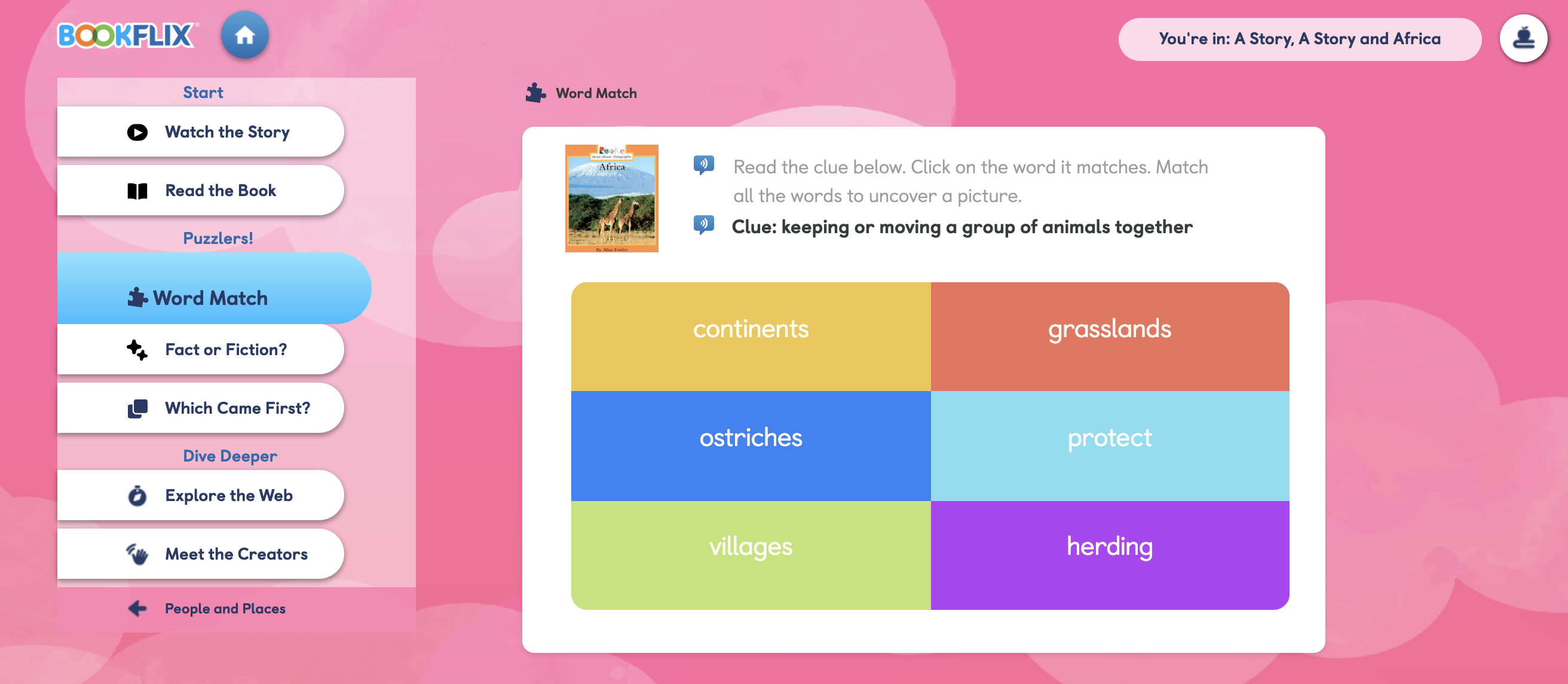 INFOhio, Ohio's PreK-12 Digital Library, is dedicated to providing equitable access to quality instructional materials to meet students where they are. All resources are provided at no cost to Ohio's educators, students, and families. To help support teachers with the instructional components in the Simple View of Reading and help you plan for extended learning, tune in for the final blog in this series that will share specific strategies and INFOhio resources that can support writing instruction.
For even more specific information about strategies and how INFOhio can support you, check out the first four blogs in this Simple View of Reading series:
INFOhio has what you need to engage learners in extended learning activities that will accelerate learning and provide access to multiple, quality digital resources across the disciplines.
We are always here to help! If you need further support or have any questions, contact support.infohio.org.