Ohio Governor Mike DeWine, during his Feb. 9, 2021 press conference, asked schools and districts to work with their communities to create plans to elevate student success. He requested that schools and districts design a needs-tailored plan for learning acceleration by April 1. School districts across the state of Ohio are designing and creating an Extended Learning Plan to accelerate student learning by offering various opportunities like lengthening the current school year, adding time to instructional days, offering more tutoring opportunities, or creating summer learning activities and experiences.
Although there is not a required template for school district's plans, The Ohio Department of Education in partnership with the Educational Service Center Association has developed an optional template, Learning Recovery & Extended Learning Plan Template, that schools and districts can use.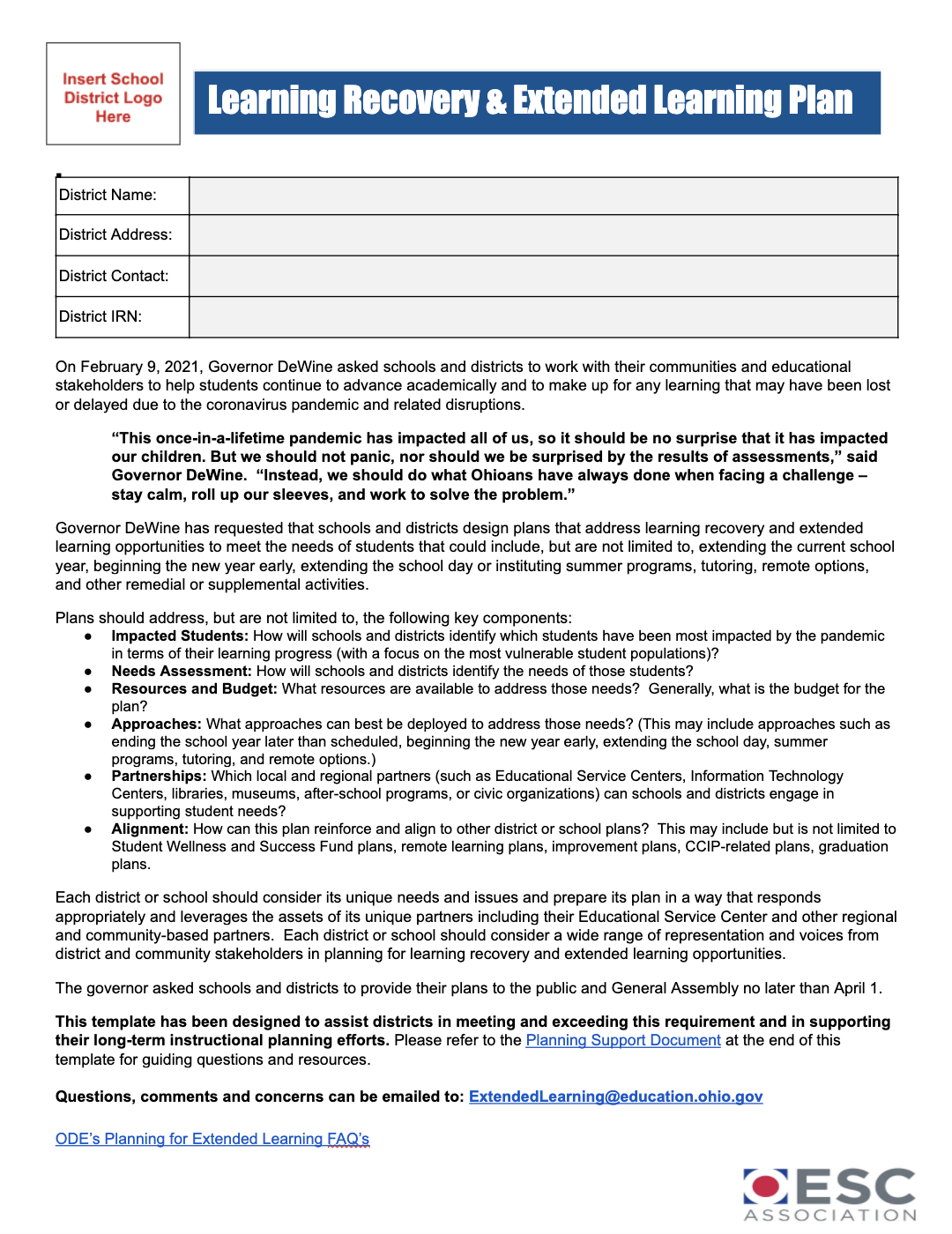 Literacy at the Foundation of Learning
Part of the Learning Recovery & Extended Learning Plan Template requires districts to share the resources and partnerships that will be included in their plan. Let INFOhio, Ohio's PreK-12 digital library, be your school district's partner as you accelerate student learning. INFOhio offers a variety of PreK-12 digital learning resources at no cost to Ohio's students, educators, and parents that can support literacy skills across the Language and Literacy Development Continuum.  
Literacy skills lay at the foundation for all learning. Success in reading, writing, speaking, and listening competencies is directly related to the language and literacy skills that students possess and has a direct impact on all content areas and across all grade levels. It is for this reason that a focus on literacy is important to include in extended learning plans. 
The Ohio Department of Education recently released data on the Kindergarten Readiness Assessment - Revised (KRA-R) and the Third Grade English Language Arts Assessment from the fall of the 2020-2021 school year. Across the board scores are lower than the 2019-2020 school year.
KRA-R and Third Grade ELA Assessment
47.6% of students who took the KRA-R scored Not on Track for language and literacy, which is a higher percentage than in the previous three years. 
23.7% of students who took the KRA-R scored Emerging, the lowest performance category, which is a higher percentage than in the previous three years.
Third Grade ELA proficiency rates dropped 8 percentage points from the 2019 rates.
There is not a single indicator for this lowered performance. These unprecedented times have caused an upheaval in many areas of our everyday lives. The combination of forced remote learning, lack of connectivity and devices, and decreased student engagement have all contributed to this decline in scores. The data is an indication that extended plans may want to include targeted literacy instruction to continue to develop the needed language and literacy skills in the various forms, whether as summer camps, summer packets, or other approaches to extend learning for the 2020-2021 school year. From the words of Ohio's Plan to Raise Literacy Achievement, "acquiring language and literacy skills affects learners' access to, and interest in, content materials and instruction at all grade levels and all aspects of their lives. Thus, Ohio does not treat language and literacy as a separate field of study or course, but layers them over all aspects of education."
Simple View of Reading
Ohio's Plan to Raise Literacy Achievement is grounded in the framework of the Simple View of Reading and the instructional concepts that are needed in literacy development from emergent to adolescent language and literacy. Learning to read requires learners to develop two foundational skill sets: to read each word accurately and fluently within a text, and understand that the text conveys meaning. This is the Simple View of Reading.
In the image below, from the National Center on Improving Literacy, a learner can only begin to develop meaning and understanding of words by first recognizing that each letter makes a sound and forms a word. Then, after the learner develops accuracy and fluency, the learner can comprehend the meaning and make sense of the text. The foundational skills of word recognition and language comprehension cannot be taught exclusively; they need to be taught together. These skills must be taught systematically, explicitly, and consistently for students to become strong readers. Including foundational skills of reading and writing in your extended learning plans will help with consistent and continued literacy instruction for all learners.
The term Simple View of Reading first appeared in 1986 in an article written by two scientists, Phillip Gough and William Tunmer. As explained in, The Article that Introduced the Simple View of Reading, Gough and Tunmer wanted to "show that decoding, along with linguistic comprehension, was central to reading comprehension and not simply an unimportant side effect of learning to read" (Kilpatrick, 2020). Since then there have been over 150 scientific studies to validate the accuracy of the Simple View of Reading and its ability to support reading instruction across grade levels and reading skill levels. One of these studies, The Simple View of Reading Across Development: Prediction of Grade 3 Reading Comprehension From Prekindergarten Skills, found that preschool indicators of word recognition and language comprehension were strong predictors of reading comprehension 5 years later when these students were in third grade. This study demonstrates the importance of early language skills for reading comprehension. Another study supports the continued literacy instruction with adolescents and using the Simple View of Reading to classify readers based on their strengths and weaknesses in word recognition and language comprehension. Using an evidence-based approach to literacy, like the Simple View of Reading, gives educators the peace of mind that they are supporting students in the best way possible. First identify areas where students are struggling the most, in word recognition skills or language comprehension skills, and then provide explicit instruction opportunities in the extended learning plans to support the development of these skills. This skill development could come in the form of individual needs-based tutoring, small group work, or summer learning activities and experiences. 

Using this formula helps educators identify areas of instructional need for striving readers. The Simple View of Reading applies across all grade levels and can be used as a guide for your extended learning plan for literacy. For example, Emergent and Early Language and Literacy learners may need more exposure to Word Recognition instructional concepts such as phonological processing and awareness, print awareness and knowledge, alphabet knowledge, and writing letters. Meanwhile, older readers who fall in the Conventional and Adolescent Language and Literacy part of the continuum may need instructional support with fluency, background knowledge, vocabulary, language structures, verbal reasoning, and literacy knowledge. Even with this shift in instruction, some students may still need targeted instruction in both Word Recognition components and Language Comprehension components to continue to grow in their language and literacy development. Let the instructional components of the Simple View of Reading help you help your learners this summer.

INFOhio, Ohio's PreK-12 Digital Library, is dedicated to providing equitable access to quality instructional materials to meet students where they are. All resources are provided at no cost to Ohio's educators, students, and families. To help support teachers with the instructional components in the Simple View of Reading and help you plan for extended learning, tune in for a weekly blog series that will share specific strategies and INFOhio resources that can support learning in:
INFOhio has what you need to engage learners in extended learning activities that will accelerate learning and provide access to multiple, high-quality digital resources across the disciplines. We are always here to help! If you need further support or have any questions, contact support.infohio.org.