School districts across the state of Ohio are developing extended learning plans to continue student acceleration of learning. This is the 3rd blog in the series of Extended Learning Plans and the Simple View of Reading.
Literacy at the Foundation of Learning
Literacy skills lay at the foundation for all learning. Success in reading, writing, speaking, and listening competencies is directly related to the language and literacy skills that students possess and has a direct impact on all content areas and across all grade levels. It is for this reason that a focus on literacy is important to include in extended learning plans.
Let INFOhio, Ohio's PreK-12 digital library, be your school district's partner as you accelerate and extend student learning. INFOhio offers a variety of PreK-12 digital learning resources at no cost to Ohio's students, educators, and parents that can support the Simple View of Reading's foundational literacy skills including fluency and automaticity across the Language and Literacy Development Continuum.
Simple View of Reading
Ohio's Plan to Raise Literacy Achievement is grounded in the framework of the Simple View of Reading and the instructional concepts that are needed in literacy development from emergent to adolescent language and literacy. Learning to read requires learners to develop two foundational skill sets: to read each word accurately and fluently within a text, and understand that the text conveys meaning. This is the Simple View of Reading.

Using this formula helps educators identify areas of instructional need for striving readers. The Simple View of Reading applies across all grade levels and can be used as a guide for your extended learning plan for literacy. Alphabet knowledge, fluency, background knowledge, vocabulary, and writing instruction are all components of the Language and Literacy Continuum that INFOhio resources can help to support. Let the instructional components of the Simple View of Reading and INFOhio help you help your learners this summer.
Supporting Fluency
According to Reading Rockets, "Fluency is defined as the ability to read with speed, accuracy, and proper expression. In order to understand what they read, children must be able to read fluently whether they are reading aloud or silently." Being a fluent reader is an essential part of reading comprehension "because it permits the reader to focus on constructing meaning from the text rather than on decoding words" (Chase Young, et al. 2020). Hearing books read aloud provides various opportunities for students to hear how sounds, words, and sentences come together. In addition, fluency is supported when students have a choice of what they hear during read alouds.
According to a summary of fluency research in Strategies to Increase Reading Fluency, additional strategies to support fluency instruction have been identified as repeated reading, peer tutoring, and previewing.
Repeated reading is a strategy used where students select a passage or story of their choice. Then they practice reading the passage with accuracy, at an understandable rate, and with expression. The more students practice, the better readers they will become.

Peer tutoring or buddy reading pairs students off and allows them to read to each other. Buddies take turns reading to each other and identify mispronounced words to help each other become more fluent readers.

Previewing has the teacher read a story or passage aloud before students read it. This allows students to hear what the story is supposed to sound like prior to reading it independently.
In the Simple View of Reading, developing fluency occurs in the Conventional Language and Literacy development stage in elementary school and continues to develop through the middle grades. BookFlix and Highlights Library offer a library of books that students can read and listen to with the read-aloud feature to hear fluent readers. The World Book suite of products offers engaging digital texts on current topics providing choice to students. Explora PreK-5 provides additional instructional materials on fluency.
BookFlix
BookFlix is a resource for students in grades PreK-3 with over 140 fiction and nonfiction book pairs and 37 Spanish title pairs. Nonfiction eBooks on specific topics are paired with eBooks in video format on a similar topic. Nonfiction eBooks feature a read-aloud feature and the words are highlighted allowing students to follow along and to hear the text read fluently. EBooks in video format use a read-aloud feature and the words are also highlighted. BookFlix also includes reading comprehension activities and games that give students additional options to show their learning and to dive deeper into the content with curated websites on the same topic.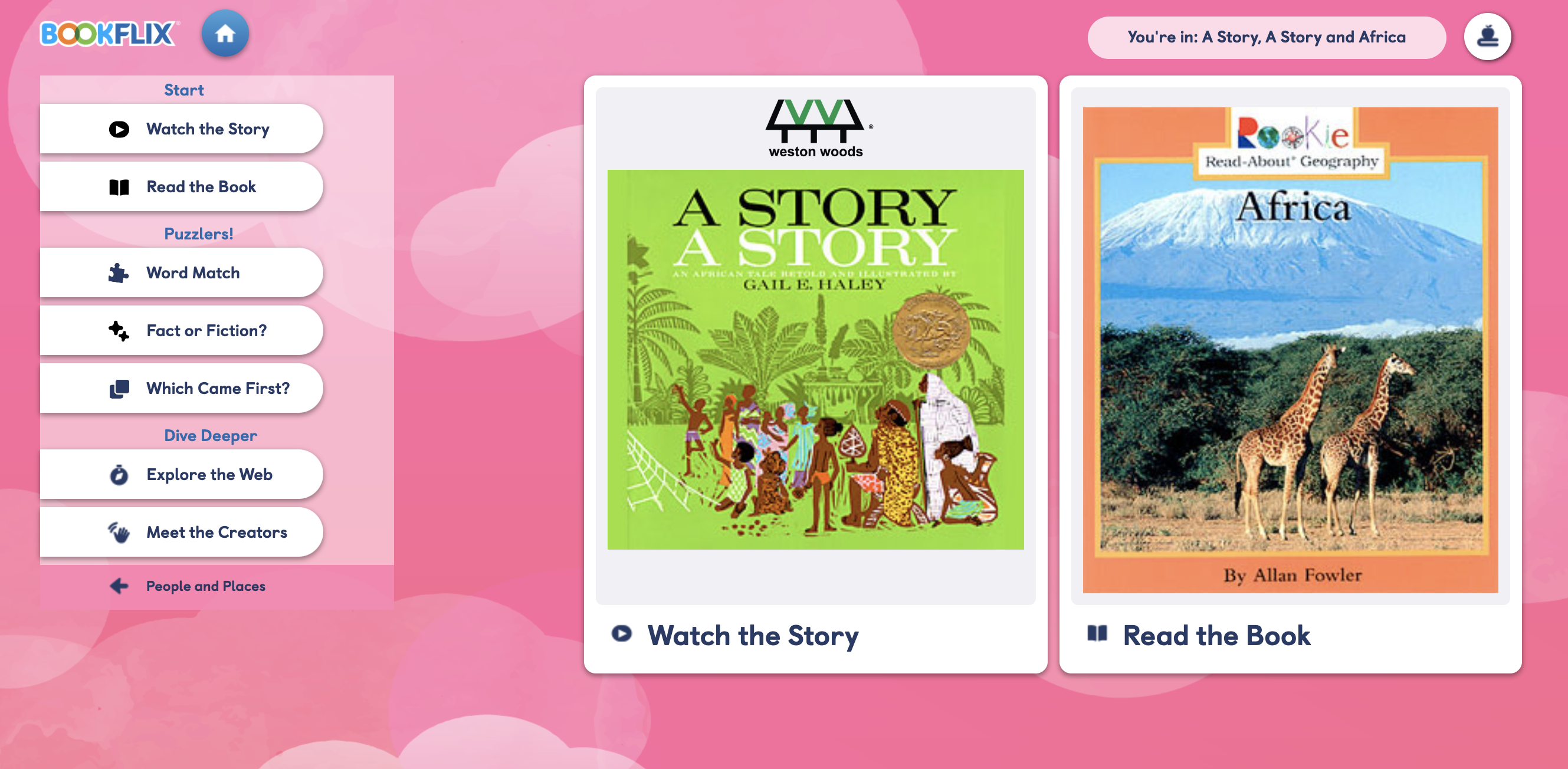 BookFlix can be used for independent reading giving students the ability to hear stories read aloud by fluent readers within the program. Also, students could use BookFlix for buddy reading and take turns reading a nonfiction book. Buddies can help each other with pronunciation of words and the read-aloud feature can provide guidance as well.
Highlights Library
Highlights Library, a resource intended for PreK-5 students, offers over 2,600 fiction and nonfiction eBooks and 200 videos on a range of topics from sports, animals, science and nature, people and places, friends and family, and more. Every eBook offers a read-aloud option and students can choose from one word or full sentence highlighting to hear fluently read text.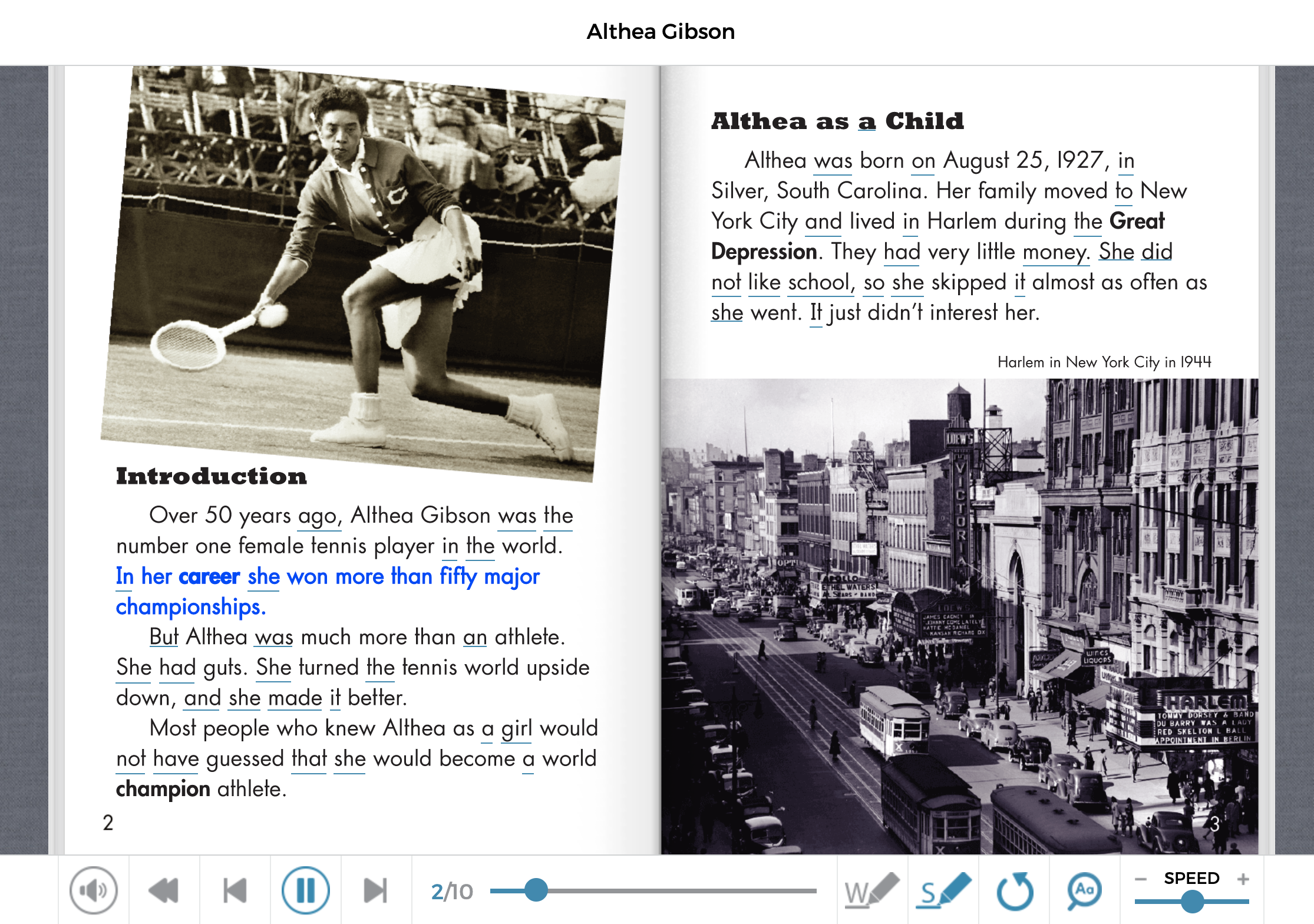 The previewing strategy is evident when using Highlights Library. Students can practice reading fluently by first following along and previewing the passage by listening to it read aloud. Then students can pause the book and read the passage aloud by themselves. If they need help with a word they could listen to the passage again for further practice.
World Book
World Book Kids, an online encyclopedia of articles, videos, eBooks, and activities for K-5 students, provides a simple search feature for students to type in what they want to read or find more information about. There are also engaging categories to choose from on the bottom of the homepage including animals, people, places, science projects, and more.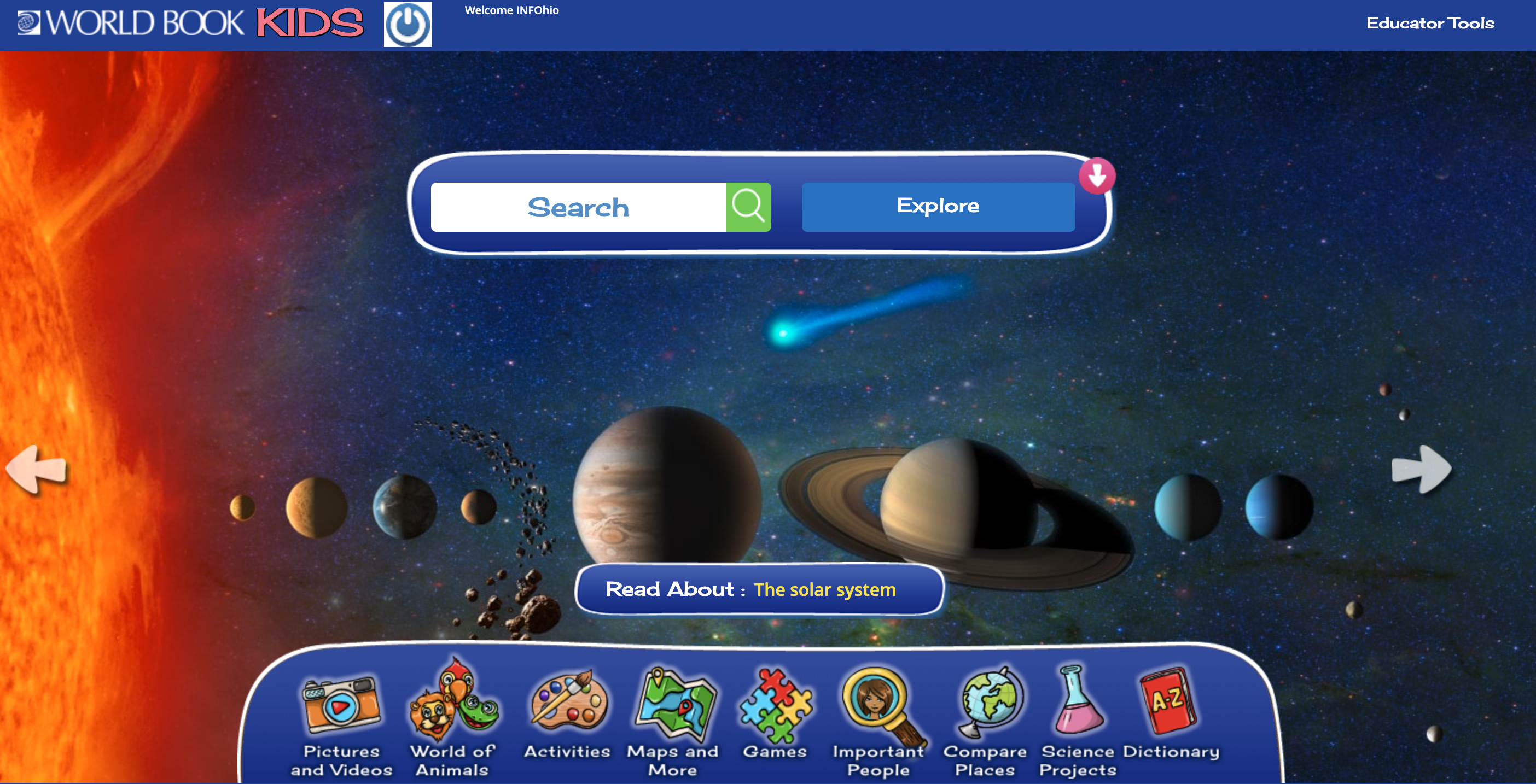 World Book Student and Advanced are intended for use with students in 5th grade and above. These online encyclopedias offer articles, videos, eBooks, activities, and primary source documents. Students can read current event articles in Behind the Headlines and learn even more with connected articles on similar content within World Book.
World Book products can be used as an option for independent or buddy reading to provide students an opportunity to choose a topic they are excited about and to practice reading fluently. Choral reading, or reading an article aloud as a class would also be a strategy that would work well with these digital texts.
Explora PreK-5
Explora PreK-5 is a database of thousands of journal, magazine, and newspaper articles including images, videos, and primary sources. Many popular children magazines are included such as: Highlights for Children, Scholastic magazines, Zoobooks, and many more. An additional fluency strategy to help students read with expression is to use reader's theater. Reader's theater encourages students to become a character in a play and to practice their part. The goal does not require students to memorize their lines, but to use the script when reading their part and to speak it fluently and with expression.
When doing a search in Explora for reader's theater scripts, the best keyword search terms are "play scripts." The search results provided over 1,300 reader's theater scripts. To differentiate the reading levels, results can be limited by Lexile level on the left side menu.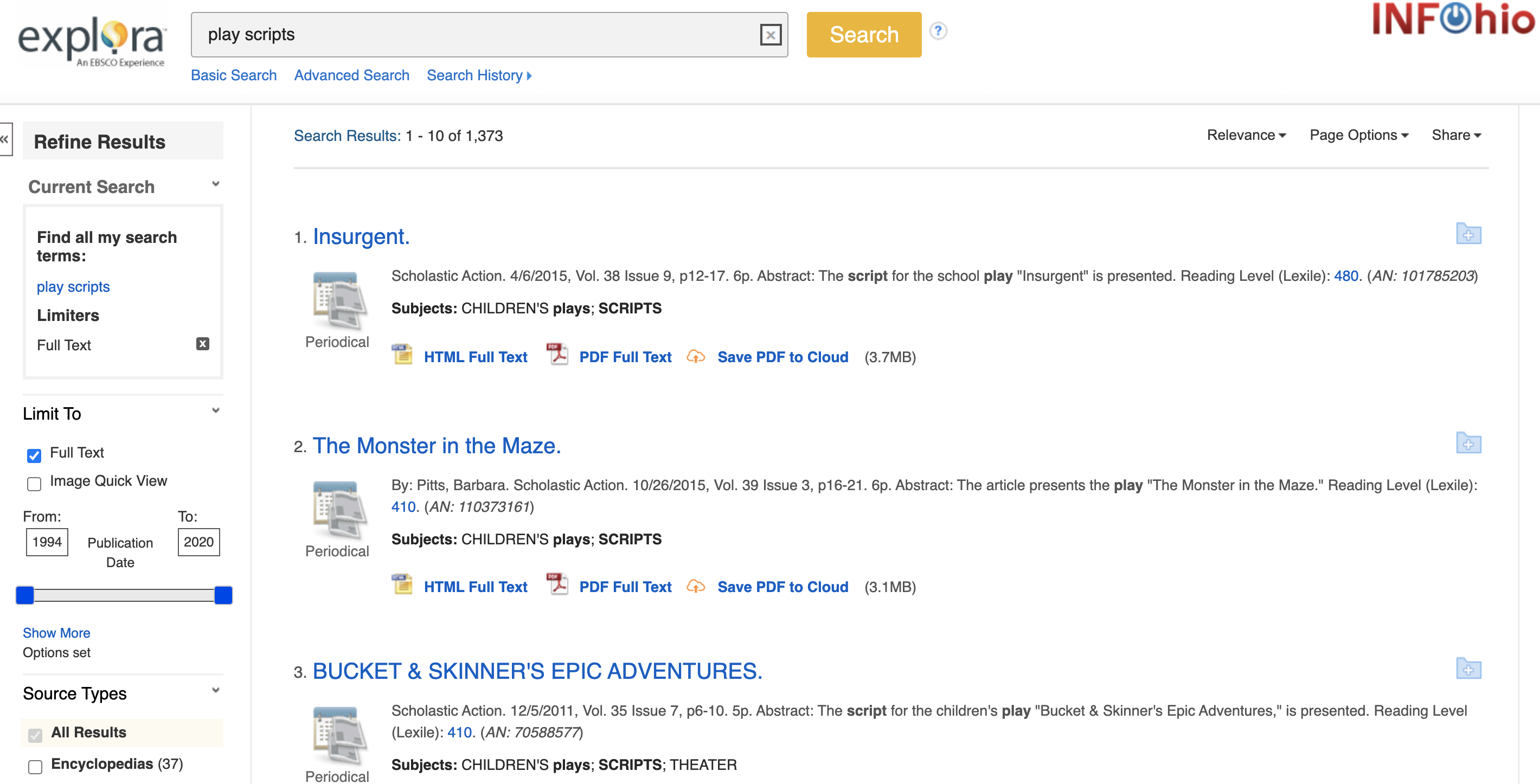 Here is an example of a reader's theater script, The Sword in the Stone, from the magazine Scholastic in Action. Notice there is a fluency workout to have students practice reading their lines with expression. This also provides blank spaces to fill in who will be playing the characters.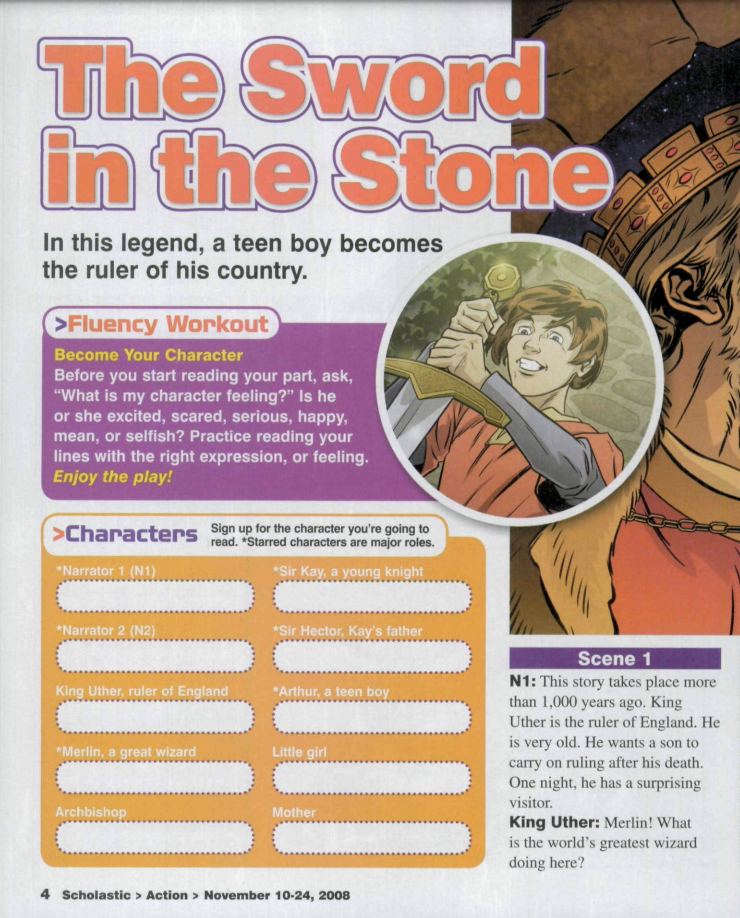 More fluency activities and strategies and additional reader's theater scripts can be found in Reader's Theater on the Reading Rockets website, an education initiative of WETA, the flagship public television and radio station in the nation's capital. Pair these strategies with INFOhio resources to support all learners.
INFOhio, Ohio's PreK-12 Digital Library, is dedicated to providing equitable access to quality instructional materials to meet students where they are. All resources are provided at no cost to Ohio's educators, students, and families. To help support teachers with the instructional components in the Simple View of Reading and help you plan for extended learning, tune in for a weekly blog series that will share specific strategies and INFOhio resources that can support learning in:
Background Knowledge
Vocabulary
Writing Instruction
For even more specific information about strategies and how INFOhio can support you, check out the first two blogs in this Simple View of Reading series:
INFOhio has what you need to engage learners in extended learning activities that will accelerate learning and provide access to multiple, quality digital resources across the disciplines.
We are always here to help! If you need further support or have any questions, contact support.infohio.org.