School districts across the state of Ohio are designing and creating Extended Learning Plans to elevate student success and accelerate learning by designing and creating various opportunities like lengthening the current school year, adding time to instructional days, offering more tutoring opportunities, or creating summer learning activities and experiences.
Although there is not a required template for school district's extended learning plans, The Ohio Department of Education in partnership with the Educational Service Center Association has developed an optional template, Learning Recovery & Extended Learning Plan Template, that schools and districts can use.
Literacy at the Foundation of Learning
Part of the Learning Recovery & Extended Learning Plan Template requires districts to share the resources and partnerships that will be included in their plan. Let INFOhio, Ohio's PreK-12 digital library, be your school district's partner as you accelerate student learning. INFOhio offers a variety of PreK-12 digital learning resources at no cost to Ohio's students, educators, and parents that can support literacy skills including foundational skills of alphabet knowledge and writing letters across the Language and Literacy Development Continuum.
Literacy skills lay at the foundation for all learning. Success in reading, writing, speaking, and listening competencies is directly related to the language and literacy skills that students possess and has a direct impact on all content areas and across all grade levels. It is for this reason that a focus on literacy is important to include in extended learning plans.
Simple View of Reading
Ohio's Plan to Raise Literacy Achievement is grounded in the framework of the Simple View of Reading and the instructional concepts that are needed in literacy development from emergent to adolescent language and literacy. Learning to read requires learners to develop two foundational skill sets: to read each word accurately and fluently within a text, and understand that the text conveys meaning. This is the Simple View of Reading.

Using this formula helps educators identify areas of instructional need for striving readers. The Simple View of Reading applies across all grade levels and can be used as a guide for your extended learning plan for literacy. For example, Emergent and Early Language and Literacy learners may need more exposure to Word Recognition instructional concepts such as phonological processing and awareness, print awareness and knowledge, alphabet knowledge, and writing letters. Meanwhile, older readers who fall in the Conventional and Adolescent Language and Literacy part of the continuum may need instructional support with fluency, background knowledge, vocabulary, language structures, verbal reasoning, and literacy knowledge. Even with this shift in instruction, some students may still need targeted instruction in both Word Recognition components and Language Comprehension components to continue to grow in their language and literacy development. Let the instructional components of the Simple View of Reading help you help your learners this summer.

Alphabet Knowledge and Letter Formation
Alphabet knowledge, letter formation, and print awareness are all skills included in Word Recognition in the Simple View of Reading. In the National Early Literacy Panel: A Summary of the Process and Report, Shanahan and Lonigan (2010) summarize the key points of the meta-analysis of 300 studies that show which early literacy measures correlate with later literacy achievement. These studies found that alphabet knowledge, phonological awareness, fluency, writing, and phonological memory were among the strongest indicators and had the most predictive power of future success. These skills are introduced in the Emergent and Early Language and Literacy instruction and can be supported through several of INFOhio's resources.
BookFlix
Scholastic's BookFlix is an engaging literacy resource intended for the audience of students in grades PreK-3. BookFlix includes over 140 pairs of nonfiction and fiction titles on many different categories including ABCs and 123s, people and places, animals and nature and more. Nonfiction titles are in the form of eBooks and have a read aloud function that can be turned on or off. Fiction titles are videos, provided by Weston Woods, that include captions of the story as it is played. Learning activities are included for each pair with matching, comprehension games, and additional websites to dig deeper into the content.
The ABCs and 123s category includes stories about letters, numbers, counting, and math. These stories could be projected to share during whole-class instruction or provide students the opportunity to explore and choose their own stories to listen to and read.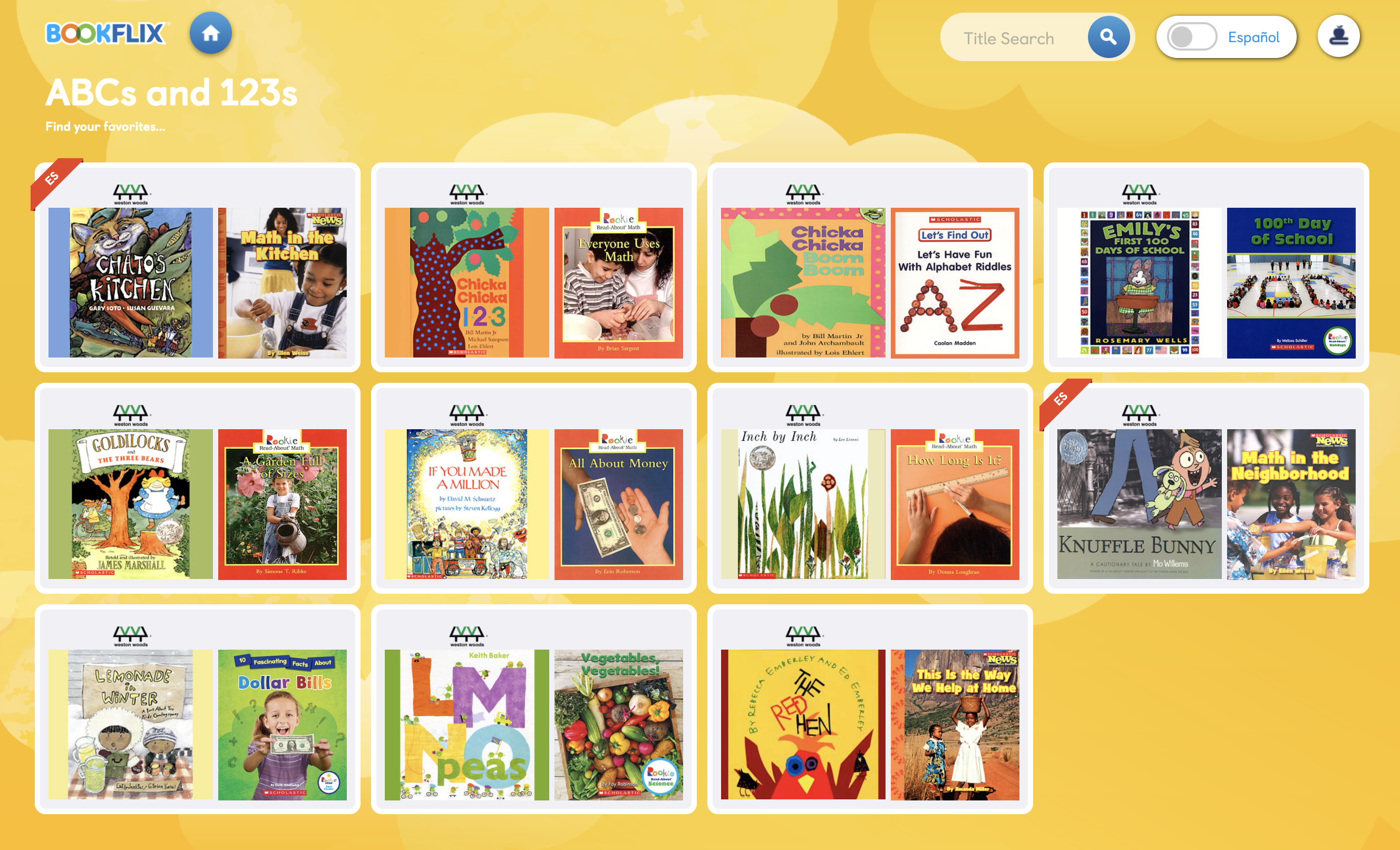 Additional comprehension games to build vocabulary, story order, and exploring the web are included with each BookFlix pair of titles. To learn additional information about BookFlix, best practices, and integration strategies, take the BookFlix online professional development class at your own pace in our K-5 Digital Content Learning Pathway.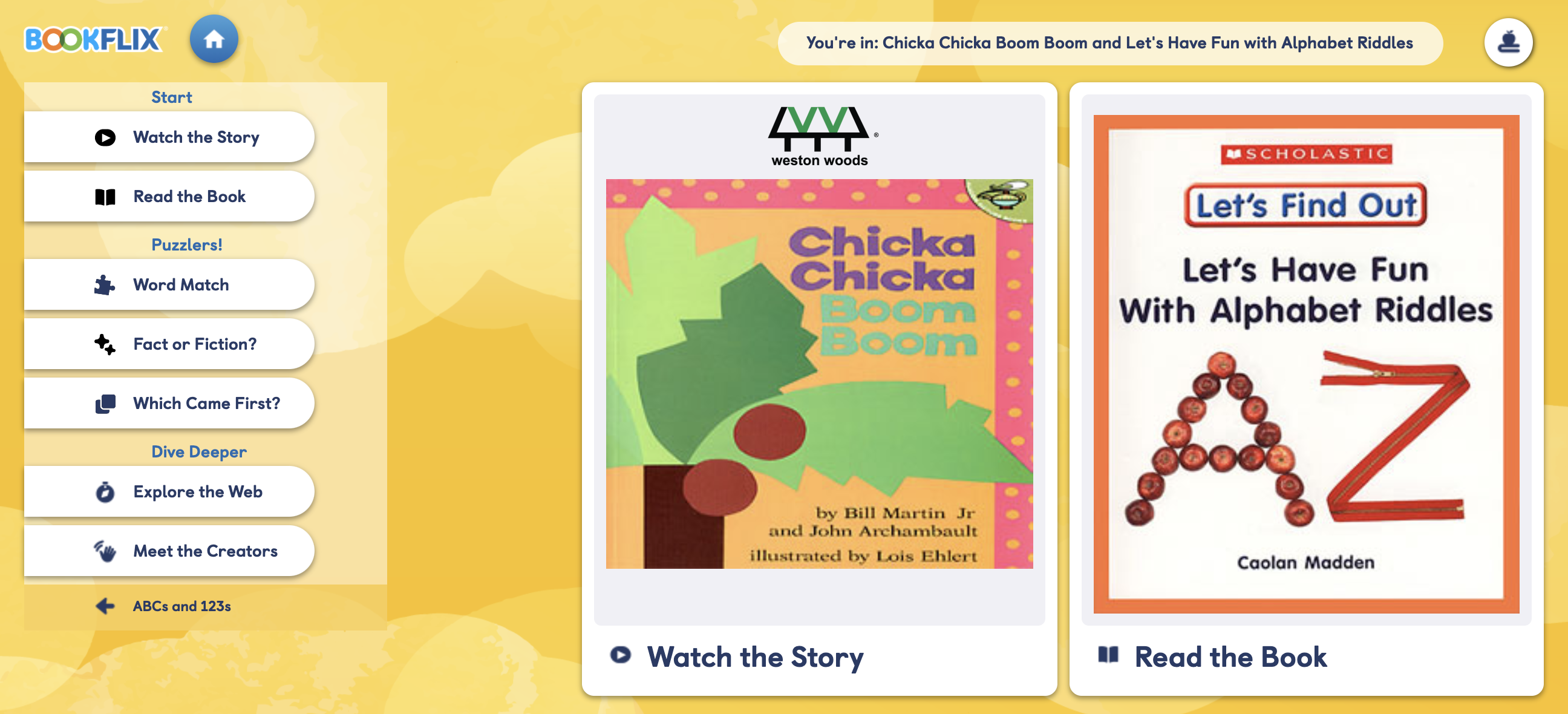 INFOhio Early Learning Portal
Intended for parents and educators of students ages 3-5, The INFOhio Early Learning Portal contains more than 50 websites and apps to help our youngest learners prepare for school and their futures.
The INFOhio Early Learning Portal helps preschool children:
Learn letters, numbers, and basic knowledge;

Interact with other children and adults;

Engage in meaningful play; and

Develop focus and problem-solving skills.

All apps and websites have been curated and selected by librarians and educators with expertise in early learning and literacy. Content within the portal is aligned to Ohio's Early Learning and Development Standards for Listening and Speaking, Reading, and Writing. This chart lists the resources available within the INFOhio Early Learning Portal and the standards to which they are aligned. In the Language and Literacy Development section of the portal there are specific reading apps that emphasize writing through tracing games and phonics instruction to support alphabet knowledge and writing instruction.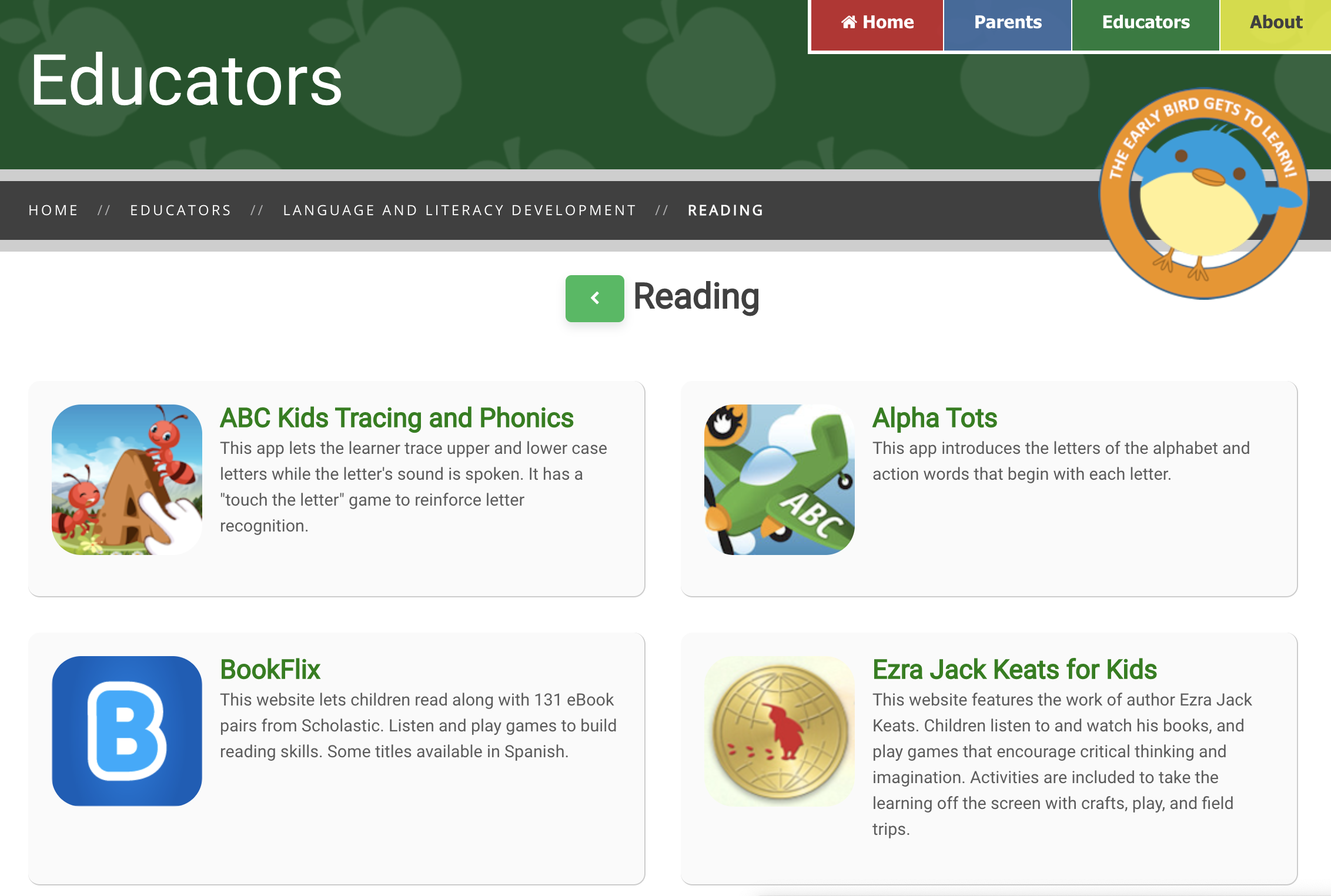 Introduce these apps and websites in a whole-group setting to provide students guided instruction and support for navigation. Then, these apps and websites could be included in stations for student independent learning activities, partner work, or extended learning activities at home. To learn even more and earn contact hours, work through the online professional development class, INFOhio Early Learning Portal, available in our Ages 3-5 Digital Content Learning Pathway.
World Book Early Learning
World Book Early Learning is an interactive, playful environment of topical content worlds designed for emergent learners in PreK-3rd grade. It includes games, eBooks, and digital media that help to develop language and literacy skills. Recently, a new component was added to this resource called Early Learning Basics.
Early Learning Basics supports alphabet knowledge, reading, and writing skills through:
Fun With Words - includes letter tracing games

Count and Play - includes number tracing games and other number games

Once Upon a Time - includes popular nursery rhymes, fairy tales, and songs including the Alphabet Song with a read aloud function that highlights the words as they are sung or read

Welcome to Reading - includes a leveled reading series for beginning readers in sequential order by difficulty

For alphabet letter formation pair the World Book Early Learning Basics tracing games with this writing activity, Handwriting for Kids, that provides printable worksheets for students to practice writing their letters using a pencil and paper. Use the Trek Guided Reading program and included lesson plans to scaffold reading in small group instruction. Guided Reading Program lesson plans can be found by clicking "For grown ups" in the top right corner of the World Book Early Learning homepage and then clicking "Guided Read Program" from the menu on the left. Each leveled book has a lesson plan and a printable folded book that can be provided to students.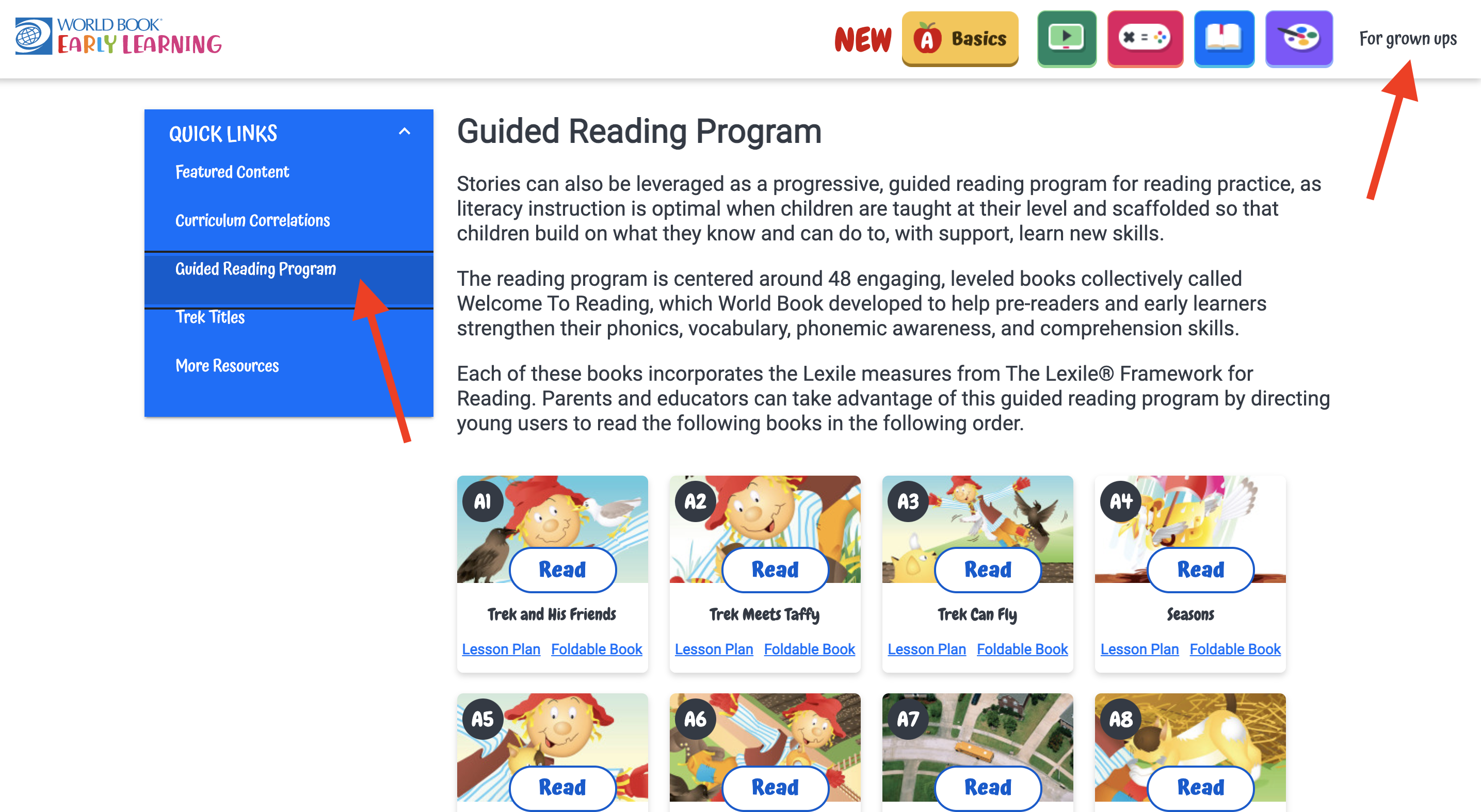 To further support the use of World Book Early Learning in the classroom, take the World Book Early Learning professional development class to learn additional integration strategies and earn two contact hours.
Educator Tools
Educator Tools, Powered by INFOhio, is a database of over 80,000 instructional materials. Search or browse by subject, grade level, or instructional trend to find articles, videos, lesson plans, best practices, flyers, tip sheets, and more. Educator Tools offers resources to support Ohio's Learning Standards and align inquiry skills with current educational trends and practices.
In this example, I searched for the keyword "alphabet" and 209 instructional materials appeared in the search results. When you find a lesson or activity that suits your student and curriculum needs you can mark items as favorites to go back to later, or email them to yourself or colleagues. To learn best practices for using Educator Tools, take the professional development class in the High-Quality Instructional Materials for Each Child Learning Pathway.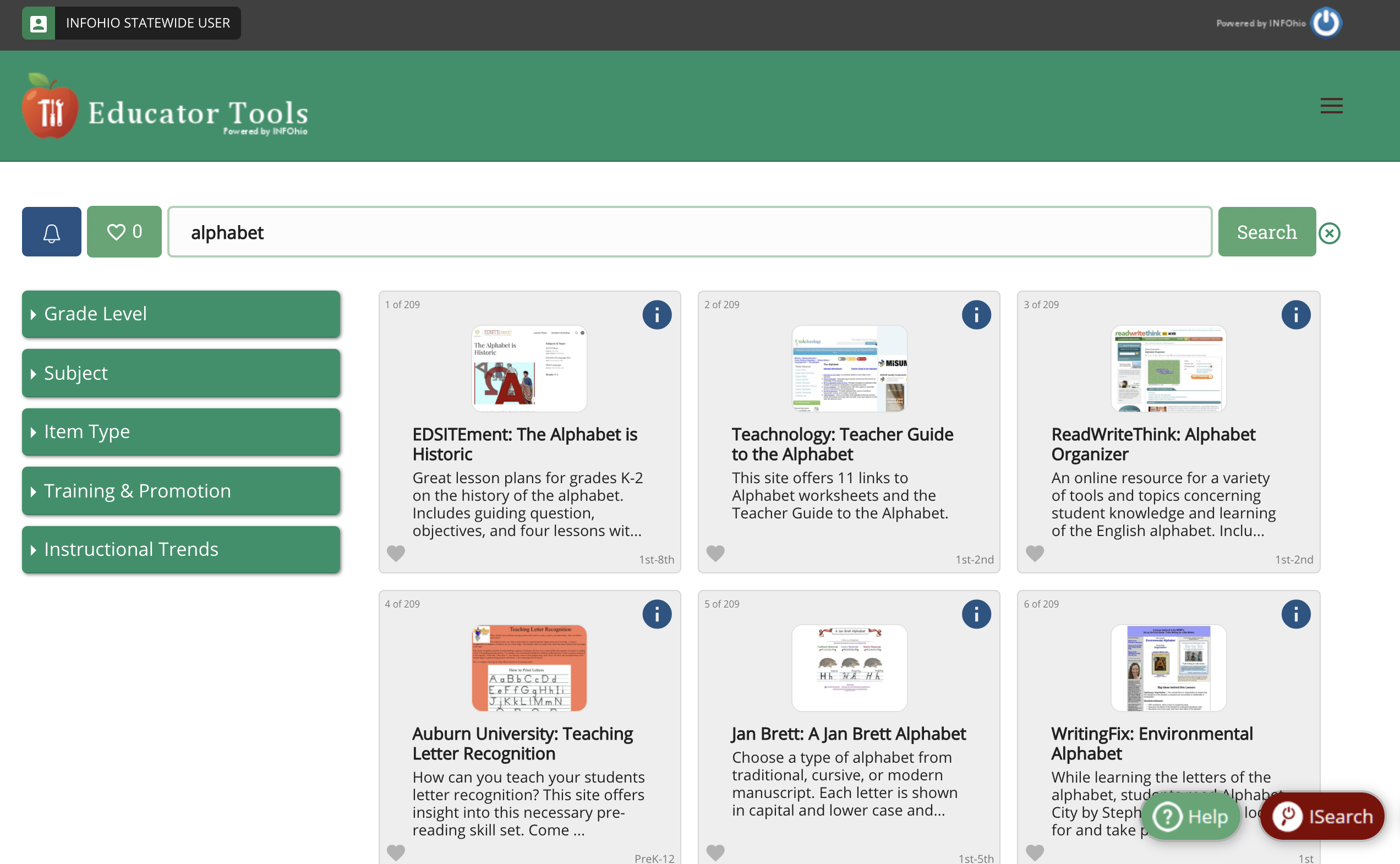 Additional letter formation and alphabet activities and strategies can be found in Alphabet Matching on the Reading Rockets website, an education initiative of WETA, the flagship public television and radio station in the nation's capital. Pair these strategies with INFOhio resources to support all learners.
INFOhio, Ohio's PreK-12 Digital Library, is dedicated to providing equitable access to quality instructional materials to meet students where they are. All resources are provided at no cost to Ohio's educators, students, and families. To help support teachers with the instructional components in the Simple View of Reading and help you plan for extended learning, tune in for a weekly blog series that will share specific strategies and INFOhio resources that can support learning in:
Fluency
Background Knowledge
Vocabulary
Writing Instruction
INFOhio has what you need to engage learners in extended learning activities that will accelerate learning and provide access to multiple, high-quality digital resources across the disciplines. We are always here to help! If you need further support or have any questions, contact support.infohio.org.