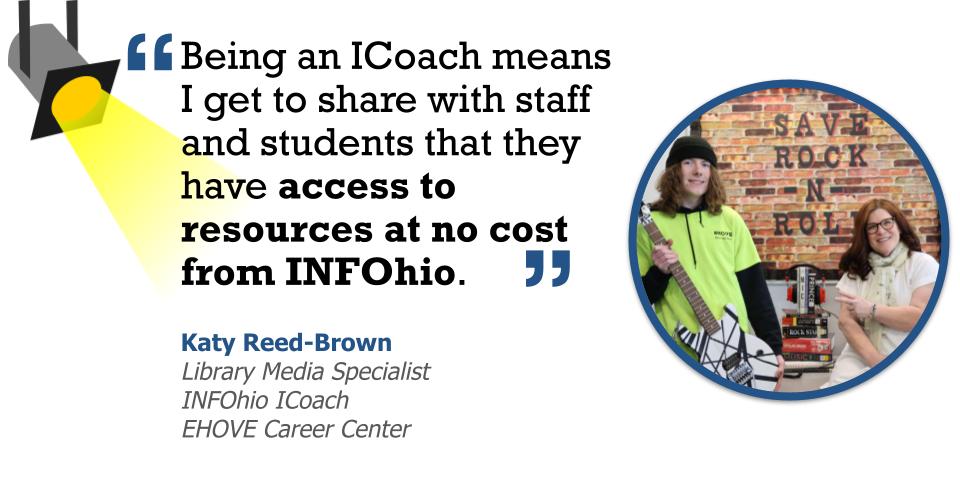 INFOhio, Ohio's PreK-12 Digital Library, supports educators statewide by providing quality digital content, web tools, and professional development at no cost. Through our train-the-trainer INFOhio ICoach program, teacher leaders learn to integrate INFOhio's digital content into instruction using our Learning Pathways training curriculum. Educators build capacity as teacher leaders by offering professional development opportunities for their own schools and districts on INFOhio tools and resources. INFOhio empowers Ohio educators to become teacher leaders by expanding their professional learning network through our ICoach train-the-trainer program.
Every quarter, INFOhio will be featuring the amazing work of INFOhio ICoaches across the state. Not only are INFOhio ICoaches trained to share INFOhio's quality resources with their schools and districts, but they are also champions of equity. At INFOhio, we believe that every Ohio student deserves the opportunity to learn from high-quality, standards-aligned instructional materials to become a resilient, lifelong learner who contributes to society. In alignment with Ohio Department of Education's Each Child, Our Future strategic plan, we support the core principles of equity, partnerships, and quality schools.
Let's meet ICoach Katy Reed-Brown, a Library Media Specialist who works for the EHOVE Career Center in Milan, Ohio.
IF YOU COULD BE ANY FICTIONAL CHARACTER, WHO WOULD YOU CHOOSE? WHY?

Batgirl! Because she's a super-librarian by day and a super-heroine by night. Dropping knowledge in the day and crooks at night! Marc Tyler Nobleman can be my sidekick.
WHAT IS YOUR HIDDEN TALENT?

I have a creative mind and could sit in a think tank all day. I create a new literacy program each year from the ground up. My administration is very supportive and gives me creative control. This year's theme is called "Lyrics & Literacy." As a Career and Technical school, our students have a lab and compete as groups. The winning lab won a trip to the Rock & Roll Hall of Fame! One of our Electrical Tech students, Kaleb Missig, found scraps of a guitar and rebuilt it in our FAB Lab. It is part of our rock & roll decorations.
WHAT DO YOU ENJOY MOST ABOUT BEING AN INFOHIO ICOACH?


I enjoy being an ICoach and sharing with staff and students that not everything on the internet is free, but as PreK-12 staff and students, they have access to millions of free resources!
WHAT IS YOUR FAVORITE INFOHIO RESOURCE? WHY?


My favorite INFOhio resource is Points of View Reference Center because it gives both points of view on global and domestic issues. I use this resource when helping students select topics for debates or global issues projects. All topics are well organized in overarching categories. This lets students view and explore issues they may not have thought of. More importantly, it gives them a clear and direct view of both sides of a topic as a research starter.
DESCRIBE YOUR "BIGGEST WIN" THAT DEMONSTRATES HOW YOUR ROLE AS AN INFOHIO ICOACH AND INTEGRATION OF INFOHIO RESOURCES SUPPORTS INSTRUCTION, STUDENT LEARNING, OR EQUITY WITHIN YOUR SCHOOL.


During the COVID-19 pandemic, I collaborated with other librarians through INFOhio; that is how I learned how to create a Padlet. I also received many good suggestions for resources through them, which I used to build a Padlet for our entire school. At the top of the resources are links to our online catalog and INFOhio. Our administration liked this so much that they allowed the Tech Department to add it as a permanent link in their teacher resources tab. I now demo how to locate all our resources during a new teacher-mentor meeting.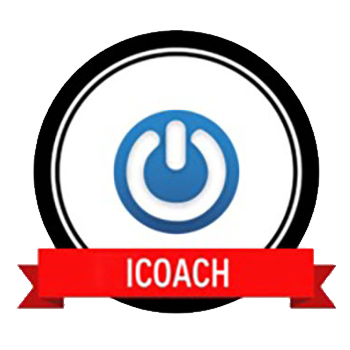 Are you interested in learning more about becoming an INFOhio ICoach? Find INFOhio ICoaches in your area and discover more about the
INFOhio ICoach
train-the-trainer program on INFOhio's site. In addition, we are always here to help, if you have questions, comments, or would like to be our next featured INFOhio ICoach please contact us at
support.infohio.org
.