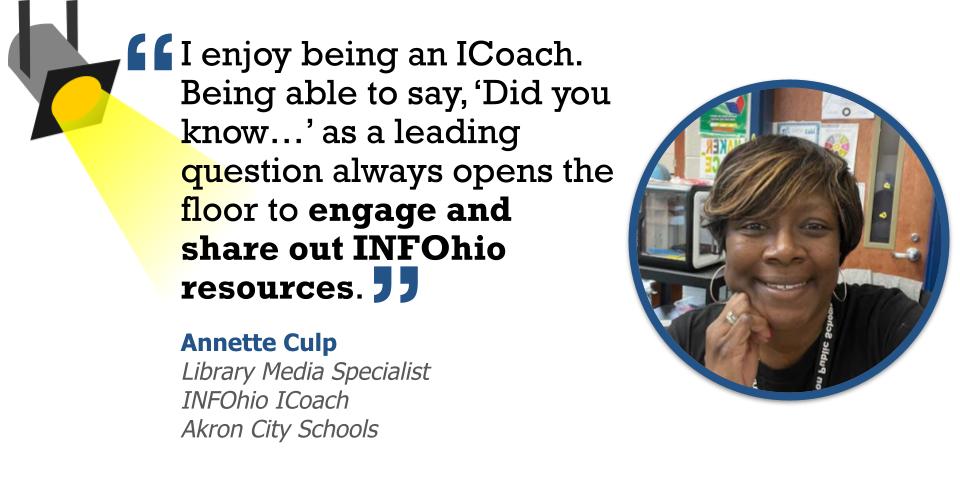 INFOhio, Ohio's PreK-12 Digital Library, supports educators statewide by providing quality digital content, web tools, and professional development at no cost. Through our train-the-trainer INFOhio ICoach program, teacher leaders learn to integrate INFOhio's digital content into instruction using our Learning Pathways training curriculum. Educators build capacity as teacher leaders by offering professional development opportunities for their own schools and districts on INFOhio tools and resources. INFOhio empowers Ohio educators to become teacher leaders by expanding their professional learning network through our ICoach train-the-trainer program.
Every quarter, INFOhio will be featuring the amazing work of INFOhio ICoaches across the state. Not only are INFOhio ICoaches trained to share INFOhio's quality resources with their schools and districts, but they are also champions of equity. At INFOhio, we believe that every Ohio student deserves the opportunity to learn from high-quality, standards-aligned instructional materials to become a resilient, lifelong learner who contributes to society. In alignment with Ohio Department of Education's Each Child, Our Future strategic plan, we support the core principles of equity, partnerships, and quality schools.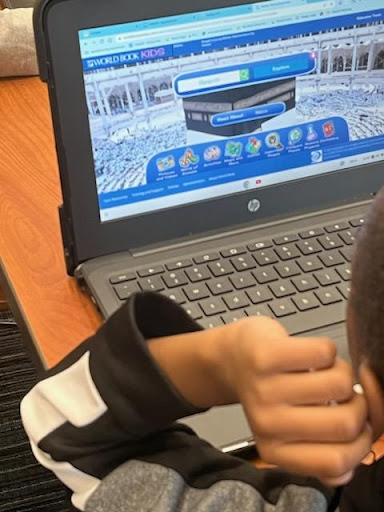 Let's meet ICoach Annette Culp, a Library Media Specialist who works for Akron City Schools at an International Baccalaureate (IB) Primary Years Programme (PYP) school. These schools for children aged 3-12 focus on an inquiry-based curriculum and "nurture and develop young students as caring, active participants in a lifelong journey of learning."
WHO INSPIRES YOU? WHY?

I am inspired by other librarians that teach in other states. I find it fascinating to see new ideas and how they structure them with their students.
IF YOU COULD BE ANY FICTIONAL CHARACTER, WHO WOULD YOU CHOOSE? WHY?


If I could be any fictional character I would choose to be Junie B. Jones. She is witty, funny, bossy, and doesn't mind expressing herself to get her point across, even if it means trouble.
WHAT DO YOU ENJOY MOST ABOUT BEING AN INFOHIO ICOACH?


I enjoy being an ICoach to share out the different opportunities students and staff are able to use. Being able to say, "Did you know..." as a leading question always opens the floor to engage and share out.
WHAT IS YOUR FAVORITE INFOHIO RESOURCE? WHY?


My favorite INFOhio resource is Explora for students to use as a resource to find topics of interest when they need facts, works cited information, and the option to read the text to them.
DESCRIBE YOUR "BIGGEST WIN" THAT DEMONSTRATES HOW YOUR ROLE AS AN INFOHIO ICOACH AND INTEGRATION OF INFOHIO RESOURCES SUPPORTS INSTRUCTION, STUDENT LEARNING, OR EQUITY WITHIN YOUR SCHOOL.


My biggest win demonstrates how my role as an ICoach and integration of INFOhio resources supports instruction. I assist students at our International Baccalaureate (IB) Primary Years Programme (PYP) school and they need to find information for Exhibition topics and share their findings. Also for staff that focus on specific units of inquiry, INFOhio's Explora helped for specific topics like "Sharing the Planet." This was a great unit where students found different animals as a feature to spotlight and shared their findings with their teacher via email and writing.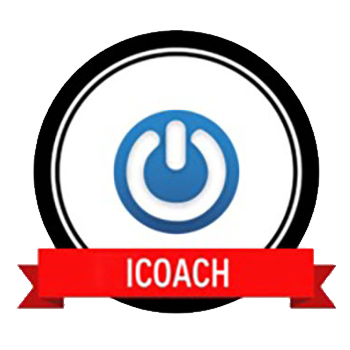 Are you interested in learning more about becoming an INFOhio ICoach? Find INFOhio ICoaches in your area and discover more about the
INFOhio ICoach
train-the-trainer program on INFOhio's site. In addition, we are always here to help, if you have questions, comments, or would like to be our next featured INFOhio ICoach please contact us at
support.infohio.org
.