This is the first in a two-part series on telling your compelling story with data. In this post we'll get organized and get comfortable working with data.
In the first quarter of the 2016-2017 school year, INFOhio Staff, ICoaches, and DBICoaches delivered 175 presentations to 4,701 students, educators, and administrators.
In the first quarter of the 2016-2017 school year, the INFOhio main website had 1,143,692 page views.
In the first quarter of the 2016-2017 school year, students in all 88 counties in Ohio logged into the INFOhio website.
During the 2015-2016 school year, Ohio 4th graders read 2,927,497 pages in Storia.
How does that grab you?​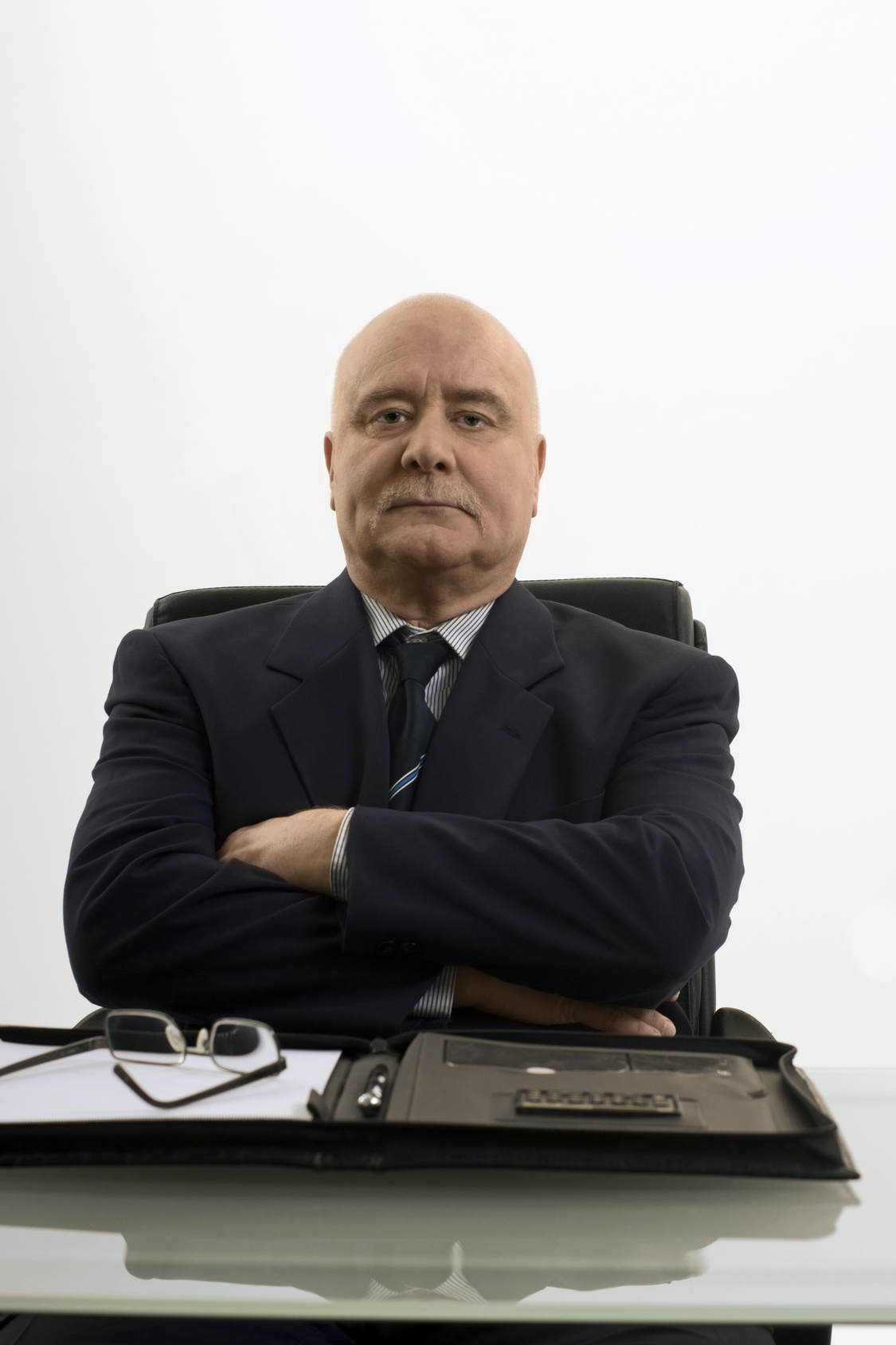 It probably doesn't.
Do you ever feel like you're being bombarded with data?
Try a search in ISearch for "data-based decision making in education" and look at the more than 600 results on the Advanced Sources tab.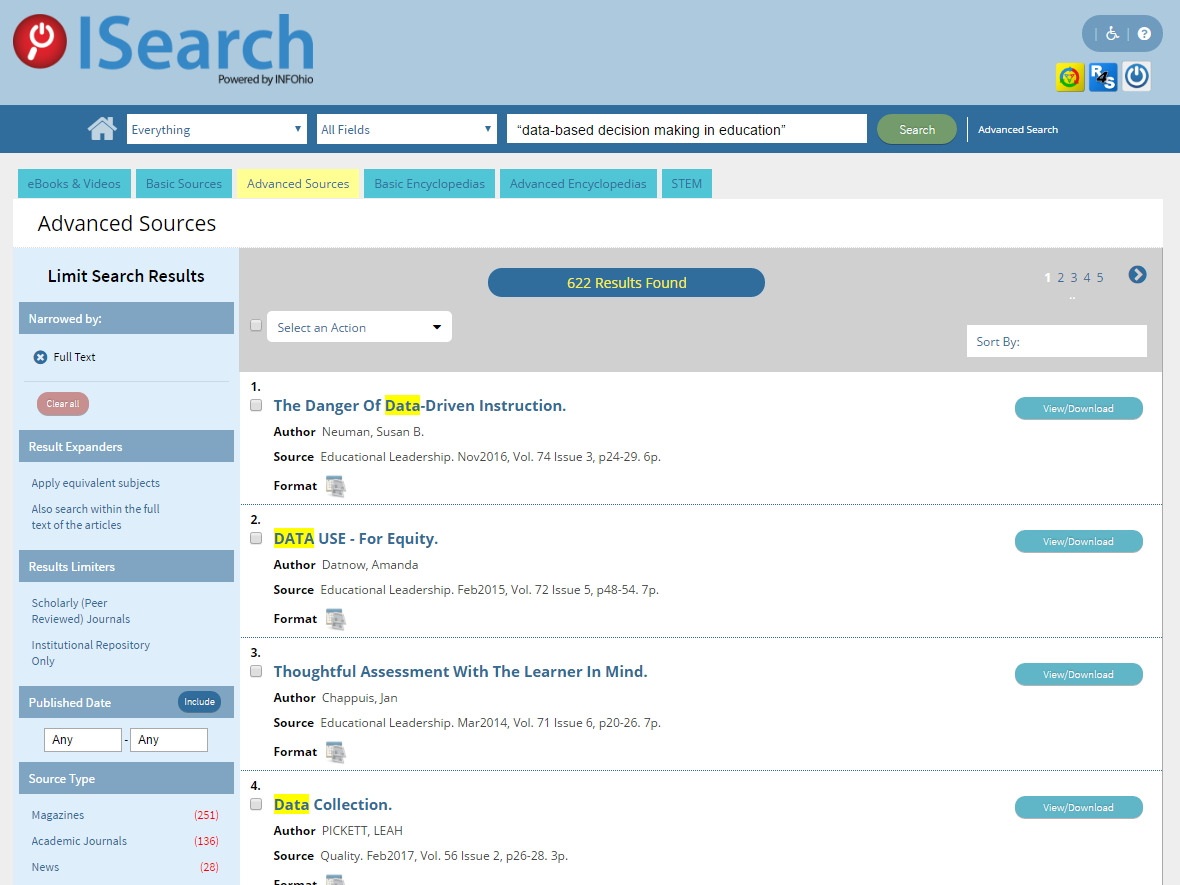 The concept of gathering and analyzing education data and using that data to make decisions about educational practices has been around for years. Within the last few years, though, data-driven decision making has exploded and data analysis has become its own field of study with universities offering undergraduate degrees in data analytics.
Increasingly educators are asked to supply data for their educational initiatives
Want to continue a program? Where's your data to support its past success?
Want to start a new program? Where's your data to support the need for it?
Need more computers? How are students using the computers you have?
Need to increase your budget? Where's your data to demonstrate how you've used your existing budget?
Today's educators have to be data literate: knowing how "to access, interpret, act on, and communicate data effectively and ethically" (Mandinach et al p. 28). Not only do we have to be adept data managers, safely collecting and organizing all the figures we'll be asked to retrieve at some point, but we also have to find ways to make our data compelling. As the AASL Toolkit for Promoting School Library Programs says, "When it comes to getting your message across, how you share information can be as important as what you say" (p. 25).
Get organized
Whether you use Microsoft Excel, Google Sheets, or Apple iWork's Numbers, you're going to need to get comfortable with software that lets you keep track of and manipulate data. Spreadsheets are ideal for that. Excel, Sheets, and Numbers behave similarly so if you're comfortable in one, you can likely use any of the three. However, since you run the risk of losing formula references or reformatting your graphics if you go back and forth between applications, it's best to choose one and stick with it. Learn the keystroke shortcuts and which menu houses which functions. If you aren't comfortable with one of those applications, you can get free online training on Excel through the Ohio Means Jobs site: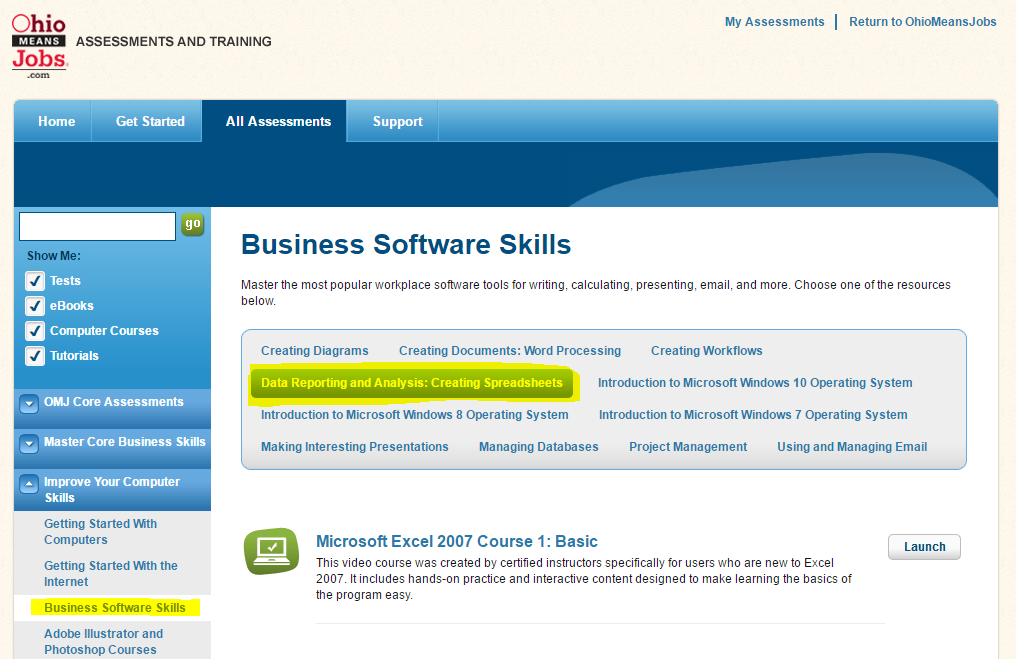 If you want to get some basic practice working with spreadsheets, visit the INFOhio guide "Demonstrating Value and Making Decisions with Data." Click the tab for "Retrieving Use Data from INFOhio." Download all of the INFOhio Website Logins spreadsheets and find your school district in each. Now create a new spreadsheet called INFOhio Use Data where you can keep track of your district's monthly INFOhio website logins. In the first column, record the month and year. In the second column, record the number of INFOhio website logins. Each month, download the new stats as they become available and add them to your spreadsheet.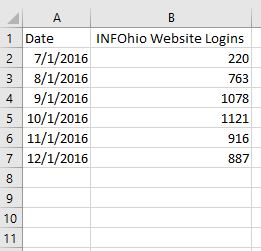 Spend some time getting comfortable with your data. Then come back here next week for Part 2 of "Tell Your Compelling Story with Data" when we'll get to work on making your data speak!
AASL Toolkit for Promoting School Library Programs: Messages, ideas, and strategies for communicating the value of school library programs and school librarians in the 21st century.
Mandinach, Ellen B., et al. "Ethical And Appropriate Data Use Requires Data Literacy." Phi Delta Kappan 96.5 (2015): 25. MasterFILE Premier.