Collaboration between school librarians and classroom teachers is one way to highlight and promote quality print and digital resources available for teaching and learning. BLUEcloud Course Lists, a resource list management tool, can be used to create lists of curriculum-aligned resources for students and teachers.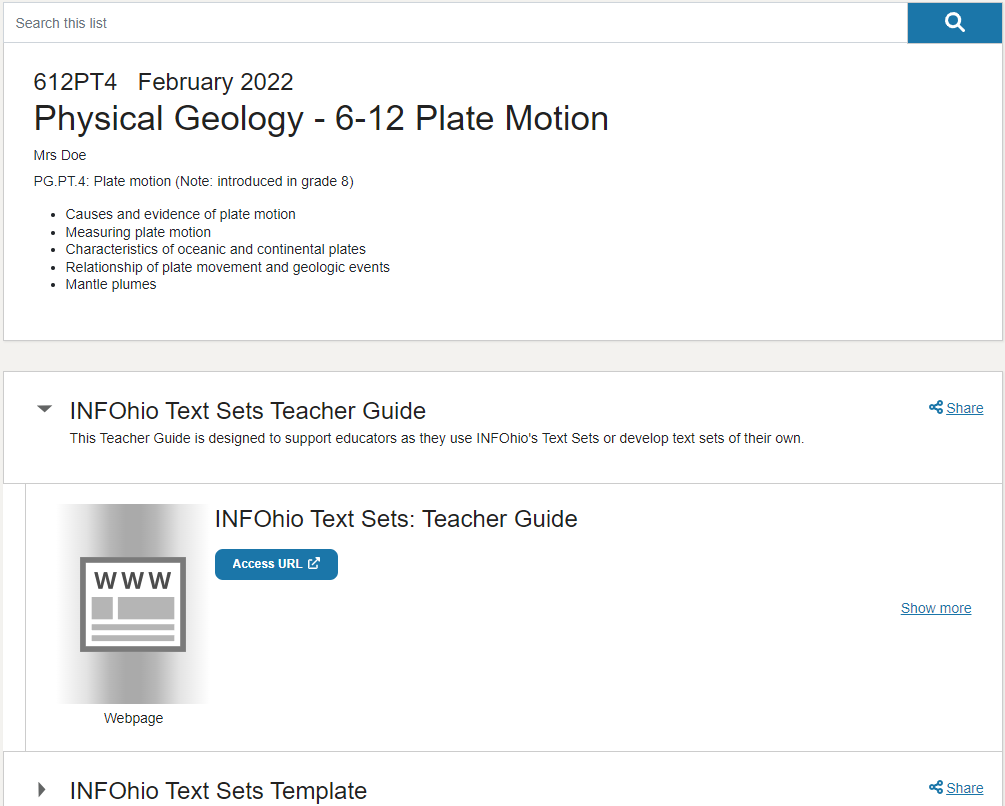 This product is available to librarians and their teaching staff who use INFOhio's Library Services Platform (LSP). BLUEcloud Course Lists supports access to print and digital resources in an online platform, facilitating collaboration for busy educators with little or no common planning time. School librarians can work with classroom teachers to create interactive lists of resources to supplement curricula and impact student learning. BLUEcloud Course Lists helps facilitate collaboration with Staff Notes, resource tags, and an interactive review process. Join us for this three-part blog series as we explore ways BLUEcloud Course Lists can help you collaborate, innovate, and share high-quality, curated resources to supplement teaching and learning in the library and the classroom.
Do you ever wonder how to get a foot in the door with teachers in your building or district? BLUEcloud Course Lists offers a way for librarians to collaborate with teachers to provide students with teacher and librarian-vetted reading, research, and study materials. Here are a few ways BLUEcloud Course Lists can support collaborative efforts to build resource lists of strong supplemental materials.
Teacher Access to BLUEcloud Course Lists
Connect with classroom teachers and offer to get them set up with their own BLUEcloud account. This account will give them the ability to add resources to a shared list. Prior to adding resources, the librarian can discuss best practices for choosing resources, including types of resources to include and avoid.
Teaching and learning standards guide every curriculum decision in the classroom and it is no different when curating resources for Course Lists. Knowing and consulting Ohio's Learning Standards will keep those curating curriculum resources on the right track. INFOhio's quality digital content and web tools can be a great place to start when looking for standards-aligned resources.
However you choose to curate resources, once they have been added to a list, the school librarian can verify the materials are appropriate for that grade level and freely accessible. If materials are being linked behind a paywall or are not following copyright standards, the librarian can propose alternative resources.
Collaborating and Communicating Through Staff Notes
BLUEcloud Course Lists includes a Staff Notes feature which allows those who are collaborating on lists to be able to communicate about resources and their availability. Staff Notes are only visible to those who are creating the list and the corresponding comment bubble icon will have a red dot to alert collaborators when a comment has been made. Staff Notes can be used in various ways to keep the lines of communication open as materials are added and reviewed.


Reviewing Resources
Another collaboration piece that ties into the Staff Notes feature of BLUEcloud Course Lists is a step-by-step review process. To help facilitate the review of added resources it's helpful to have a rubric or guidelines to follow. INFOhio has created the Instructional Materials Rubric. This rubric can be used to review a wide range of instructional materials for quality. To ensure that content is aligned to Ohio's Learning Standards, the Instructional Materials Rubric focuses on supporting research-based instructional strategies, accessibility, and flexibility in supporting different modes of instruction and the needs of users. Librarians can use this rubric and share it with classroom teachers to evaluate Course Lists resources.
Teachers adding resources to a list can alert library staff when they have finished building a list by initiating the review process. The review process includes requesting a review, starting a review, finishing a review, and viewing a summary of reviewed information such as class details, review start date, and status of the review.

Upon logging in to BLUEcloud, library staff can check the Review Stage and the date of when a review was requested.

As the librarian reviews the resources, progress is noted on each list and can be viewed by both librarian and teacher.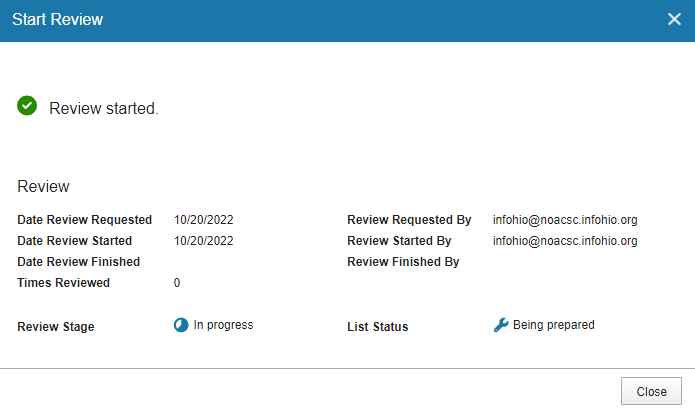 Once the review process has been completed, the list will have a "Ready" status. Those collaborating on the list can share the list's URL with students and staff.
Start today with a classroom teacher you have worked with before and who is tech-savvy. If you know they teach a specific subject every year, like the Civil Rights Movement, Women's Suffrage, or World War II, create a Course List for it! Reach out to the teacher and let them know a supplemental list of resources has been curated on a topic that is taught every year. The list can be added to or edited as needed if the teacher wants to participate with their own resources. Share additional lists with this teacher that have been created on topics such as Voting, Digital Media Literacy, or special days like Constitution Day, holidays, notable moments in history, or others. These and many other topics are all opportunities for a list to be created and shared with students and staff.
Create your own list repository to meet the needs of departments in your building. Each list has a unique URL and can be added to learning management systems, posted on web pages, or even emailed. A simple email could be sent out to teaching staff at the beginning of the school year, quarter/semester, or month with curated lists of resources that teachers can provide to their students in order to learn more about the topics they are studying. However you choose to collaborate with your teachers, you won't regret showcasing high-quality instructional materials that are freely available and developing new connections to the classroom.
If you are interested in giving BLUEcloud Course Lists a try, please contact the INFOhio Provider at your ITC for more details. To learn more, please visit the BLUEcloud Course Lists class found in the BLUEcloud Learning Pathway within INFOhio Campus. Already using BLUEcloud Course Lists? Share your Course Lists with INFOhio on social media by tagging us (@INFOhio) and including #INFOhioWorks in your post. Questions or concerns? Please reach out at support.infohio.org.