Career Planning
Teachers face many challenges when incorporating meaningful career planning lessons into classroom learning, but the most daunting is time. In their article, Career Exploration and Soft Skills: Preparing Students for Success, authors Loup, Kornegay, and Morgan identify three of the ways that time challenges career planning instruction:
The time it takes to curate tools, strategies, and resources to support students as they explore different career options.
The time it takes to balance the academic curriculum with opportunities for meaningful career planning.
The time it takes to practice the soft-skills needed to navigate the workplace.
Most of all, time is in limited supply as graduation looms near. However, with the right resources, and a creative approach, teachers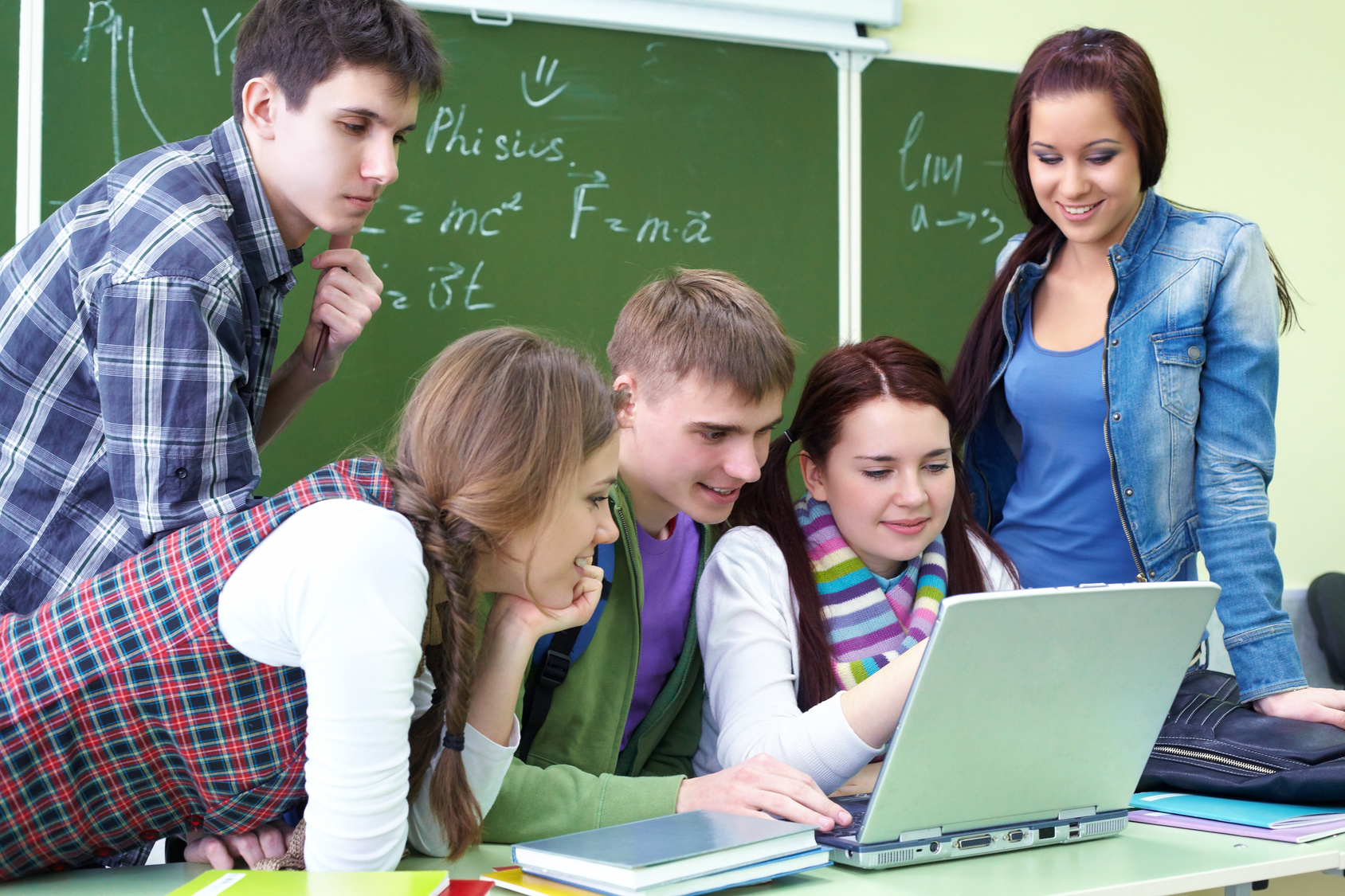 can incorporate meaningful career planning activities that complement their classroom curriculum and empower students as they enter life after high school. Focusing on career planning is time well spent and can provide opportunities for teachers to connect with students, support the development of a growth mindset, and ease the anxiety students often face as they plan for post-secondary opportunities.  
Career Planning Supports SEL
In June 2019, the Ohio Department of Education adopted the Social and Emotional Learning Standards. These standards encourage the development of self-awareness, goal setting, and self-management skills. In her article, One Size Does Not Fit All, Ana Homayoun recognizes these skills as pivotal to supporting students as they transition from high school to career opportunities with ease. To learn more about how INFOhio resources can support social and emotional learning for students in grades 9-12, read this Teach With INFOhio Blog post. Confident in a growing sense of self-awareness, students can make the most of their high school experience by selecting the courses they need for career success using ODE's Career Connection Framework. 
What can high school teachers do?
Supported by the Ohio Department of Education, SuccessBound provides resources for educators that dispel common myths related to career education. SuccessBound is changing the way we approach career education with promising practices from classrooms across Ohio. Here are some suggestions from the Educator Factsheet:
Explore OhioMeansJobs to understand career fields and budget for your future using the Budget Calculator and Ohio Lifestyle Calculator.
Guide students through the creation and implementation of Student Success Plans.
Guide students through earning the OhioMeansJobs-Readiness Seal.
Deepen and expand business and community partnerships.
Introduce students to possible career mentors.
Empower students to earn industry-recognized credentials aligned to their career fields of interest.
Offer College Credit Plus and expand dual credit programs.
Ensure cross-institutional alignment of career-focused pathways resulting in seamless transitions for students.
Engage in business advisory councils.
Implementing Career Planning in the Classroom with INFOhio
According to Loup, Kornegay, and Morgan, educators can make career planning meaningful by providing students time to explore resources, practice soft-skills, and share their learning with a larger audience. Let INFOhio help you streamline this process with our career exploration and planning resources. 
Visit INFOhio's Career Planning for High School Grades (9-12) page for career planning resources. Looking for the fastest-growing careers and industries? Find them in the Occupational Outlook Handbook from the U.S. Bureau of Labor and Statistics. Explore the occupational benefits of learning a second language with this blog post from Transparent Language Online. Let your students explore these carefully curated career planning resources and websites to plan for post-secondary opportunities. 
Allow students to explore trending topics in top career fields. EBSCO's Career Collection includes articles from trade and professional publications to support a variety of career exploration needs. Let your students learn from researchers, writers, and professionals in the field about the challenges, developments, and expanding opportunities available in business, medicine, and technology.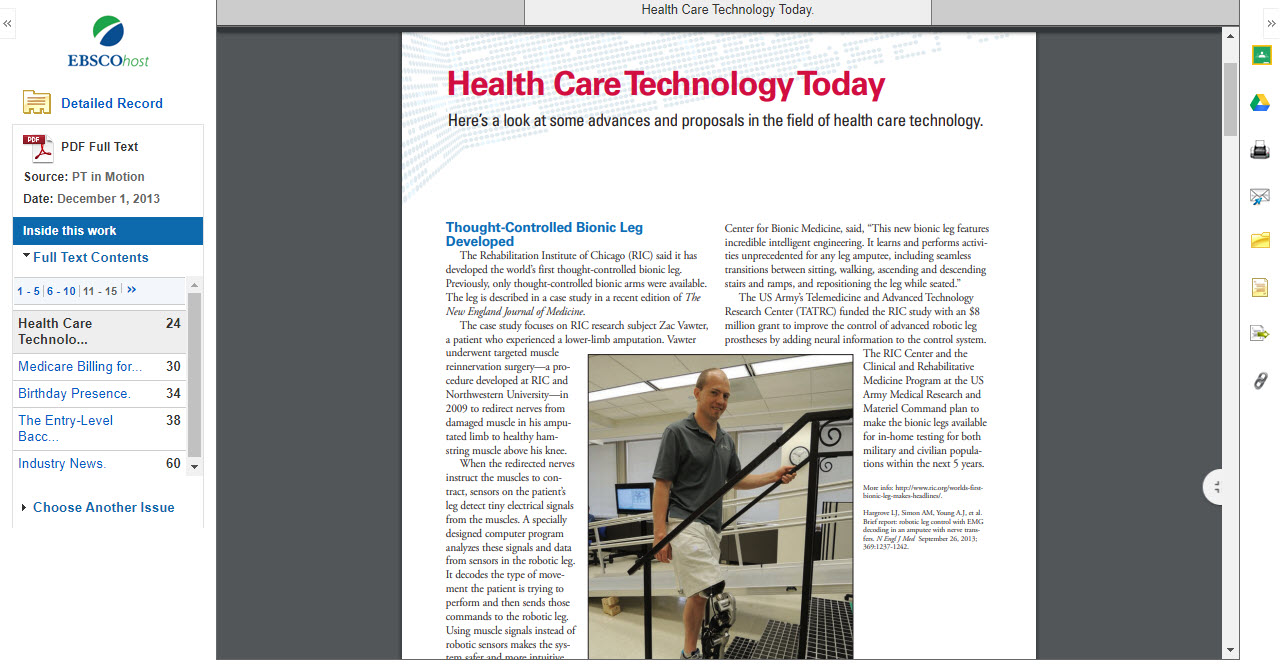 Employers most often identify professionalism and teamwork as the skills their new hires lack. To help students develop these skills, visit GO! Ask, Act, Achieve, and select How do I work with others in a group? to find tips for successful collaboration and project management templates to help students build teamwork skills. Explore the GO! Ask, Act, Achieve Teacher Guide for additional resources, selected just for teachers, to support students as they grow and develop their leadership style.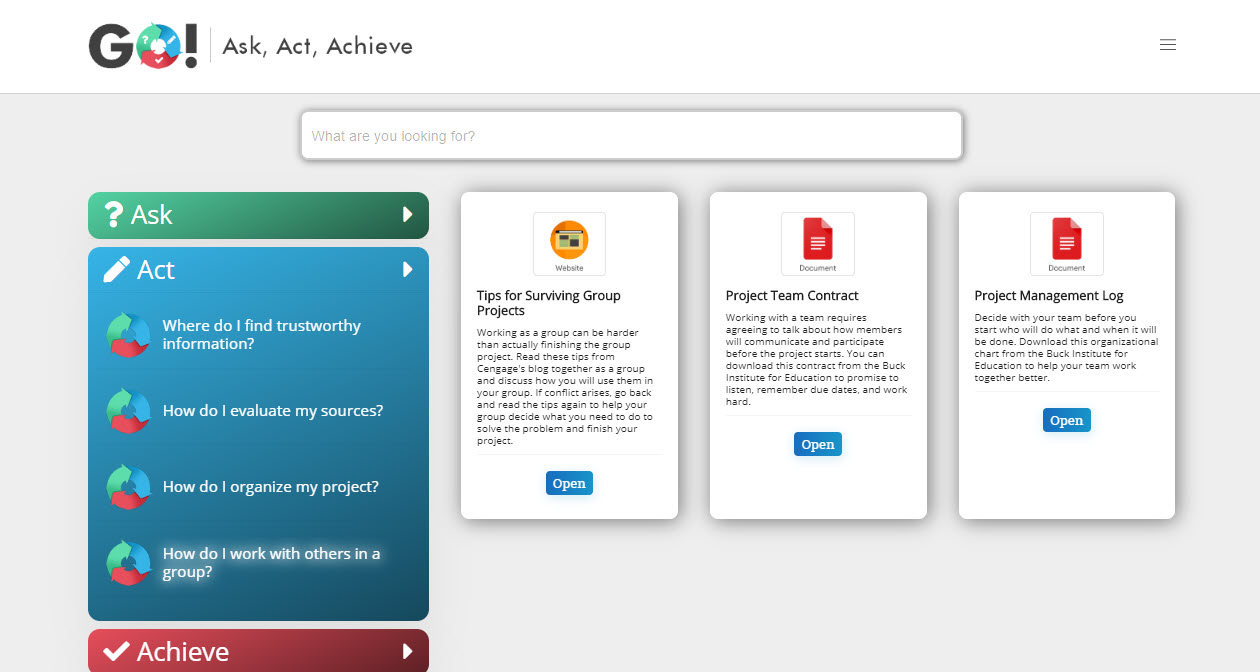 In partnership with Broadcast Educational Media Commission (BEMC), INFOhio's Digital Video Collection (DVC) provides a growing list of videos featuring in-demand careers. Many videos were developed with support from the Ohio Department of Education's Career Connections and feature Ohio professionals sharing the highlights of their profession. Students can use these videos to get a peek into the professional expectations of the most coveted careers. Develop a strong work ethic and cultivate the skills to move up the career ladder with videos from the life skills series. Videos including Why Work? and Work Ethic develop the professionalism desired in the workplace.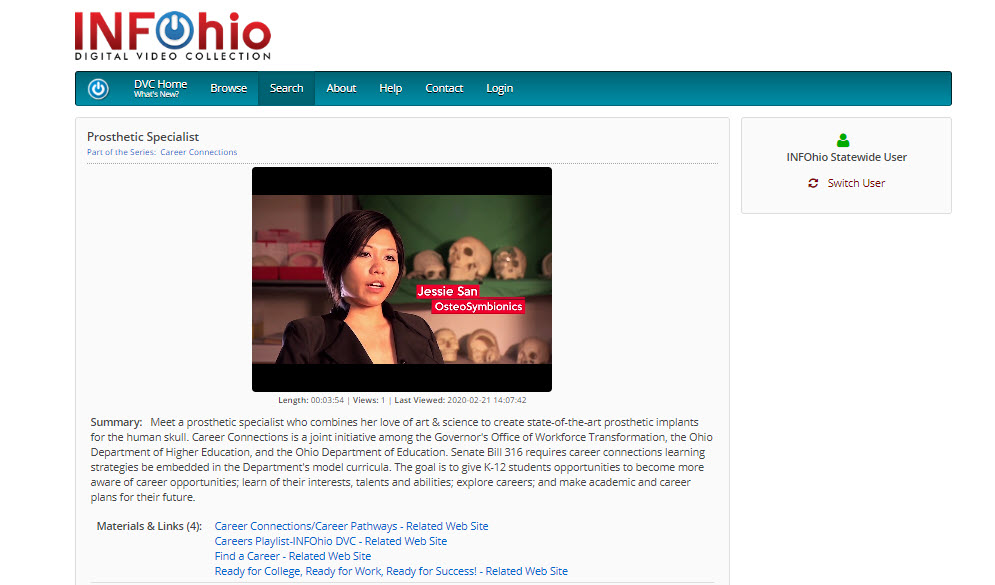 Loup, Kornegay, and Morgan offer this suggestion to make career education meaningful: provide authentic audiences for your students to share their learning. Whether you choose to launch a school-wide social media campaign to showcase career planning projects or display student work in your classroom, library, or school website, INFOhio offers resources to perfect, polish, and publish student projects. Visit Research 4 Success and explore Module 5: Your Project. In this module, students will find digital resources to produce, publish, and share their learning with a wider audience.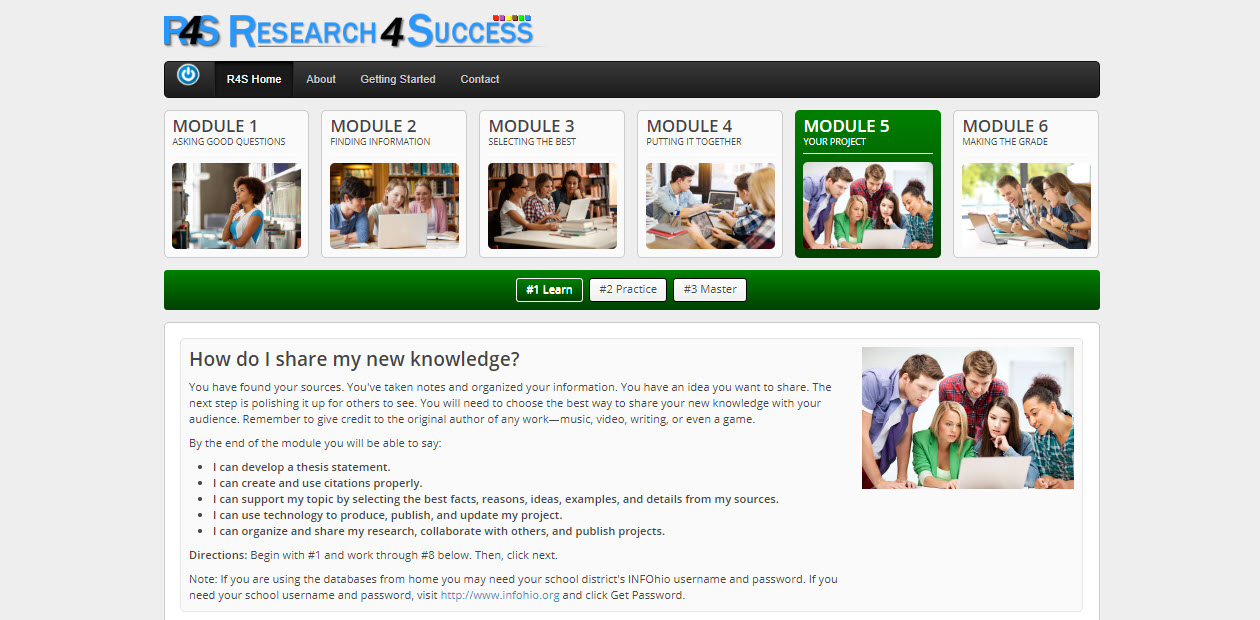 Looking for Career Planning Lesson Plans?
Search over 79,000 standards-aligned lesson plans, instructional resources, and more from one location with INFOhio's Educator Tools! Content is curated by Knovation using a 127-point rubric. Use limiters to search for Career and Technical Education. Narrow results by adding grade level filter and item type limiters. Find lesson plans and educational resources that allow students to plan for careers related to any content area.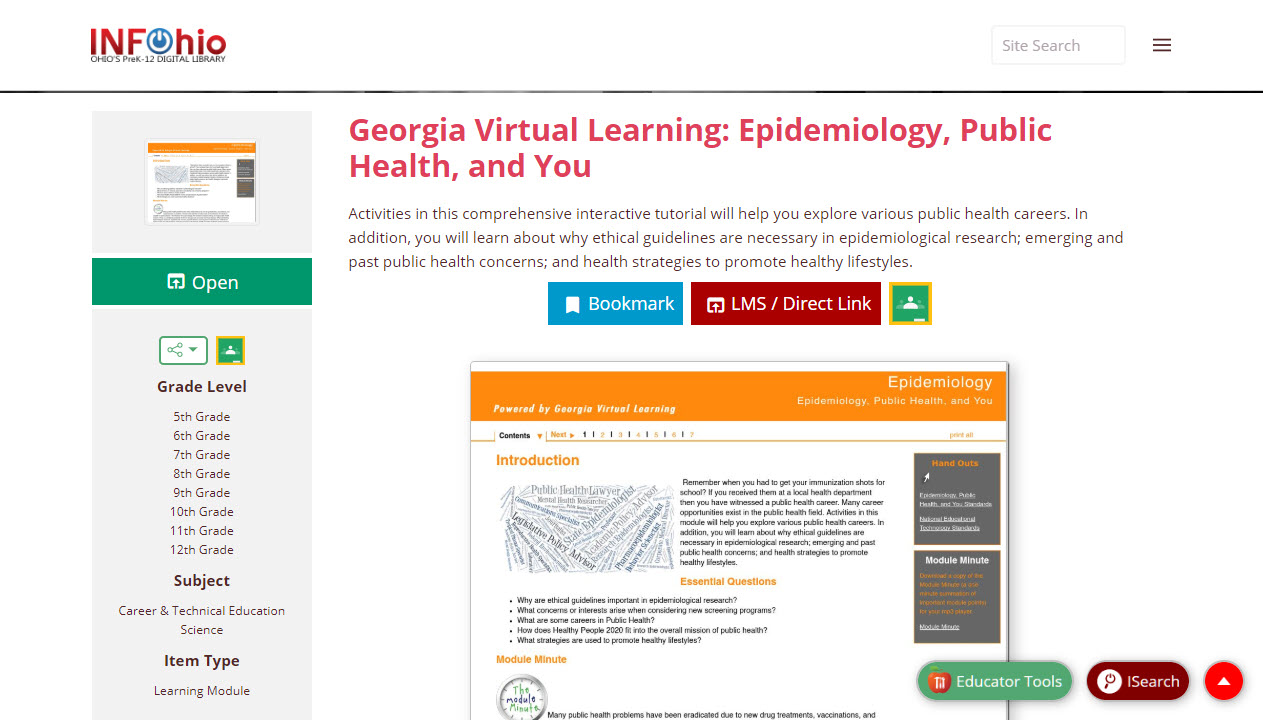 Conclusion
When students enter high school empowered with a growing sense of self-awareness, they can select classes and engage in meaningful career planning activities that will support their career goals. But career planning activities can be just as rewarding for the educator. Educators can use classroom instruction time to illustrate the real-world applications and occupations of their classroom content. Educators can play a vital role in supporting students as they develop the soft-skills needed for success in the workplace. As graduation day approaches, students can leave high school feeling confident and ready to embark on post-secondary study or enter the workforce with the same drive and energy to accomplish the career goals they started dreaming about in elementary school.