Career Awareness
What do you want to be when you grow up? Ask any child that question, and you are bound to get a myriad of responses that range from firefighter to teacher to astronaut. And why not? Childhood is a time of wonder, imagination, and discovery, making this an excellent time to begin supporting career awareness through self-awareness. After surveying 500,000 students in grades 5-12, a 2012 Gallup poll found that student interest and engagement in learning peaks during elementary school, after which follows a steady decline with each passing year (Viviano, 2015). Elementary school is the perfect time to combine an enthusiasm for learning with strategies to foster self-awareness.
In their article, Begin With The End in Mind, authors Papay, Unger, Williams-Diehm, and Mitchell establish the importance of self-determination. The authors assert that "developing self-determination and career awareness is a lifelong process that should begin in the primary grades." By doing so, we set students up for career and personal success following secondary school.
Cultivating self-determination pays off in the workplace. It is self-determination that allows individuals to set goals and execute action steps to accomplish those goals (Papay and et al., 2015). Career awareness promotes self-awareness from an early age as children learn about their abilities, their interests, and their strengths. Therefore, K-5 career awareness is at its best when integrated into the curriculum. The authors suggest easy strategies for cultivating essential career awareness skills into the elementary curriculum.
Self-determination: Use responsibility charts to teach students decision-making and self-regulation.
Self-awareness: Guest speakers, interviews, and interactive learning games allow students to learn about careers while reflecting on their abilities and interests.
With developmentally appropriate learning experiences supporting career awareness, we can set students up for future success. Self-determination and self-awareness are essential to social and emotional learning. By cultivating these skills in our young students, we support career awareness, which can lead to greater self-awareness, build literacy skills, and support social and emotional development. To learn more about how INFOhio resources support social and emotional development, visit the Teach With INFOhio Blog and read the posts on supporting SEL for grades K-2 and grades 3-5.
What can K-5 educators do?
Supported by the Department of Education and Workforce, the Career Connections Framework is a planning tool for districts to provide students with opportunities to develop realistic plans for their futures. Below is a list of suggested career activities for K-5 classrooms.
Cultivate curiosity in students.
Help students identify their individual talents and interests.
Connect classroom instruction to future work and careers.
Introduce students to Ohio career fields and pathways
Invite career speakers to the classroom.
Create opportunities for students to discover and explore work environments.
Organize field trips to local businesses.
Implementing Creative Career Awareness in the Classroom
Can't bring a speaker to your classroom? Don't have the funding for a field trip? INFOhio has lots of resources that bring a variety of work environments and careers to your classroom.
From the main page, explore the "People at Work" category. Within this category, you will find encyclopedia entries, videos, pictures, stories, interactive learning games, and activities to cultivate career curiosity. Explore stories, complete with lesson plans, and printable beginning reader books. Learn more about using World Book Early Learning in the classroom in INFOhio Campus, our go-to spot for professional development.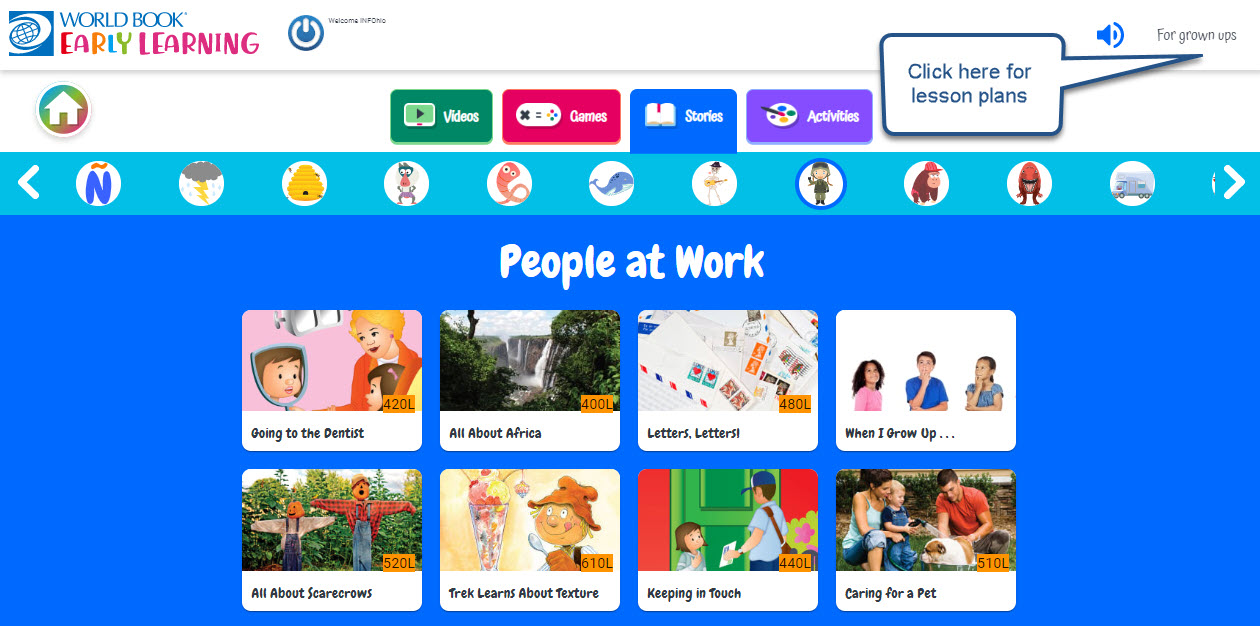 Read Spend A Day with a Doctor or peek inside A Very Busy Firehouse. Learn more about What Does the President Do? and Who Works at the Zoo with eBooks from BookFlix. Create opportunities for your learners to explore work environments and build literacy skills with interactive learning games and bi-modal text. According to Harkins, vicariously experiencing the world of work through developmentally appropriate literature help younger students learn more about different careers.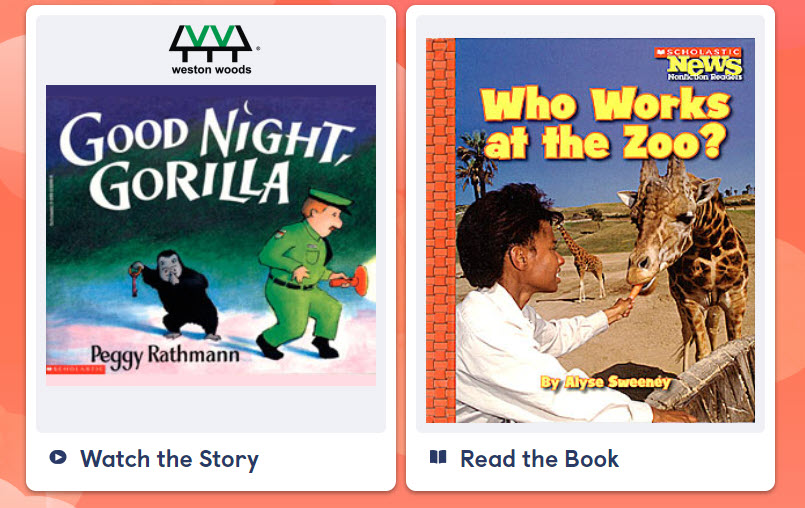 Bring the stories of interesting people and their work to your classroom with World Book Kids. From the home screen, select Important People. Search by Job or Achievement and learn about the challenges inventors, explorers, teachers, and business leaders have overcome to launch successful careers.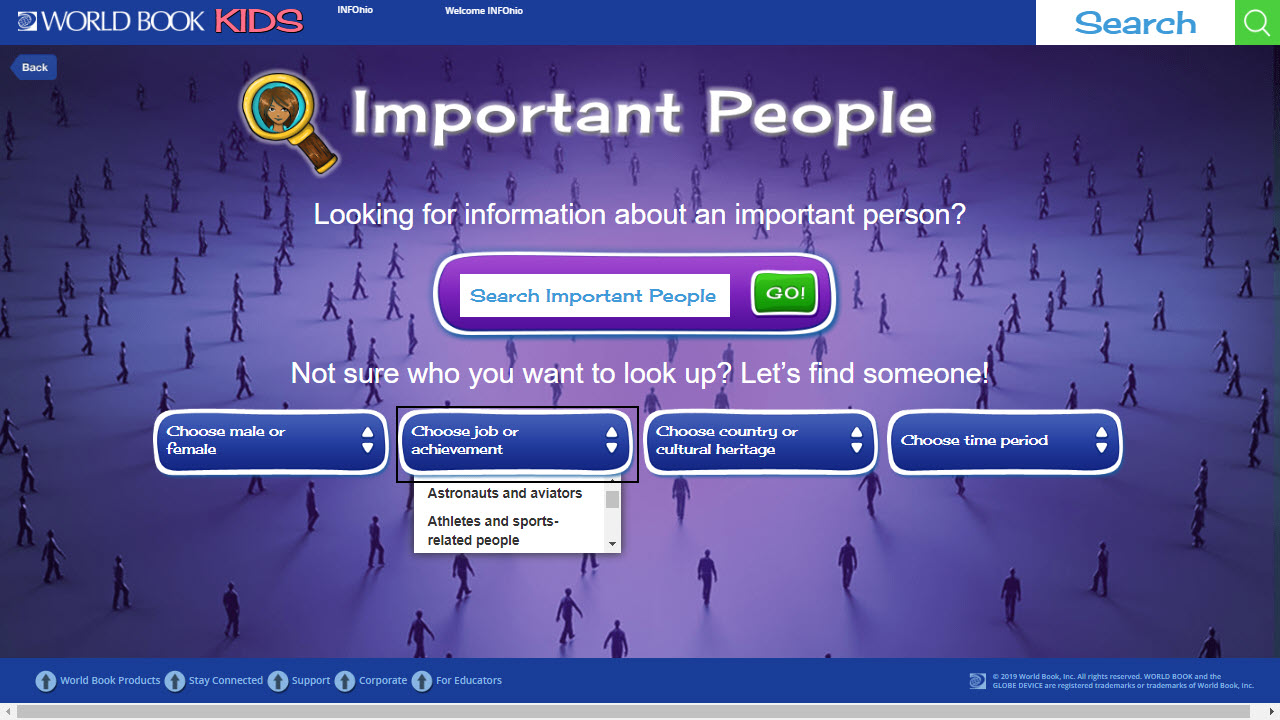 The World Almanac for Kids: Elementary
The World Almanac for Kids: Elementary has a user-friendly, pictorial interface easy for young learners to foster career awareness and develop a sense of community and citizenship. Students can learn about careers while also learning how to be an engaged citizen and leader in their local community. From the homepage, students can select from the following topics.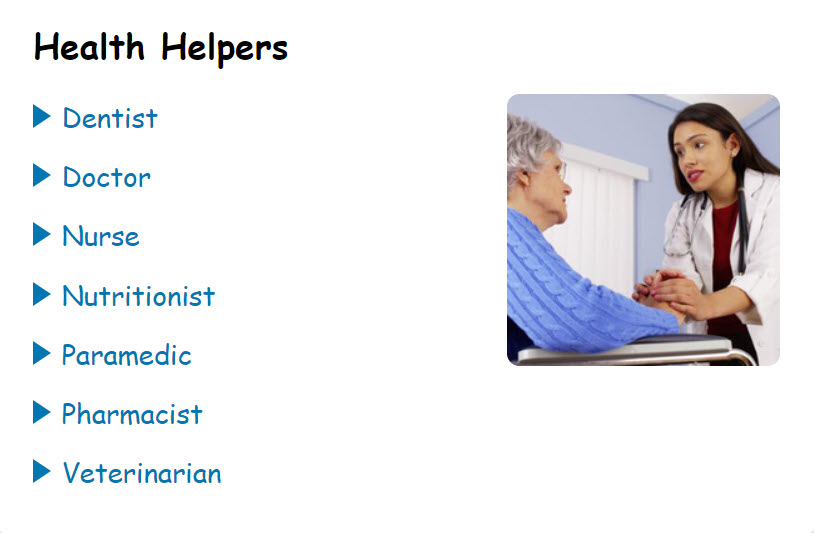 INFOhio Digital Video Collection (DVC)
More than 1,700 videos on careers, science, and technology from Infobase's Learn360 platform have been purchased by INFOhio and added to the Digital Video Collection (DVC). Learn360 videos are standards-algined, segmented, and downloadable. Videos can be shared with others, or added to a learning management system using the URL in the address bar. Search the DVC for videos on in-demand careers and learn more about the necessary training and skills for the workplace from interviews with industry professionals.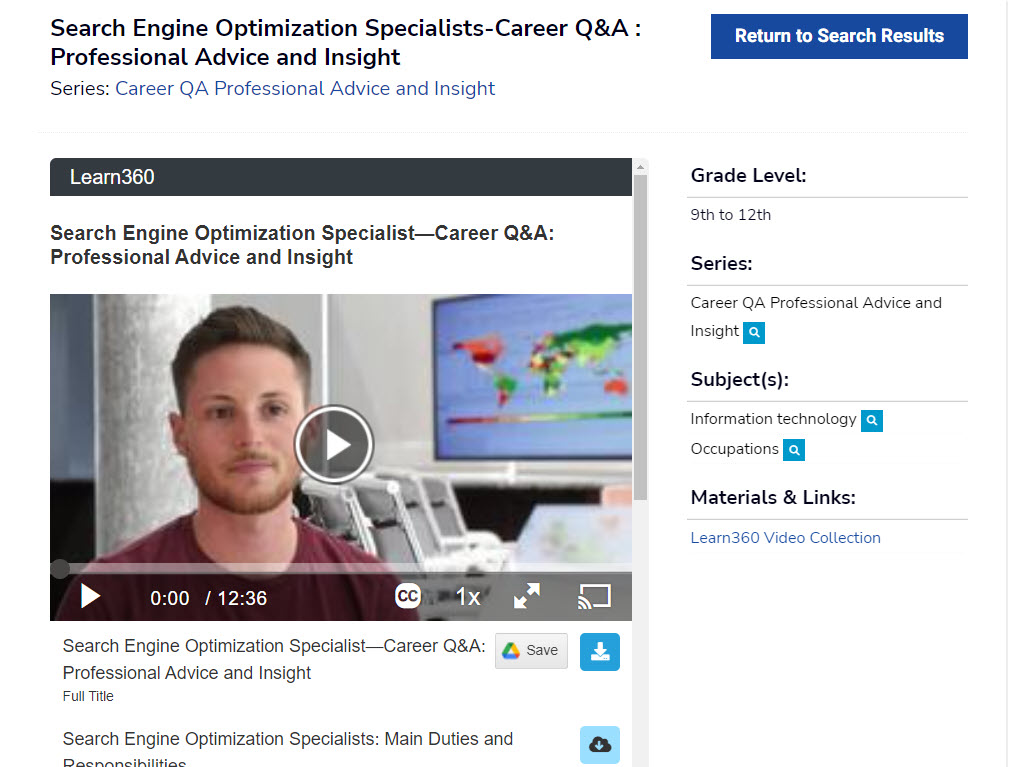 Conclusion
Big dreams for the future begin when we are young when anything is possible. Strategies for fostering career awareness build on existing classroom practices. Adults can do much to take advantage of a child's natural curiosity and engagement in learning to start building a positive attitude and habits towards careers and work.
To learn more about how to implement INFOhio's K-5 digital resources and tools into the classroom, visit INFOhio campus. Classes in the Ages 3-5 Digital Content Pathway and K-5 Digital Content Pathway include flexible, personalized professional development to support the use and integration of INFOhio's digital content and web tools.