Back to school means it's time to teach a new group of students how to find information in the library and on the web. Your library services platform (LSP) is there to help you support the learning needs of your students. It's time again to run new homeroom lists, create student barcodes, set your print pathway to open up reports, and remind yourself of the usernames and passwords you will need to use this school year. And that's just to name a few!
It's also a good time to catch up on any updates to your LSP that have occurred over the summer. Here at INFOhio, we've rolled out updates to Fetch, ISearch, and BLUEcloud. Read about the updates to Fetch and ISearch by checking out the blog, Increased Access to Fetch and ISearch.
There have been two updates to BLUEcloud since the end of the last school year. Read on to learn more about BLUEcloud's newest features and how they can help with day-to-day library management.
BLUEcloud Central
Menu Search Added to BLUEcloud Central
The ability to search for a page by name instead of navigating through the menus has been added to the toolbar. Click the magnifying glass icon and begin typing.

A list of possible destinations is presented. The keyboard shortcut Ctrl + Shift + F will also open the search.

Select the page you want to go to by clicking with your mouse or use your keyboard arrows to select the correct page and hit Enter. Select Esc on your keyboard or click outside the search area to exit the search.
BLUEcloud Circulation
Kebab Menu Added with Ability to "Mark Claimed Returned"
Now when a patron claims they have previously returned an item on their account, library staff can set a status of "mark claimed returned" for the item while it is searched for. Late fees will not accrue beyond the date set. The item's status will change to "Claims Returned" and the status will clear once the item is checked in.
To find "mark claimed returned," go to Circulation and pull up a user record. View current check outs under Items. Find the kabab menu for a checked-out item. Click to open and then click again to select "Mark Claimed Returned."

Select a date and click Save.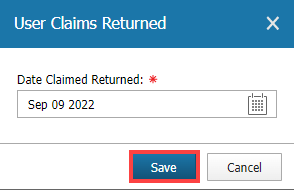 The item will be given a Status of CLAIM_RETURNED.

Once the item is checked back in, the status of CLAIM_RETURNED is removed.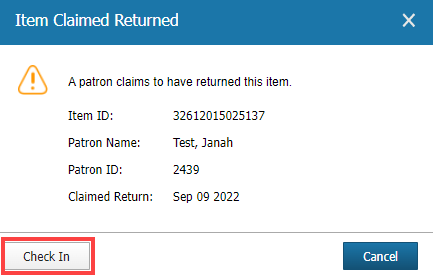 A "Claims Returned Count" is retained in the user's Patron Information so library staff can track if this is a recurring situation.

OK Button Renamed "Acknowledge" in Patron Alert Modals
In BLUEcloud Circulation, the "OK" button on alert popups has been changed to "Acknowledge." This clarifies the function of the button and how it is different from "Close": "Acknowledge" closes the alert and prevents it from displaying again while "Close" simply closes the alert. Acknowledging an alert allows for faster circulation by preventing the same alert from displaying multiple times. Acknowledged alerts will reset and begin to display again when a new patron is retrieved.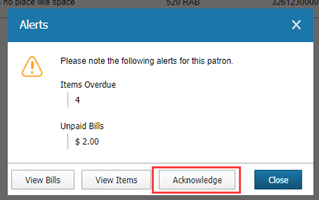 Warning Icons and Messages Added to Patron Status
When a patron has one or more fines, overdue items, or other blocking issues, the Status field in the patron overview panel now includes a warning icon and message. The icon will be yellow or red, depending on the severity of the block. This new feature will quickly inform library staff that the patron may be prevented from checking out items.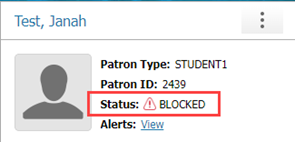 Check for Duplicate Patrons When Registering New Users
Library Staff can now check for duplicate patrons when registering new users in BLUEcloud Circulation. A library administrator must first enable the feature in the circulation profile. Checking for duplicates allows library staff to search the patron database for matching patron records, which helps prevent creating new records for patrons that already have a patron record.

BLUEcloud Course Lists
New Status Option in BLUEcloud Course Lists Includes "Unavailable" Status*
A new list item workflow status allows library staff users to mark an item as "Unavailable" when reviewing a resource list. This provides a method for preserving an item on a list without the item being visible in the student interface. This can be used, for example, in a case where the library is unable to acquire an item that a teacher requested.
*This was an INFOhio requested enhancement.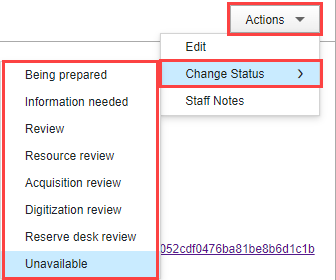 Staff Only Notes Added to List Builder
Instructors and library staff can enter administrative notes and correspondence which can be viewed in the staff interface, but which do not appear in the student interface. These notes are accessible to all future teachers and library staff, making it easier to review resource lists quickly and make decisions about resources efficiently.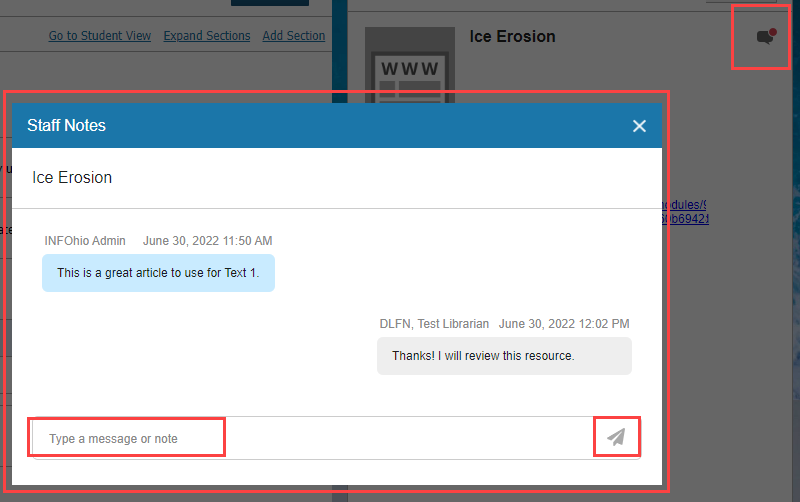 Conversations Window Added to List Builder
If a staff note has been added to a resource, the Staff Notes button will appear at the top of the list builder.

Library staff can click on the icon to access the message(s).

Delete Button Added to Staff Notes
Library Staff can delete their own Staff Note(s). Hover over the message and an X will appear. Click the X to delete the message.

Get Info Tool Added to Actions Menu
A new "Get Info" tool has been added to the Actions menu on the Item Details panel of the list builder. Using the Get Info tool, a user can search the library catalog for any items matching the item from the resource list. The user can view details about each matching item before selecting the closest or best match. The user can subsequently update the item on the resource list using the selected item's details.
MobileStaff
Default Search Selection is Retained
User and Item Search preferences are retained from session to session.

To learn more about BLUEcloud or to begin using one of the products listed above, contact the INFOhio Provider at your ITC for more details. For professional development and documentation on INFOhio's BLUEcloud suite of products, visit the BLUEcloud Learning Pathway found within INFOhio Campus. We hope you have a great start to the school year!
Questions or concerns? Please reach out at support.infohio.org.