BLUEcloud is SirsiDynix's next-generation library services platform that brings the best library user experience in a cloud-based environment. Through INFOhio, the following BLUEcloud products can be accessed such as BLUEcloud Circulation, BLUEcloud Cataloging, and BLUEcloud Course Lists.
BLUEcloud Course Lists also includes a Bookmarklet tool making it easy to curate content from your school library or online resources by adding them to an already created list. Keeping class reading lists all together in one place makes it easy for educators to share these with students. 
Learn With INFOhio Webinar
To learn more about BLUEcloud Course Lists, a 1-hour Learn With INFOhio webinar was recorded, titled Step Up Your Resource Curation with INFOhio's BLUEcloud Course Lists. Watch the recording and take the quiz to earn a certificate.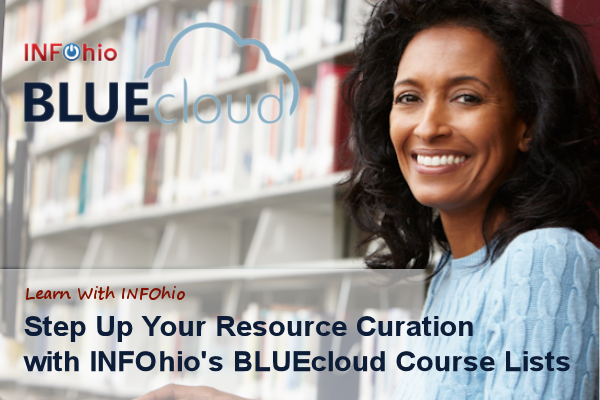 BLUEcloud Learning Pathway
A new class has been added to the BLUEcloud Learning Pathway. The BLUEcloud Course Lists class, worth 2 contact hours, is a class to learn more about this resource list management tool enabling librarians and teachers to work together to build lists of library and online resources relevant to what students are studying. 
The complete BLUEcloud Learning Pathway includes the following 7 classes:
Choose to complete individual classes in this INFOhio Learning Pathway, or complete the full BLUEcloud Learning Pathway to earn up to 18.5 contact hours. After completing all the classes in this learning pathway, take a final quiz, and earn a BLUEcloud Learning Pathway Badge. 
Have questions? INFOhio is always here to help. For questions, comments, and additional support contact us at support.infohio.org.