A 2020 Annual Financial Literacy Survey from the National Foundation for Credit Counseling found that 43% of households surveyed carry credit card debt from month-to-month, only 47% of adults in the United States have a budget, and 1 in 4 adults admitted to not paying all their bills on time. Understanding money and how to make informed financial decisions is a critical life skill that can set young people up for success and help them experience more financial freedom.
April is Financial Literacy Month, which is a nationwide, collaborative effort to bring awareness to topics of personal finance, including earning an income, spending and budgeting, saving, investing, understanding credit, and managing risk. Beginning the 2022-2023 school year, as stated in The Journal-News, Ohio students will need to "pass at least one half-credit course in financial literacy in order to qualify for graduation," and public high schools "can offer a financial literacy course as either an elective or math course" (Hancock, 2021).
INFOhio has the tools and resources to help you bring money smarts to your learners, many aligned to Ohio's Learning Standards for Financial Literacy and/or Ohio's Learning Standards for Social Studies, including content from INFOhio's web tools, premium licensed resources, and open educational resources. Let's take a look at a selection of supplemental financial literacy content available through INFOhio. Note: this is intended to be just a sample of the content available for this topic as of April 2022 and may be subject to change.
INFOhio Web Tools
Digital Video Collection
INFOhio's Digital Video Collection (DVC) is a streaming educational video platform and has several videos that can help students gain financial literacy, including:
IWonder
IWonder features age-appropriate, librarian-selected websites that support Ohio's Learning Standards and self-directed, inquiry-based learning. It is designed to help students with homework and school research. The Do you want to learn more about money? question categorizes resources like videos, websites, and interactive tools into topics of money, interest, stock market, needs and wants, and budgets.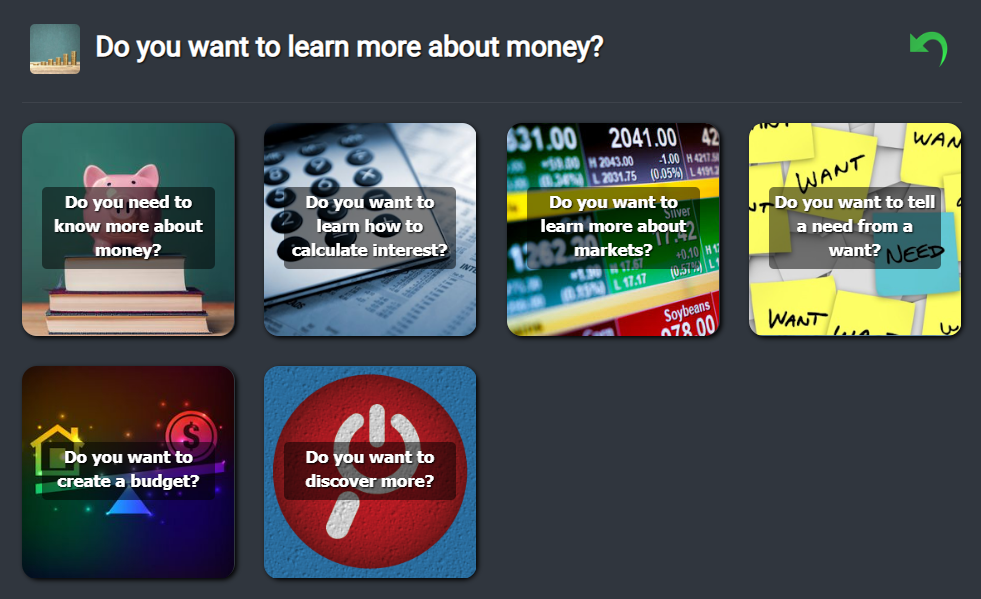 Licensed Resources
INFOhio licenses premium instructional content available at no cost to all Ohio educators, students, and parents. Below is a sample of what can be found related to financial literacy on these premium resources. Each resource is linked to an information page that contains a summary, links to open and share on a learning management system, and training materials. Using these information pages or "i" pages will ensure you are correctly authenticated and can successfully access the tools.
The World Almanac for Kids. Money Matters is a topic within The World Almanac for Kids that has units of learning for:
Banking
Earning money
Spending
Cost of living
Understanding credit
Planning for education
Money and relationships
Entrepreneurship
Investing
The lessons within each unit are aligned to Ohio's Learning Standards for Social Studies and feature easy-to-use citations and a read-aloud tool. Also included within the Money Matters topic are fun facts, videos, games and puzzles, and biographies of key people. The Spending Money unit explains shopping habits, budgeting, and charitable giving and would be a great fit for middle and high school levels.
Highlights Library. Searching for "money" in Highlights Library returns a number of eBooks that students can read or have read aloud to learn more about the basics of money. For example, "How to Grow Your Own Money Tree" describes how interest affects savings and the importance of saving for long-term goals.
The World Almanac for Kids Elementary. Within the "Math: Time and Money" topic of The World Almanac for Kids Elementary, there are units of learning and games for Understanding Money, U.S. Currency, and Working With Money. These simple lessons can give elementary students knowledge about how we use and count money while keeping the focus on core math concepts. Similar to The World Almanac for Kids, the lesson pages include citations and a read-aloud feature.
BookFlix. BookFlix from Scholastic pairs fiction and nonfiction text together with engaging animated videos and eBooks, related games, and additional resources on the web. Within the teacher resources area, find a lesson plan complete with book summaries, objectives, other activities to use, research, and standards alignment. Search "money" in the search bar to find a few applicable pairs for financial literacy:
If You Made a Million / All About Money
Lemonade in Winter / Dollar Bills
Sam and the Lucky Money / Chinese New Year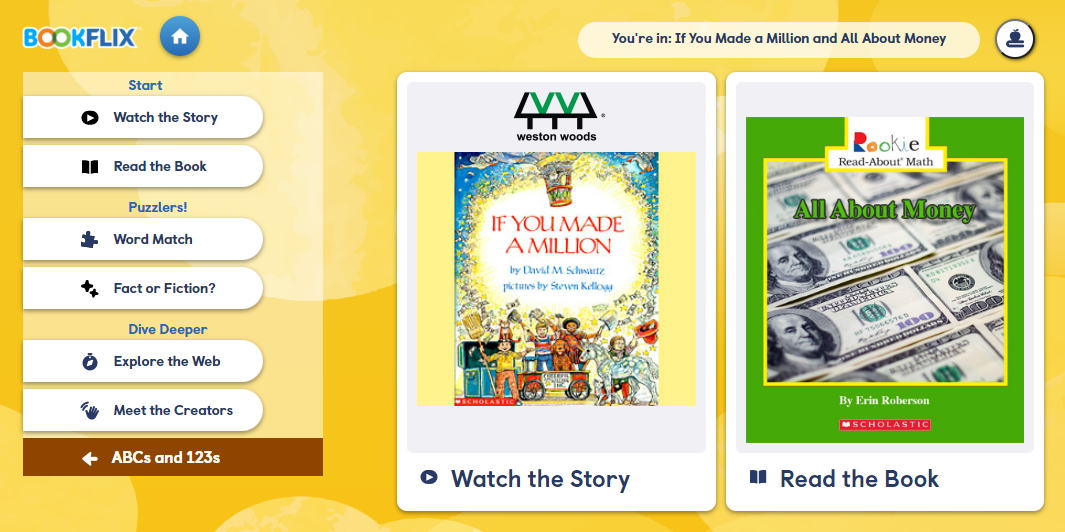 PebbleGo Next. Within the Economics topic under the Social Studies category in PebbleGo Next, learners in grades 3-5 can find subtopics for creating a budget, earning money, philanthropy, saving money, spending money, supply and demand, understanding credit, and the free market system. Each lesson has associated activities, videos, dictionary definitions, and a citation tool and read-aloud feature. As an example, the Understanding Credit lesson hits the financial literacy standards "Examine the different ways that people pay for goods and services" and "People may have to borrow money for large purchases. There are financial responsibilities with borrowing."
World Book Early Learning. While not explicitly aligned to Ohio Financial Literacy Standards, the People at Work topic within World Book Early Learning has a number of entries that can help PreK-3 students explore different careers which contribute to financial wellbeing.
World Book Advanced. The World Book Advanced online encyclopedia has articles, multimedia, and related information for many of the topics of financial literacy. For example, learners in grades 9-12 can do in-depth research on the topics of money, currency, debt, credit, budgets, and loans then complete a Webquest to extend their understanding.
World Book Timelines. Navigate to the Systems and Institutions category on World Book Timelines, then Economics to find four interactive timelines–History of Capitalism, Communism, Great Depression, and Nobel Prizes in Economic Sciences. Learners can click on events to learn more, annotate and add additional events, remove entries, and more to create a personalized timeline. Additional ideas for Financial Literacy Month from World Book are available on their Teaching Topics training and support page.
Open Access and Open Educational Resources
INFOhio curates open educational resources (OER) and other open access (OA) materials for all subject areas on Educator Tools and Open Space. Below is a selection of OER and OA content that can be found by searching within Educator Tools and Open Space.
Financial Literacy Resources by Grade Level
To find the resources you need more easily, here are the same links as above but organized by grade bands.
Grades PreK-5
Grades 6-12
Share how you're celebrating Financial Literacy Month by using #FinancialLiteracyMonth and #INFOhioWorks on social media. For assistance with any of our web tools and resources, contact us at support.infohio.org.