In the years before the internet became the first place everyone began their research, school and academic librarians spent countless hours teaching students from elementary school through graduate school how to read newspaper articles and magazines critically, looking for bias or political leaning. It's not enough to teach students to read for bias anymore. Even many college students have difficulty determining whether what they're looking at on the screen is a personal website, a newspaper article published by a reputable news source, an opinion piece in an academic journal, or a research study. Now, along with helping students understand the differences between information sources and examining them for bias, we must help students figure out if the information sources they've found online are even real.
In the past, you'd primarily find fake news in the checkout lane at the grocery store.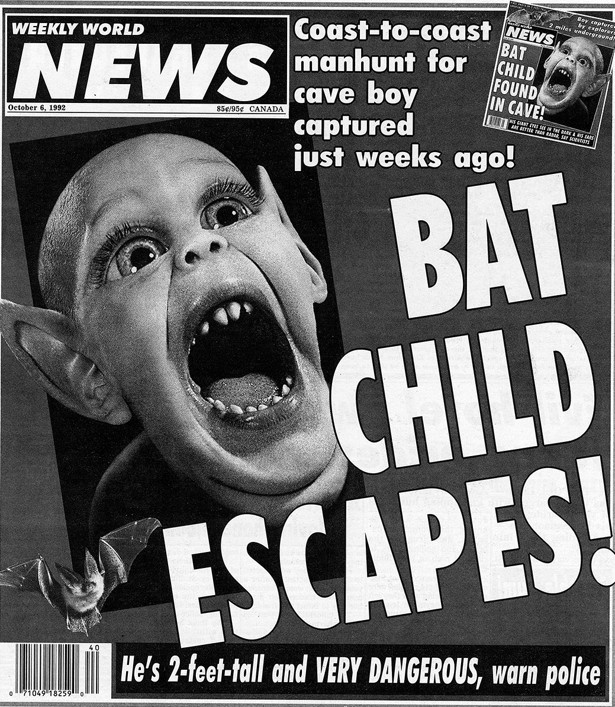 (Image: http://www.theatlantic.com/entertainment/archive/2014/10/the-ingenious-sensationalism-of-the-weekly-world-new/381525/)
Now fake news is served to us alongside other results in our Google searches or just beneath our friends' posts about their day in Facebook.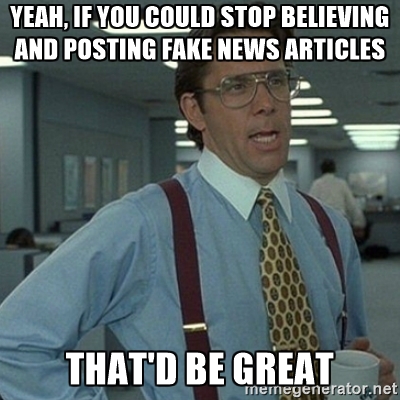 (Image: https://memegenerator.net/instance/56391120)
For years, school and academic librarians have used exercises comparing sites like the The Pacific Northwest Tree Octopus or the Dihydrogen Monoxide FAQ to reputable websites to help students distinguish between what's factual and what's fake and to help them determine some common characteristics of reputable information sources. Lately it's getting more difficult to distinguish truth from fiction.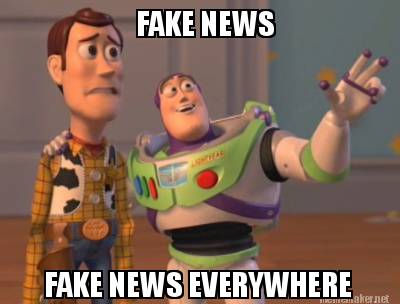 (Image: http://www.mememaker.net/meme/fake-news-fake-news-everywhere/)
A few years ago, National Public Radio (NPR) ran an article about a recent Stanford study of students' skills evaluating information that began, "If the children are the future, the future might be very ill-informed." In response to the plethora of fake news, OELMA past-president, Susan Yutzey, wrote a letter to the editor of the Columbus Dispatch saying, "This may not seem like a life and death matter – but it could be if our children don't question the credibility of the barrage of health and financial information that comes or will come their way." And a few weeks after this letter to the editor was written, fake news did become a life and death matter when a gunman, taken in by an online information source, held up a Washington DC pizzeria.
So how can educators help learners figure out whether what they're reading online is factual or fake? Encourage students to begin their search for information with a search tool that only retrieves results that have been curated by information professionals. ISearch is a search engine that lets students search their school library along with nearly all the high-quality digital content from INFOhio's digital resources from a single search box.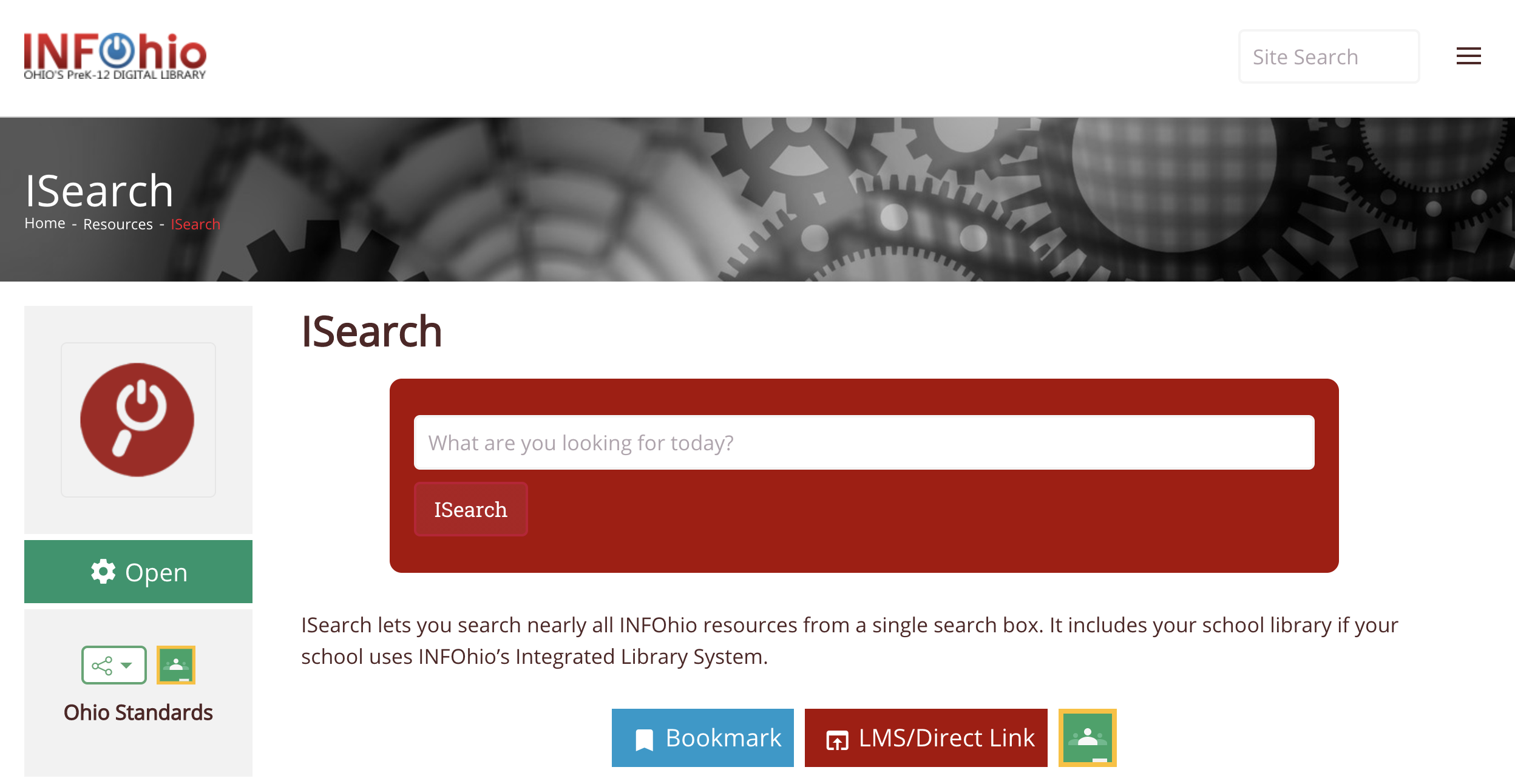 The information sources in INFOhio's digital resource collection are considered premium content and little of it is freely available on the open web. However, INFOhio has purchased the resources for Ohio's PreK-12 students to use at no additional cost to Ohio schools. Your students won't find articles from fake news sources like the Denver Guardian or NationalReport.Net in ISearch. To learn more about how students can use ISearch for research share this video, Research Made Easy with ISearch.
Once students have found some information sources, they still need to develop evaluation skills to determine if those resources are biased or if they meet their information needs. INFOhio's Go! Ask, Act, Achieve guides middle and high school students through the research process using INFOhio and other web-based research tools and information.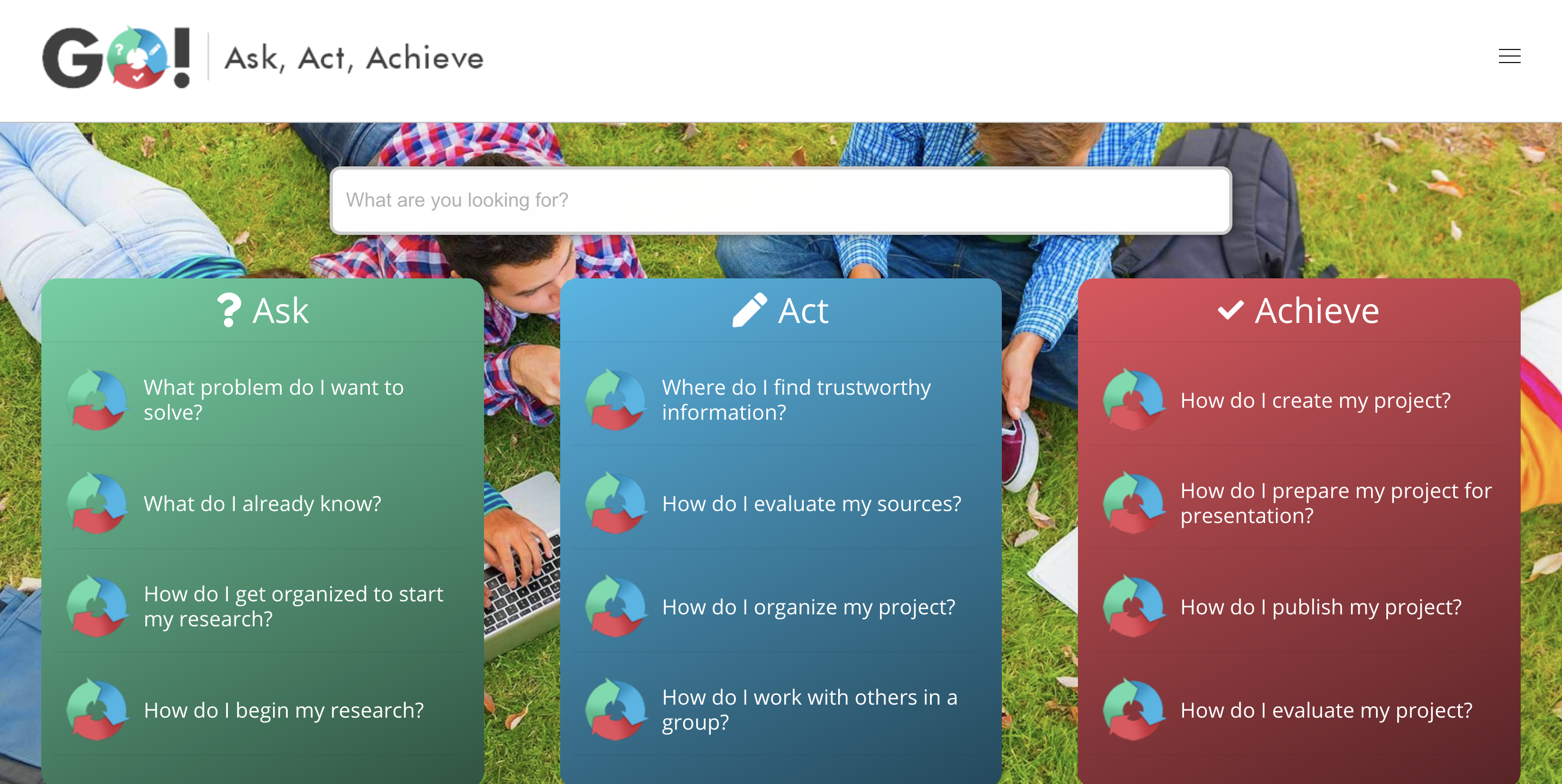 The Act section of Go! includes several activities designed to help students think critically about their information sources.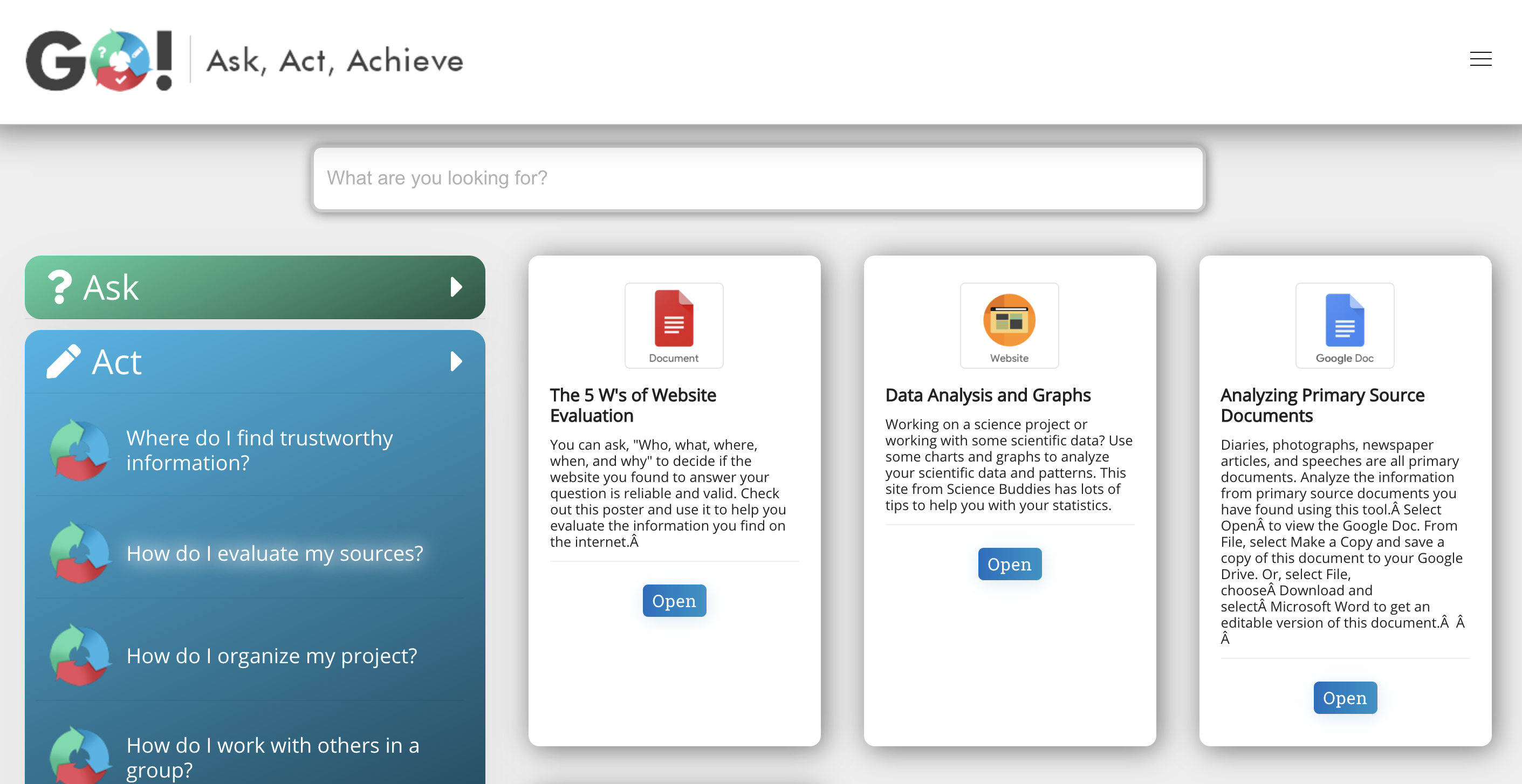 For a more in-depth exploration of the research process and evaluating sources, use INFOhio's Research 4 Success (R4S). R4S was designed for use with high school and first and second year college students. It breaks the research process down into six modules, each of which can be embedded within your learning management system.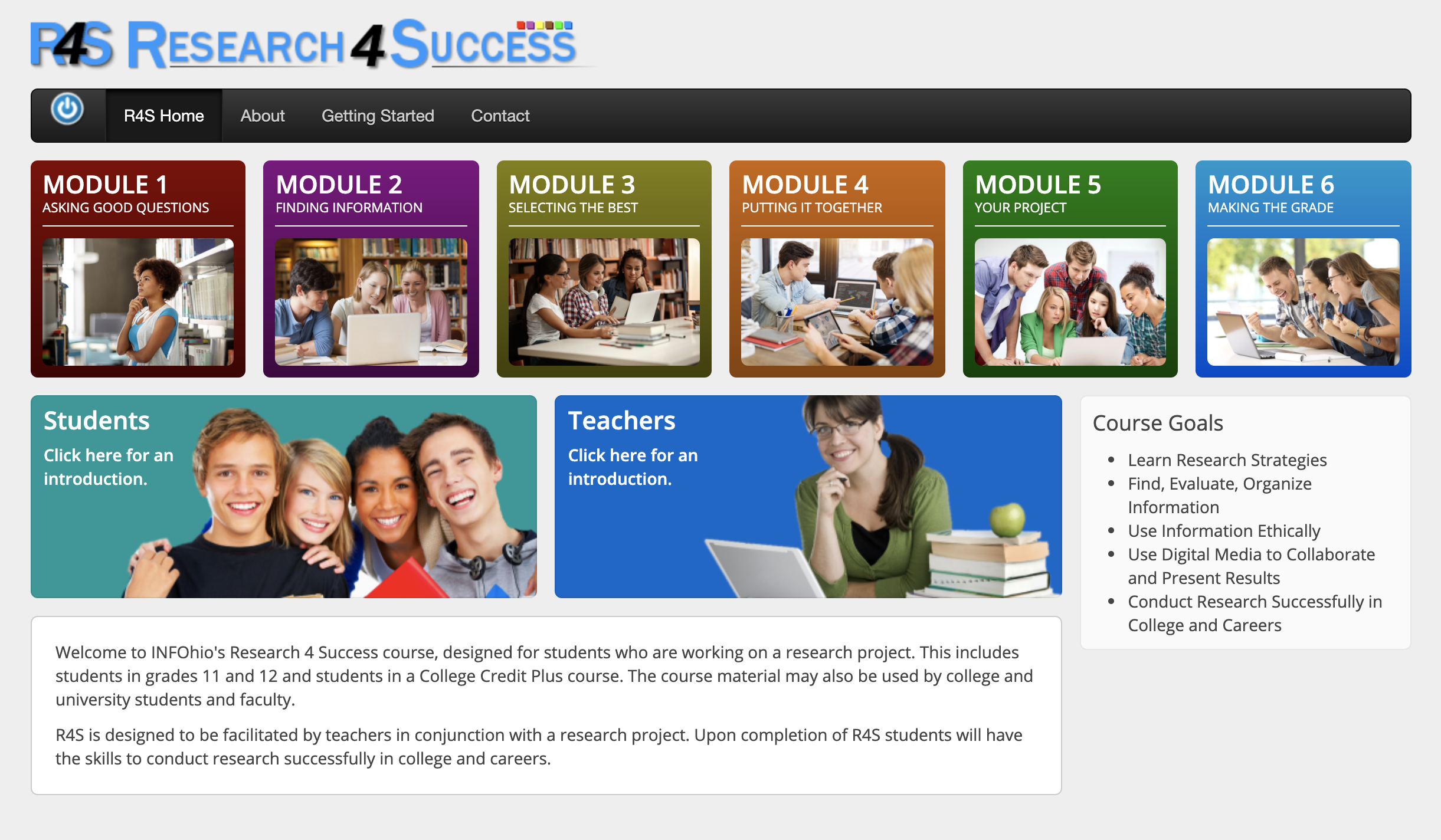 Use the tutorials, activities, and quizzes in Module 3 to help students distinguish between popular and scholarly sources, evaluate a source's credibility, and use information ethically.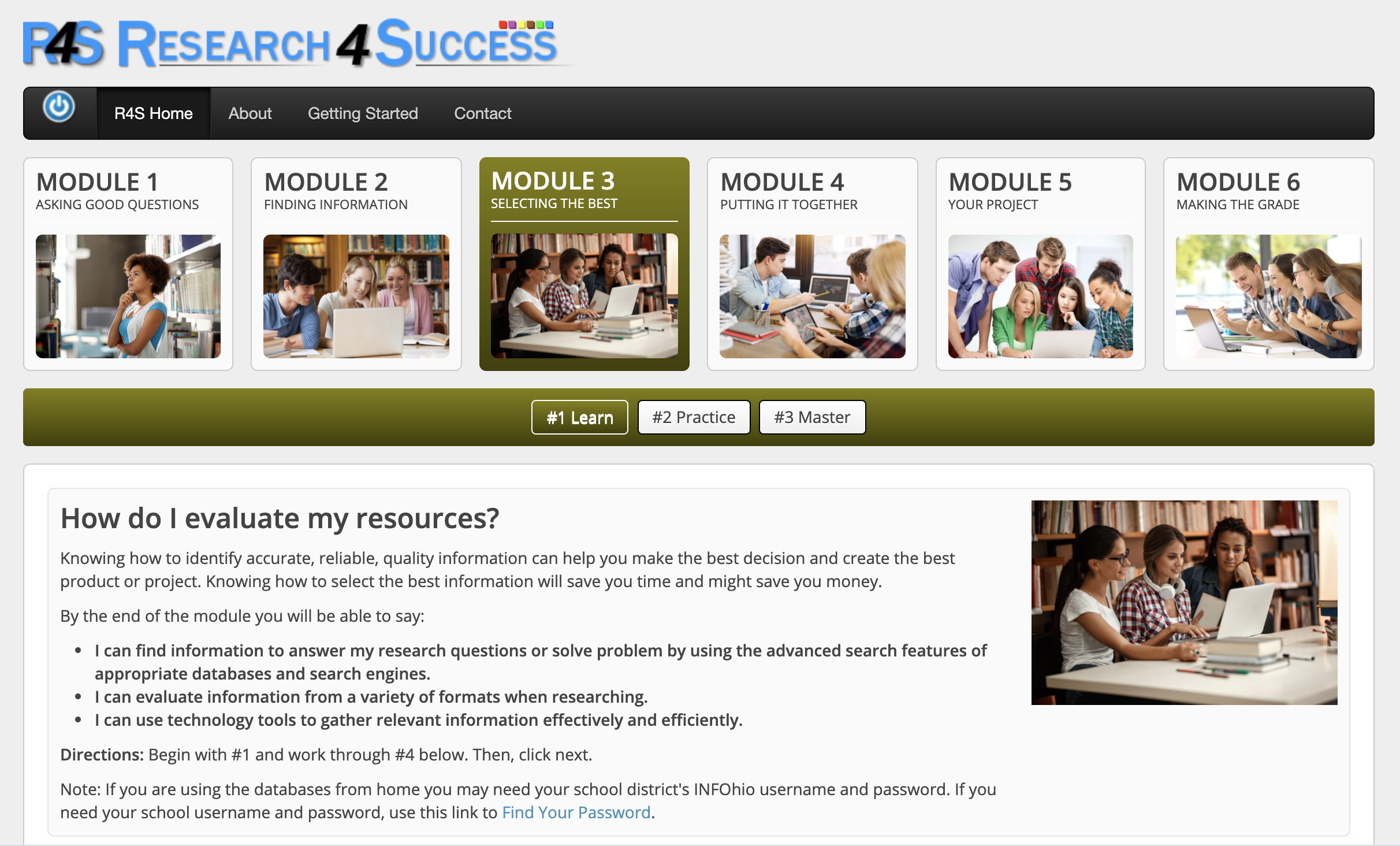 For more information check out the Teacher Guide: Go!, Ask, Act, Achieve and Teacher Guide: Research 4 Success (R4S).
Learn more about how ISearch is different from other search engines and how to start using it in the classroom, while earning contact hours. Visit INFOhio Campus and find the ISearch for Inquiry class in the 6–12 Digital Content Learning Pathway and the ISearch for Teachers class in the High-Quality Instructional Materials for Each Child Learning Pathway. Find best practices for reading digital texts in the Reading on the Screen class located in the K–5 Digital Content Learning Pathway.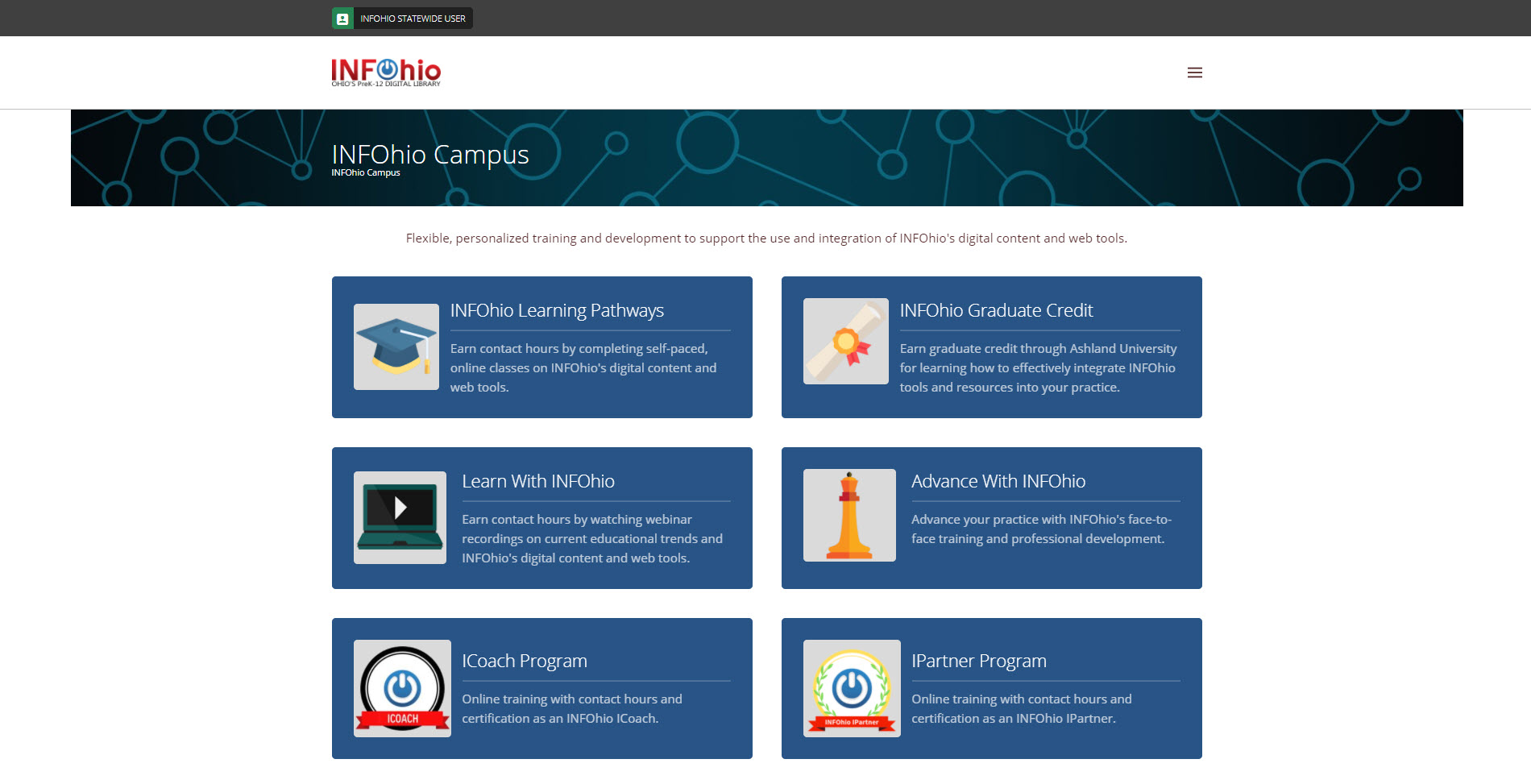 To learn more about fake news and how it spreads, log into the INFOhio website with your school or district's INFOhio username and password and try a search in ISearch for "fake news." Then talk to your students about how they can find reliable information online.