During this time of year, many things come to mind: snow, tinsel, candles, and presents. Many people think of gingerbread men or latkes, bright blues or reds and greens, and family traditions and memories. What most Americans might not associate with this time of year are books. In Iceland, it is traditional to give books as gifts on Christmas Eve. This tradition is so well-established in Icelandic culture that it has become known as Jolabokaflod, or the "Christmas Book Flood." From September to November, book sales are at their highest in the small country with a population of just over 300,000, according to NPR. This is largely in part to the release of a free listing of all the new books available, the Bokatidindi which is delivered to every home in Iceland. This culture highly values books, and for this reason the gift of a print book is one of great worth. Christmas Eve is a night for reading, and has been since WWII when imported paper had fewer restrictions on it than other types of products.
Many households in the United States could share similar stories of treasuring books and reading on Christmas Eve. Clement Moore's 'Twas the Night Before Christmas, Chris Van Allsburg's The Polar Express, and Dr. Seuss's How the Grinch Stole Christmas! are all popular titles for children across the fifty states. Cuddling in for a bedtime story right before falling asleep is a wonderful way to escape from the hustle of the season, and make time for family. Helping to establish a culture of reading in your students' homes for the holidays can be manageable with some free resources, and a little bit of planning. You can gift students and their families with the joy of books by sharing these five tips and INFOhio resources available at no cost to support them.
1. Read together as a family. Whether using print, or digital books, families can connect and unwind by setting aside time to read. It doesn't need to happen at the same time every day, or be a certain amount of time. Let families know that what works best for them is most important.
Scholastic Literacy Pro, an eBook collection with over 2800 titles, is a great library for families with students in grades 3-6. Set up an account for your students, and send home the Scholastic Literacy Pro family letter and families can choose seasonal titles such as:
Christmas Miracle Pets by Allan Zulo
Sam and Charlie (and Sam too) Return! By Leslie Kimmerman
There Was a Cold Lady Who Swallowed Some Snow by Lucille Colandra
Space Science Constellations - plan a family stargazing event
2. Share stories that remind children of the importance of kindness, friendship, imagination, and giving. Send the BookFlix Parent Letter home with students to encourage families to explore eBooks from BookFlix. Suggest these titles as conversation starters for embracing the values of the season:
Amazing Grace by Mary Hoffman
Crazy Hair Day by Barney Saltzberg
Each Kindness by Jacqueline Woodson
Leo the Late Bloomer by Robert Kraus
Bridge the message of the books with actions in life—donate toys to a doy drive, or volunteer as a family to work at a local food bank. Including children in these activities is a great way to bring the message from print to reality.
3. Read books that celebrate the season. BookFlix has several titles that will not only entertain, but inform children about the celebrations that occur this time of year. Let families know about:
'Twas the Night Before Christmas by Clement Moore
Seven Candles for Kwanzaa by Andrea Davis Pinkney
In the Month of Kinslev by Nina Jaffe
Each of these fiction titles is paired with a nonfiction title that helps children learn more about Christmas, Kwanzaa, or Hanukkah.
It is also the winter season, and Capstone Interactive has several nonfiction eBooks about the season's effect on historical events, lands with cold climates, and natural phenomena formed by the frigid air. These bookmarks are great for families and provide information to access seasonal titles such as:
Winter in Valley Forge

Antarctica

Exploring Auroras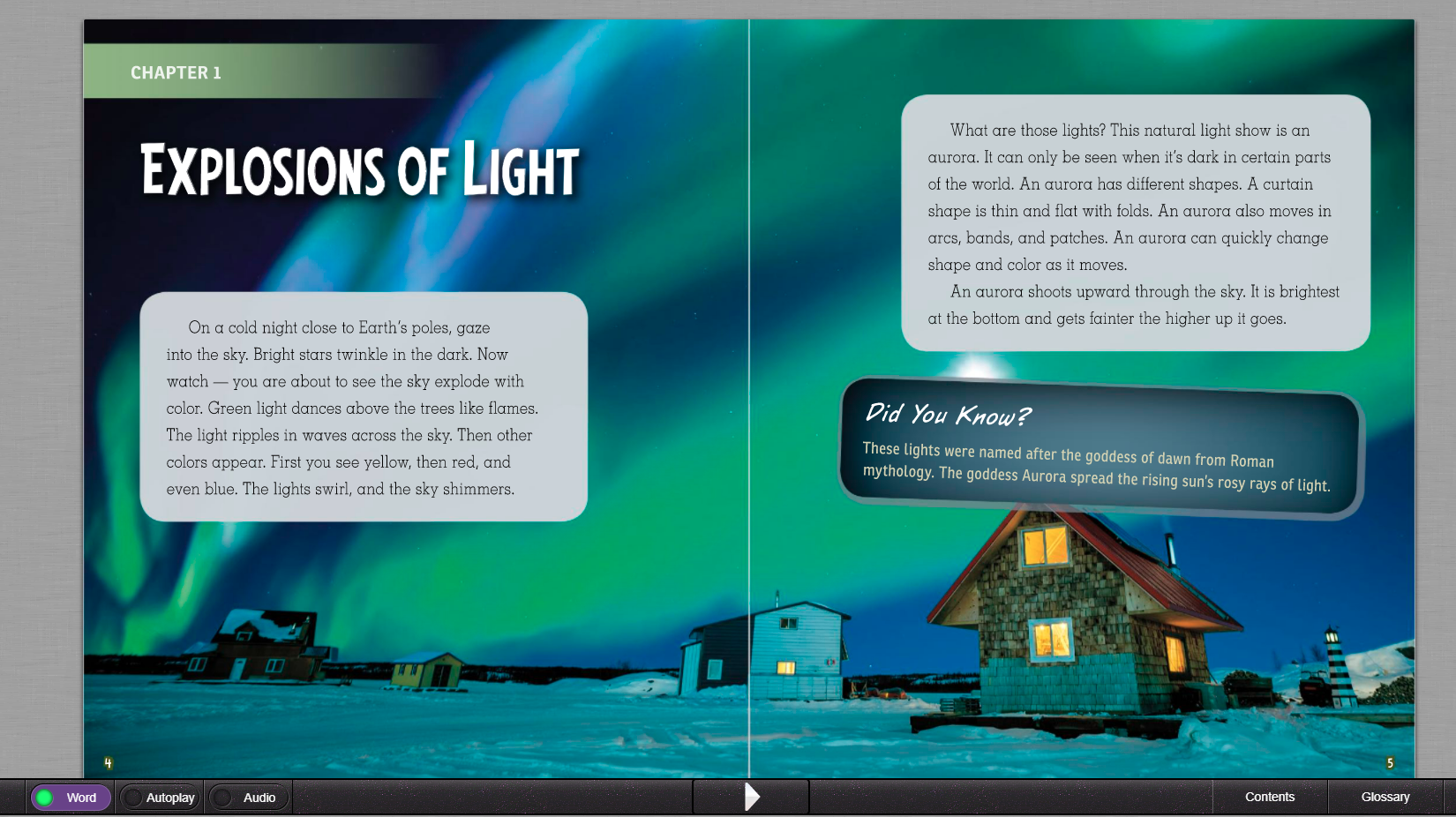 4. Let readers choose the books to share and take turns reading. Learn more about creating a culture of reading with INFOhio's digital content and get ideas on how to share the literacy spirit with your students and their families. Watch the Learn With INFOhio Webinar Give the Gift of Reading with INFOhio's Digital Text and eBooks to discover additional resources with reading material from INFOhio's databases and resources. Check out the Teach With INFOhio blog Using INFOhio Resources to Give the Gift of Literacy to learn how to create your own seasonal bitmoji activity scene for students and their families.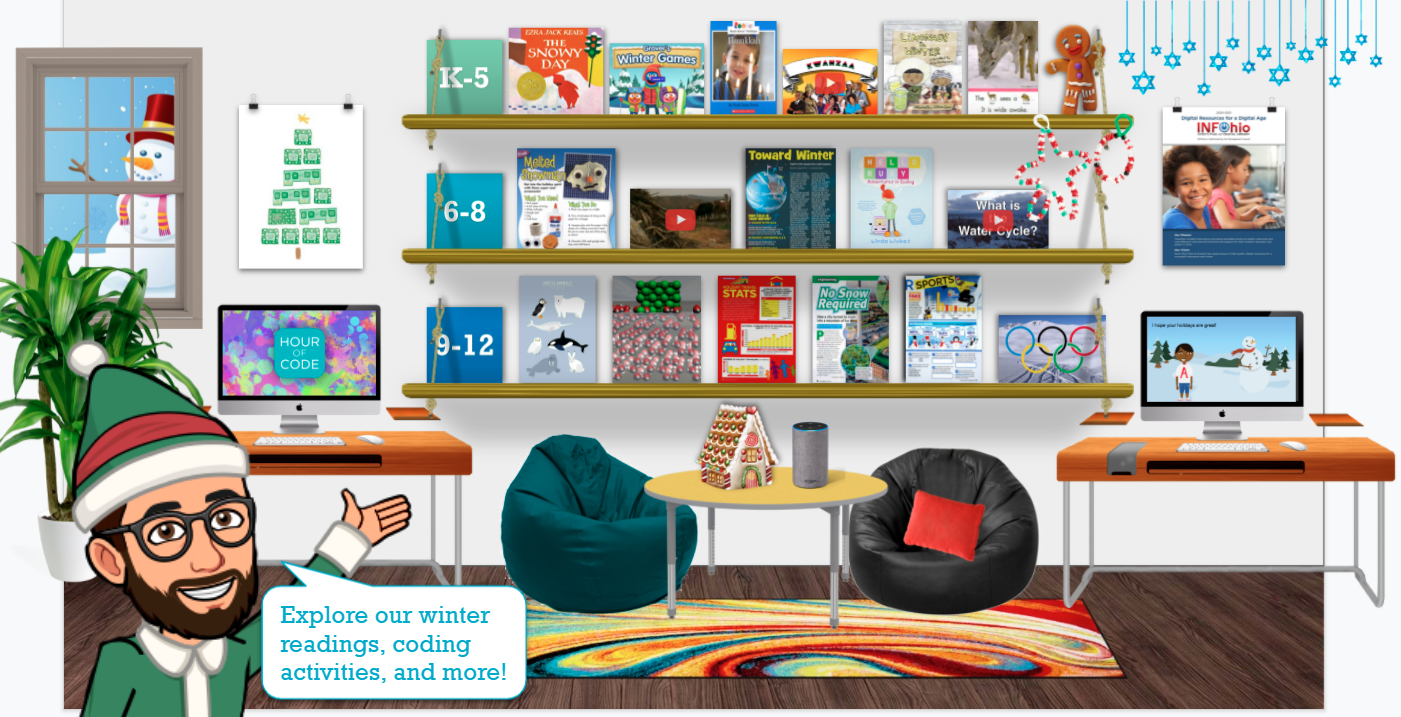 5. Visit your public library with your family. Collaborate with your school or district's public library to provide families with information on seasonal activities and library card applications. Families will find not only print favorites, but also discover the digital collections available at many public libraries. Some libraries also loan out devices for eBooks. Whether families choose print, digital, or both, the public library will have information that can help them establish their very own Jolabokaflod this season.
Bonus tip: Give a book as a gift for each member of the family. Need some hints about what's hot now? Share Parents' magazine's top books for kids for 2021 with your students' families.
These festive days will be over soon. Don't let them pass without sharing the resources and strategies suggested here to create new memories that will soon become a regular part of your students' families' celebrations. Give the gift of reading this season, and you'll find that the joy doesn't end, even as the months roll by! Don't forget to let us know how you used INFOhio to give the gift of reading. Learn more and stay connected with #INFOhioWorks.