Spring is in the air and it's time to celebrate warmer temperatures and the e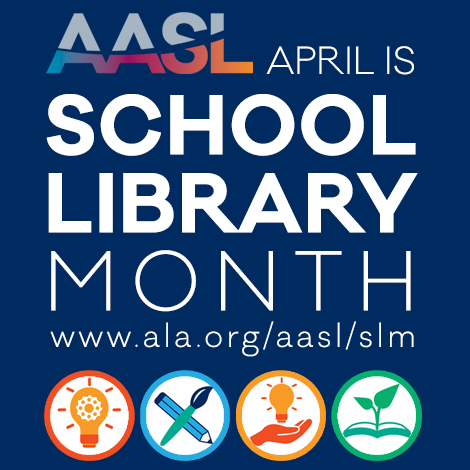 nd of a long, cold, snowy winter. School librarians have twice as much to celebrate this month as April is designated as School Library Month by The American Association of School Libraries. This year's theme is "School Libraries Transform Learning." Each April, school librarians are asked to share with their schools and communities how they and their libraries transform learning and make connections every day with students and staff.
School Library Month is a perfect time to highlight the work that is being done in your school library. Popular examples of how School Library Month is celebrated in libraries across the country include:
Posting library activities to social media
Sharing student voices with videos or flyers
Hosting a book fair
Hosting in-person or virtual author visits
Creating displays in the library
Incorporating Makerspace activities
Offering Book Tastings or Book Talks
Providing Lunch and Learns
Playing a game of library trivia
Speaking to the school board and other school administrators
Posting a reading challenge
This year, in addition to these ideas, continue to work to create, collaborate, and build partnerships with your school's teaching staff by diving into INFOhio's newest addition to BLUEcloud - BLUEcloud Course Lists. Not only can BLUEcloud Course Lists strengthen colleague interactions between the library and content area subjects, but the resulting product also provides students with a treasure trove of curated resources perfect for what they are studying in class.

What is BLUEcloud Course Lists?
BLUEcloud Course Lists is a resource list management tool that allows librarians and teaching staff to work together to create access to library resources to support teaching and learning. School librarians and teaching staff can collaborate using the software to curate and publish online interactive lists of quality, vetted resources in which students can access the subjects relevant to their classroom studies. If you currently use INFOhio's Library Services Platform (LSP) SirsiDynix WorkFlows or BLUEcloud, BLUEcloud Course Lists is available to you.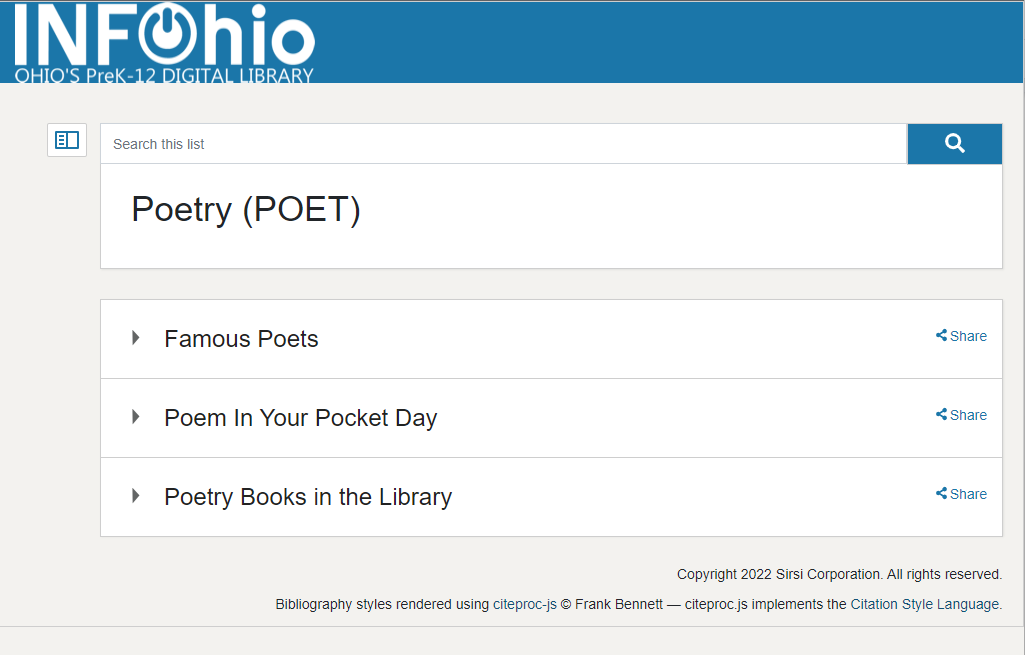 There are many benefits of BLUEcloud Course Lists. This resource saves the school librarian time with research and organization of resources. There is no additional cost, and this product has a simple user interface so minimal training is needed. BLUEcloud Course Lists also can help foster a relationship between the school librarian and teaching staff by placing the library in the forefront as a partner in curriculum building. This product is web-based and does not require any software installation. It is also compatible with Chromebooks, laptops, and other mobile devices. Students can access a list from home or school on most devices available to them with internet access.

How does BLUEcloud Course Lists work?
Once a class has been added to the BLUEcloud Course Lists platform, a resource can be added manually or with the bookmarklet tool. The bookmarklet tool is unique to Course Lists and is used to capture information about a website, book, or material so students can easily access that resource. The bookmarklet tool is added to a user's preferred browser toolbar with a drag and drop. Once the bookmarklet is in place, resources can be added through reputable websites, INFOhio's digital resources, and the online library catalog.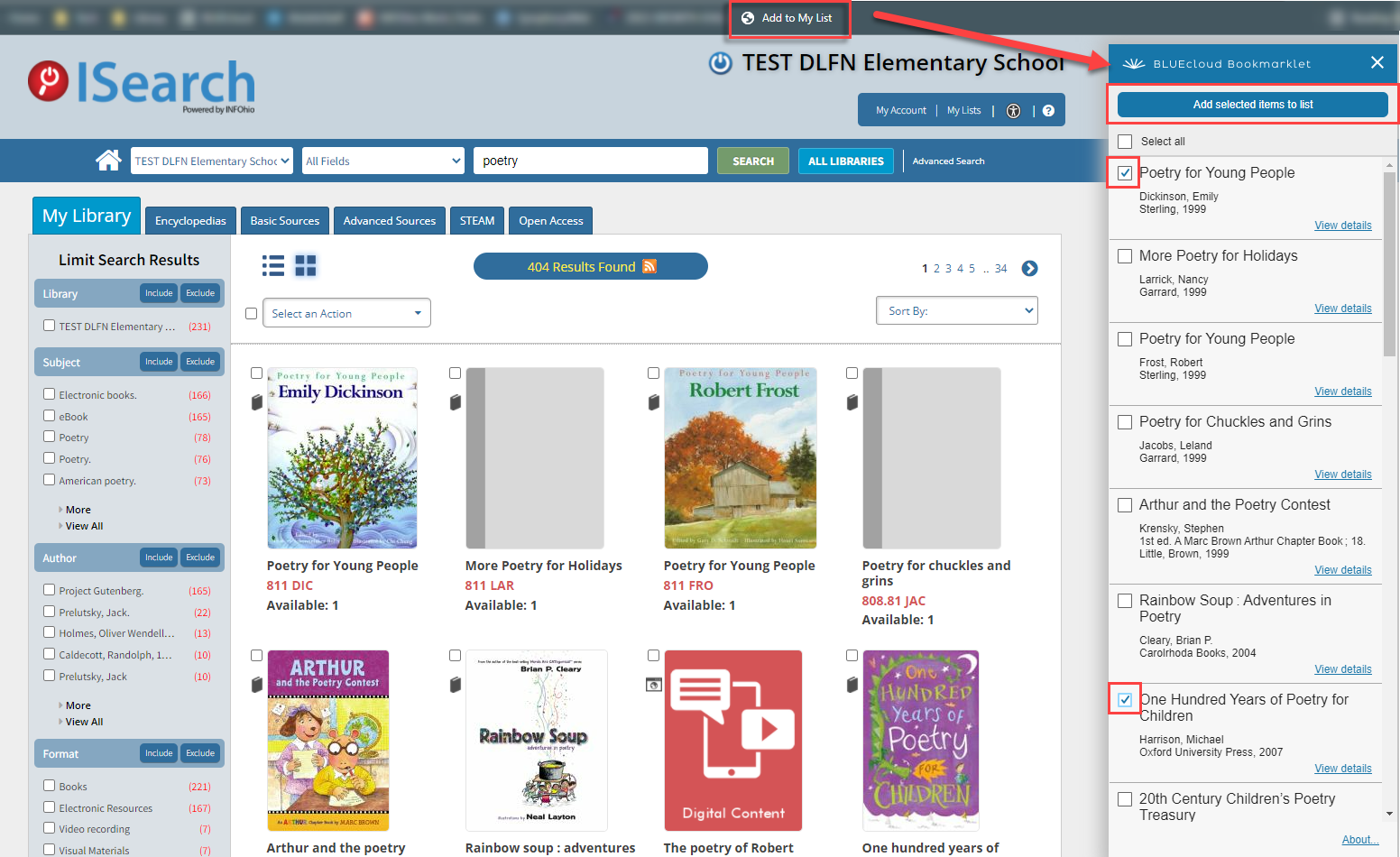 How can BLUEcloud Course Lists be used during School Library Month?
One of the biggest reasons for using BLUEcloud Course Lists during School Library Month is that it gives the school librarian a new opportunity to collaborate with teaching staff and administrators, providing students access to high-quality materials both online and in the school library. School librarians can collaborate with teachers to curate lists of resources that support the school curriculum and classroom learning. In addition to School Library Month, April is also
That's not to mention April includes holidays like
Each of these topics could have a dedicated list with high-quality resources to help students learn more. School librarians could take the month of April to highlight each list on social media or other channels, increasing the visibility of the school library and the resources available.
To find out more about BLUEcloud Course Lists, please visit the INFOhio Library Services web page or the BLUEcloud Course Lists class found in the BLUEcloud Learning Pathway within INFOhio Campus. If you are currently using INFOhio's Library Services Platform (LSP), please contact the Library Support Staff at your Instructional Technology Center (ITC) and request access. If you are not automated with INFOhio's LSP, please contact the Library Support Staff at your regional ITC or contact INFOhio at support.infohio.org for more information.
Share with INFOhio how you plan to celebrate School Library Month by including #INFOhioWorks in your social media posts during April. We'd love to celebrate along with you!