INFOhio Supports Everyday Teaching
Educators impact student learning every day by serving as change agents, seeking feedback, embracing dialogue about learning, and developing trust in the classroom. Using quality instructional materials is proven to be a powerful influence on student learning, and the choices of educators support successful outcomes. In this Learn With INFOhio webinar series, learn about finding, evaluating, collecting, and using quality instructional materials to impact student learning. Explore the tools and resources available from INFOhio to empower educators and maximize learning.
Seize this unique opportunity! By viewing all four webinars—you'll earn an exclusive invite to a hands-on virtual session with INFOhio's experts. Dive deep into curating packages of quality instructional materials tailored to daily student needs to benefit your students and those across the state. Earn up to 4 contact hours by participating in each webinar and the live, hands-on sessions.
The live workshops will be available on two separate dates and times: Tuesday, December 5 at 1:00 PM and Wednesday, December 6 at 7:00 PM.

Recordings are Now Available for Each Webinar

Supporting Everyday Teaching with High-Quality Instructional Materials
Tuesday, October 17, 3:30-4:00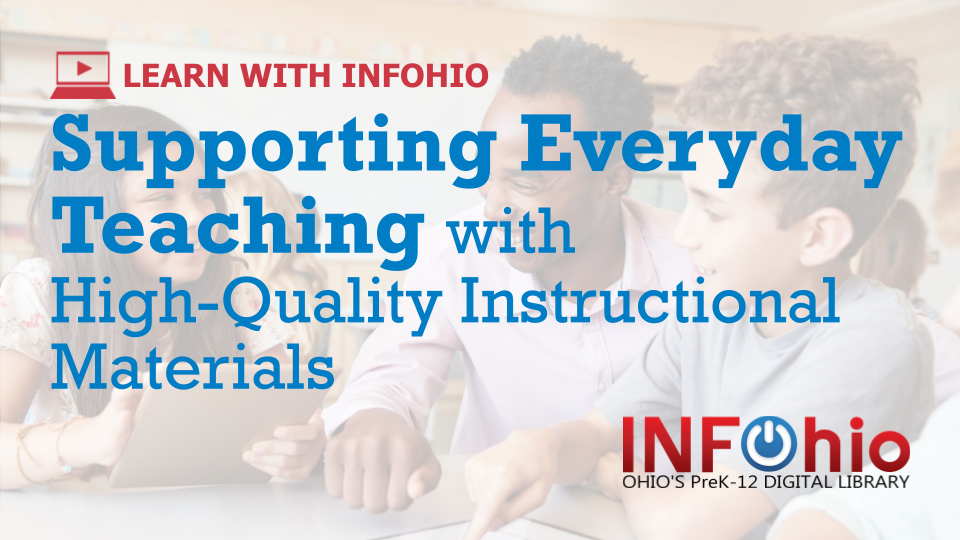 Educators know that the success of their students' learning is tied closely to what they do every day. Educators are powerful change agents in the classroom. Using quality instructional materials in the classroom is one way to impact student learning for the better. Explore research supporting the importance of high-quality instructional materials and discover tools to evaluate curriculum and discover the best to scaffold student learning each day.


Supporting Everyday Teaching with Reviewed and Endorsed Instructional Materials
Tuesday, October 24, 3:30-4:00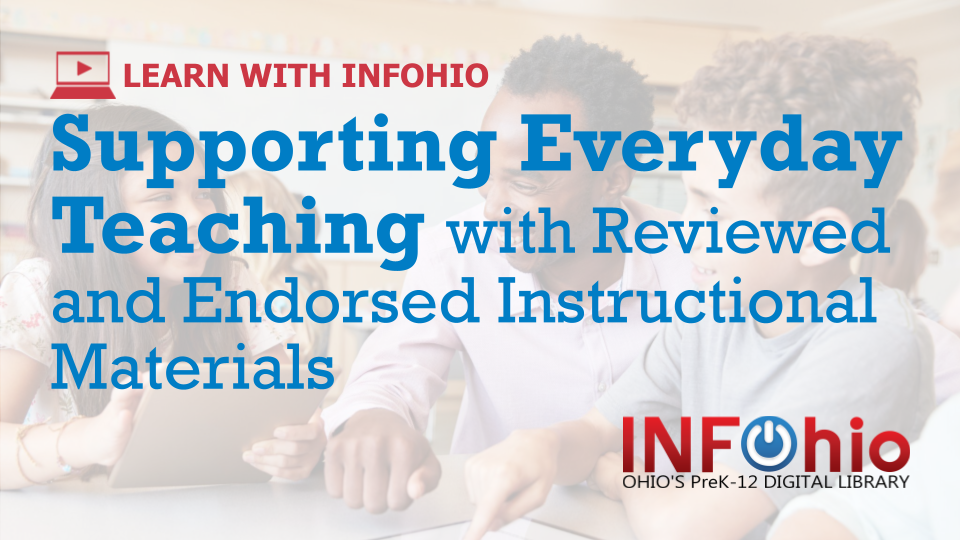 Everyday teaching includes evaluation, not only of teaching but also of the materials educators use. In this session, participants will explore tools from INFOhio that can accelerate learning, including a rubric to streamline evaluation and the Instructional Materials Reviews database which hosts thousands of materials reviewed by educators for educators. The session will also feature the Ohio Reviewed Instructional Materials hub, a go-to destination for high-quality, reviewed, and endorsed educational content.



Supporting Everyday Teaching with Supplemental Materials from Educator Tools and Open Space
Tuesday, November 7, 3:30-4:00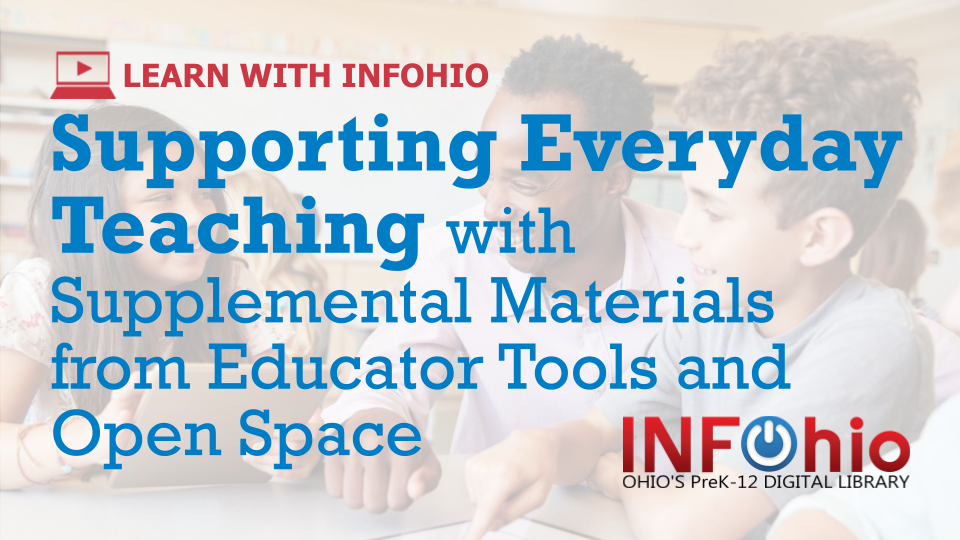 Bridging the gap in curriculum to support all learners is something that teachers do every day. Teachers are adaptive learning experts who choose the best supplemental materials to meet the needs of all students. Learn more about INFOhio's instructional materials repositories, Educator Tools and Open Space. Discover quality digital content you can use in your classroom every day to meet the needs of learners.

Supporting Everyday Teaching with Curated Content Packages
Tuesday, November 14, 3:30-4:00

In everyday teaching, collaboration is key. Engaging in dialogue with colleagues helps every teacher get the instructional materials and support needed to be successful in the classroom. Sharing high-quality instructional materials with each other within your school, district, or across the state benefits everyone. Discover curated content packages of instructional materials on high-needs topics like financial literacy, STEM, and careers created by the panel of presenters from schools across Ohio. Learn how to curate and create your own content package using INFOhio's high-quality instructional materials.
Questions about this webinar series? Contact us at support.infohio.org.