Supplementing Instructional Materials with INFOhio
Instructional materials matter. While securing a coherent curriculum and professional development for teachers is the first step in ensuring equity in Ohio's classrooms, identifying high-quality supplemental materials at grade level for all learners can be helpful in increasing student engagement, meeting diverse needs, and filling instructional gaps.
When paired with a high-quality curriculum, INFOhio's quality eBooks, videos, lesson plans, instructional web tools, and training and support materials can provide engaging and innovative supplements to scaffold student growth and learning.
Education doctoral candidate Waneta Hebert recently teamed up with INFOhio's vendor partner Infobase. In her blog post Leveraging Supplemental Resources for K-12 Schools & Districts, Hebert plans for four outcomes when using supplemental materials in teaching and learning:
Engage students with the power of choice.
Empower students to explore their interests.
Elevate struggling students with additional support.
Extend high-achieving students to new heights.
Using these "four Es," this blog series will explore how educators on teacher-based teams and curriculum adoption committees can use INFOhio's quality digital content and web tools to supplement teaching and support learning for diverse classrooms.
Using Gale eBooks to Supplement Curriculum
INFOhio purchased Financial Literacy eBooks (Gale)ion for high school students with funding from Future Forward Ohio for all Ohio schools. With more than 50 full-text, simultaneous and unlimited-use eBooks, this collection provides students and educators with support for teaching Ohio's Learning Standards for Financial Literacy which includes topics of financial responsibility and decision-making, planning and money management, informed consumer, investing, credit and debt, and risk management and insurance. Applying Hebert's "four Es" provides educators with a guide on how to use the eBooks to meet the needs of each student.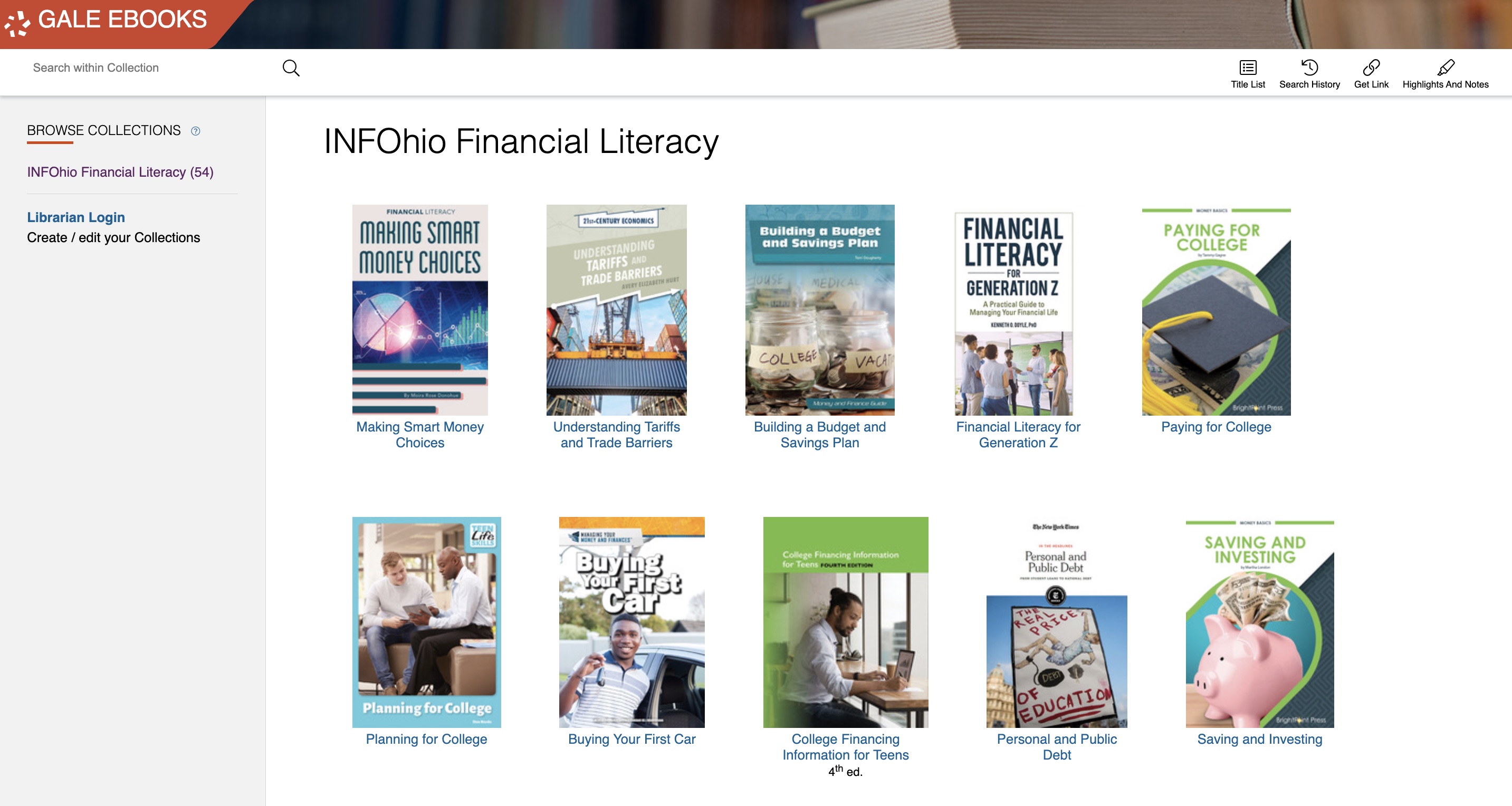 Engage
Financial literacy is a relatable topic with real-world connections for students. With a collection of more than 50 titles on financial literacy topics, students have a choice about what they want to learn. Universal Design for Learning (UDL) is a framework to optimize teaching and learning using scientific insights on how people learn. The guidelines for UDL can be used in any classroom to break down barriers that keep students from learning. The first guideline is engagement where student choice is optimized.
Engaging students with choices about money can help students have successful financial futures. In the eBook, Making Smart Money Choices author Moira Rose Donohue suggests that students use this Weekly Expenses Report so they can become more aware of where they are spending their money and find areas where they could cut back or save.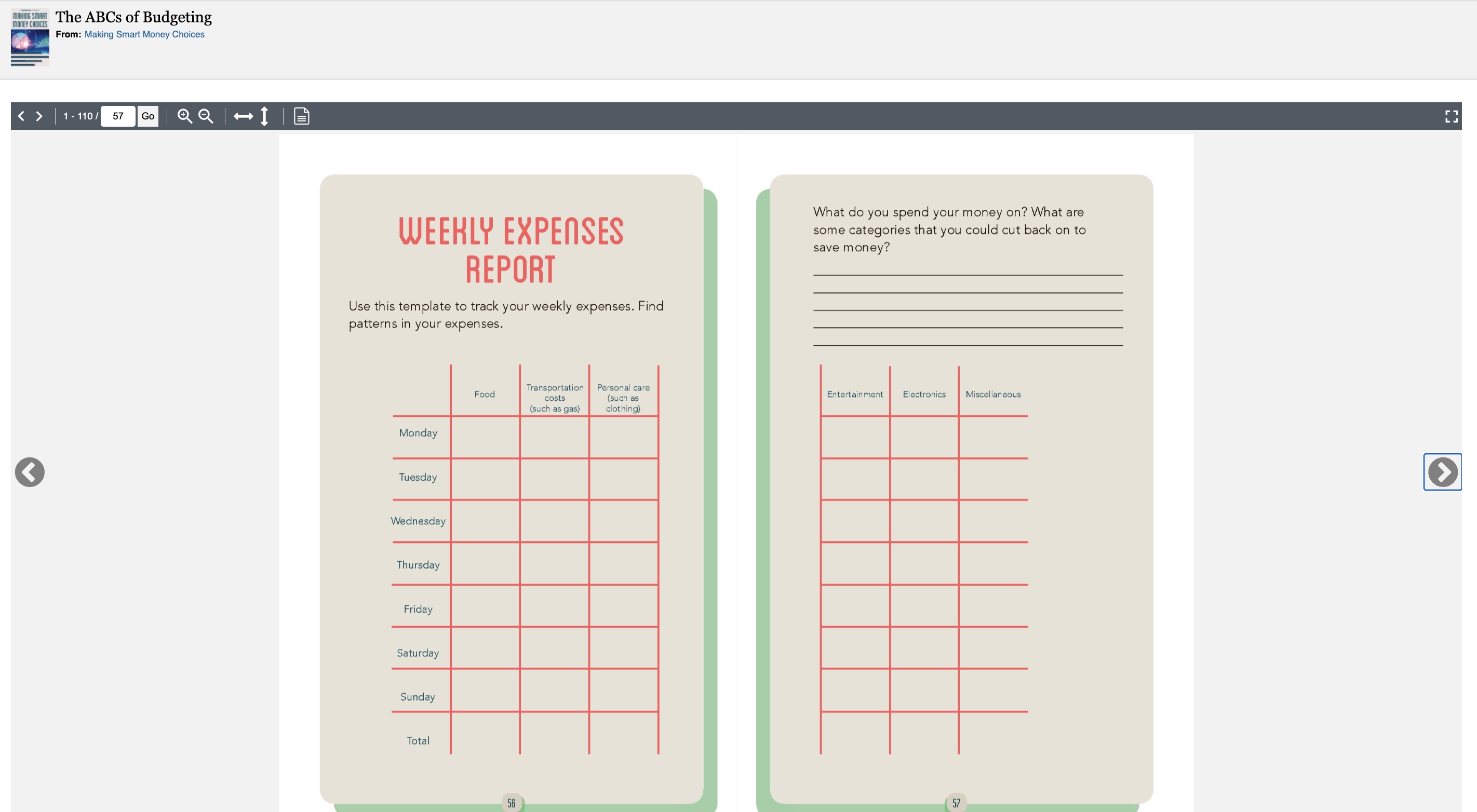 Also from Making Smart Money Choices is a chart that shares how the average teen spends their money. After filling out the Weekly Expenses Report, compare it to how average teens spend their money in this chart. Seeing how their peers are making financial decisions can be an engaging experience for teens.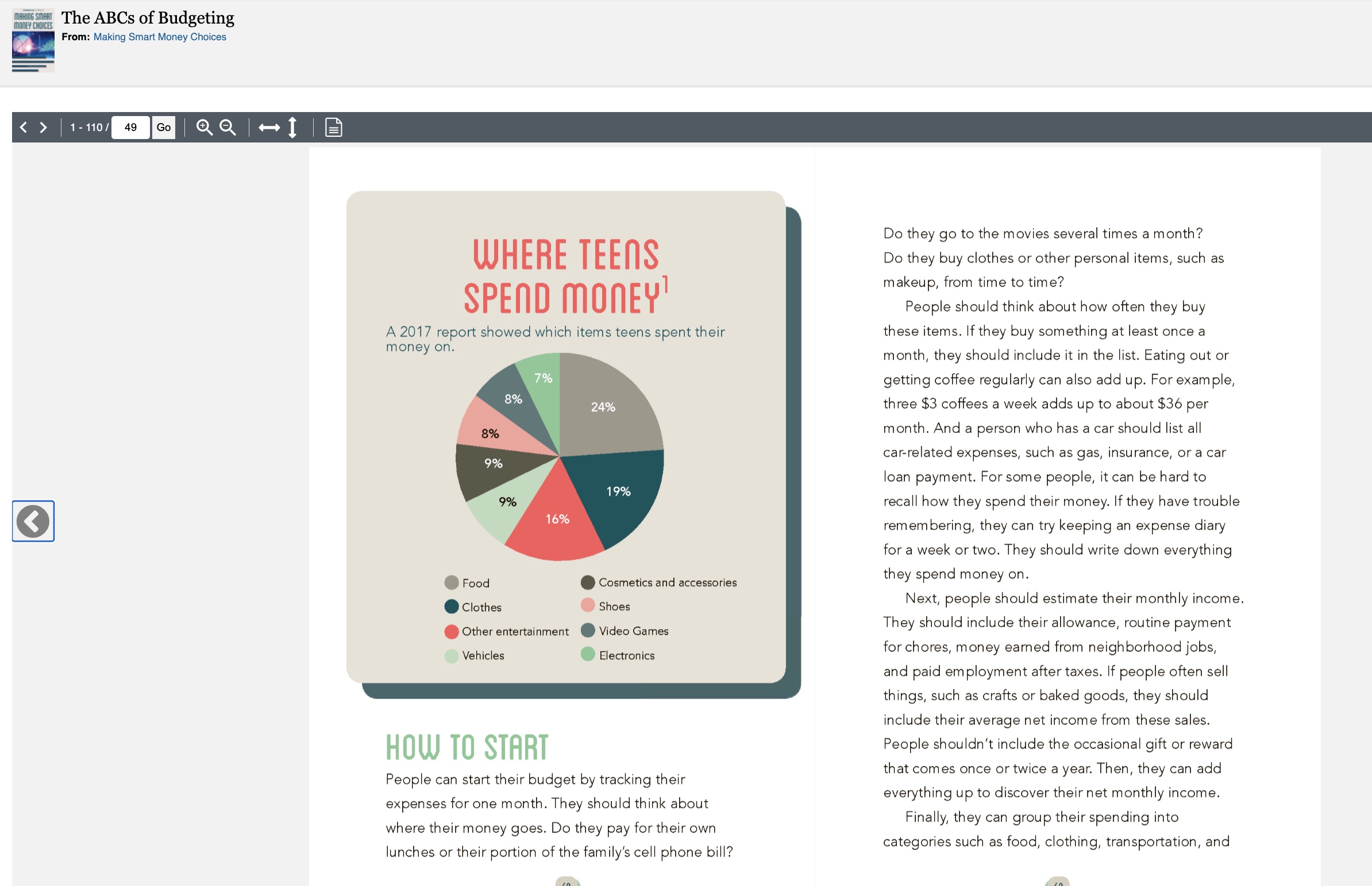 Empower
When students feel as if their interests are important and part of learning, it empowers them to explore these topics further. Giving students time to dive into a topic they are curious about is an opportunity for developing inquiry and promoting life-long learning. Ask students to think about questions that relate to their financial future and connect students to eBook titles that match their interests.
Will students be saving money to purchase a car? Read Buying Your First Car by Xina M. Uhl and Daniel E. Harmon
Will students be working right after high school? Read Finding a Job by Emma Huddleston
Will students be attending college? Read Planning for College by Don Nardo
Using this Book Study worksheet, provided by Gale, students can make note of helpful information they've learned about their topic, empowering students to take charge of their financial futures.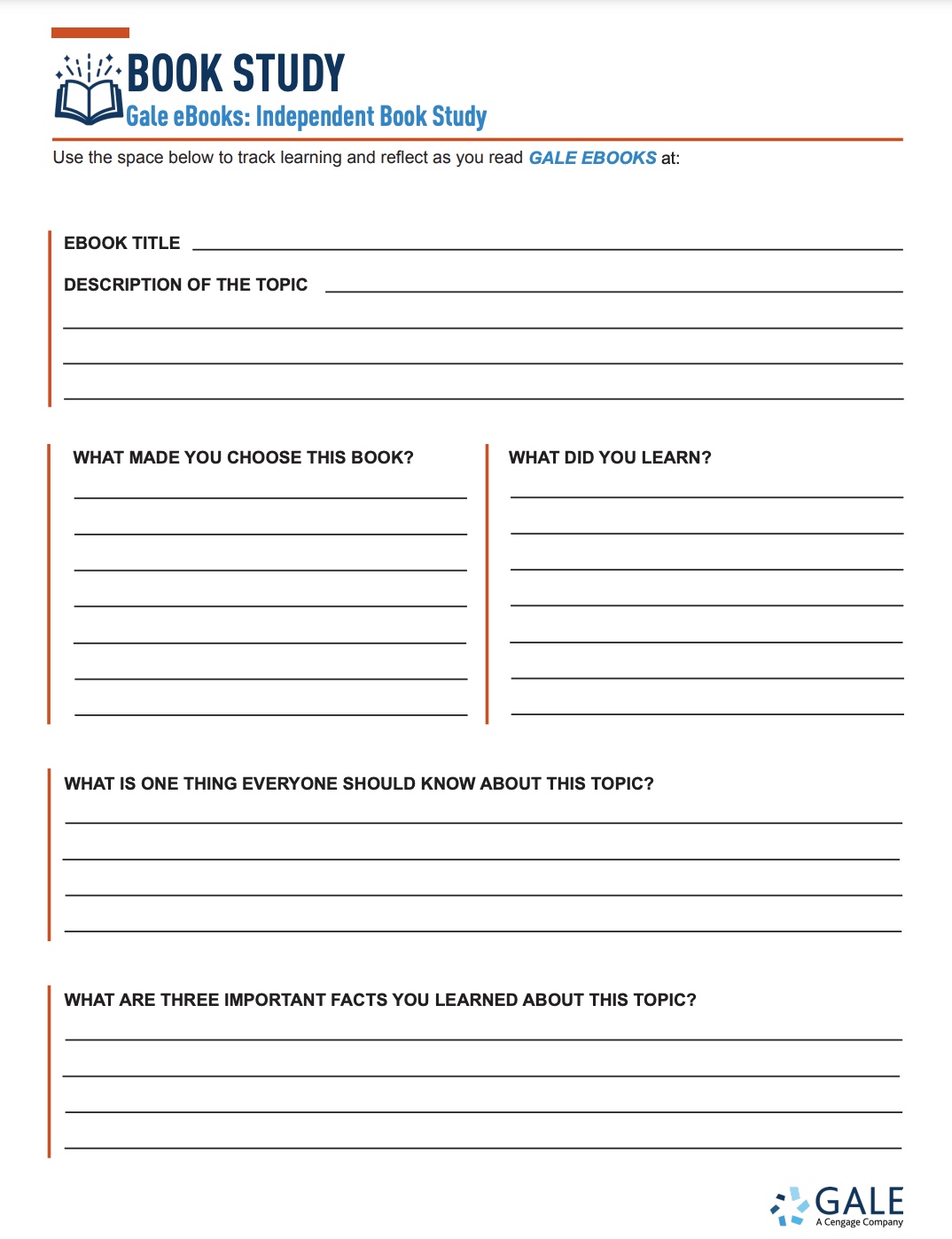 Another way to empower students is to provide ways for students to set financial goals and connect them to their lives. Using this SMART Goals template from Lake Superior State University, students can set measurable goals and achieve them.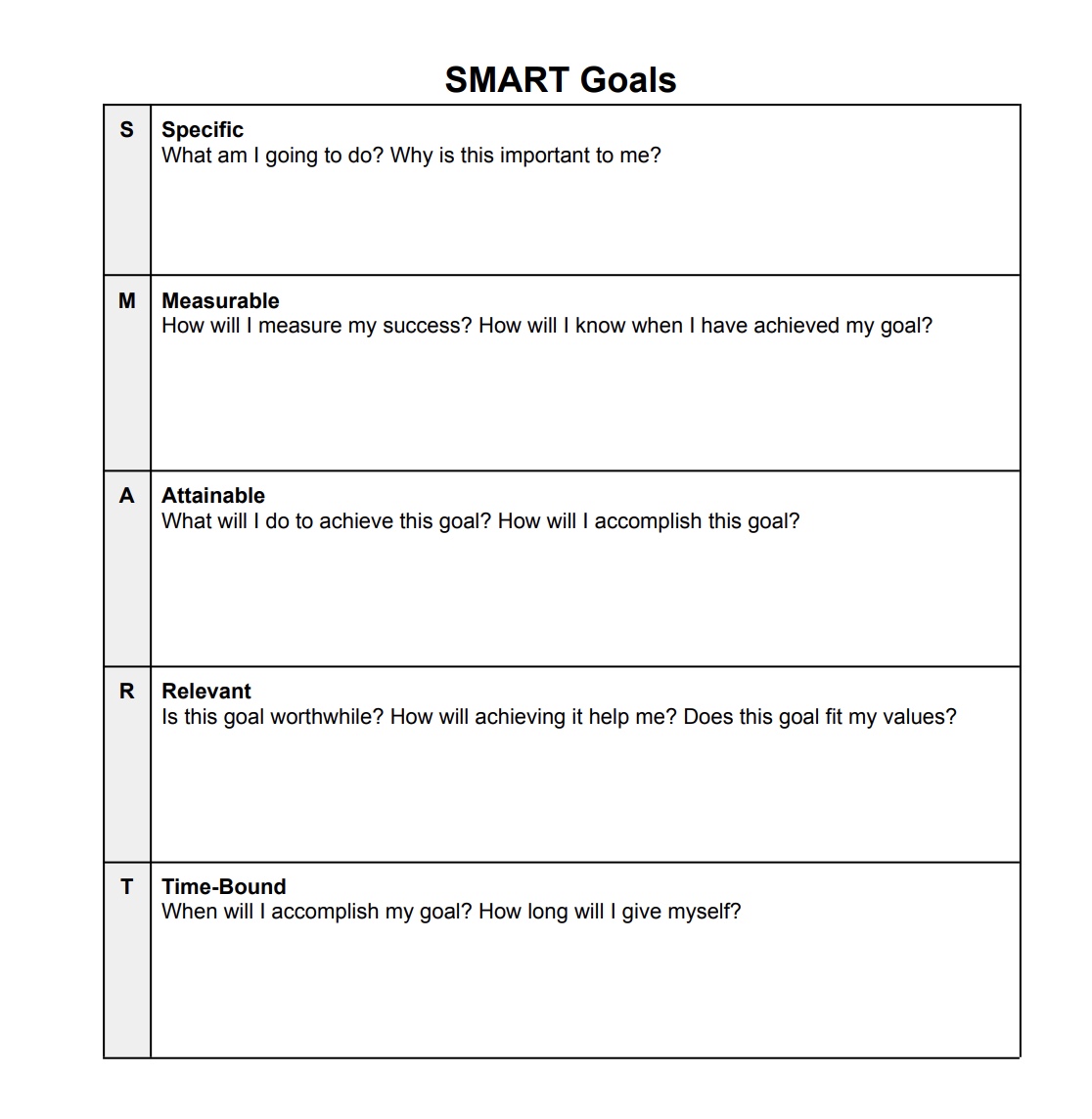 Elevate
When students struggle to grasp a concept and need additional support, supplemental resources like eBooks are a great tool. Students may need more practice or interaction with a text before mastering the standard. The unlimited, simultaneous use makes it easier for students to read these titles, as there are no holds or checkouts needed and titles can be read at home, at school, or on the go. There are also a variety of accessibility tools in the Gale eBooks platform that can be used to help students who need alternative ways for information to be presented.
Gale eBooks feature a Book View and a Text View. The Book View represents the title as it appears in print. Book View provides an eBook in PDF format with engaging photos and text. This is an example from the Book View of Getting a Credit Card by Xina M. Uhl and Ann Byers.
The Text View of a title provides accessibility tools such as read aloud, translate, font size, and text types. Gale eBooks can be translated into more than 30 different languages, providing support for English language learners.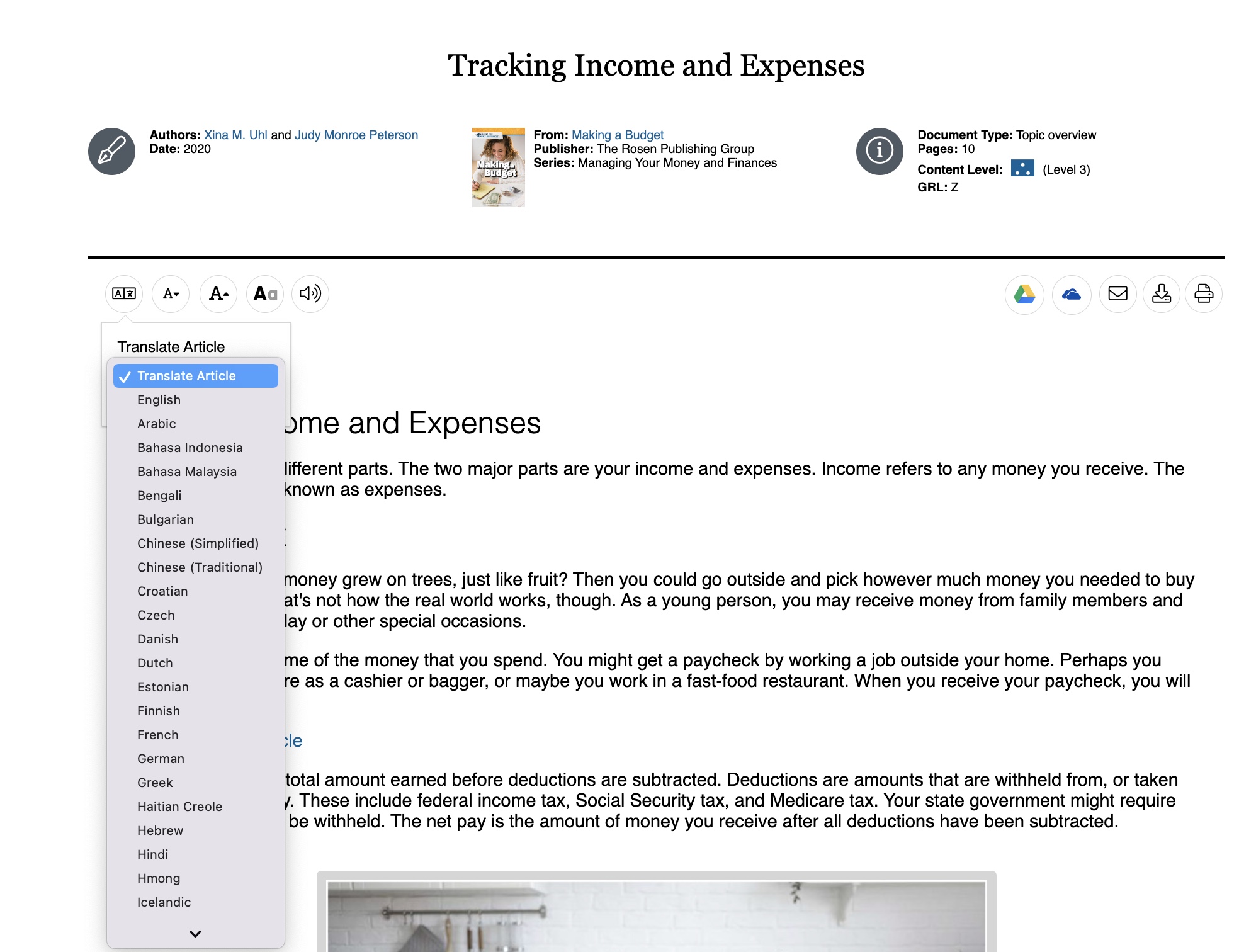 There is also an option to change the font. A font that has just been added to this collection is Open Dyslexic.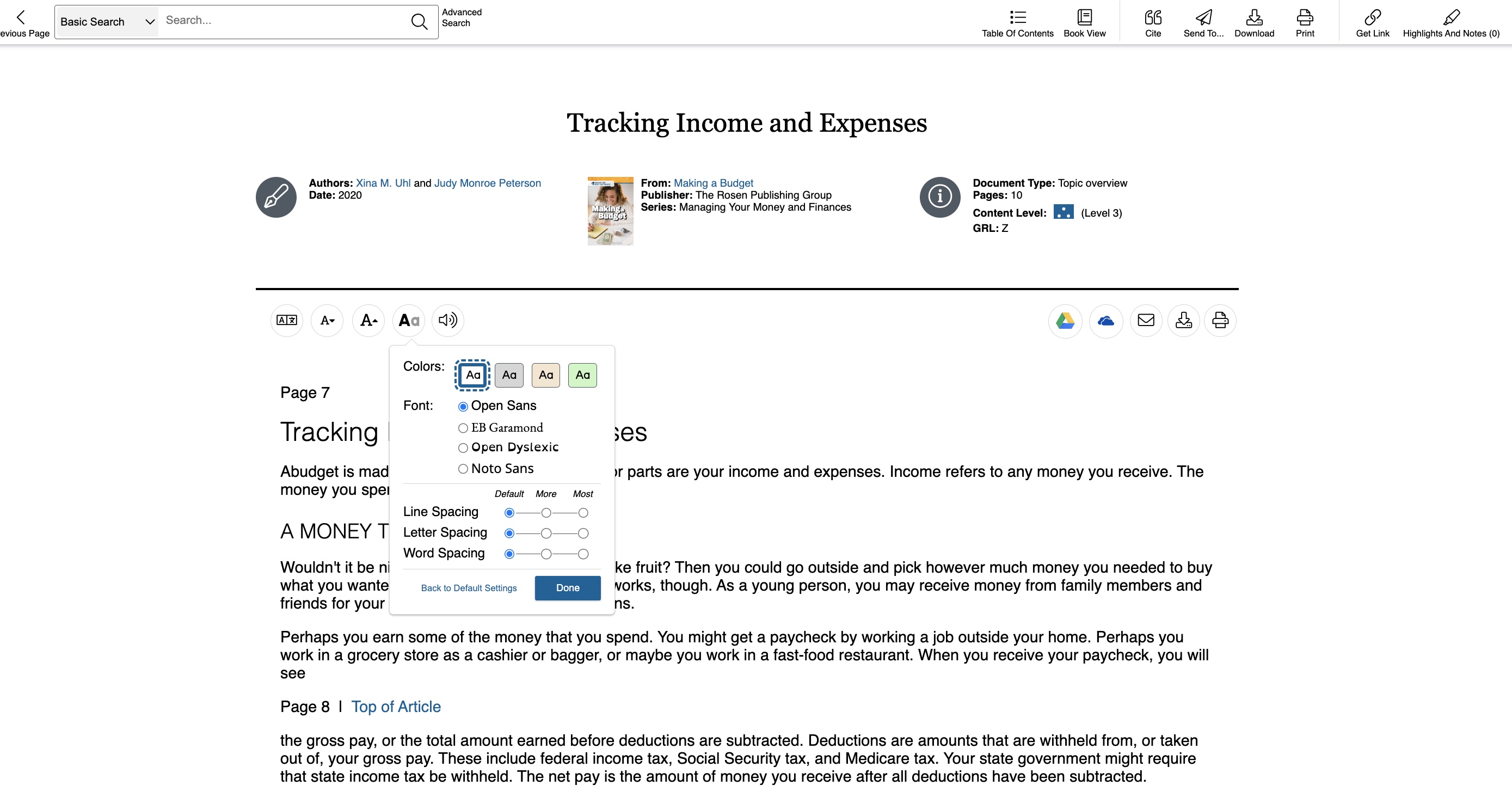 In addition, there are read-aloud settings that students can choose from. After clicking the listen button within Text View, further options and settings can be selected by clicking the gear button. Read-aloud settings offer text highlighting options, word color, sentence color, and additional options as seen in the image below.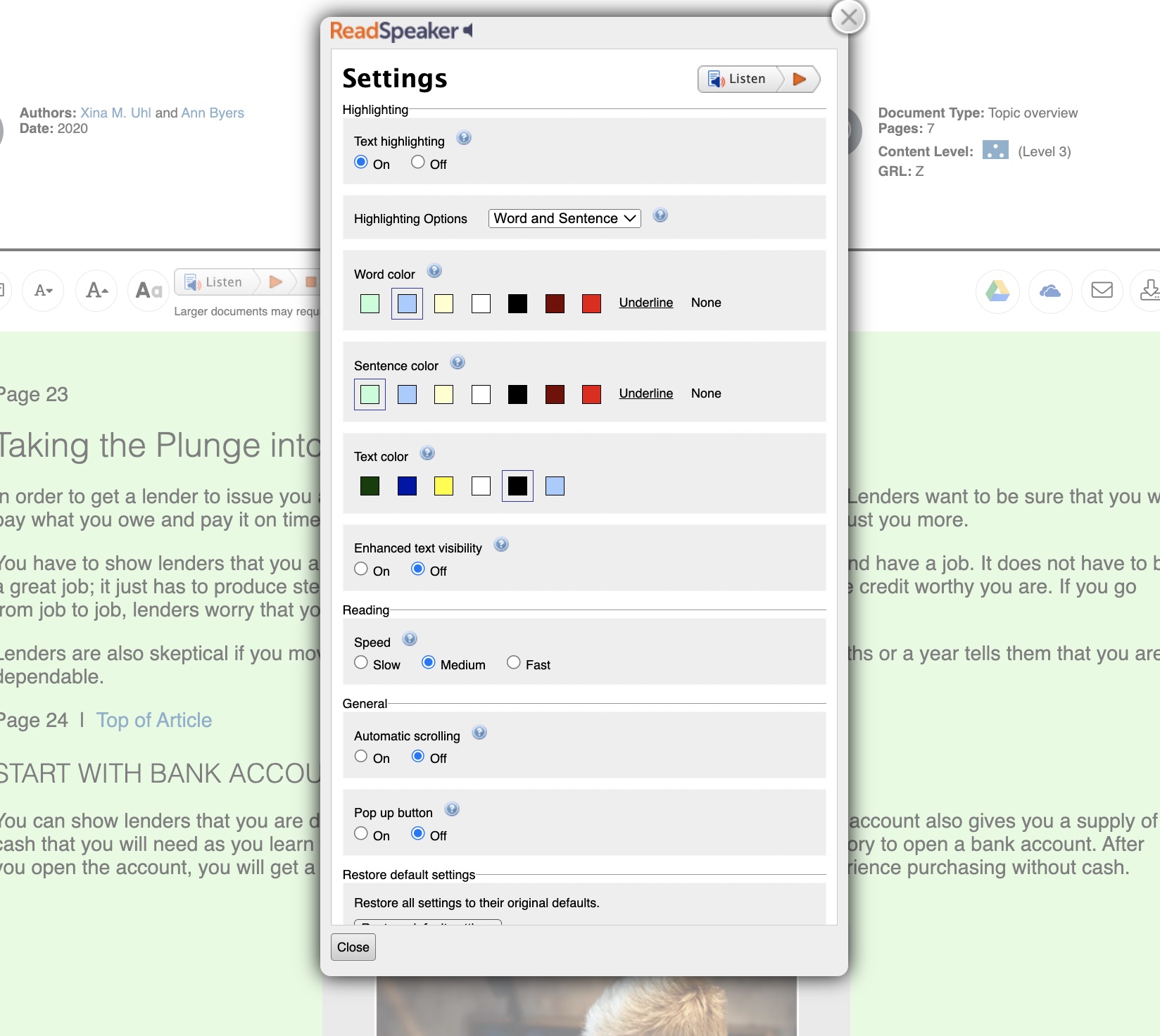 Extend
Extend students' grasp of a concept by connecting eBooks to extension activities and lessons from Open Space. For example, ask students to read the following texts and complete the paired activities:
Every Ohio student deserves the opportunity to learn from high-quality, standards-aligned instructional materials to become a resilient, lifelong learner who contributes to society (Each Child, Our Future). Using INFOhio's quality resources and web tools like Gale eBooks to supplement learning can engage, empower, elevate, and extend students for success.
Do you have a great way to share how you are using INFOhio resources to supplement your curriculum? Don't forget to share it on social media and use #INFOhioWorks.