Whether you teach elementary, middle, or high school students, when it comes to observing Constitution Day, INFOhio has quality instructional materials to support learning! September 17th is a day to remember our country's foundations and to help our students at all levels learn more about what it means to be "the land of the free and the home of the brave."
Early Primary Grades
For beginning readers, start with BookFlix. The fiction/nonfiction pair John, Paul, George, & Ben and Benjamin Franklin offers a fun, fictionalized introduction to some of our first statesmen and facts about one of the most famous. You'll find both books in the "People and Places" category in BookFlix. Start with the video fiction title to pique young learners' interest.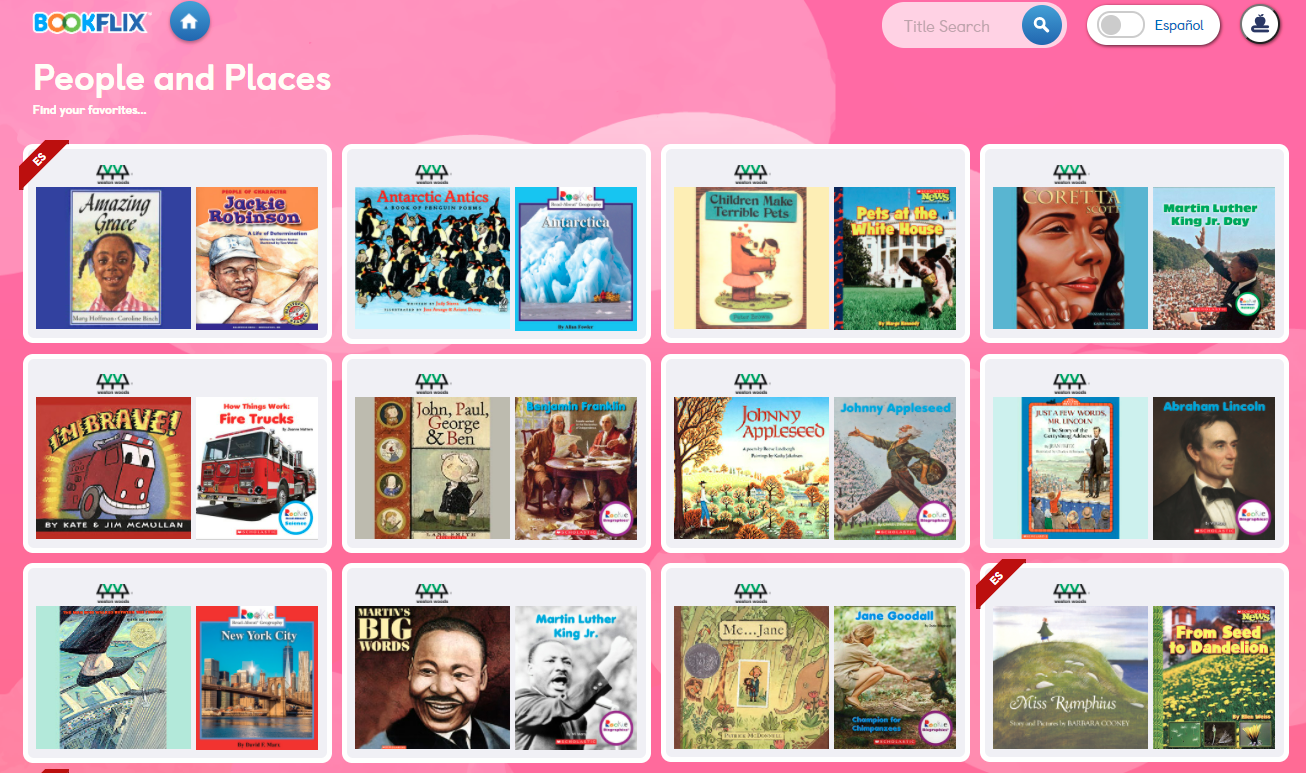 Then read the non-fiction text
Benjamin Franklin
to learn more about one of the U.S. Constitution's framers. BookFlix's quality, authentic text and interactive interface is a quality resource that supports students in all learning environments.
Young readers can learn more about the Constitution and its framers from the article in World Book Kids as well. Those students who need a little help with the text can have it read aloud to them. You can also find the Ohio Learning Standards supported by this digital resource under the Curriculum Standards tab.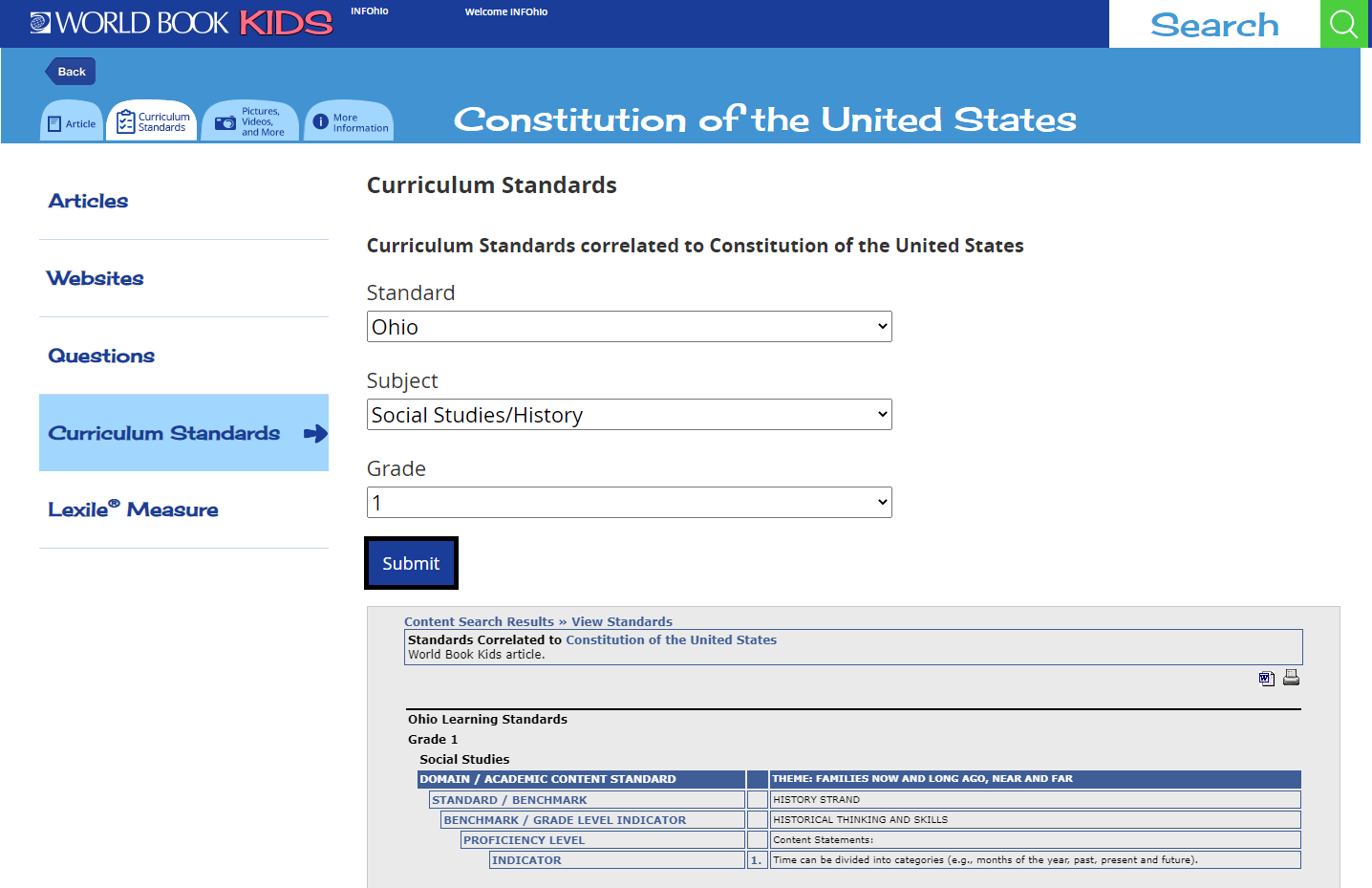 Teachers can use the questions under the "More Information" tab as guiding questions to help students read with purpose.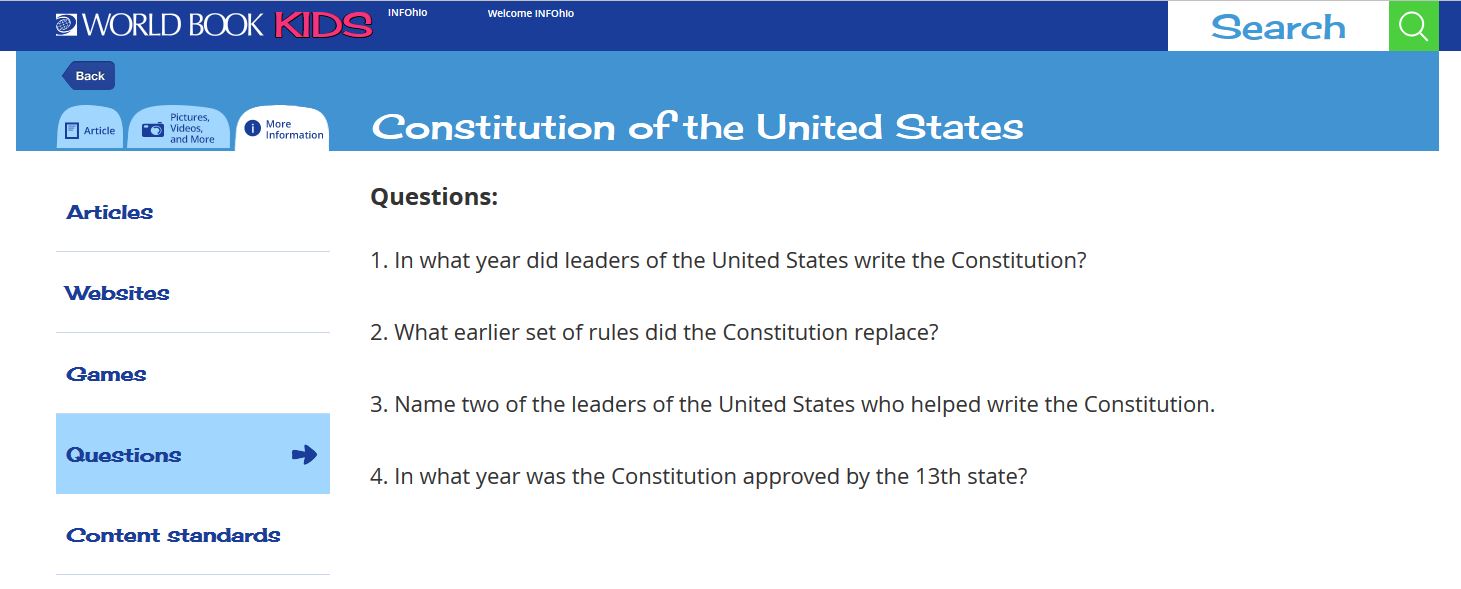 Using grade level text is important to accelerate student learning. Students with stronger reading skills can easily "level-up" to World Book Student using the button at the bottom of any World Book Kids article. Students studying French and Spanish can read and develop fluency using the World Book Encyclopedias in these languages too.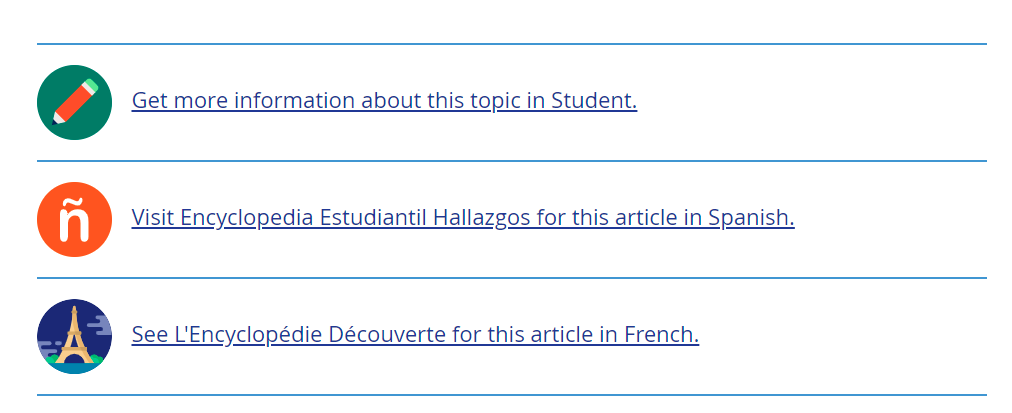 Upper Elementary and Middle School
PebbleGo Next is a social studies and science resource for grades 3-5 aligned with Ohio's Learning Standards. You can find an article to help support your Constitution Day lessons by searching for the term. The articles in this Capstone product have a tabbed interface to break down content in easy-to-read chunks.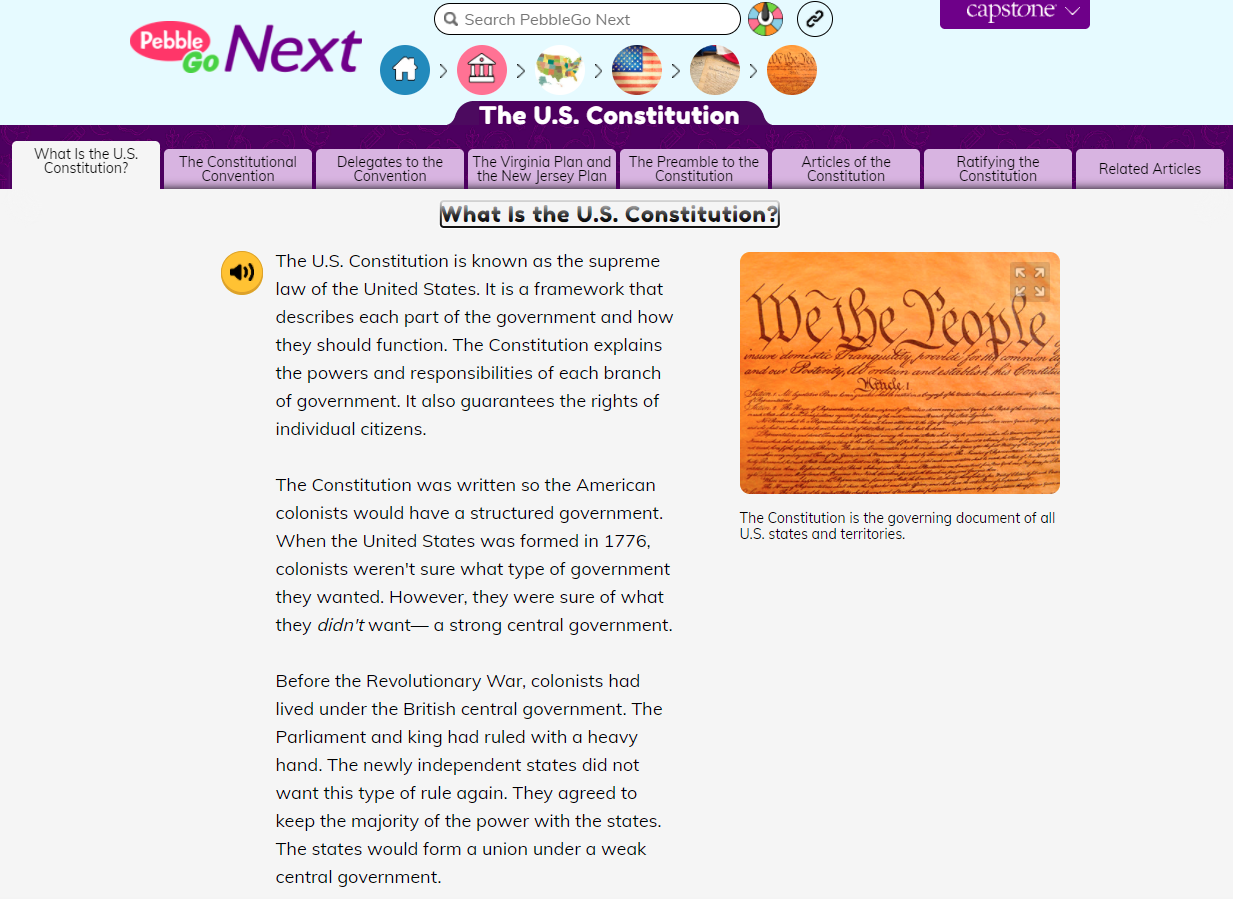 Capstone Interactive is a collection of science and social studies eBooks. Search for "Constitution" to find unlimited access eBooks to use in your classroom.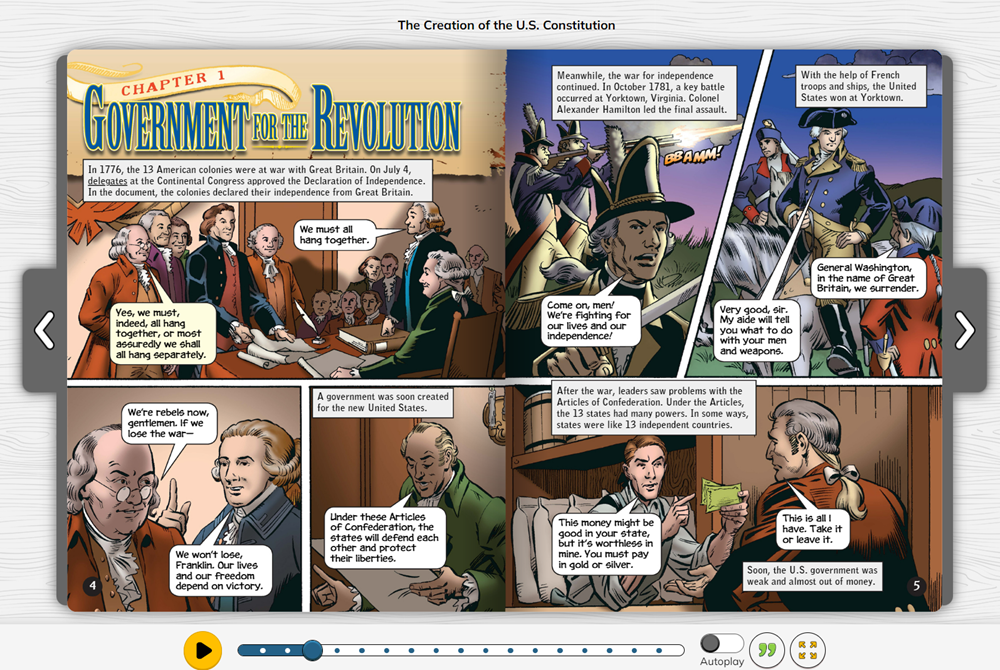 In addition, you will find instructional support in Capstone Connect. This resource allows educators to search by standard or keyword to find titles and printables for science and social studies. Browse Capstone Connect for trending lessons and activity bundles. Search by keyword to find lessons and activity buncles for Constitution Day.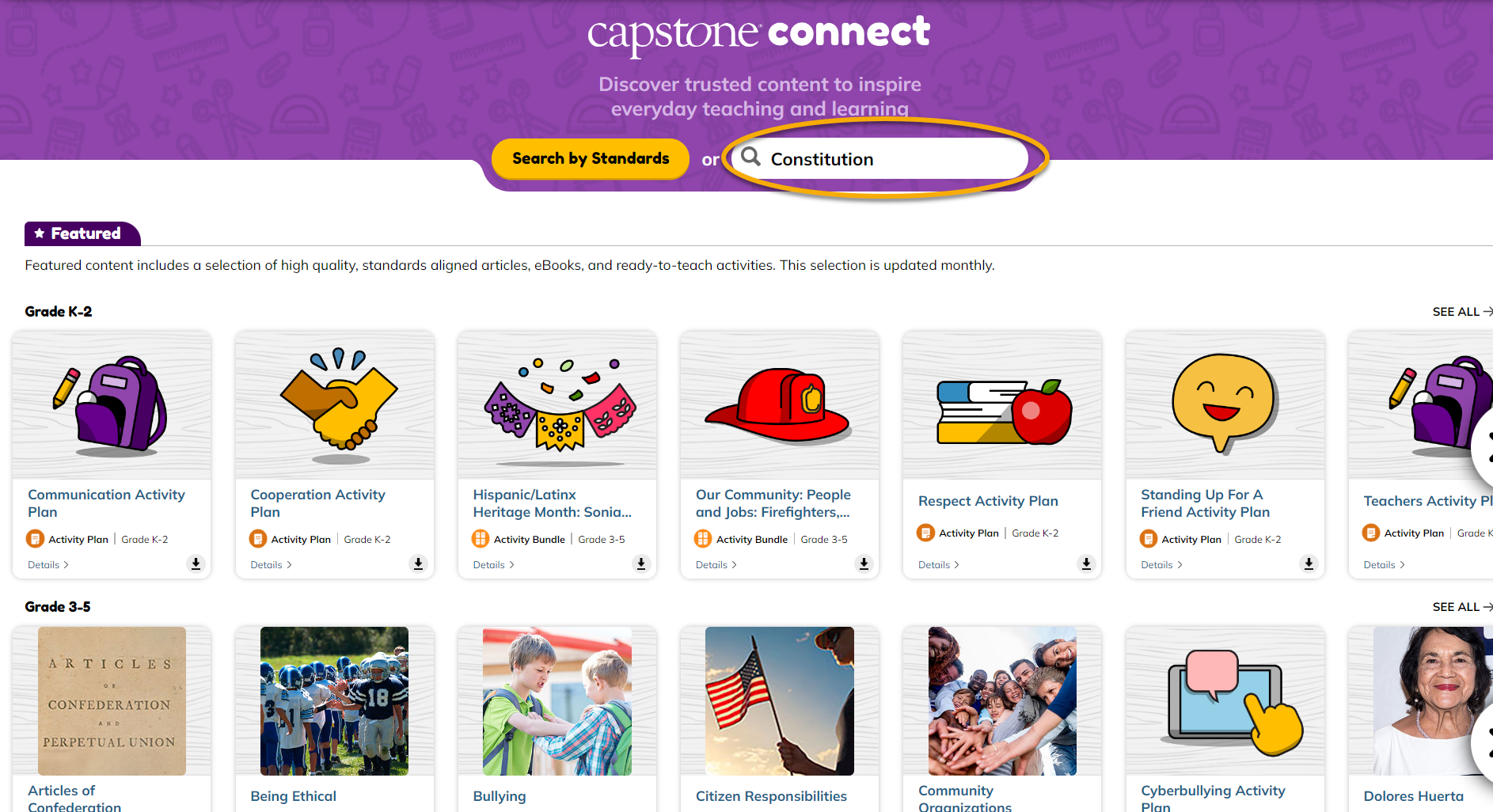 The document below can be printed and shared as a formative assessment for students to determine what they already know before starting your Constitution Day lesson.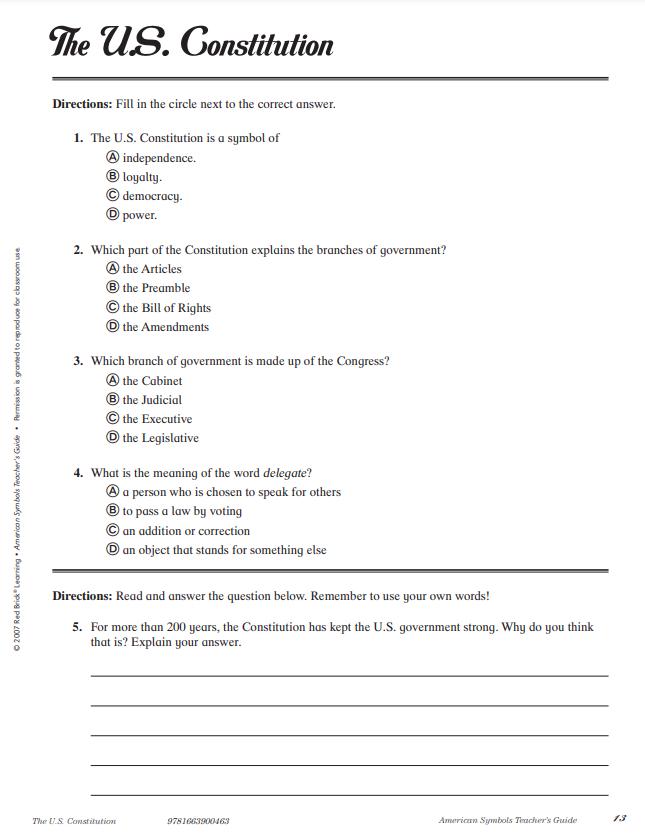 Late elementary and middle school students can browse information about U.S. History in IWonder. IWonder's collection of websites was hand picked by Ohio school librarians for students to use for classroom or personal research. Click the "Do you want to learn more about people, places and things in history?" button to drill down to information about important events in our country's history. IWonder helps develop inquiry skills and strengthen student curiosity.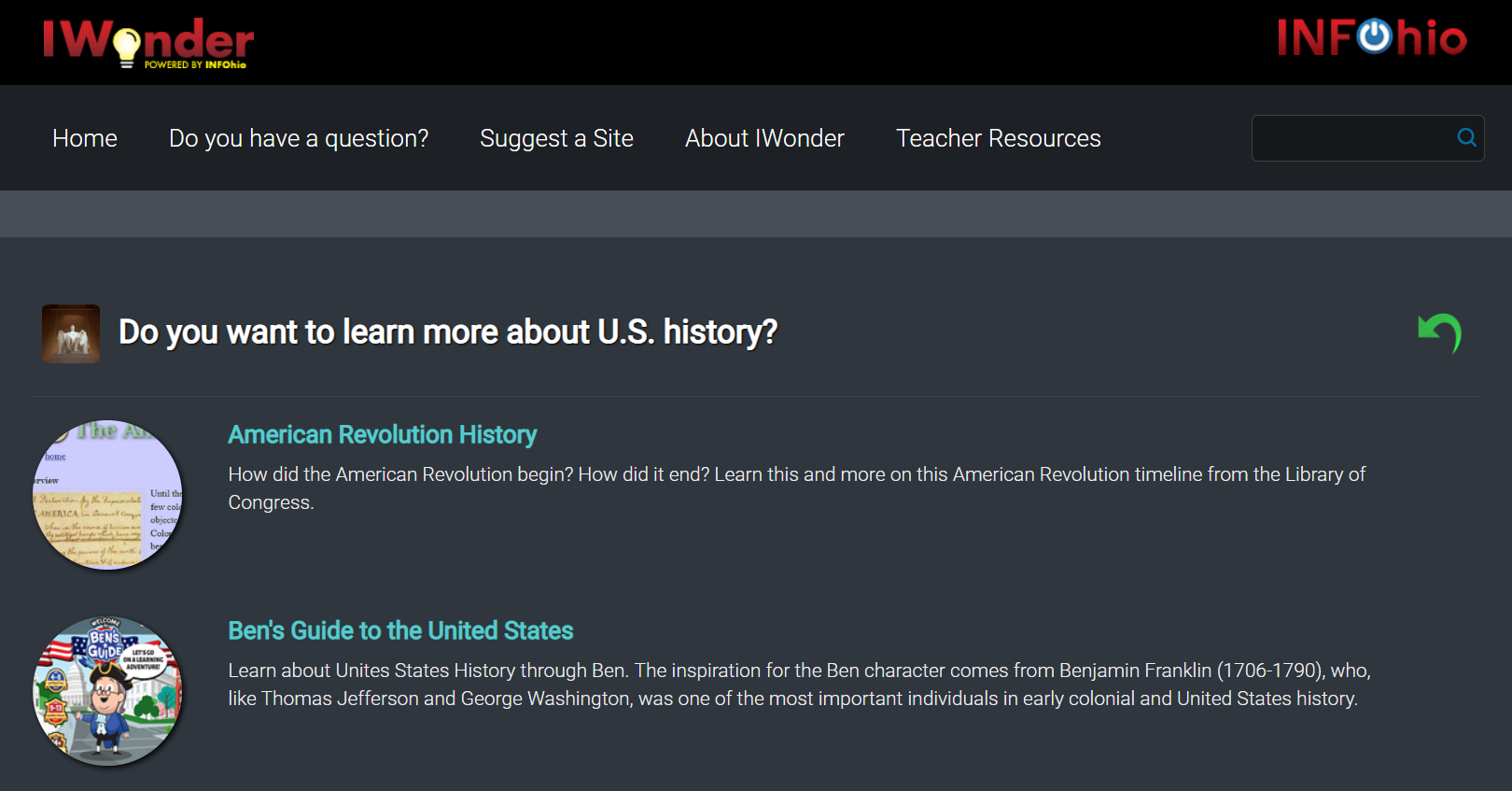 Late elementary and early middle school students will find so much to explore on the Constitution, its framers, and U.S. History in World Book Student.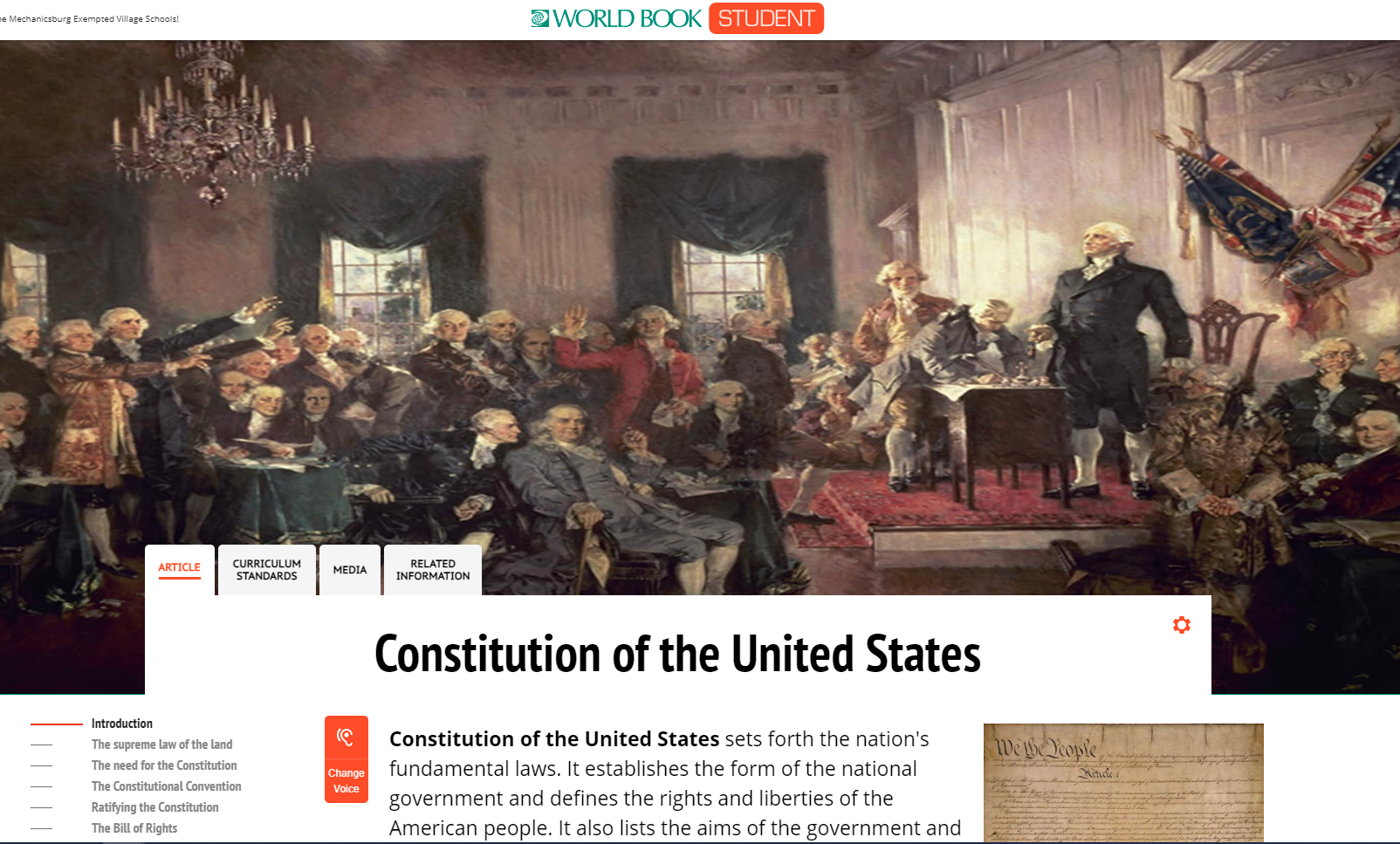 Be sure to direct students to additional articles in the "Related information" tab for biographical articles on the Constitution's signers. Divide students into collaborative groups and ask each to choose a different person. Groups can share their learning with others in the class by "teaching" a lesson on the Constitution's signer.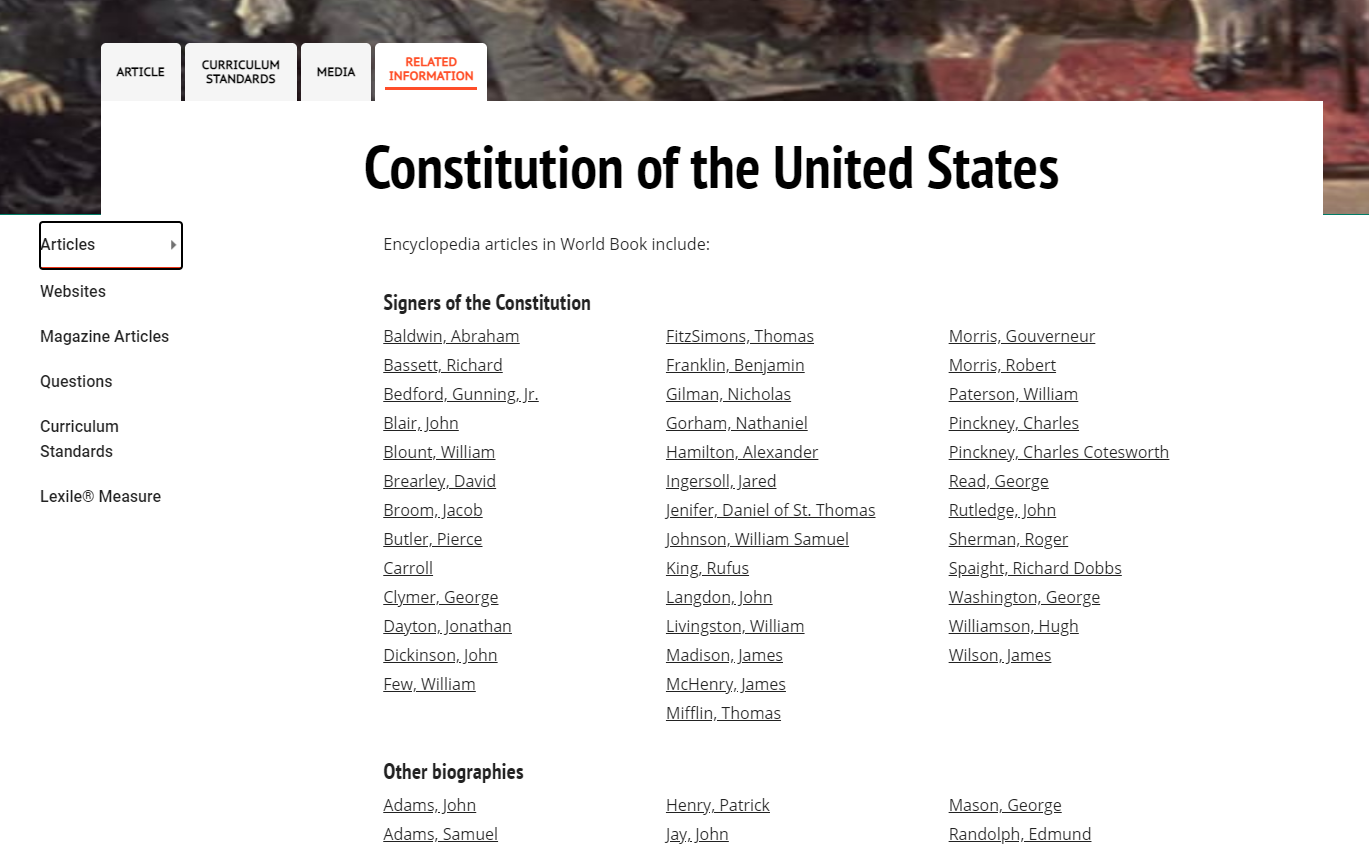 High School
In World Book Advanced, middle school and high school students can find primary source documents, eBooks, biographies, videos, and images related to the U.S. Constitution.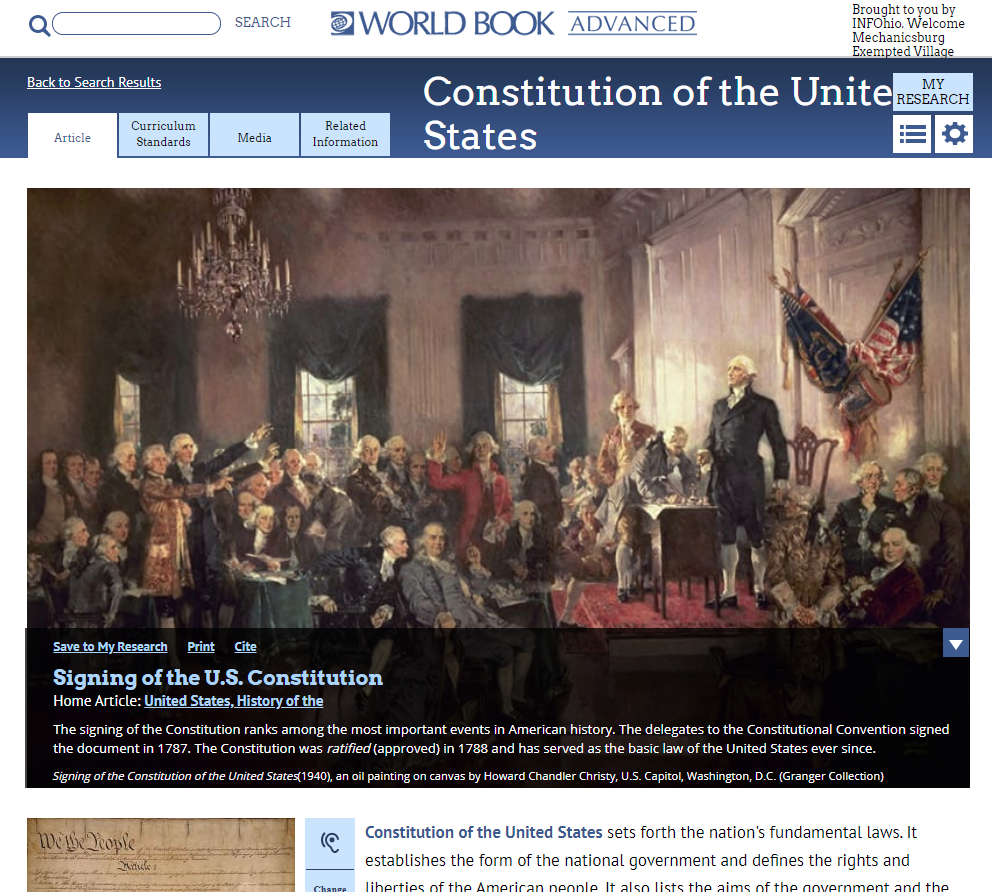 Click the Related Information tab to find primary sources about the Constitution. This rigorous text will challenge students, pushing them to use critical thinking skills for mastery.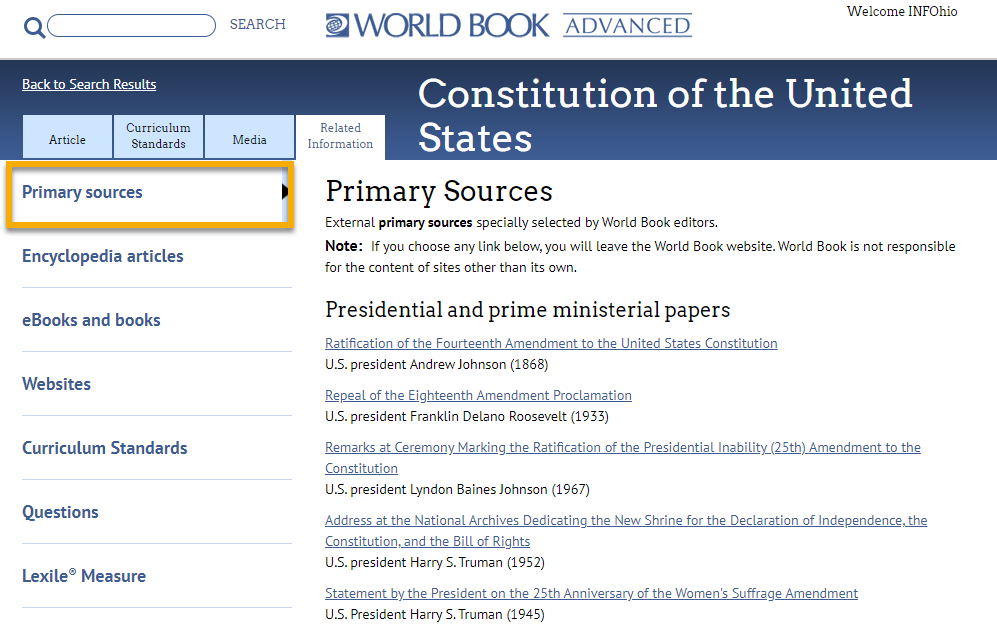 You might also want to check out Teaching with Documents, another helpful resource found by choosing Research and Resources in the upper right corner of World Book Advanced, and then choosing Educator Tools from the list. Choose Constitutional Issues and explore the content available including lessons and discussion questions.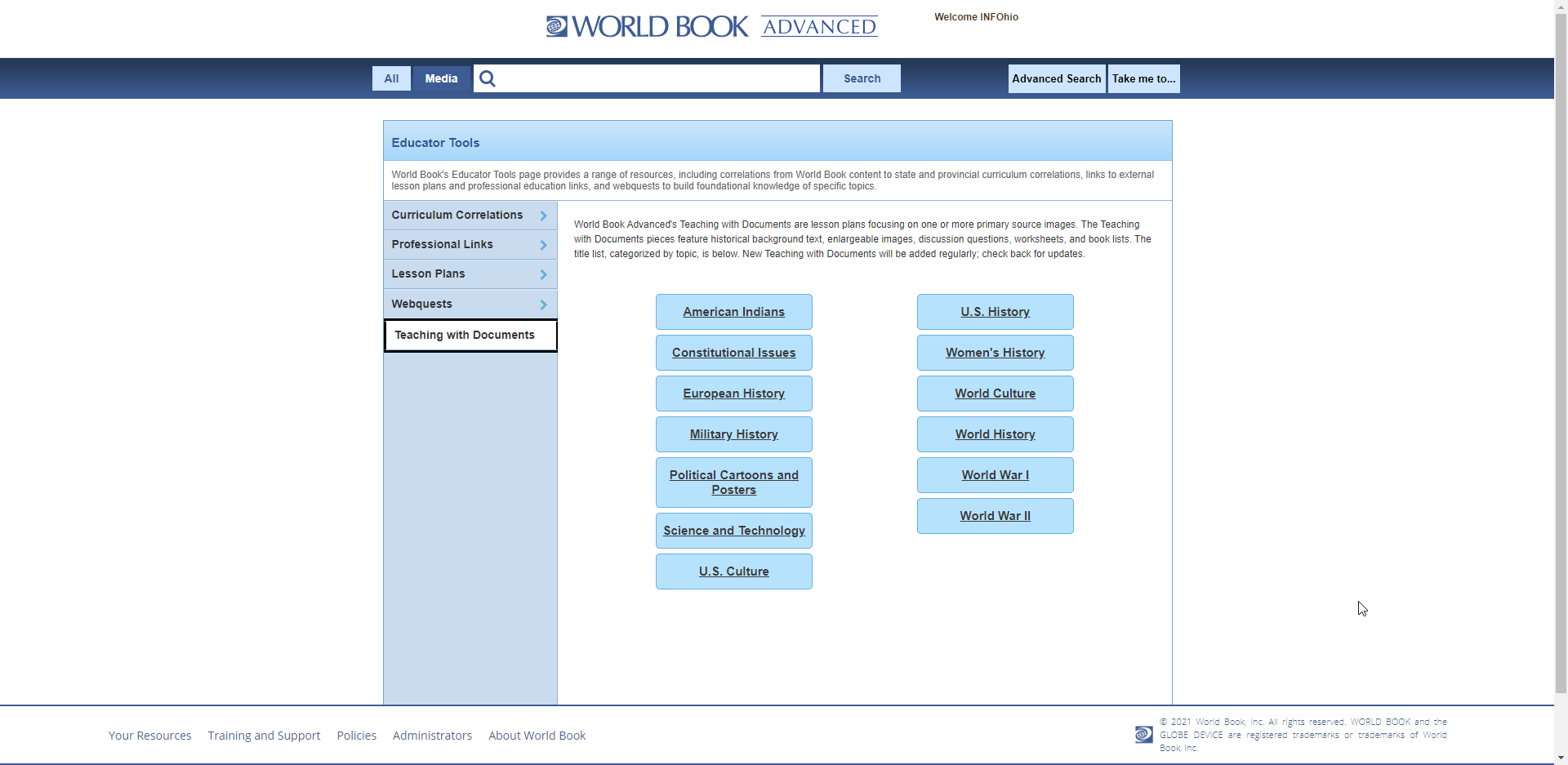 High school students can find primary source documents along with point/counterpoint articles related to constitutional issues in Points of View Reference Center. Students can debate and discuss amendments from the Bill of Rights using the helpful Guides to Critical Analysis for a variety of topics including the U.S. Constitution and Free Speech and Social Media.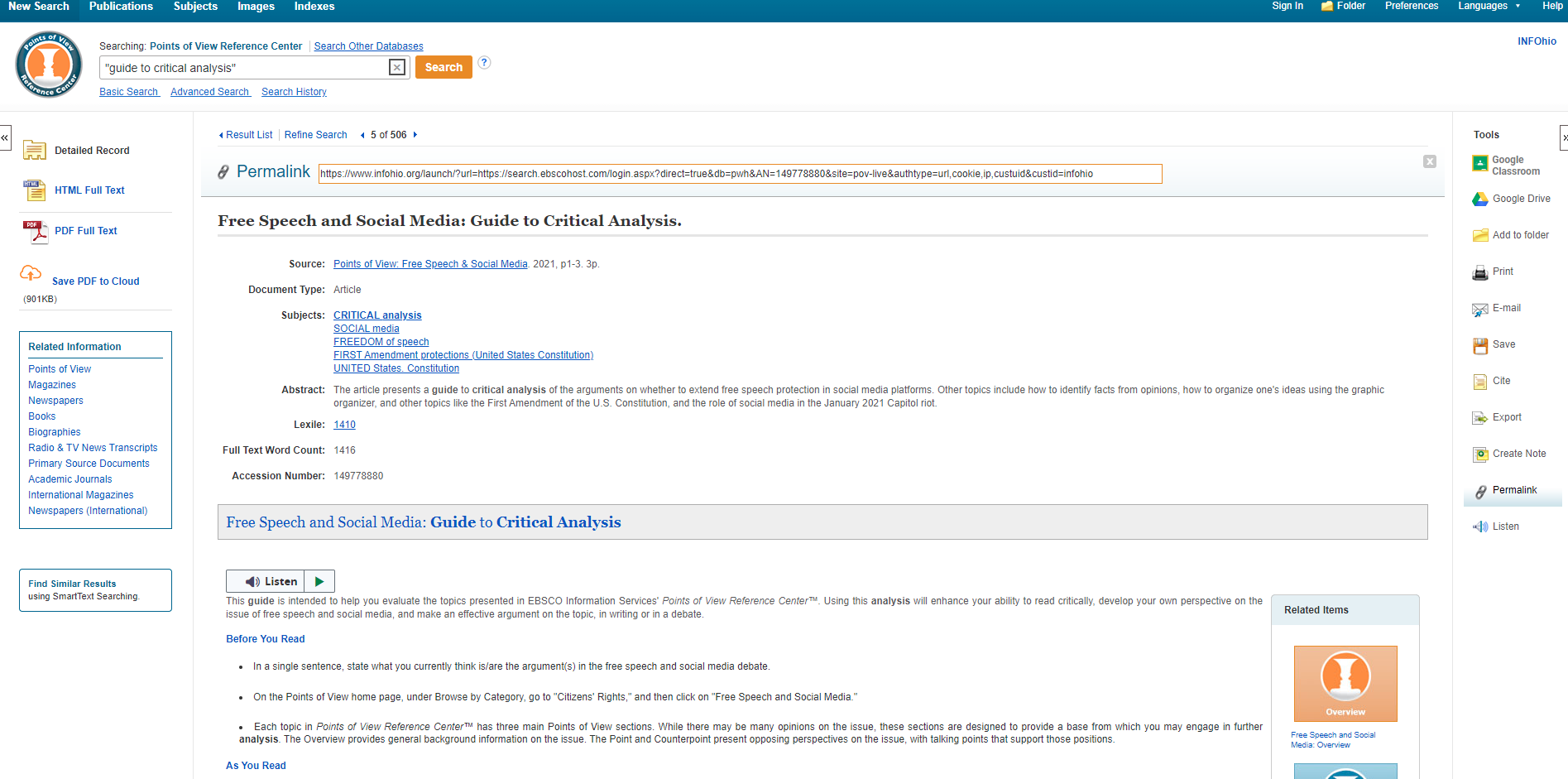 INFOhio's Digital Video Collection (DVC) has multiple videos for students in elementary, middle, and high school that explore the Constitution.
Most include a teacher guide and can be viewed in brief segments or as a whole. Include discussion time in lessons for students between segments to encourage rich dialogue about the content.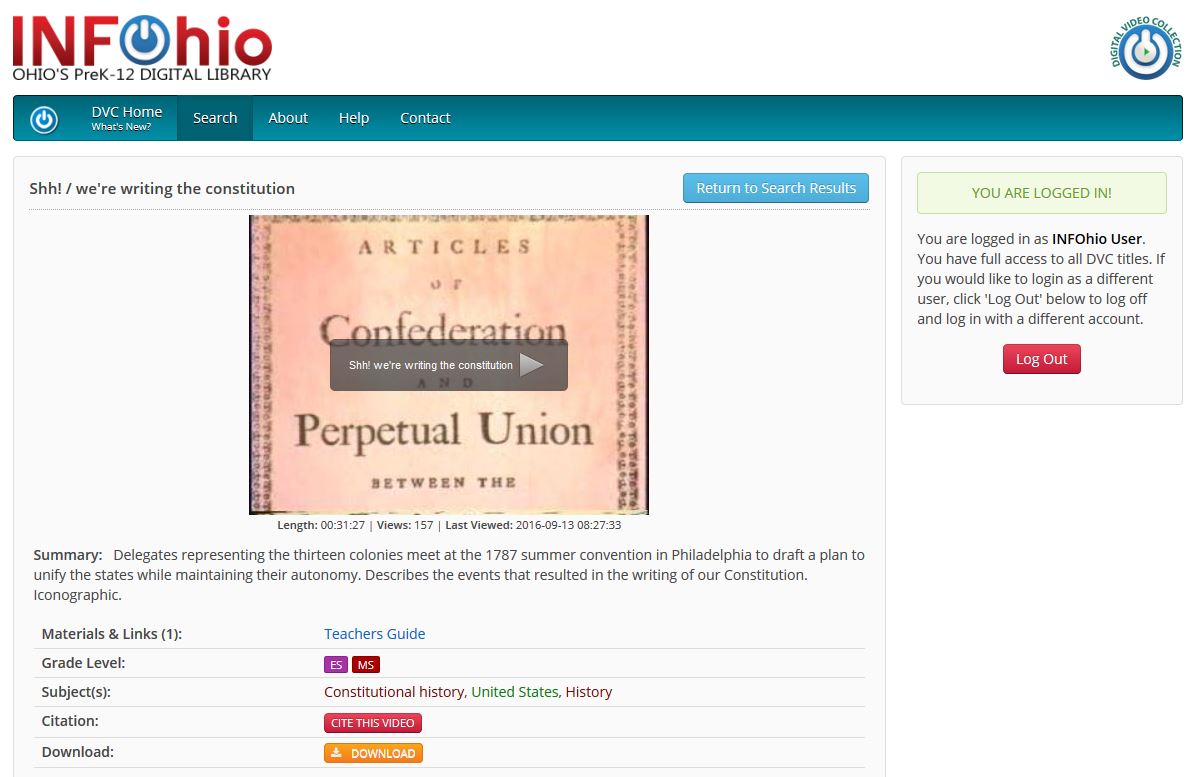 Finally, if you need to find as many resources as possible with a single click of a search button, try ISearch. ISearch lets you search nearly all of INFOhio's digital content from a single search box. Log into the INFOhio website and try a search for "Constitution Day." Browse the tabs to explore your results.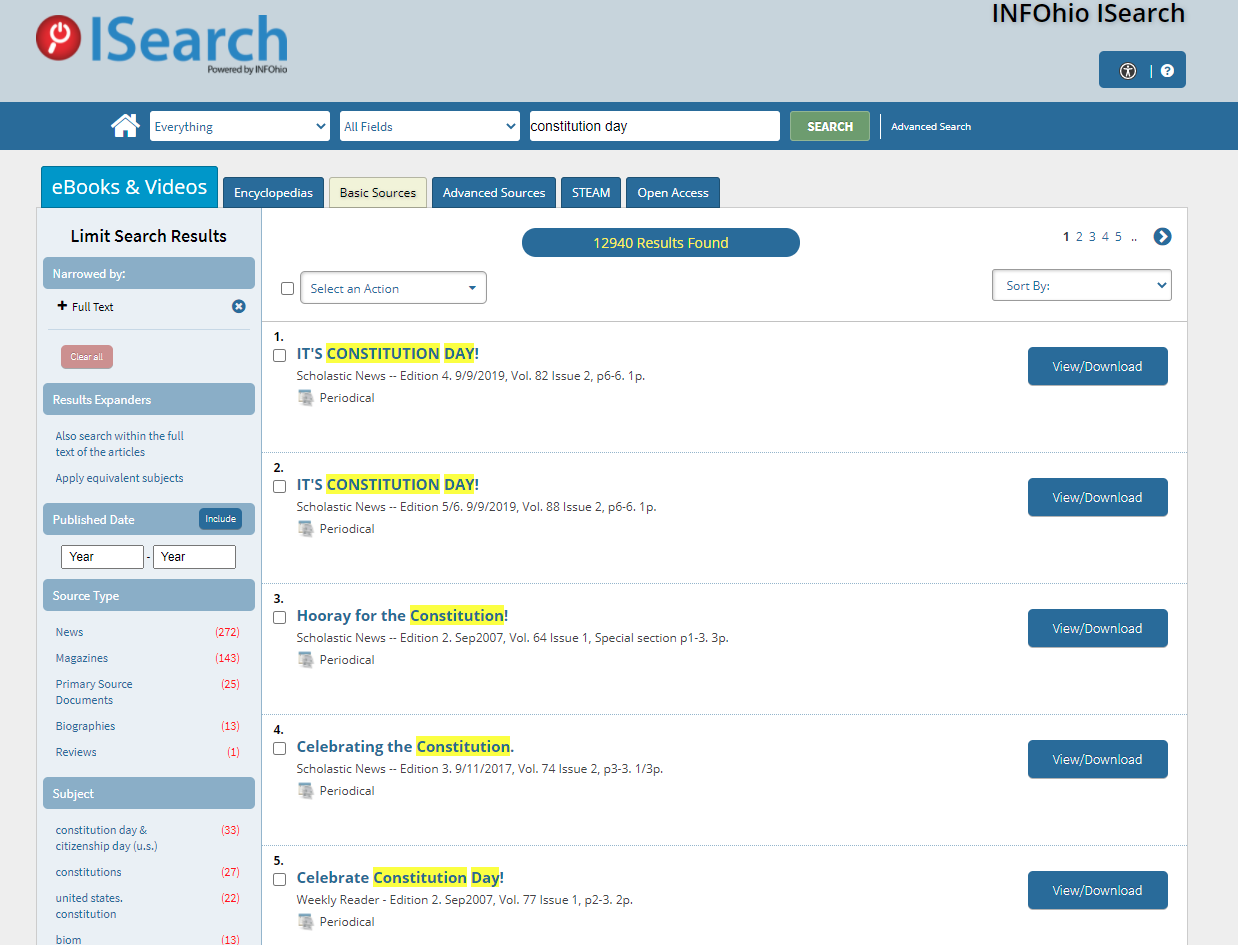 ISearch includes videos, articles, eBooks, and primary sources, including various Scholastic classroom magazines for learners in all grades.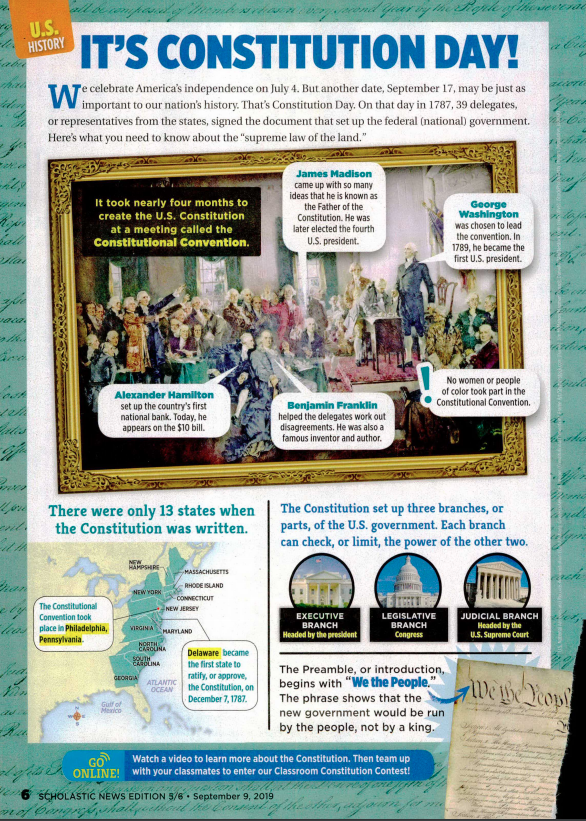 You can count on INFOhio working to bring you quality content for teaching and learning for Constitution Day and all year long! Using INFOhio in your Constitution Day celebrations? Share your pics with us on social media and use #INFOhioWorks.