Using graphics to support learning is a strategy proven to have maximum results for student learning in classrooms. According to the National Council for Teacher Quality in a recent study, Learning about Learning, "Young or old, all of us receive information through two primary pathways - auditory (for the spoken word) and visual (for the written and graphic or pictorial representation). Student learning increases when teachers convey new material through both." Not only should teachers pair words with graphics, they should also provide concrete and tangible examples for abstract ideas. These are two strategies identified as, "proven practices that improve learning for all students." Using PDFs from INFOhio's Explora database is one way to integrate images and concrete examples into your classroom.
PDFs are files that electronically capture text and images. A PDF looks like the printed document, but it can be stored, viewed, and shared electronically. PDF stands for Portable Document Format. INFOhio has many PDFs available in our EBSCO databases provided at no cost to Ohio's teachers, students, and parents. EBSCO's Explora interface is available to three levels: PreK-5, 6-8, and 9-12. These leveled interfaces provide advanced search options that make it simple to find articles and other resources in PDF format. Plus, Explora makes it easy to share these files using the "Send PDF to My Cloud" option and the "Google Classroom" option.
To find a PDF to project for whole class instruction, print, or share electronically, begin by choosing the level of Explora most appropriate for your lesson.

Once you have chosen, click the "Advanced Search" option located underneath the search box. This will take you to a new screen where you can limit your search by Lexile level if needed, as well as choose only PDF full text results for several of the databases found in the Explora interface. See the image below for an example from Explora 9-12.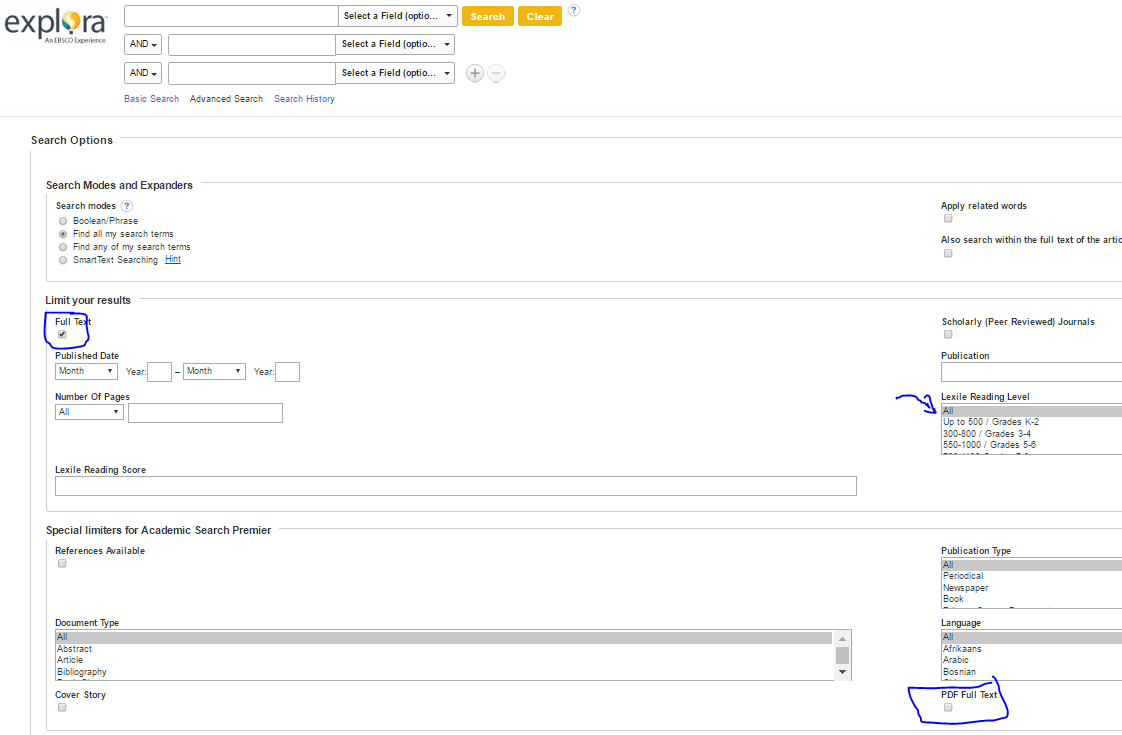 The default search is for full text only, so you will not have abstracts in your results. You will also find more than just one PDF box to check in order to narrow your results to PDFs from those databases. Once you have selected your advanced search limiters, you can type in a few keywords for your search and then click "Search."
Your results list will look similar to the picture below. You will see that each result provides the file type available: HTML or PDF.  If there is a PDF, the option to save the file to your cloud is also listed.  

If you wish to share the PDF electronically with your students, this is an easy way to send the file to Dropbox, Google Drive, or OneDrive. You can learn more about the "Send PDF to my Cloud" option in this guide or this video.
To view the PDF, click that option, and the full-color, authentic version of the article will appear, along with a link to a detailed record and the complete list of Explora's tools.  

It is important to note that you cannot use the translate or listen feature for PDFs, but you can send the file to your Google Classroom to share with your students. You can learn more about this feature by reading this guide or viewing this video.
One of the most powerful ways to integrate PDFs into your classroom is to use them as visual aids for discussion and lecture. For example, this PDF of the article Stem Cells: Superheroes of the Cellular World offers both text and images to help students grasp what stem cells are and to identify the different types.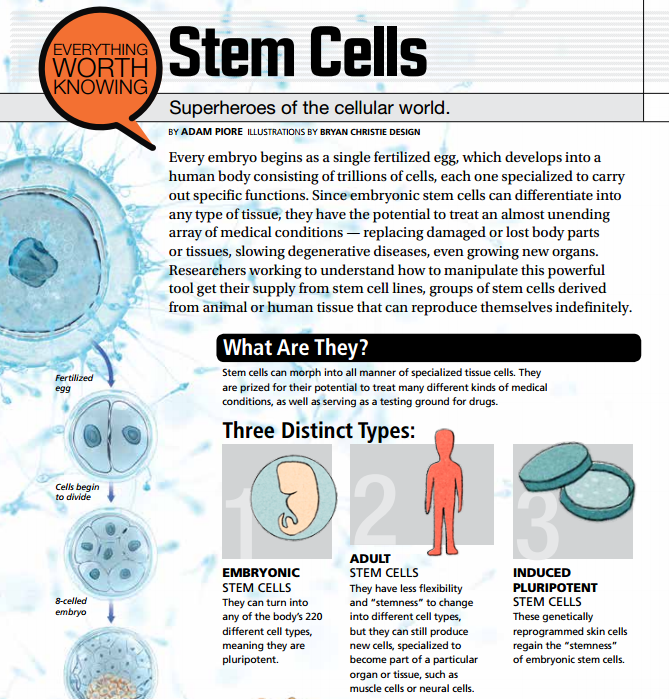 After introducing stem cells using the projected text from the PDF, split students into three different groups that correspond with each different type of stem cell. Ask students to create a word map. Then the students can share with other groups to expand their knowledge as well as compare and contrast their understanding.
Using PDFs in your teaching not only enriches the lesson, it can also provide learners with an alternative way to construct meaning. Whether printed or projected, the authentic text and images will help reinforce for students that knowledge doesn't just come from a textbook, but can be found in a variety of places.  
Below is a list of a few other PDFs that can be found in INFOhio's Explora resources. Take a look - you may be surprised at the POW! these PDFs will put in your pedagogy!
Primary Grades:
Foundations of Reading - English Language Arts - Humpty Dumpty's article Find the Rhyme. Use this as a handout or project it on a smart board for whole group learning.
Grade 2 Science - Earth and It's Inhabitants - Scholastic News Article - What's Under My Feet? Use this in a unit about soil, earthworms, and how living organisms affect one another.
Grade 5 Social Studies - Heritage - European Influence - Junior Scholastic's Article The United States of Languages. Use this as a visual to help students understand the effects of various cultures from around the world on our country.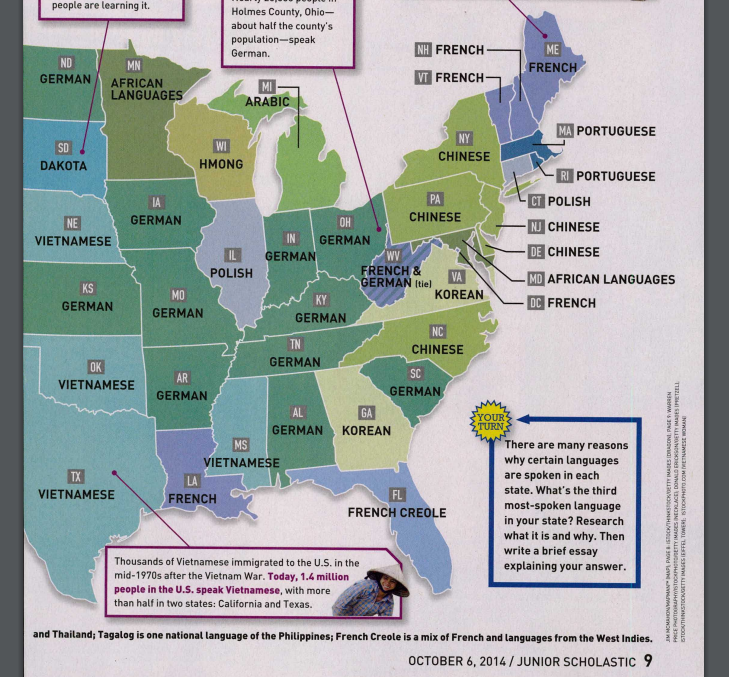 Grades 6-12
Government - United States structure - Time's article The Results: Congress. Use this as a visual aid for a discussion on how Congress is set up, its responsibilities, and the two-party system in the United States.
Mathematics - Logic and Reasoning - Tech Directions' monthly feature More Than Fun. Use this as a bell ringer or an exit slip for a class. 
English Language Arts - Apostrophes - Storyworks' Grammar Cop article. Print this and post it as a reminder for student writers.
Related Arts
Art - Van Gogh - Jack and Jill's article Meet the Artist: Vincent Van Gogh. Use this to introduce the artist or his painting and drawing techniques.
Music - Time's chart on popular summer music. Use it in a discussion about how culture is affected by the music we listen to.
Physical Education - Golf - Consumer Reports' article Golf Balls: Slicing through the Hype. Share the different types of golf balls and then ask students to choose the best one for their technique and skill level.