Text sets are an excellent way to promote equity and provide high-quality instructional materials for all students. These collections of text and media on a focused topic help students build background knowledge and develop vocabulary. Text sets not only help students grow as readers, they also bridge the gap between reading instruction in science and social studies classrooms.
The INFOhio Text Sets for grades 6–12 include the following.
INFOhio Text Sets use quality digital content to bring authentic text into the content area classrooms for grades 6–12. Authentic text is a text written for the real world and a public audience. INFOhio's authentic text invites active reading and promotes compelling ideas from language and life. Authentic texts take many forms including newspapers, magazines, and websites. Using authentic text to develop text sets allows educators to scaffold the experience for the reader, building confidence as students engage with increasingly challenging texts. To learn more about the INFOhio Text Sets and the Teacher Guide, visit the blog post, INFOhio Text Sets: Tips to Get Started.
Selecting Text for Text Sets in Grades 6–12
The Quad Text Set Framework
INFOhio Text Sets were created using quality digital content from premium licensed resources. INFOhio's text and media is authentic, written for real world purposes such as to inform, entertain, persuade, or explain. The INFOhio Text Sets use the Quad Text Set Framework. This framework begins with three specifically selected texts, charts, graphics, or videos that lead up to a more challenging target text. The grade level texts create a scaffold to help students build background knowledge and develop the vocabulary needed to read the target text. The target text should be challenging and aligned with the curricular goals of the unit.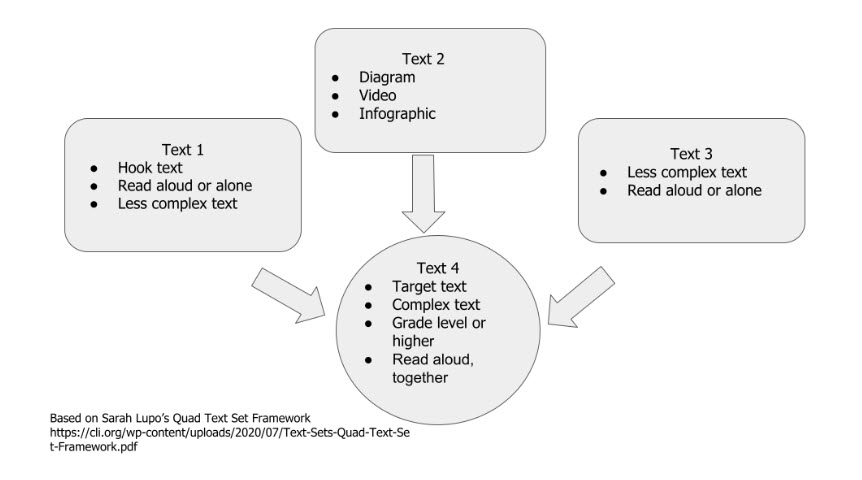 INFOhio Resources for Text Sets
INFOhio's licensed digital content provides educators access to quality, authentic digital text, including engaging magazine and newspaper articles, videos, images, diagrams, and primary sources for robust text sets.
INFOhio's Digital Video Collection
INFOhio's Digital Video Collection (DVC) includes more than 5000 quality educational streaming videos free of advertisements and with content to support Ohio's Learning Standards. Educators can directly link to segments within a video making videos from the DVC a perfect addition to text sets. Using videos in text sets is a great way to introduce difficult concepts, hook the student, and accelerate learning. According to research from John Hattie, videos can accelerate learning when students can control the pace of the learning and revisit segments to reduce cognitive overload.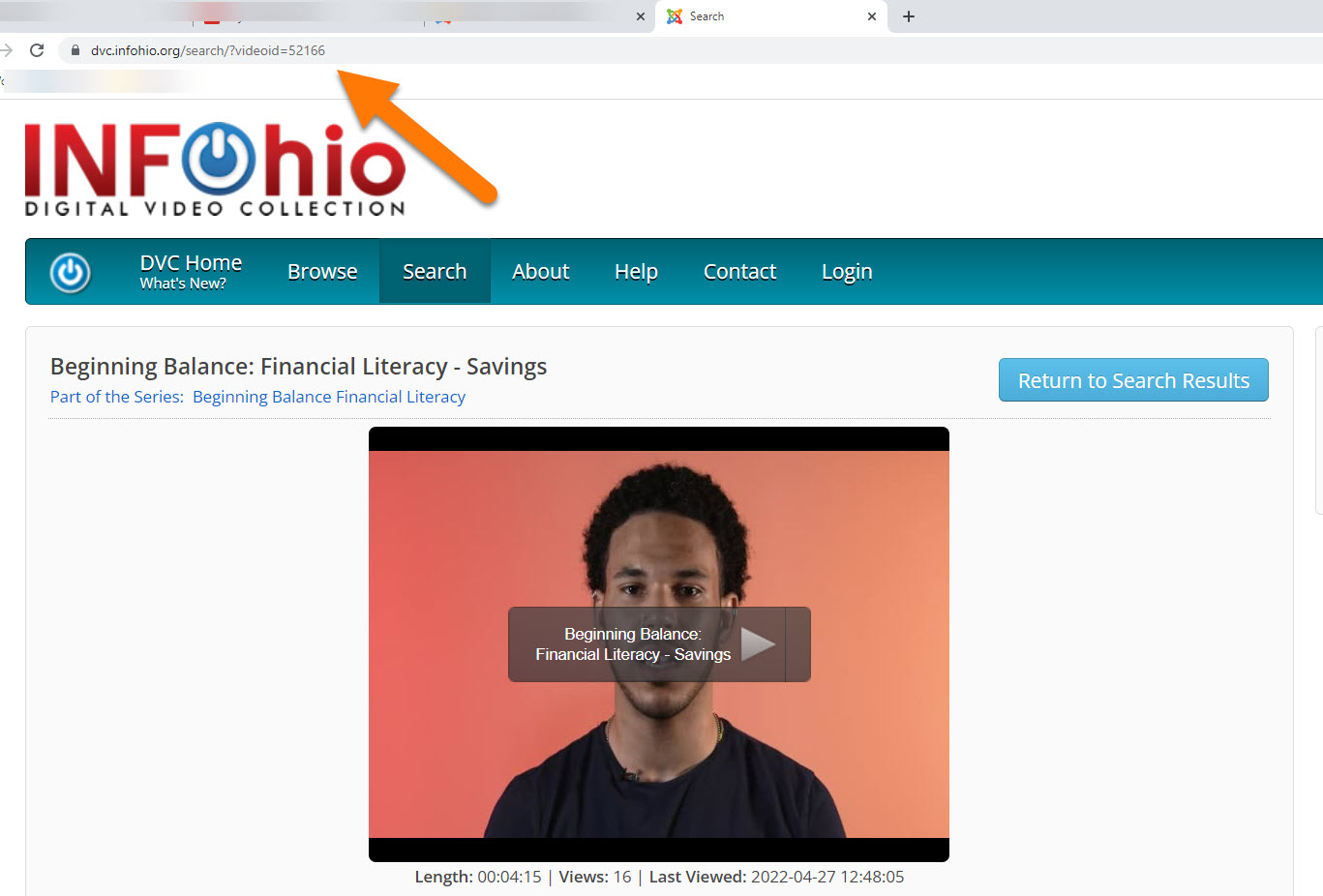 Explora for Grades 6–8 and Explora for Grades 9–12
Primary sources are a great way to engage students as they investigate events, ask questions, and seek other sources to corroborate or disconfirm the evidence they found (Morgan and Rasinski, 2012). However, locating primary sources for the classroom can be difficult. Explora for Grades 6–8 and Explora for Grades 9–12 provide educators access to magazines, journals, images, videos, and primary sources. With an easy-to-use search interface, Explora uses simple keywords searches to produce results. Educators can use the Lexile Level limiter to filter results and select a text at the appropriate level of difficulty to challenge and support students. Digital content in Explora for Grades 6–8 and Explora for Grades 9–12 includes a Permalink, which allows the educator to link directly to the article or video. Follow the link to learn more about Sharing Permalinks from INFOhio's Digital Content and Databases.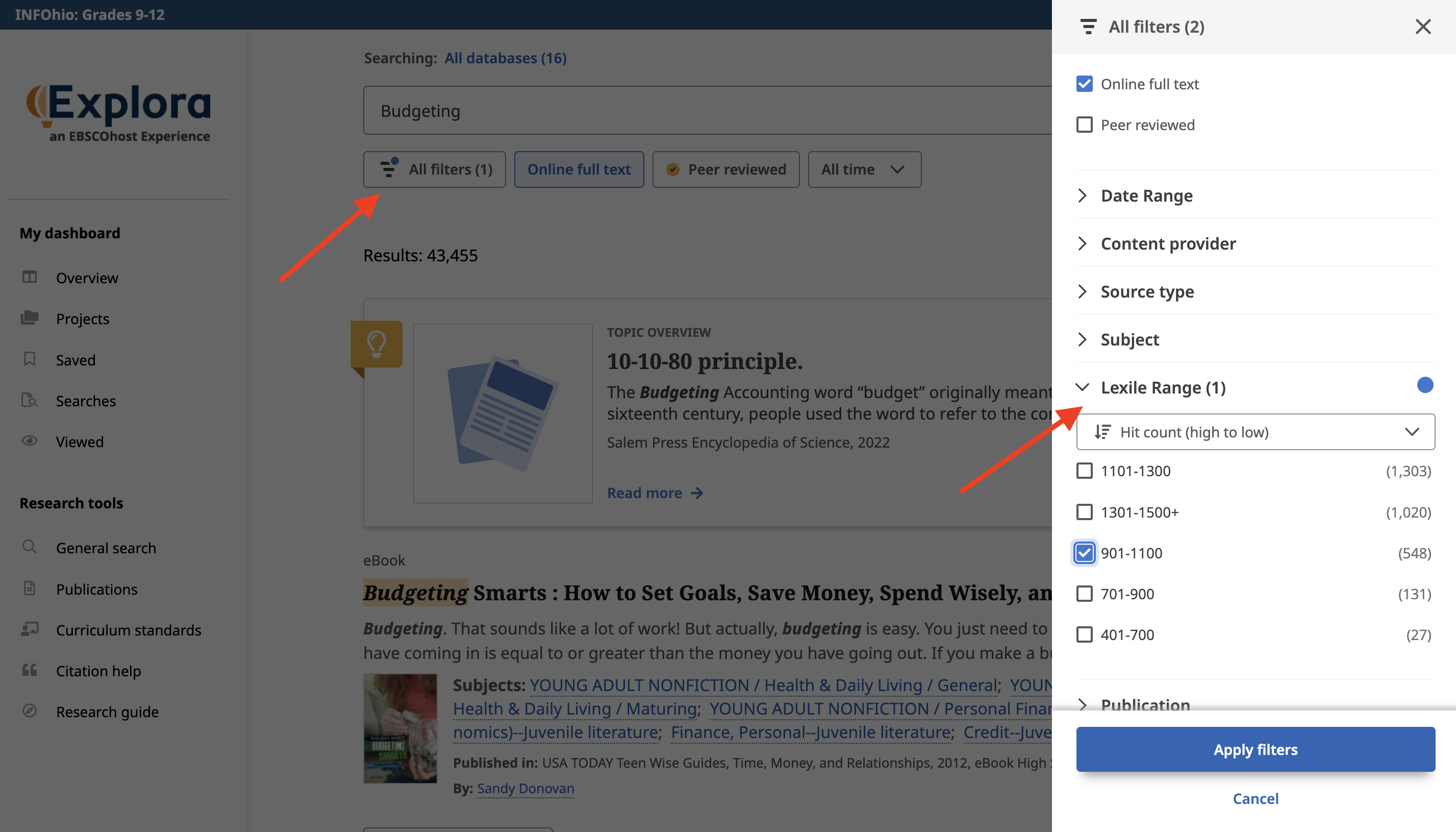 The World Almanac for Kids includes maps, videos, and digital text to support the development of text sets. To support educators, The World Almanac for Kids includes a collection of teacher resources, graphic organizers, and lesson plans as they integrate content into text sets. Using the Teacher Resources section, educators can use the Educational Standards search to locate digital content aligned to Ohio's Learning Standards for the text set. As with much of INFOhio's digital content, educators can link directly to content found in The World Almanac for Kids using a Record URL.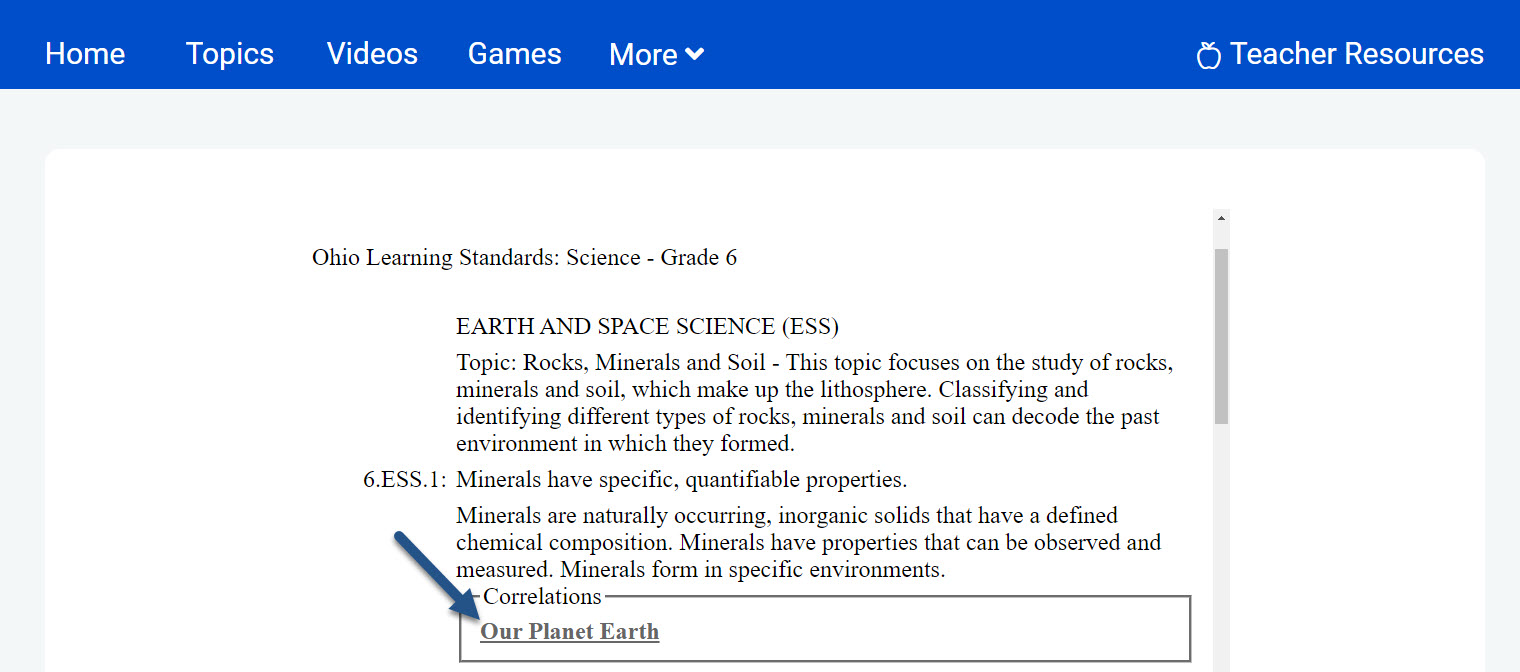 Suggested Activities for Bringing Text Sets into the Content Area Classrooms
INFOhio has curated a collection of instructional activities to support the use of text sets in content area classrooms. Each INFOhio text set offers suggested activities to accompany the selected texts. Educators who want to expand their instructional practice can find curated activities in the INFOhio Text Sets: Teacher Guide. The activities are divided into four categories and are based on research and best practices.
Before, During, and After Reading Activities
Before, during, and after reading activities ask students to engage in prior knowledge, develop questions, and reflect on the text. Using research-based strategies to engage students throughout the reading process supports comprehension. These strategies are flexible and can be used with a variety of texts and in content area classrooms. In the Biology: Cellular Genetics Text Set the Inquiry Chart (I-Chart) strategy activates a students' prior knowledge about a topic and asks students to generate questions to explore as they read multiple texts. After reading, students are asked to summarize and generate new questions for further inquiry.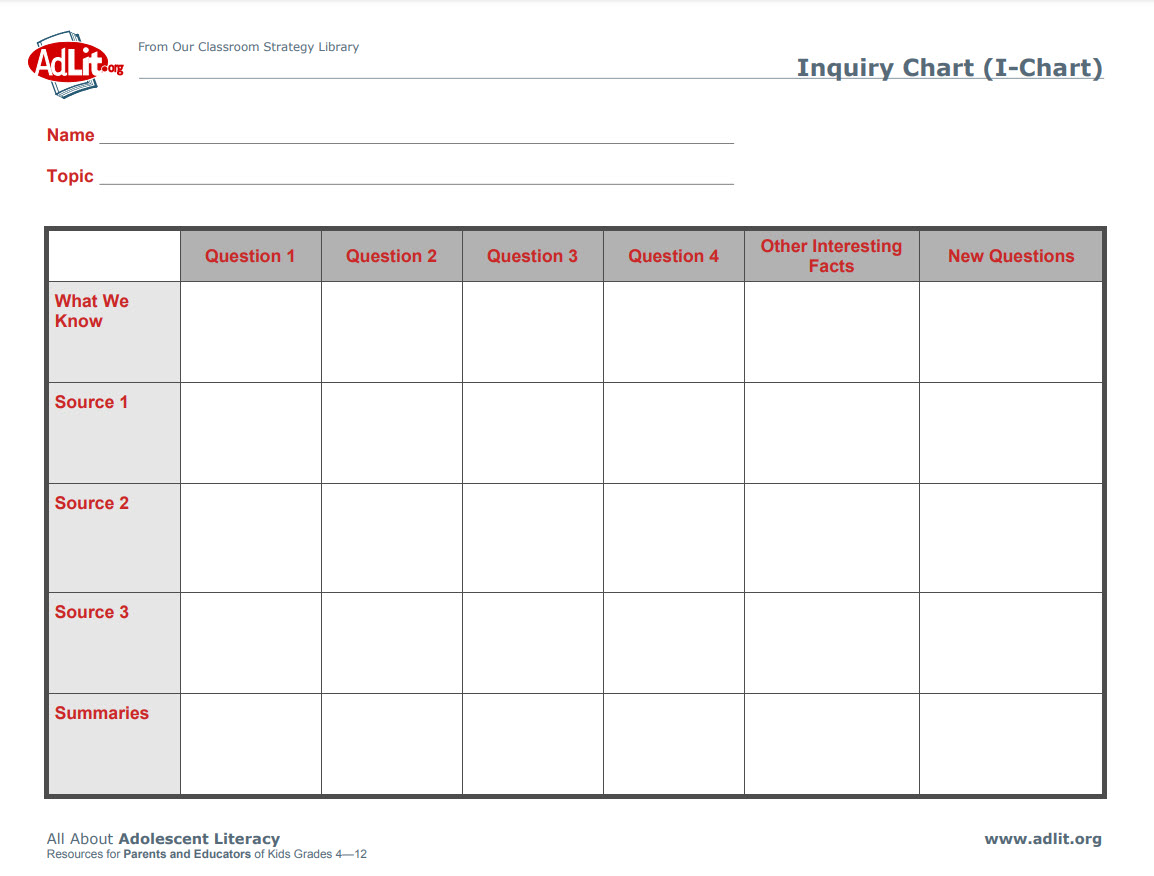 Discussion Activities

Discussion activities are a powerful tool to engage students in the classroom. Educators can listen to student discussions to determine what students know and what they still need to learn. In the Social Studies: The Federalist Papers Text Set, students use the Fishbowl discussion activity to explore how the Federalists and Anti-Federalists debates led to the adoption of the Bill of Rights. The educator observes as students drive the conversation and use evidence from the text to support their reasoning and generate questions.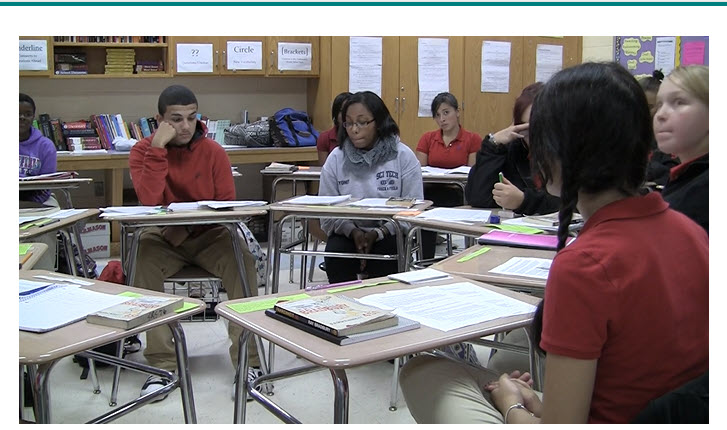 Writing Activities
Extended writing-to-learn strategies allow students to organize their ideas, build connections, raise questions, and discover new ideas. Double-Entry Journals can be paired with any text and give students the opportunity to engage with the material as they read. In the Social Studies: The Federalist Papers Text Set, a double-entry journal is paired with a video. Students can pause the video, rewatch parts as needed, and reflect on their reactions to key points made during the video in their double-entry journal.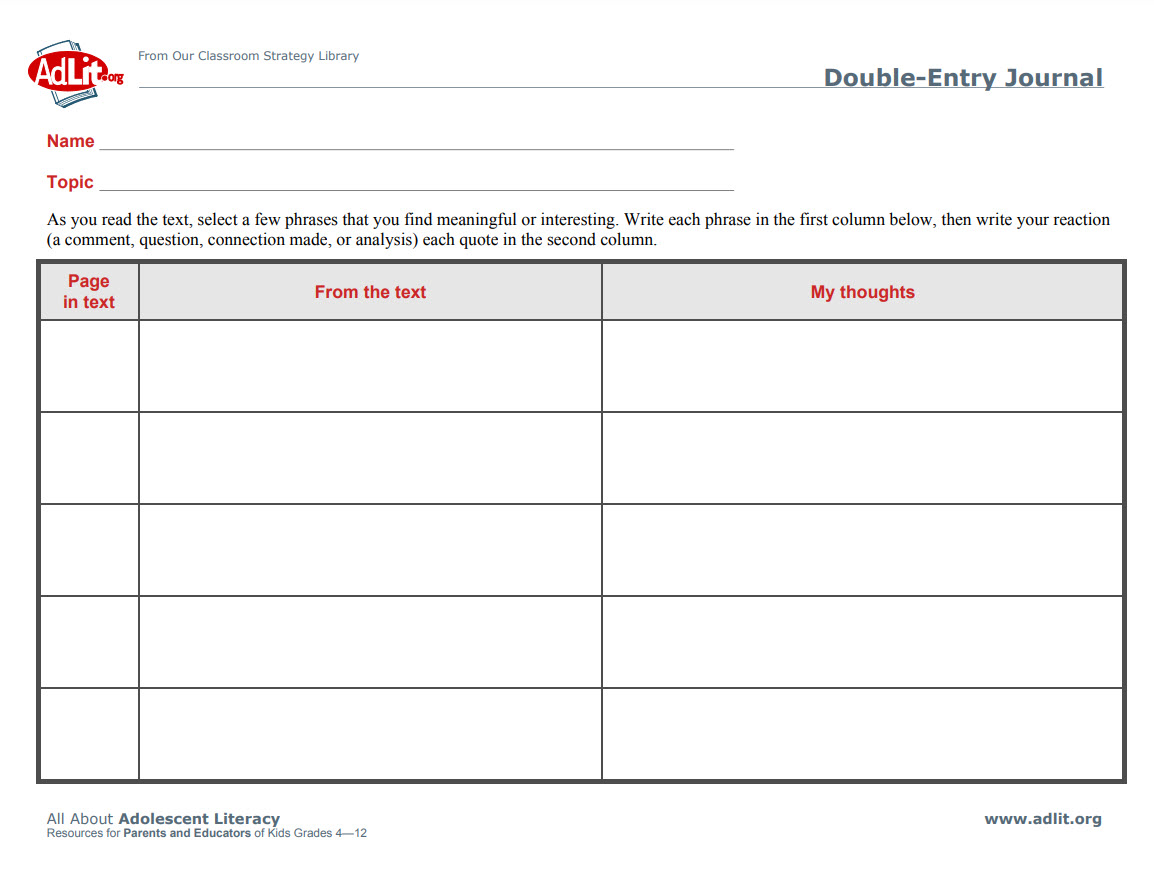 Vocabulary Activities
Including explicit vocabulary instruction in English language arts and content area classrooms can help students develop reading independence. In Grade 6: Perseverance Text Set, educators can learn more about how to bring explicit vocabulary instruction into the classroom with a video featuring Dr. Anita Archer as she models how to introduce new vocabulary to students of all ages. Then educators can use the Vocabulary Vault with their students to develop vocabulary across all four texts included in this text set.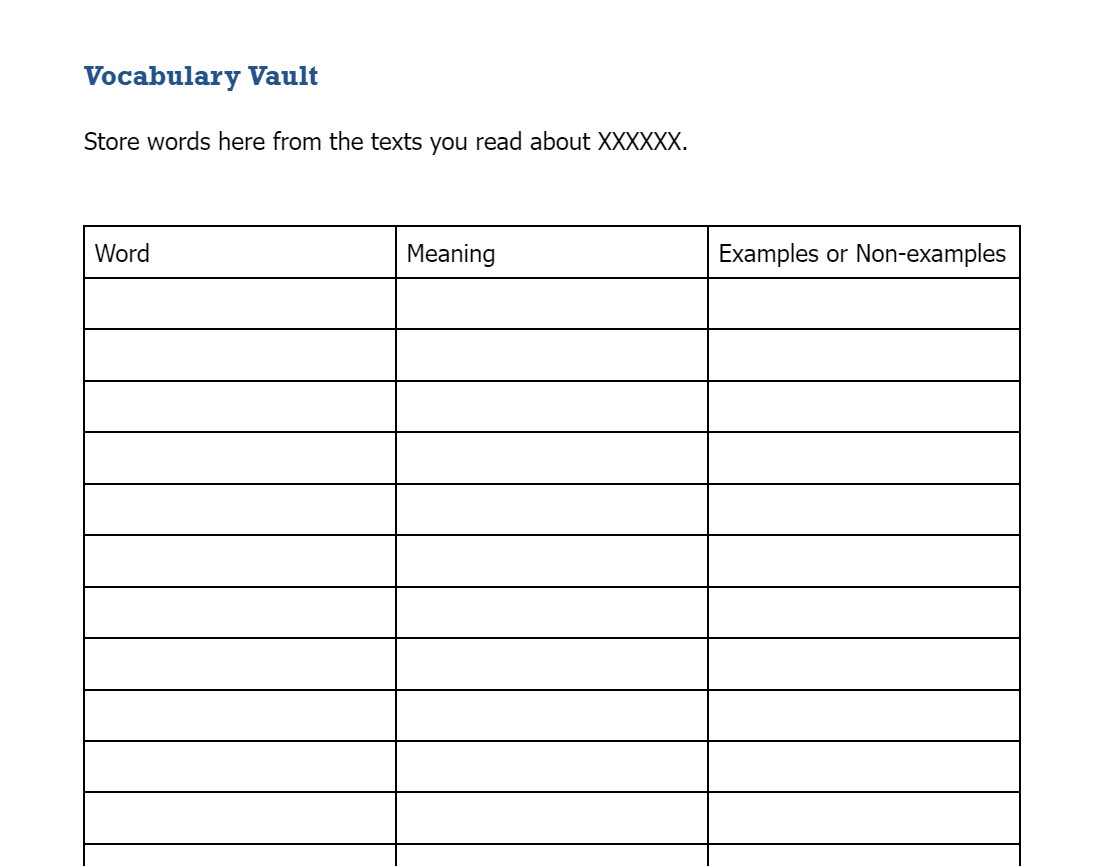 Build Your Own Text Set with Licensed Digital Content from INFOhio
INFOhio has developed a Teacher Guide of professional resources to support the development of teacher-created text sets. Review the steps below to help you personalize the curriculum for your students by building your own text sets using INFOhio's licensed digital content
Steps to Getting Started with INFOhio Text Sets
Learn more about text sets and read INFOhio Text Sets: Tips to Get Started.

Explore the INFOhio Text Sets: Teacher Guide.
Watch recorded webinars from State Support Team literacy leads.
Review the Reading Like a Historian video and learn how to engage students with primary sources.

Select a topic or unit that could benefit from a text set.

Text sets focus on a particular topic or theme. Review your instructional materials and determine where a text set could be used to build background knowledge or support the development of vocabulary.
Determine the target text, this should be the most challenging text in the text set directly aligned to the curricular goals for the unit.

Search INFOhio resources for quality digital content. A text set could include a variety of content text, images, graphs, and videos.

Explore the resources listed above to locate a variety of text to populate a text set.
Learn more about using INFOhio's digital resources using classes from the 6–12 Digital Content Learning Pathway.
Get started today and learn more about INFOhio Text Sets. Share how #INFOhioWorks for you on social media. Be sure to watch for additional blog posts with insight on how to use these in the classroom.
INFOhio is here to support you. If you have questions or specific needs, don't hesitate to reach out to us at support.infohio.org.