STEAM, or science, technology, engineering, arts, and math, is more than an educational buzzword or standalone class. For many, it's a practice of using technology, introducing authentic real-world problems, incorporating themes and knowledge from across content areas, and focusing on project-based tasks to engage learners in the classroom.
The Ohio STEM Learning Network (OSLN) describes STE(A)M as a curriculum that has "challenging, student-centered, inquiry-based educational experiences that are cross-disciplinary in nature and relevant to the real world." Opposed to separate "silos" of subject areas, a STEAM classroom is more cross-disciplinary where students are developing critical thinking and creative skills through investigation and authentic problem solving. OSLN states that, "STEM moves beyond an emphasis on simple test performance and focuses instead on developing higher-level thinking skills."
ISTE states that "the multidisciplinary nature of STEAM...reinvents learning by:
Promoting collaboration among educators across disciplines to develop projects or challenges.
Designing activities that use data to address real-world issues.
Helping students apply higher-order thinking skills to open-ended problems.
Allowing students to design and innovate."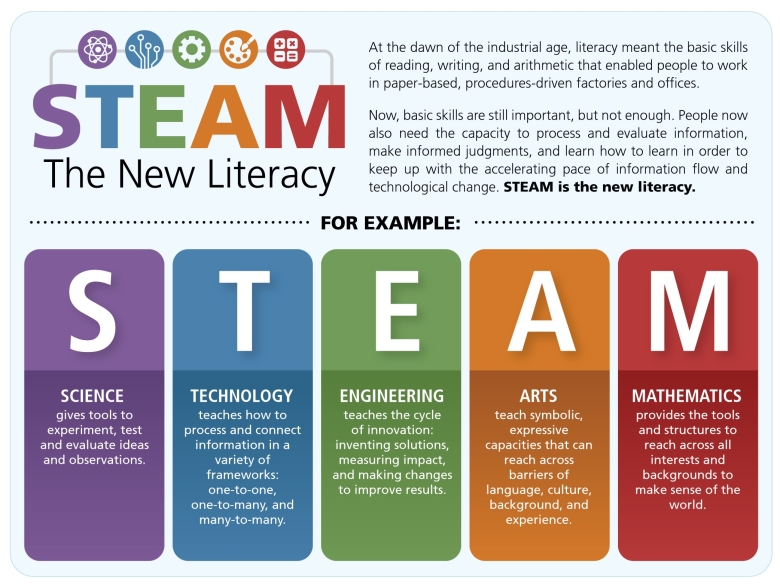 Benefits of STEAM Now and Later
Research from Hansen & Gonzalez (2014) shows that the use of STEM principles (technology, authentic tasks, cross-disciplinary project-based learning) correlates with positive gains in math and science test scores and reported practices of listening and taking notes. This suggests that the incorporation of these principles into classrooms can provide students with academic skills necessary for success in all classes. Furthermore, involvement in STEAM can help reduce the achievement gap between different demographic groups. According to another study, participation in a STEAM enrichment program led students in minority groups to higher rates of graduation and significant improvements in GPA. Contrary to popular belief, "girls actually have significant interest in STEM careers however, lack overall confidence in themselves and their abilities," says the Girls, STEM & Careers Impact Report, and that there should be a focus on confidence-building and increased exposure to STEM activities. All of this shows the potential of STEAM education to "level the playing field" and provide opportunities for all students.
Another benefit of STEAM in schools is to prepare students for the high-tech and rapidly-changing world they will face after graduation. The Ohio Department of Education states that STEAM education is vital to support Ohio's economy and "helps all Ohio students become innovators and inventors, self-reliant and logical thinkers and technologically proficient problem solvers." By learning to approach complex issues from multiple perspectives, students develop a deeper understanding of a topic and gain the ability to apply their knowledge to real-world situations. This is particularly important in fields like technology and engineering, where creative solutions and out-of-the-box thinking are often required. Many of the fastest-growing, highest-paying, and new jobs in the United States require a strong foundation in STEAM skills. According to a report by the U.S. Department of Commerce, jobs in STEM fields are projected to grow at a rate of 8.9% from 2018 to 2028 versus 5.4% over the same period for non-STEM fields, suggesting that students who are proficient in STEAM subjects will have a competitive advantage in the job market.
Four Ways to Introduce STEAM Principles Into Lessons
The most important thing to remember is that you do not have to be a "STEAM teacher" to teach STEAM concepts. Similar to how literacy should be a part of all subject areas, the STEAM principles of real-world problems, cross-curricular themes, project-based tasks, and technology-enhanced learning can be a part of any classroom. Here are four possibilities for introducing these principles in your lessons:
Incorporate STEAM principles into existing lesson plans. Don't feel the need to start from scratch - there are often opportunities to use STEAM principles in what you already do. For example, if you are teaching a lesson on history, you could include a lesson on the engineering of ancient structures, or have students research, design, and build a model of a historical site.
Look for opportunities for hands-on, project-based learning. Consider following the Gold Standard PBL: Essential Project Design Elements from PBLworks.org while having students investigate the United Nation's Global Issues list to identify problems, research, explore possible solutions, and share their work within the community. This can also look like posing open-ended questions and mini-challenges to students which helps build creativity and critical thinking skills.
Collaborate with other teachers to cross-pollinate ideas and integrate STEAM principles into multiple subjects. For example, a 3rd grade teacher and an arts teacher could work together to design a lesson that incorporates both subjects like designing book covers for short stories written by students.
Use technology or digital tools to enhance learning where appropriate, especially if learners are experiencing real-world applications in fun or engaging ways. For example, a math lesson about ratios could include a hands-on component where learners test the effects of different gear ratios with a LEGO robotics kit.
To provide a more complete example of what this could look like in a classroom, below is an abbreviated lesson for elementary or middle school math. This lesson hits on multiple of Ohio's Learning Standards for Mathematics and introduces concepts from the arts (music, visual arts), science (physics, gravity), and technology (audio and video recording and editing, coding).
Abbreviated Timeline of Instruction:
Use The Making of "The One Moment" lesson from OK Go Sandbox to introduce a music video shot in slow motion and behind-the-scenes of how they did it.
Students complete the General Slow Motion worksheet, by completing calculations of fractions, multiplication, and division problems as seen in making the music video.
To extend learning, students complete the Music & Sound lesson from CS First, then choose either the DJ Mixer or Music Video project. This can be used to apply concepts seen in previous steps and potentially be used in their demonstration of learning next.
To demonstrate their learning, have students work in pairs to record their own slow motion music video for a clip of their favorite school-appropriate song. They also need to demonstrate the calculations they used to get the correct sync for the audio and video. Students can use the DJ Mixer or Music Video programs they've coded in the previous step to help adjust the music speed and/or "record" a video using code.
With just this short, albeit rough draft idea for a lesson, we see the STEAM principles of (1) the introduction of a real-world problem; (2) incorporating knowledge and ideas from different content areas; (3) using project-based learning; and (4) technology being used to enhance the learning experience.
Three Strategies for Sharing STEAM Activities for At-Home Learning
Create and share a resource guide or interactive list of activities that caregivers can use at home. This may include step-by-step instructions, materials lists, and links to online resources or educational apps. If you maintain a class website or newsletter, this would be perfect to feature around school breaks.

To help you find STEAM-focused resources and demonstrate one method of sharing activities with others, we've created the interactive graphic below, also commonly referred to as a "Bitmoji Classroom." It features resources available through INFOhio (and a few of our favorites from around the web) that have STEAM-related content and that can be introduced in a variety of settings.

Feel free to make a copy of this Sharing Resources with Interactive Images presentation, which has two classroom templates, potential uses for interactive graphics, and helpful resources for creating Bitmoji Classrooms.

In addition to providing a resource list, consider sharing interesting educational videos related to your content, demonstrations that would help caregivers learn about the content and how to do the activity, or short video introductions from you. A class website or newsletter are nice mediums to share these types of videos. Video content like this can be a great way for parents to learn alongside their children, gain confidence in their ability to support their learning at home, and help form connections between parents, students, and teachers as one cohesive team.

Encourage parents and the local community to share their own experiences and expertise related to STEAM activities. For example, if a parent has a background in engineering, they could help lead a virtual workshop or offer suggestions for at-home activities that incorporate engineering principles. This can help foster a sense of community and collaboration among parents, teachers, and local businesses.
What are your favorite STEAM-focused activities or lessons? Consider sharing your ideas and experiences on the INFOhio Community discussion board in Open Space! For help and assistance with any of the above resources and tools, reach out to us at support.infohio.org.