A collection of 167 full curriculum units for English Language Arts and Mathematics from Fishtank Learning have been added to Open Space. These units align to Ohio Learning Standards, contain comprehensive lessons, assessments, supplemental materials, and links to related resources. In addition, teacher guides and professional learning opportunities are included.
The ELA curriculum spans Kindergarten through grade 12 and "meets expectations" for Alignment in Text Quality and Building Knowledge from Ohio Materials Matter Reviews. The "high-quality texts are paired with strong social studies and science content to provide students with opportunities to read, write, and communicate with others effectively and with increasing sophistication."
The math curriculum spans grades 3-8 and also includes Algebra I, Geometry, and Algebra II. It also "meets expectations" for Focus & Coherence and Rigor & Mathematical practices from Ohio Materials Matter Reviews. 
Note: a free Fishtank Learning account is required to view all materials.
Check out the Fishtank Learning ELA and Math units on Open Space.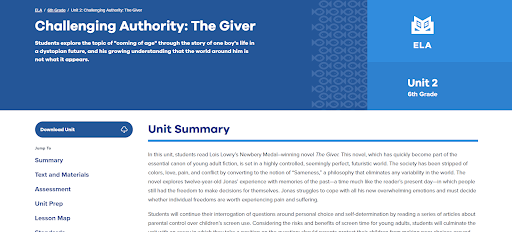 Open Space, a curriculum creation and collaboration tool, powered by INFOhio, empowers educators to create and share resources that promote innovative and collaborative learning. Instructional materials added to Open Space go through an evaluation process using a quality rubric. In addition to finding quality instructional materials, Open Space users can view and rate resources and also share content to Google Classroom. 
Have questions? INFOhio is always here to help. For questions, comments, and additional support contact us at support.infohio.org.