Happy 2017! Do any of your resolutions include using new and more effective teaching practices in the classroom? If this sounds familiar, then this is the blog for you! What better time to introduce teaching and learning with digital text than at the beginning of the 17th year of the 21st Century! Digital devices are a regular part of education, and a daily part of most students' lives outside of school. The best way to help our digital natives learn to use their online presence to find, learn, and evaluate is by using digital text in the classroom. That's where engaging, connecting, and reflecting come in. INFOhio's digital text can help you maximize your teaching and student learning using these actions!
1. Engage - If you have ever watched a group of students use BookFlix, you will probably agree that they are enjoying the visual, musical versions of popular children's books by authors such as Mo Willems, Rosemary Wells, and Doreen Cronin. Your students are likely quite adept at using the navigational tools to move back and forth between the fiction and non-fiction titles, and to play the games that build comprehension and vocabulary. But, how can you tell if these students are engaged with the text? What can you do to make sure they are making connections and predictions, and asking questions?
For print resources, many teachers use active reading strategies and provide students with graphic organizers, highlighters, and reading logs. Reading digital text requires the use of active reading strategies as well. Make sure your students are engaged by using BookFlix in the classroom as part of your lesson. Model active reading by pausing the play button to ask questions or make a prediction. Laugh at the funny parts, and clap when the characters succeed, but also take notes as a class when text features are present, figurative language is used, or character traits can be inferred.
There are also many great online tools to help students be active readers. Google offers many apps and extensions to assist students when reading digital text - from outlining main points to highlighting key words. You can use ISearch to find relevant articles, journal studies, and encyclopedia entries and then copy and paste the text to a Google doc. Use the Google tools of your choice to help students engage with the text. Or, use the text as it appears in the database. Ask students to identify the subjects covered in the article and read the short abstract to help them become familiar with the topic.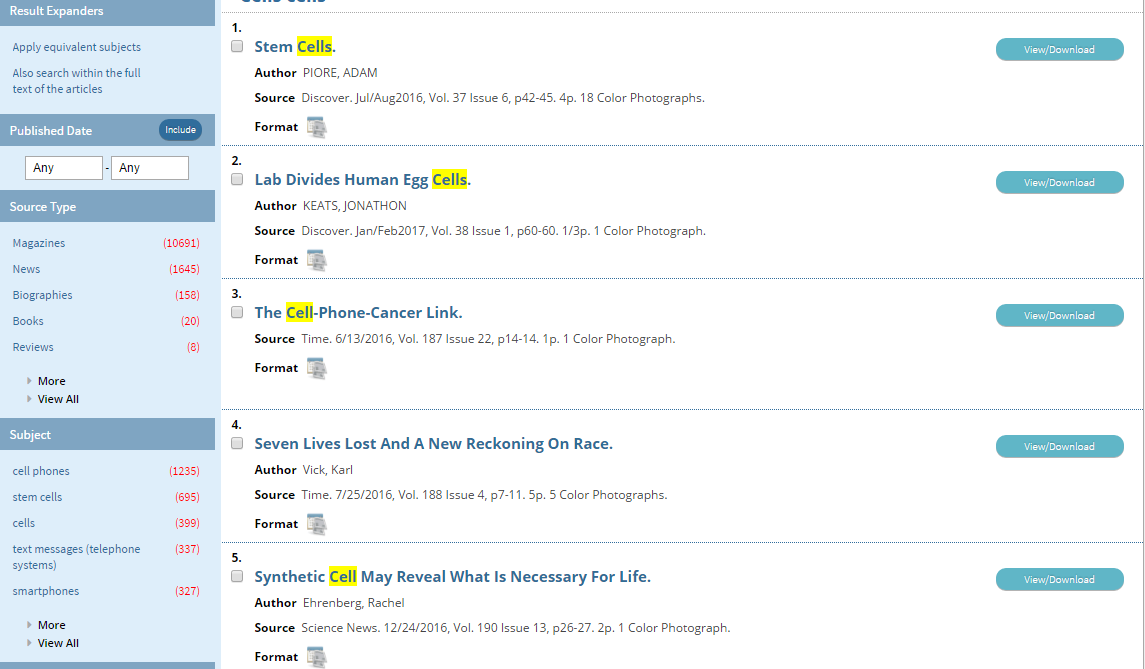 Export the article to your Google Classroom for students, or send the PDF to One Drive, Dropbox, or Google Drive. Assign graphic organizers to help your students engage with the text and read the digital text closely for maximum understanding.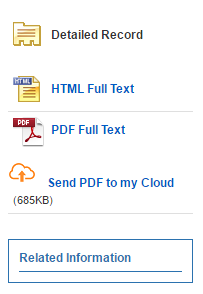 2. Connect - There's no doubt today's learners are connected in ways we could not have imagined even 10 years ago. With a daily digital diet of YouTube, Snap Chat, Instragram, and Twitter, adolescents share important events and small details with a community of friends - some they know, and some they don't. To help students build bridges between what they are learning and what is relevant to them, it is important to allow students to use their communication tools to connect with a larger audience. When reading text from a screen, one of the best ways to build that connection is to encourage students to use the information they have gathered in online social and learning environments.
Scholastic Literacy Pro is offered to all Ohio's 3rd through 6th graders at no cost through INFOhio. This eBook platform has over 2800 popular eBooks, most familiar titles that students can find in their school library or at the Scholastic Book Fair. The digital text in this resource has active reading tools that allow students to take notes and highlight. Teachers can encourage students to think of questions for the author while reading the book. Using Twitter, the class can arrange a chat with the author for questions and answers. For example, there are several R.L. Stine books in Scholastic Literacy Pro. He is also a Twitter user. Tweeting the author using @RL_Stine will alert him that he has a message. Try to set up a designated time for a chat the students can participate in live.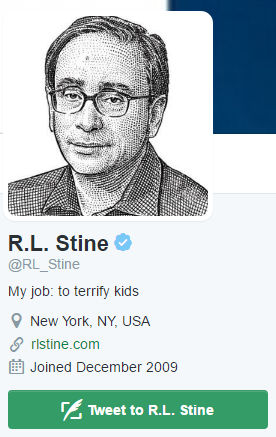 There is no better way to get students excited about reading than by allowing them to connect the story or information they have discovered with the real person who created or shared it.
Another great way to help students connect is by using the INFOhio tool Book Nook, which features book trailers created and submitted by Ohio students. This tool comes with plenty of resources to help students become a producer, director, and star of their very own short movie about a favorite book or story. Use the eBooks available on BookFlix and Scholastic Literacy Pro to help immerse learners in digital text and then make valuable connections in a shared book trailer about the book and their understanding of it.
3. Reflect - Thinking about what we learn and how we do it is an important part of the education process. However, it is often difficult when there is a race for students to master the next standard or outcome. If you take the time to ask students to stop and think about what they liked or didn't like about reading digital text and decide what they want to read and how, then students can begin to take real ownership of their reading.Using ISearch to help students find articles that meet their learning needs is a great first step on the inquiry path. Once students have found an article, ask them to reflect on how they found it, what they liked about the process, and how they could replicate the skill again for positive outcomes. The secret to powerful results when using ISearch is applying the tabbed searches and limiters when investigating a topic.

Ask students to think about the tabs they used to find the articles that were helpful. Was it the Basic Sources? The results in this tab are often a lower Lexile level. Knowing this will help students identify their own reading level needs. The Advanced Sources tab is a great way to find peer-reviewed journal entries. Were students successful in finding the information they needed using this tab? If students used the limiters on the left hand side of ISearch, how did they narrow their search? Did they narrow the source to Biographies for information about a person? Or did they need a current magazine article and so they limited the source to magazines? Using the subject limiter is helpful for finding more information on a topic that may provide additional points of view.
Taking the time to reflect on reading digital text is definitely a strategy that will help students think more about what they did as readers to be successful. Young students can use World Book Kids and then talk with a partner about what they liked while reading. Was it the bright colors or the videos? What active reading strategies did they use while reading the text online? What was hard about reading the text? What was easy? Simple questions such as these will help student pairs think about how to be better users of digital text.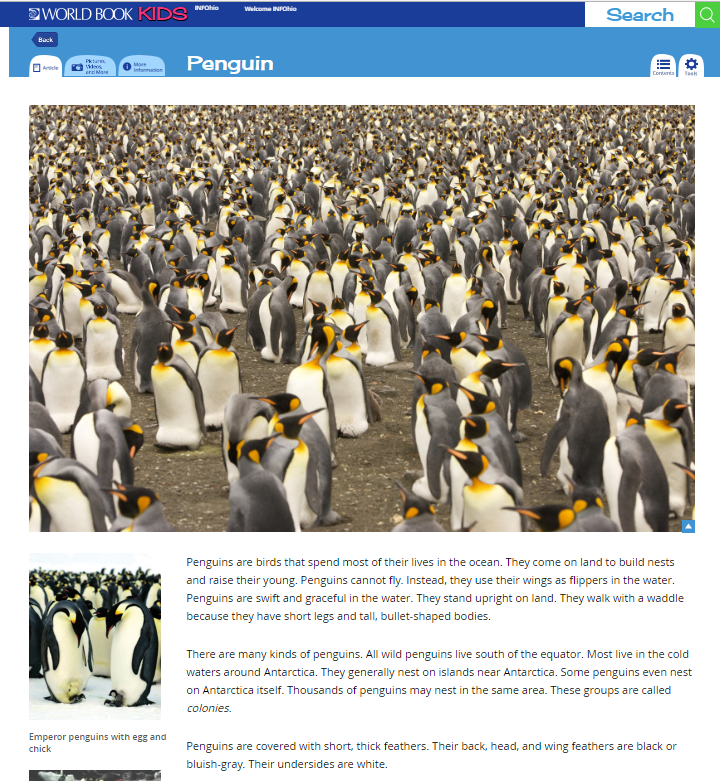 Providing learners with opportunities to engage, connect, and reflect is important for any lesson, and should be used when students use digital text as well. Immersing students in a variety of media - print, digital, video, audio - will help them build understanding of the resources available to them not only as students, but also as employees, consumers, and citizens. They might be digital natives, but today's students still need skills and strategies for success to use and learn from the information in their native land.