Early Learning Portal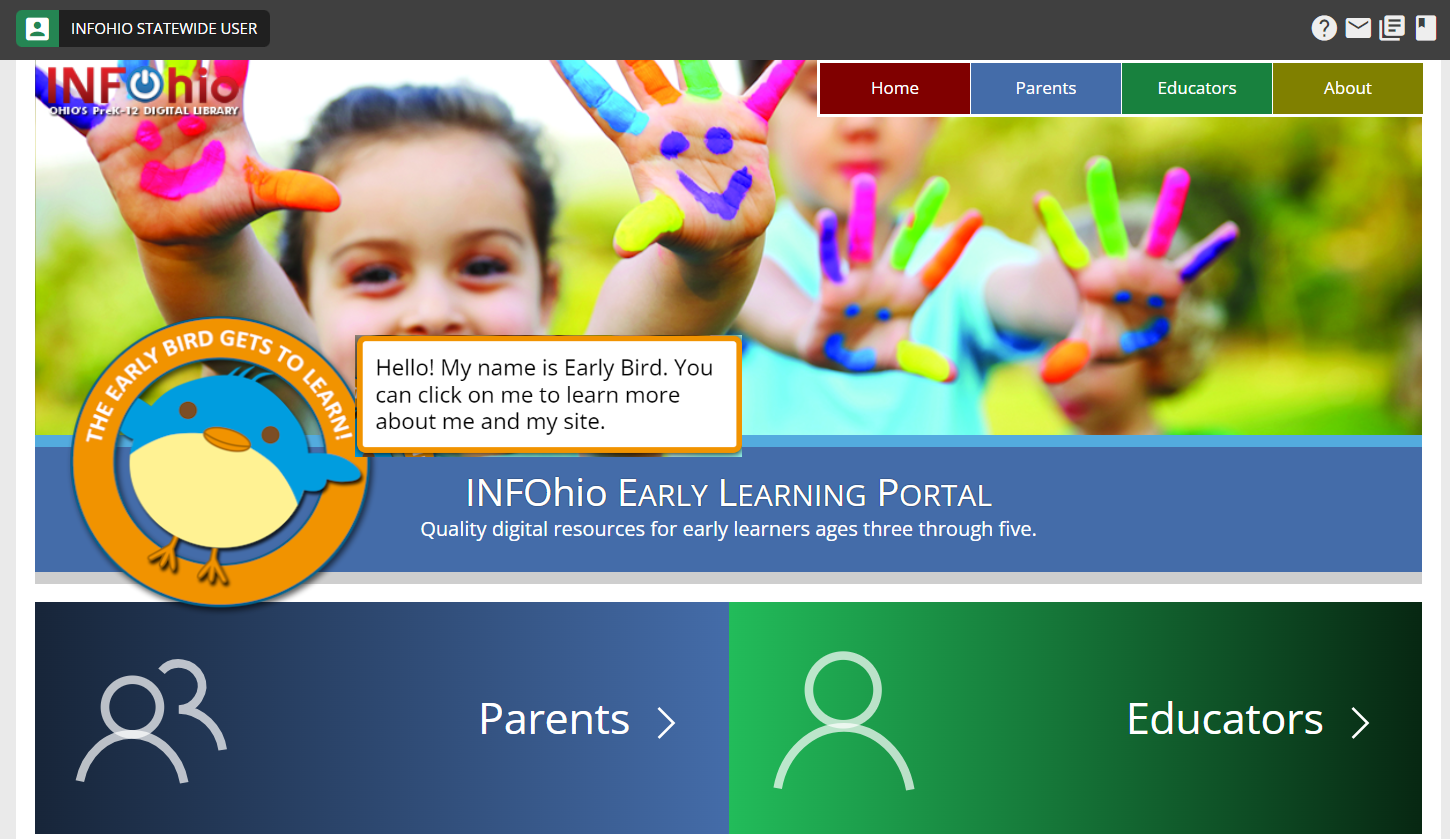 The INFOhio Early Learning Portal (ELP) contains websites and apps that support learning and development in young learners, ages 3-5. This portal was created to help prepare Ohio's early learners heading to Kindergarten. INFOhio encourages adults to use the digital resources with children, providing guidance and support. A team of educators, public librarians, and early learning professionals evaluated and selected each website/app and scored them using a rubric specifically looking for:
Quality
Educational Value
Message
Safety/Privacy
Sales/Marketing
Usability
Age Appropriateness
Providing Support
The resources with the highest ratings were chosen and added to the ELP.
Early Learning & Development Standards
What are the standards?
The Ohio Department of Education (ODE) values the Early Learning and Development Standards for their guidance in helping educators select and develop curriculum. The standards promote the understanding of early learning and development to support the well being of young children. They provide a comprehensive and coherent set of early childhood educational expectations, and guide the implementation of curriculum, assessment, and instructional practices with young children. This allows educators to support infants through preschool with educational opportunities.
In June of 2022, the State Board of Education adopted the new version of Ohio's Early Learning and Development Standards. While there were some minor changes to wording, the major changes appear below.
The Ohio Department of Education removed the age bands implementing a developmental continuum. This means each standard addresses the stage where skill can be developed (typically in infancy) and progresses to what a child is expected to know and do by the end of preschool.
The Cognitive Development and General Knowledge Domain changed its name to Cognitive Development and separated Mathematics, Science, and Social Studies into their own domains instead of as strands.
Some other domain titles were changed: Approaches to Learning replaced the previous title-- Approaches Toward Learning. Physical Development and Wellness replaced Physical Well Being & Motor Development.
A Creative Development domain was added. This includes the strands: artistic engagement and expression, along with creativity and play. The Creative Development domain includes skills related to expression of thoughts, ideas, and feelings that can be expressed through dance, music, visual arts, and dramatic play. This helps educators use a strengths-based approach in meeting the needs of the children they teach.
Finding the standards
It can be frustrating to find quality resources that align with the Early Learning and Development Standards (ELDS). The Early Learning Portal resources are currently aligned to the 2012 Ohio Early Learning Standards. During the summer of 2023, INFOhio will be working to realign all of our resources to the new ODE standards.

To find documents from the Early Learning Portal resources that are aligned to the Early Learning and Development Standards, click Educators from the ELP homepage. Choose the domain you wish to focus on:
Cognitive Development and General Knowledge
Approaches Toward Learning
Physical Well Being and Motor Development
Language and Literacy Development
Social Emotional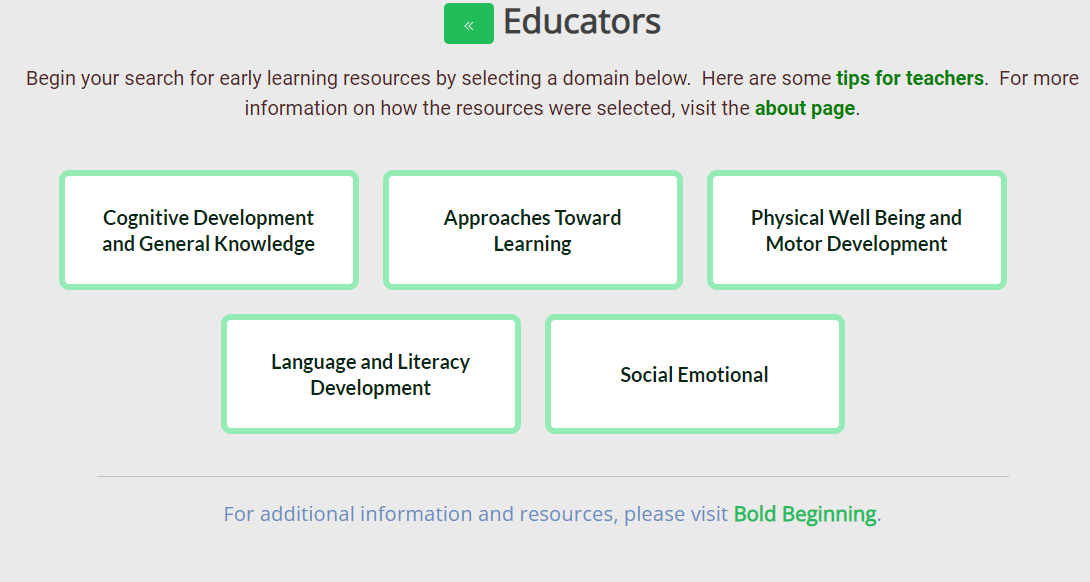 For example, if you click on the Cognitive Development and General Knowledge domain you can access the strands as well as a link to a list of all the resources aligned to this domain, like this one shown in green.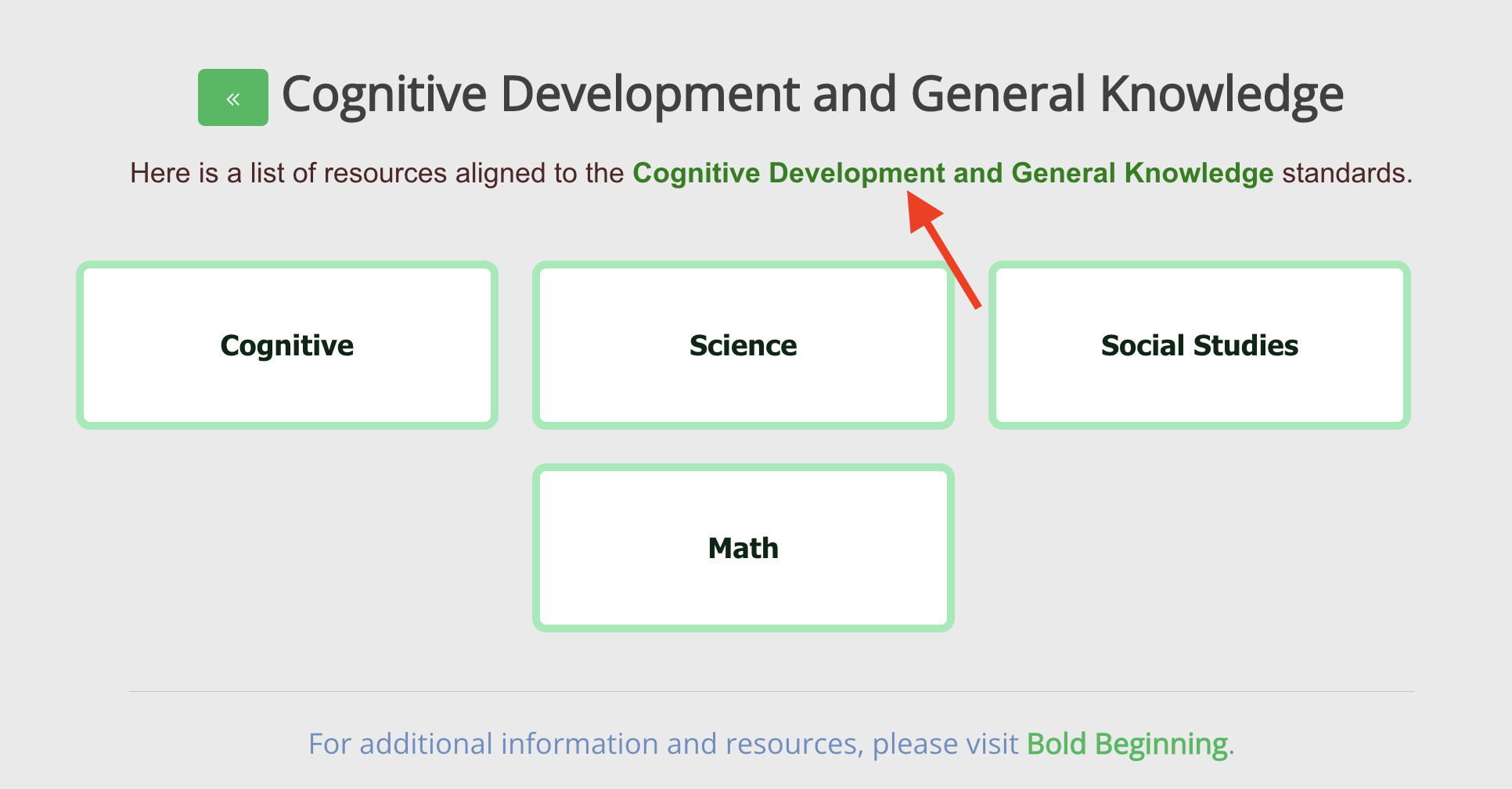 This document aligns the resources to the standards for each domain. Under each category, there are several resources aligned with each strand. This alignment document has the strand, topic, standard, resource title, resource url, resource description, and available languages for easy reference for educators.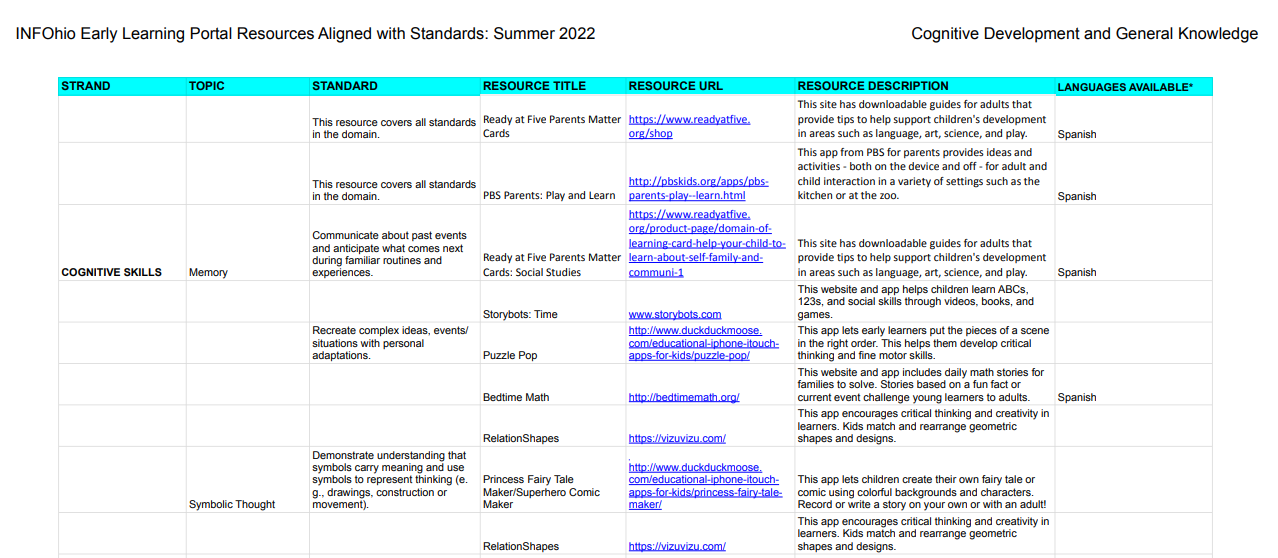 Creative Development Aligned Resources
As a reminder, one of the changes to the ELDS was adding the Creative Development Domain. Since the new Creative Development Domain is not yet aligned to the resources in the Early Learning Portal, here are some suggestions that will help support children. Below will show what new standard each resource aligns to. All five of these resources are currently found in the Approaches Toward Learning Domain in the ELP. This school year you can make learning fun with your little ones, by celebrating creativity and using these resources.
Duck Duck Moose: Princess Fairy Tale Maker and Superhero Comic Maker- Children can use this app to create princess fairy tales or superhero comics using colorful backgrounds and characters.
New Standard(s):
Engages in brief episodes of make-believe play that involve sequenced steps, assigned roles, and/or overall plan for the play.
Uses imagination to plan and act out scenes based on books, stories, or everyday life.
RelationShapes- This is a playful open-ended learning experience for children to practice progressively challenging activities that help with skills like flexible thinking, creativity and spatial reasoning skills.
New Standard(s):
Uses self-selected materials and activities to express ideas and feelings.
ABCya Paint- A wide range of educational games that keep learning fun and an easy way for little learners to practice computer skills through art as children can paint, draw, stamp, splat, and spray designs.
New Standard(s):
Demonstrates preferences, pleasure or displeasure when interacting with various materials and activities.
Ready at Five Parents Matter Cards- These quick guides enable educators and parents to prepare children for Kindergarten through quality educational resources and activities.
New Standard(s):
Plans and creates content using personal experiences, in a work of art using a variety of skills, techniques and materials.
Explores open-ended art materials to create process-focused art.
Peep and the Big Wide World- This website has videos featuring Peep, a small chick who loves science and games to get children moving with dance and music.
New Standard(s):
Demonstrates intentional use of sounds and music.
Attempts to move body or make music sounds to match varied tempos.
Explores making sounds with a variety of objects.
As usual if you have any questions, we are happy to help. Contact INFOhio Support at support.infohio.org.