Educator Tools offers resources to support Ohio's Learning Standards and align inquiry skills with current educational trends and practices. Search by subject, grade level, or instructional trend to find articles, videos, lesson plans, best practices, flyers, tip sheets, and more.
Searching
Enter keywords in the search box or click one of the limiters (also known as filters) to get a set of results.
To search for an exact phrase, put your search phrase in quotation marks.
How the limiters work:
The more limiters you check, the fewer results you will get, but those results should be more relevant.
To clear a single limiter, click the "X" next to that limiter at the top of the page under the search box.
To clear all limiters, click the red "X" next to the row of limiters at the top of the page under the search box.
Using the limiters will help you narrow your search results and find the best materials to meet your needs.
Example
To find a learning module or unit about different types of rocks to satisfy certain Earth and Space Science standards for grades 3 or 4, type rocks in the search box. When the initial results appear, apply these limiters on the left to narrow the search:
Grade Level: 3rd Grade, 4th Grade
Subject: Science
Item Type: Learning Module
From here, scan through the search results to find the perfect instructional materials aligned to your curriculum. Click on the instructional material to open it or use the i button in the upper-right corner of the instructional material's result to view additional details.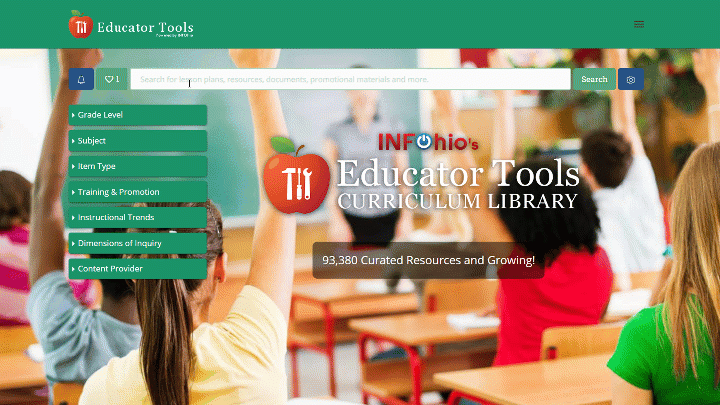 Saving and Sharing
When you find a resource you like, click the heart on that resource in your result list. That will add it to your session Favorites. Before you exit Educator Tools, click the heart icon near the search box to see a list of all the resources you liked. You can share this URL or email the list of Favorites to others. Note: It is best practice to email the list of Favorites to yourself. Your Favorites will be saved for one session and may not be saved after you exit Educator Tools.