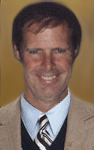 Background
Spence White did much to make INFOhio possible. As an ITC Director, Spence recognized very early on how the Ohio Education Computer Network could support INFOhio's vision of providing equal access to information resources to all Ohio students and teachers. Spence believed wholeheartedly in INFOhio's goals, and he worked tirelessly to make INFOhio a reality after he retired as a Director.
While he is no longer with us, we celebrate his legacy and hold it as a standard of excellence as we move forward. We do that by recognizing the tireless efforts of others to make Spence's vision a reality.
Purpose
The Spence White Service Award seeks to recognize exemplary service provided to the INFOhio community by ITC personnel. The recipient demonstrates a dedication to the vision of INFOhio and outstanding support for the delivery of the INFOhio project.
The Award
The recipient will be recognized during the MCOECN Membership meeting with the presentation of a commemorative memento.
Selection Procedure
The Service Award recipient is selected by an ad hoc awards committee appointed by the INFOhio Advisory Board. Appropriate timelines for the nomination and selection process are established by the committee with the INFOhio central office.
Selection Criteria
The Spence White Service Award recipient is selected from ITC personnel who:
Are nominated by a member of the INFOhio community: school library staff, ITC personnel, teachers, and administrators. Submitted nomination forms must comply with the timelines established by the selection committee.
Are currently employed by an ITC or have been so employed within the last year. ITC staff who have retired within the previous 12 months are eligible.
Deliver exemplary service to the INFOhio project.
Include at least one additional letter of support from an ITC colleague or a school library staff member.
Have not previously received the Spence White Service Award.
See the recipients of the Spence White Service Award here.