Are you a "Yeah, But..." Educator? Take this short quiz to find out.
Have you been in the field for five or more years?
Do you attend at least three meetings a week - TBT, BLT, OTES, IEP, EOC, OIP, DLT, AYP, ELL, RTI?
Have you read at least two required professional books in the past three years and found best practices you wanted to try, but never found the time?
Have you been so busy you can't remember the last time you went to the bathroom?
Did you hear a speaker within the last year who shared inspiring stories of greatness in the classroom? And did you return to your classroom, determined to try their tips, but saw the pile of papers to grade, IEPs to finish, discipline referrals to sign, or list of parents to call and felt overwhelmed?
If you answered "yes" to three or more of these questions, you are at risk of becoming a "Yeah, But…" Educator, or YBE. Admitting that you might be a YBE is the first step to recovery.
The next step is practicing becoming an Intentional Educator. "Yeah, But…" Educators may live only in the moment. For most educators, the current moment is overwhelming. There is never enough time. There are no bathroom breaks. You are working 12 hours a day. But, to really improve student learning, we can't just exist in the moment. Intentional Educators take each moment and make it count. Intentional Educators seize the learning moment and take it to the next level, providing content, teaching skills, and meeting standards all in one lesson.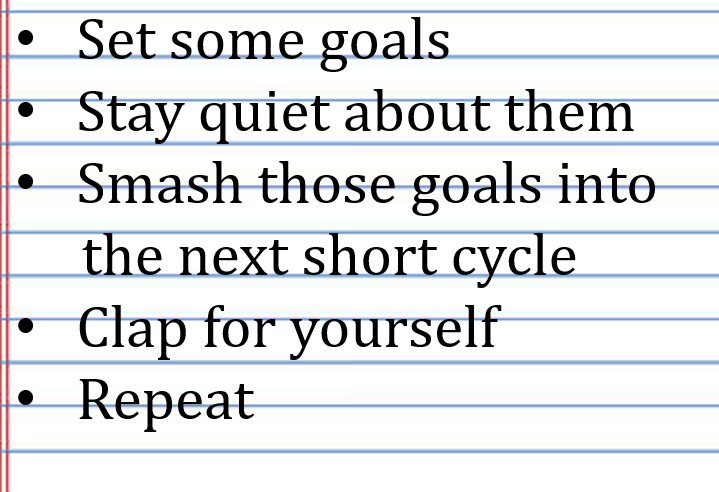 Seizing the moment requires carving out time. It doesn't have to be a lot. Set aside 20 minutes each day that is your Intentional Educator time. It's the time you'll use to plan how you'll seize each moment and reflect on how well it worked the previous day. During your Intentional Educator time, use the goals you have already started working on as part of your SLO or OTES. How can INFOhio help you be an Intentional Educator and achieve your goals? Use your Intentional Educator time to decide how you will integrate INFOhio's tools and resources into your teaching. Here are three places to start smashing your goals with INFOhio.
Is your goal to learn more about how to differentiate in the classroom? Are you looking for ways to reach learners at all levels? Is researching the best strategies and resources on your list to-do, but you can't climb over the pile of papers to grade? Take 15 minutes, and go to INFOhio. Use the INFOhio  site search on the top menu. Search "differentiation."  You will get two pages of articles, lesson plans, and webinars among other resources. Learn more about how to reach all learners by choosing one or two of the results. Be intentional in your selection. Think about the class you are working with, and narrow down the list of results. Spend the next 5 minutes skimming and scanning. Watch for the keywords that apply to the class and the students in it. Is there a strategy? Think about how it will fit into tomorrow's lesson. Is there a lesson plan? Apply it as a template to the standard you have to cover. Is there an activity? Use it as a formative assessment for the new concept you are introducing. The key is to search with a goal, and integrate with purpose.
Is your goal to create a balance of leveled reading and reading for pleasure in your classroom literacy instruction? Are you using devices to read with your students? Are they reading closely online and off? Take 20 minutes and visit the Educator Tools and search for online text or limit the results by age level and "close reading' on the left side of the screen. There are lesson plans, best practices, resources, and tips for teaching. Find one way you can change the reading atmosphere in your classroom using one of the results from the Educator Tools and introduce it to your students. Track the outcomes using informal surveys of student engagement. Clap for yourself and your students when the approach works.
Is your goal to integrate STEM into your classroom? Is there an interest in coding, computational thinking, or making? Are you building bots, bits, or bytes? If you need more hands-on in your classroom, visit ISearch and search the STEM tab for "robotics in the classroom." Several articles from THE Journal and Journal of Research on Technology in Education are in the results. Choose the ones that have the most to offer in support of your goal. Create a MyList account and save the articles you want to read later. Start thinking about how to make the science fiction-like world of robotics real for your students in their problem solving and critical thinking.
So, right now you might be thinking, "Yeah, this sounds great, but I have a test to grade, and I'm selling tickets at the volleyball game after school." Yeah, you're right; there is so much to do. But if we don't teach our students the critical thinking, literacy, and problem-solving skills—if we don't model engagement, passion, and focus...then who will?
There's another important step for recovering "Yeah, But…" Educators: join a support group. As you practice getting your "But" out of the way, let us know what works and share with us what doesn't. INFOhio's listserv is full of supportive educators who, like you, are all about all students learning. Stay connected with us and we'll help each other get our "buts" out of the way.