Monday Mini Lessons Model Remote Teaching Best Practices
INFOhio provides resources and web tools at no cost to all Ohio's teachers. Articles, videos, eBooks, and learning modules are available to use in lesson plans and learning activities. To support educators integrating digital content into instruction and remote teaching, INFOhio has created Monday Mini Lessons—videos that showcase best practices for remote teaching using INFOhio's high-quality digital content.  
Monday Mini Lessons focus on strategies educators need to connect with and engage students during this time of social distancing. These model lessons are practical approaches with learned best practices to support the use of digital content in instruction whether face-to-face or virtual. You can learn more about how to use and navigate INFOhio's resources and web tools in INFOhio Learning Pathways, just one option for flexible PD from INFOhio Campus. 
Teaching with Science Online
January's focus for INFOhio's Monday Mini Lessons is using blended learning to increase student engagement. Learn more about how to use informational text articles, interactive experiments and simulations, activities, and eLearning modules from Science Online to support blended learning and student engagement for high school students.  
Science Online is a resource recommended for grades 6-12 and includes content to keep your science classroom current.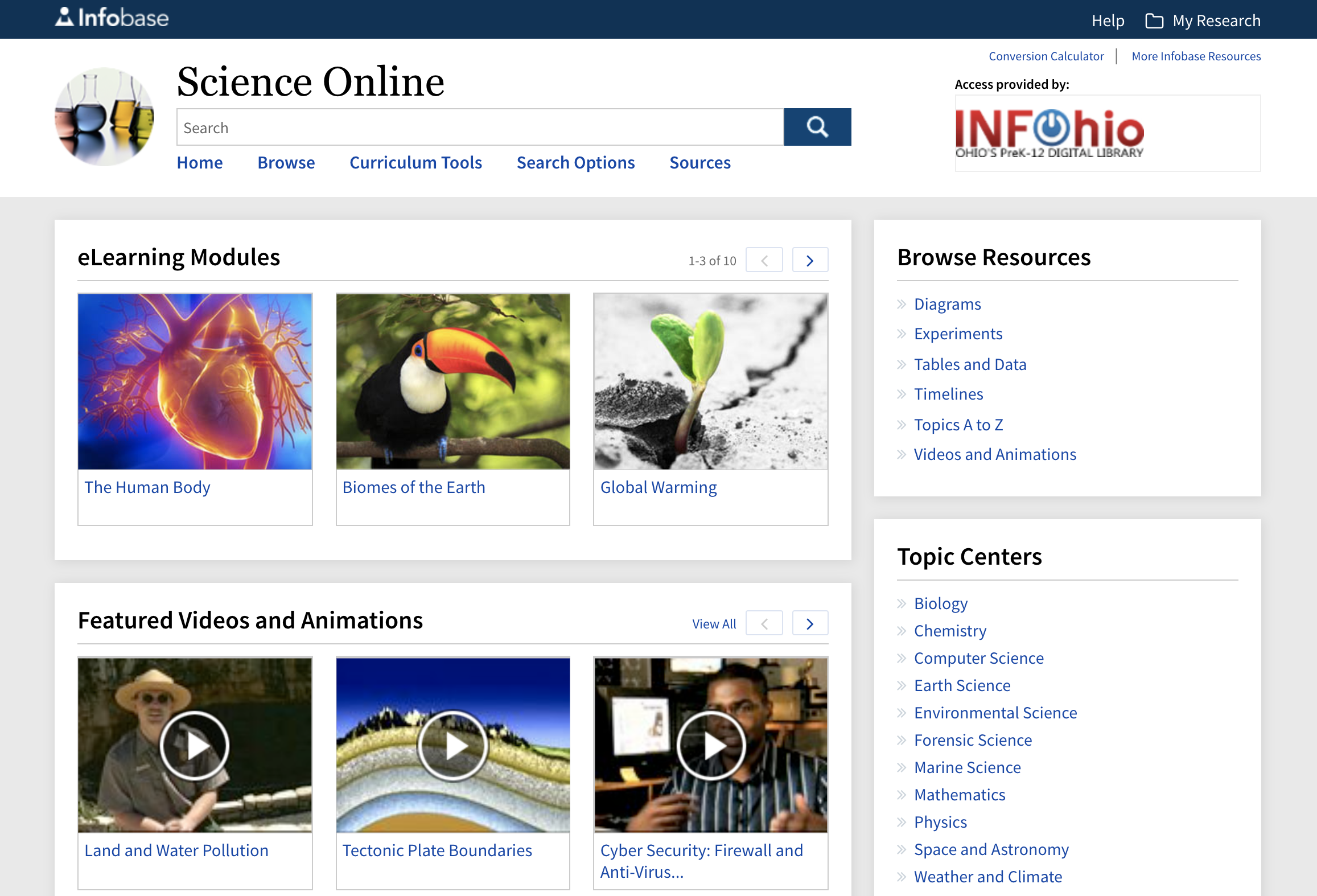 Blended learning, according to the Christensen Institute, is a formal education program in which a student learns: 
at least in part through online learning, with some element of student control over time, place, path, and/or pace;
at least in part in a supervised brick-and-mortar location away from home;
along an individual learning path, connecting a course and subject to provide an integrated learning experience.  
In the graduate research paper, The Effects of Blended Learning on K-12th Grade Students, a review of recent research "indicated that student engagement, student achievement, and positive student perceptions of learning increased when blended learning was used." One model of blended learning is the station rotation model, which is featured in this mini lesson. Station rotation models include a variety of activities which allow students to gain knowledge independently, collaboratively, and through direct instruction from the teacher. For additional support for using a station rotation model in your classroom, read 10 Tips for Teachers Using the Station Rotation Model.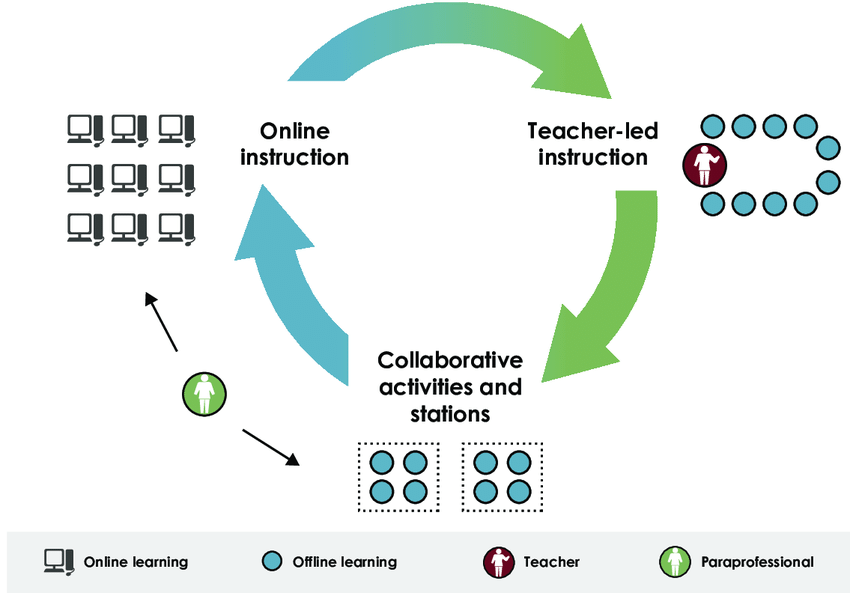 In this Science Online mini lesson the standard focus is on Ohio's Learning Standards for Science and Standards for Literacy in History/Social Studies, Science, and Technical Subjects 6-12. The standards for literacy are located within Ohio's Learning Standards for English Language Arts. Developed for a Biology class, the standards for this lesson include: 
B.H.1 Cellular genetics: Life is specified by genomes. Each organism has a genome that contains all the biological information needed to develop and maintain that organism.

B.H.3 Genetic mechanisms and inheritance: Genetic variation in traits among offspring is a result of the movement of chromosomes crossing over, independent assortment, and recombination during gamete formation.
RST. 9-10.2 a-b Analyze content-area specific text development. Determine the central ideas or conclusions of a text. Provide an accurate and objective summary of the central ideas of the text that traces the text's explanation or depiction of a complex process, phenomenon, or concept.
Throughout this lesson, students use this interactive HyperDoc, An Investigation of Genetics, to explore, explain, and apply their learning about genetics. Students will be divided into three breakout rooms and will complete the HyperDoc using a station rotation model. 
Getting the Lesson Started
The teacher assigns students to three breakout rooms. During the lesson, the teacher rotates among the three breakout rooms. 

The teacher selects a timekeeper for each group. 

The teacher selects a group facilitator for each group. Group facilitators are responsible for helping their classmates get started on the next task.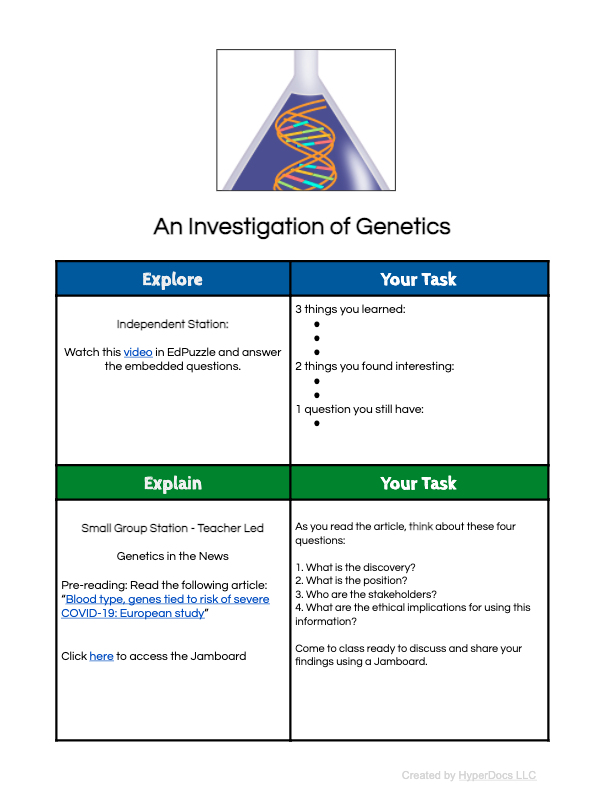 In the Explore section of the HyperDoc, students will work independently by watching the video and completing the EdPuzzle of Gregor Mendel's Discoveries from INFOhio's Digital Video Collection. The embedded questions created within the video using EdPuzzle will help guide students to a deeper understanding of the content.
The Explain section of the HyperDoc includes a pre-reading assignment given to students to be completed prior to coming to class. The assigned article, "Blood type, genes tied to risk of severe COVID-19: European study," serves as the focus of the mini lesson as the teacher leads students through a close read of this article. Using a method for reading scientific texts from the article "Read Like a Scientist," published in a January 2017 edition of Science Teacher, students explore the discovery shared in the assigned article. To practice reading like a scientist, students discuss the ethical implications for the use of this knowledge. Students use this Jamboard to record their answers during this station. Consider using the Science in the News section in Science Online to find current articles about scientific topics.
In the Apply section of the HyperDoc students will work in a small student-led group to complete an interactive simulation on the Genetics of Garden Peas. The teacher previously assigned the roles of group facilitator and timekeeper to two students in each group. Students are to work together to complete the simulation and then each student must fill out the Punnet Square individually. 
Previous experience and an introduction to using Science Online as a tool for learning will be helpful for students throughout this lesson. 
Watch our January Monday Mini Lesson, Monday Mini Lessons: Using Science Online to Support Blended Learning and reflect on how you can modify this lesson to use in your own teaching practice.
Extending the Learning
To continue and expand on this mini lesson a seamless extension would be to have students do partner work and complete the experiment, Variations on a Human Face. This activity includes additional information on heredity and genetics. Using the principle laws of genetics, two individuals will determine the facial characteristics of a hypothetical offspring.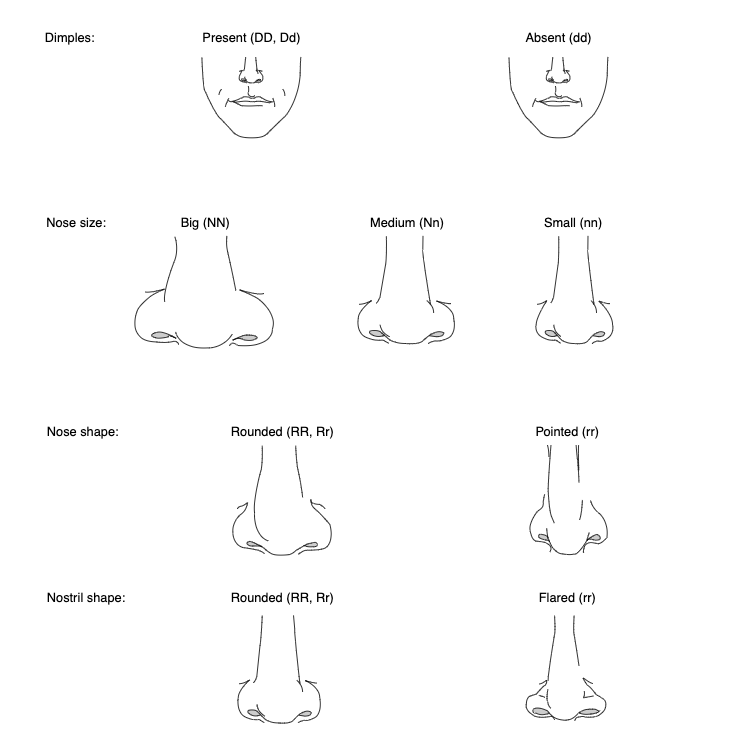 Additional articles, activities, videos, and simulations can be found within the eLearning Module, Genetics and Evolution on Science Online, as well as an in-person experiment, Genetics of Garden Peas. INFOhio's Digital Video Collection (DVC) also has more instructional videos to support genetics and biology. 
More Ways to Connect Science Online to Instruction
There are other ways to connect Science Online with blended learning. Explore other Teach With INFOhio blogs and additional resources that provide integration ideas for using Science Online and other digital resources:
Science Online is a robust, research resource for INFOhio users and sharing it is simple. Check out these documents and videos that may be helpful when using this resource:
Monday Mini Lessons will continue throughout the school year, focusing on new themes and practical applications for your teaching practice, using INFOhio's licensed digital content. If you have questions or comments, we are here to help! Please contact us at support.infohio.org.