Monday Mini Lessons Model Remote Teaching Best Practices
INFOhio provides resources and web tools at no cost to all Ohio's teachers. Articles, videos, eBooks, and learning modules are available to use in lesson plans and learning activities. To support educators integrating digital content into instruction and remote teaching, INFOhio has created Monday Mini Lessons—videos that showcase best practices for remote teaching using INFOhio's high-quality digital content.  
Monday Mini Lessons focus on strategies educators need to connect with and engage students during this time of social distancing. These model lessons are practical approaches with learned best practices to support the use of digital content in instruction whether face-to-face or virtual. You can learn more about how to use and navigate INFOhio's resources and web tools in INFOhio Learning Pathways, just one option for flexible PD from INFOhio Campus. 
Teaching with Literary Reference Center
October's focus is best practices for reading on the screen in INFOhio's Monday Mini Lessons. Learn more about how to use informational text articles from Literary Reference Center to support reading digital text in remote teaching for middle and high school students. Literary Reference Center contains information on thousands of authors and their texts, including analyses of works from all time periods. Research authors such as James Baldwin, Alice Walker, and Marilynne Robinson. Explore analyses of classics such as Harper Lee's To Kill a Mockingbird and contemporary literature like Atonement by Ian McEwan or Life after Life by Kate Atkinson.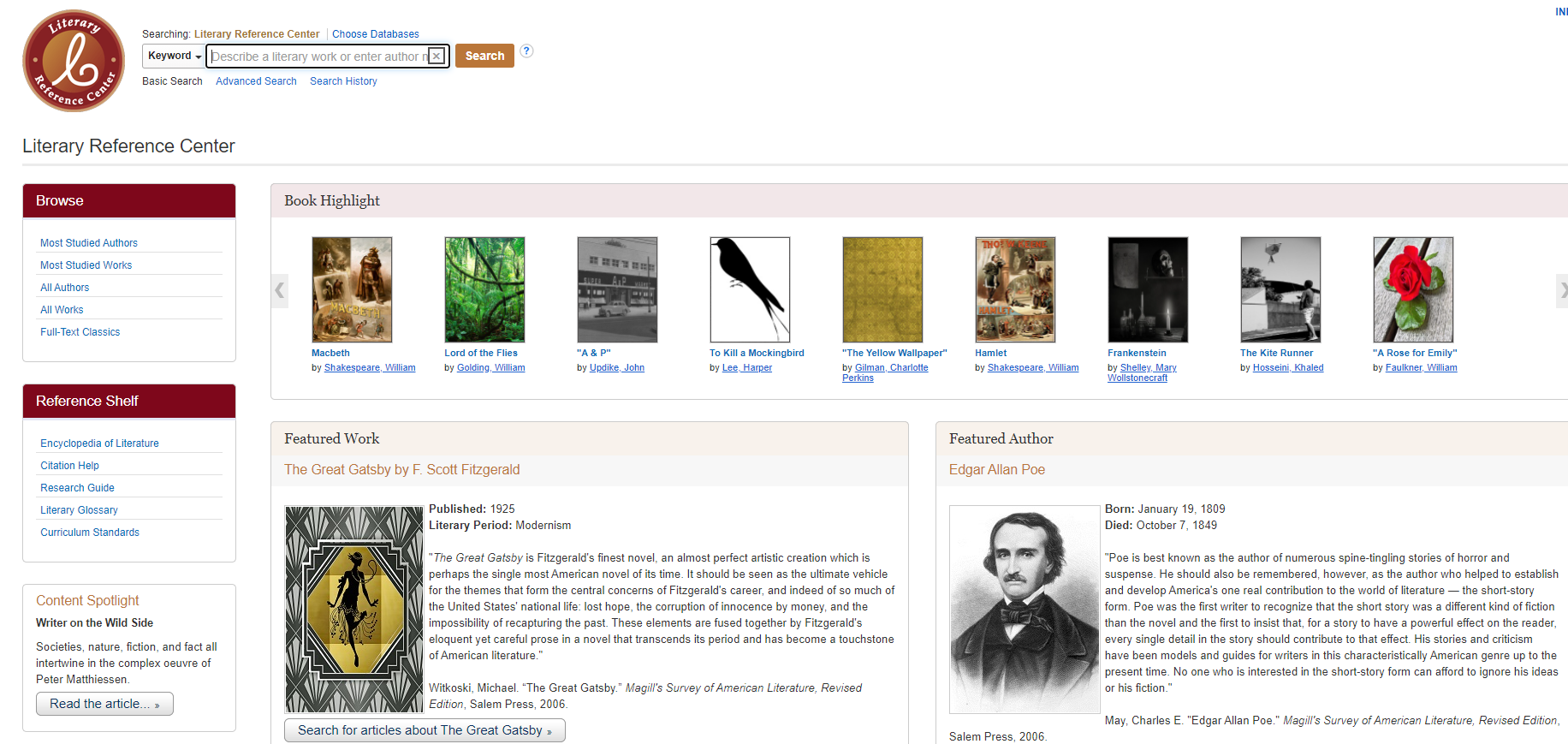 In this Literary Reference Center mini lesson the standard focus is on the Ohio Learning Standards, English Language Arts, Reading Informational Text, Craft and Structure:
RI.11-12.4 Determine the meaning of words and phrases as they are used in a text, including figurative, connotative, and technical meanings; analyze how an author uses and refines the meaning of a key term or terms over the course of a text (e.g., how Madison defines faction in Federalist No. 10).

RI.11-12.5 Analyze and evaluate the effectiveness of the structure an author uses in his or her exposition or argument, including whether the structure makes points clear, convincing, and engaging.

RI.11-12.6 Determine an author's perspective or purpose in a text in which the rhetoric is particularly effective, analyzing how style and content contribute to the power, persuasiveness, or beauty of the text.
 The Best Practices for Digital Reading components include:
Students should recognize and use digital tools while reading digitally to maximize comprehension.
Students should have a plan and prioritize outcomes before reading a digital text.
Digital text should be high quality ("high-quality writing, images, narration and audio support, as well as extensive navigational controls for interactivity.") Cahill and McGill-Franzen, 2013.
Previous experience and an introduction to using Literary Reference Center or other EBSCO databases such as Academic Search Premier and Points of View Reference Center as tools for learning will be helpful for students throughout this lesson. 
Watch the October, Monday Mini Lessons: Using Literary Reference Center to Teach Best Practices for Digital Reading and reflect on how you can modify this lesson to use in your own teaching practice.
Extending the Learning
One way to expand on this mini lesson would be to have students independently complete the annotation of the model text using Google Docs. Once students have completed this, work in small groups to compare the students findings and observations about the language and structure of the text. Ask students to share their results aloud and encourage discussion about any differences. You can also use Educator Tools to find quality instructional support for these standards. Search using keywords from a standard, and use limiters to narrow and fine tune your results. To analyze the structure of the model text, you may want to consider modifying this lesson from Read Write Think, found in Educator Tools.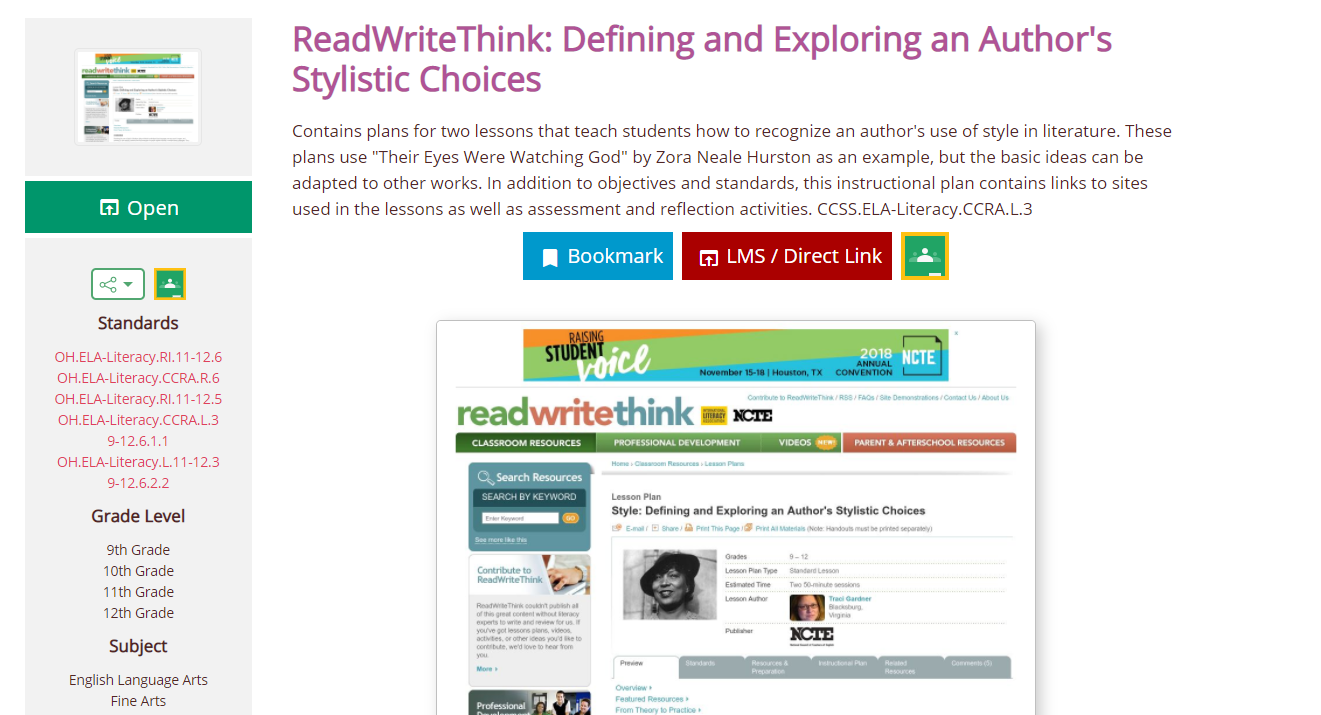 More Ways to Connect Literary Reference Center to Instruction
There are other ways to connect Literary Reference Center with best practices for digital reading and instruction. Explore other Teach With INFOhio blogs that provide integration ideas for using this resource and others:
To learn more about how to help readers of any age comprehend and analyze digital text, take the Reading on the Screen class available within the K-5 Digital Content Learning Pathway.
Check out these videos that may be helpful when using Literary Reference Center:
Monday Mini Lessons will continue throughout the school year, focusing on new themes and practical applications for your teaching practice, using INFOhio's licensed digital content. If you have questions or comments, we are here to help! Please contact us at support.infohio.org.