Monday Mini Lessons Model Remote Teaching Best Practices
INFOhio provides resources and web tools at no cost to all Ohio's teachers. Articles, videos, eBooks, and learning modules are available to use in lesson plans and learning activities. To support educators integrating digital content into instruction and remote teaching, INFOhio has created Monday Mini Lessons—videos that showcase best practices for remote teaching using INFOhio's high-quality digital content.  
Monday Mini Lessons focus on strategies educators need to connect with and engage students during this time of social distancing. These model lessons are practical approaches with learned best practices to support the use of digital content in instruction whether face-to-face or virtual. You can learn more about how to use and navigate INFOhio's resources and web tools in INFOhio Learning Pathways, just one option for flexible PD from INFOhio Campus. 
Teaching with Gale In Context: Elementary
October's focus is best practices for reading on the screen in INFOhio's Monday Mini Lessons. Learn more about how to use informational text articles from Gale In Context: Elementary to support reading digital text in remote teaching for primary students.  
In this Gale In Context: Elementary mini lesson the standard focus is on the Ohio Learning Standards, English Language Arts, Craft and Structure: Anchor Standard 5 - Analyze the structure of texts, including how specific sentences, paragraphs, and larger portions of the text (e.g., a section, chapter, scene, or stanza) relate to each other and the whole. The Best Practices for Digital Reading components include:
Students should recognize and use digital tools while reading digitally to maximize comprehension.
Choose text that is bimodal; use of audio and highlighting of text.
Previous experience and an introduction to using Gale In Context: Elementary as a tool for learning will be helpful for students throughout this lesson. 
Watch our first October, Monday Mini Lessons: Using Gale In Context: Elementary to Teach Best Practices for Digital Reading and reflect on how you can modify this lesson to use in your own teaching practice.
Extending the Learning
To continue and expand on this mini lesson a seamless extension would be to have students independently complete the Informational Text Graphic Organizer, as mentioned at the end of the mini lesson. Using the informational text graphic organizer is a good place for students to start when reading through any informational text book or article. To keep engagement high, students could also choose an informational text article of special interest and use the provided graphic organizer to dive deeper into the article to maximize their comprehension of the text.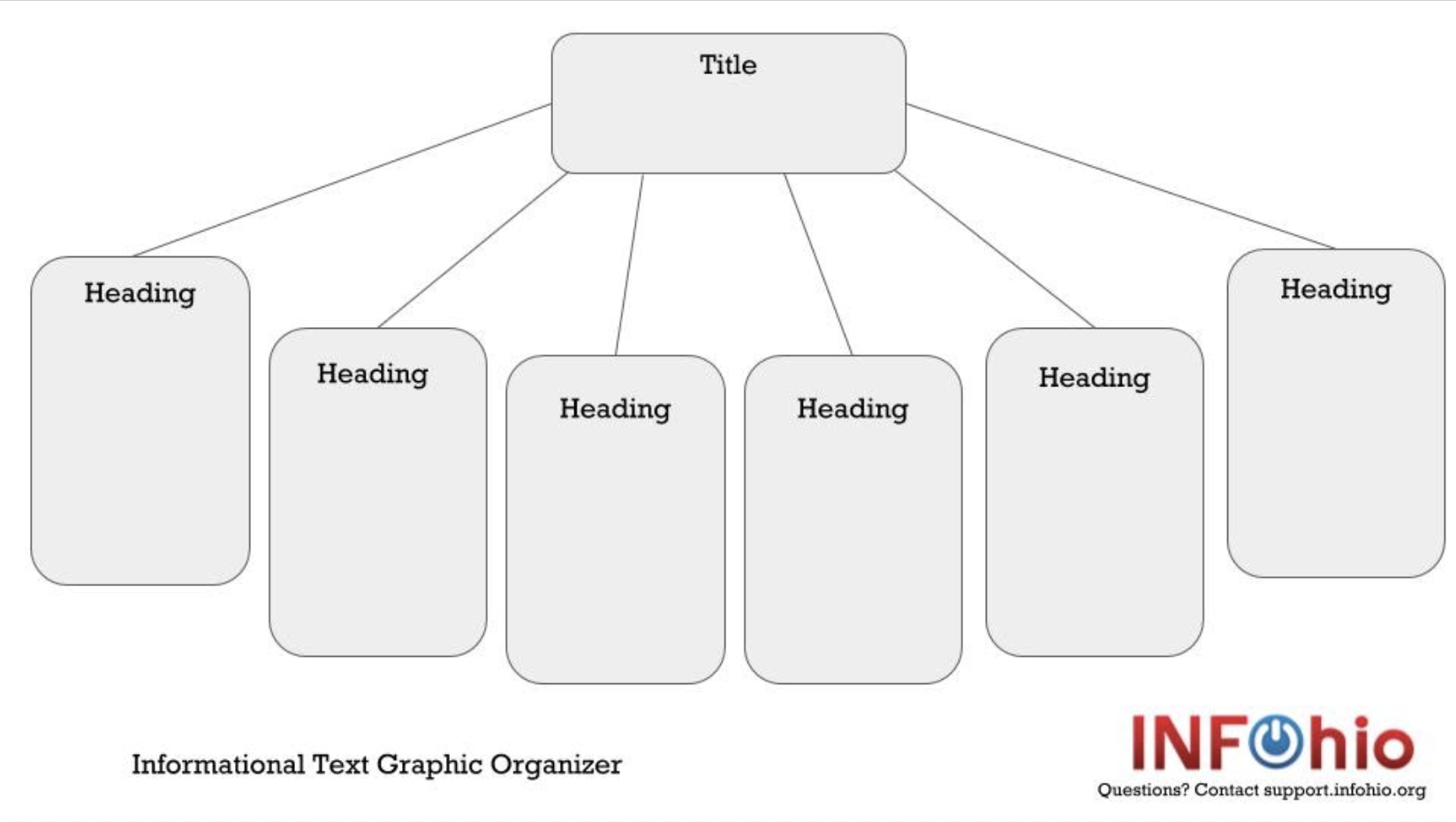 More Ways to Connect Gale In Context: Elementary to Instruction
There are other ways to connect Gale In Context: Elementary with best practices for digital reading and instruction. Explore other Teach With INFOhio blogs that provide integration ideas for using Gale In Context: Elementary and other digital resources:
To learn more about how to use the Gale In Context: Elementary interface check out the Gale In Context: Elementary class and the Reading on the Screen class available within the K-5 Digital Content Learning Pathway.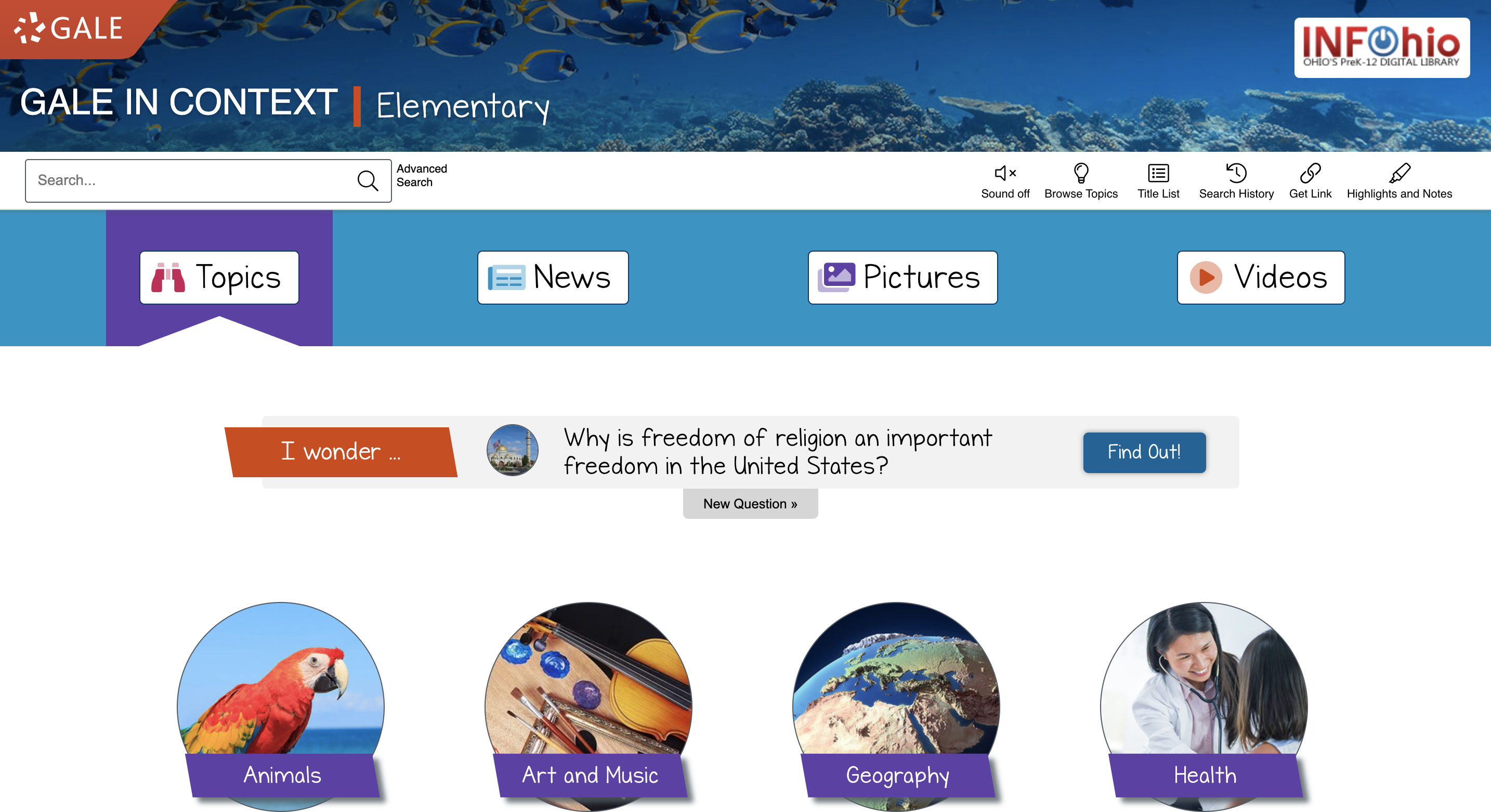 Gale In Context: Elementary is a visually appealing, research resource for INFOhio users and sharing it is simple. Check out these documents and videos that may be helpful when using this resource:
Monday Mini Lessons will continue throughout the school year, focusing on new themes and practical applications for your teaching practice, using INFOhio's licensed digital content. If you have questions or comments, we are here to help! Please contact us at support.infohio.org.