INFOhio offers over 1200 fiction and nonfiction eBooks for Ohio's 3rd-6th graders through Scholastic's Storia. This reading resource allows teachers to create classes and assign specific titles to groups or individuals based on their reading levels and preferences. Students can also browse the titles and choose books to read on their own. Teachers can check in and monitor the progress of students by viewing reports with statistics including number of pages and minutes read. The books also have an end of the book quiz where student knowledge is tested and teachers can check for comprehension.
Reading teachers love Storia for its support of Ohio's ELA learning standards. But content area teachers can use the titles too! Each of the over 1200 eBooks supports 3-6 grade standards for science, social studies, or math as well as reading and writing. This example uses the National Geographic eBook Deadliest Animals and the 4th grade Life Science standard for Earth's Living History. Teachers can implement these strategies to help students master the concept that ecosystems are based on interrelationships among and between biotic and abiotic factors. In this text, students learn specifically about the relationships between living organisms–predator versus prey.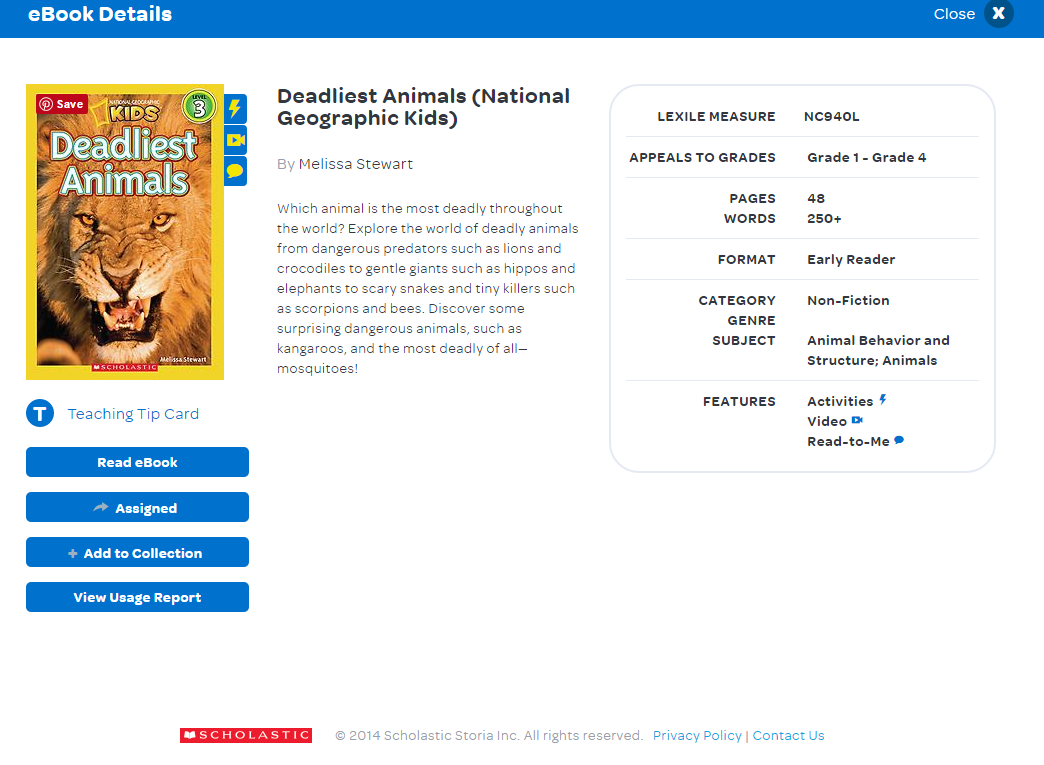 As students read the eBook, there are several interactive features that can be implemented to differentiate, engage, and challenge readers. The toolbar in the upper right corner has many options to help readers comprehend text.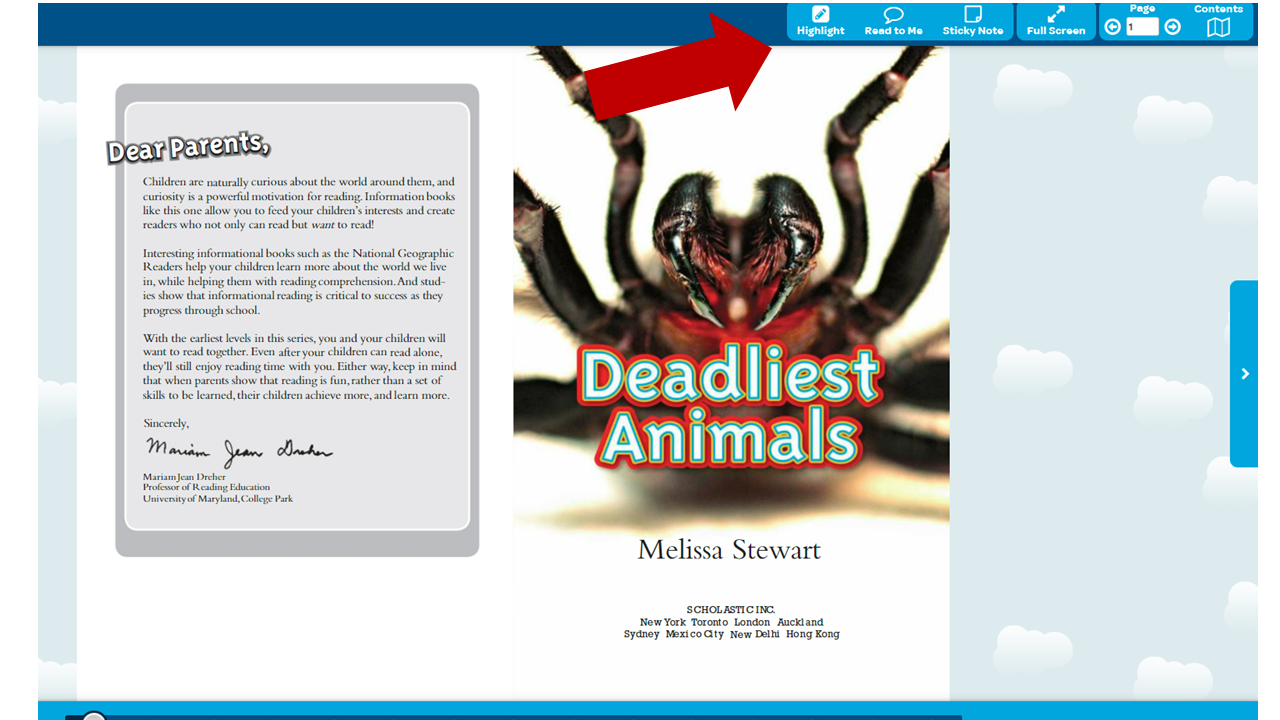 Students who need help with reading and fluency can use the read aloud feature found in this eBook.  Clicking on the dialogue bubble will give students the option to play or pause the narration as well as control the speed. This option allows students to follow along, while each word is highlighted in red.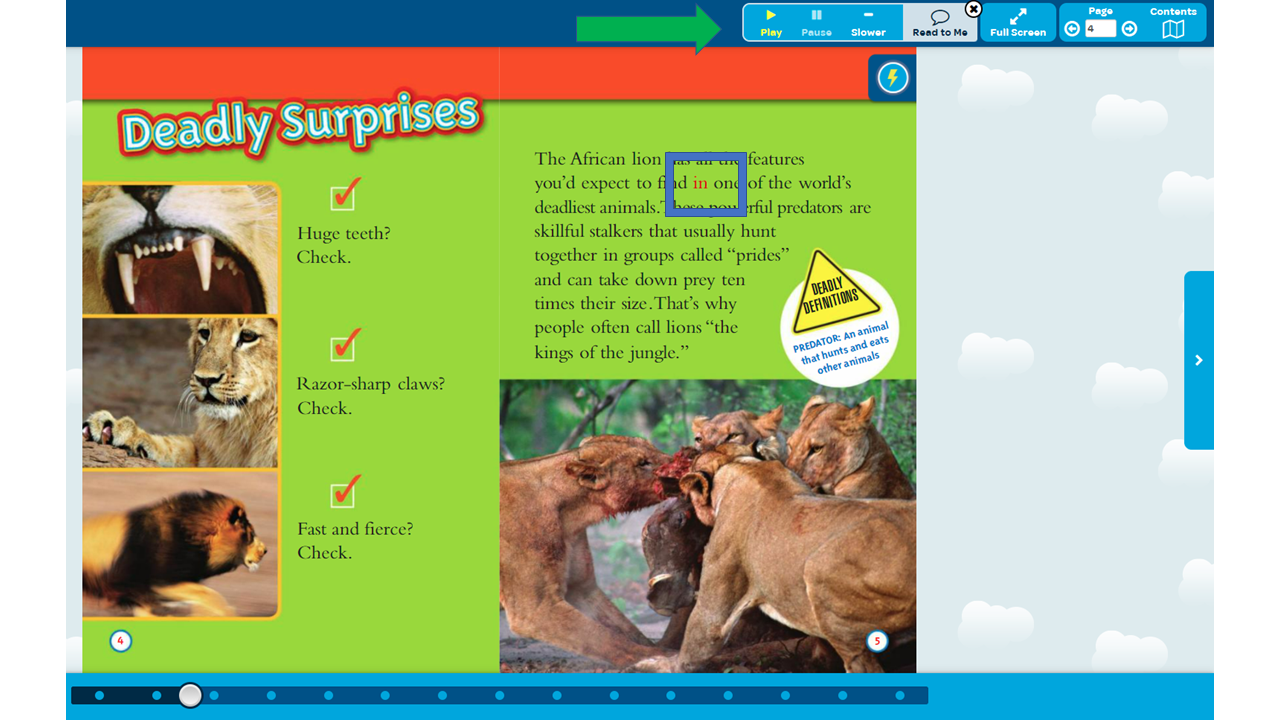 Built-in videos bring the text to life. Look for the video in the upper right-hand corner of the eBook. Students can click on this to watch a video. Ask students to use the notes feature to write how the video helps them understand the relationship between animals in an ecosystem. You can check their notes in the reports section of your teacher account.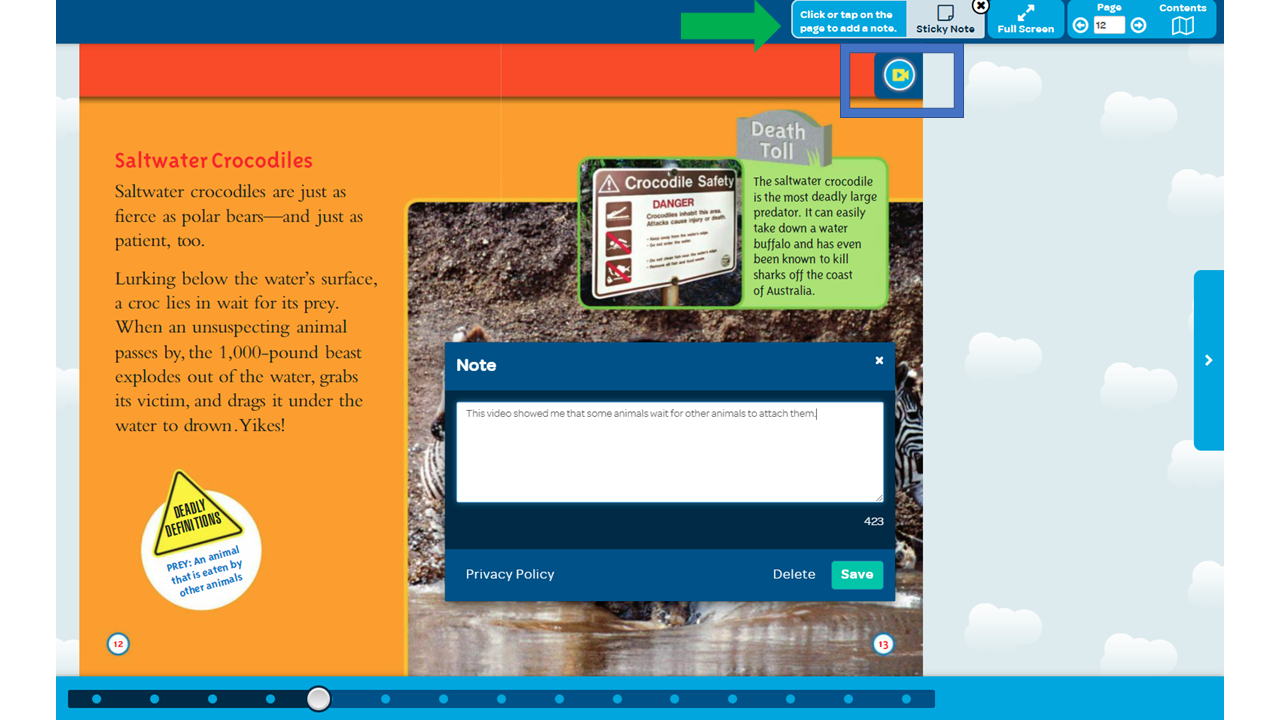 This eBook has several activities to engage readers. Look for the lightning bolt in the upper right-hand corner to find the activities. Provide students with a specific task in each activity to support the desired standard. For example, for this activity, once students draw their picture, they can also provide text to support why they chose the animal. The activity can be printed and turned in for progress monitoring.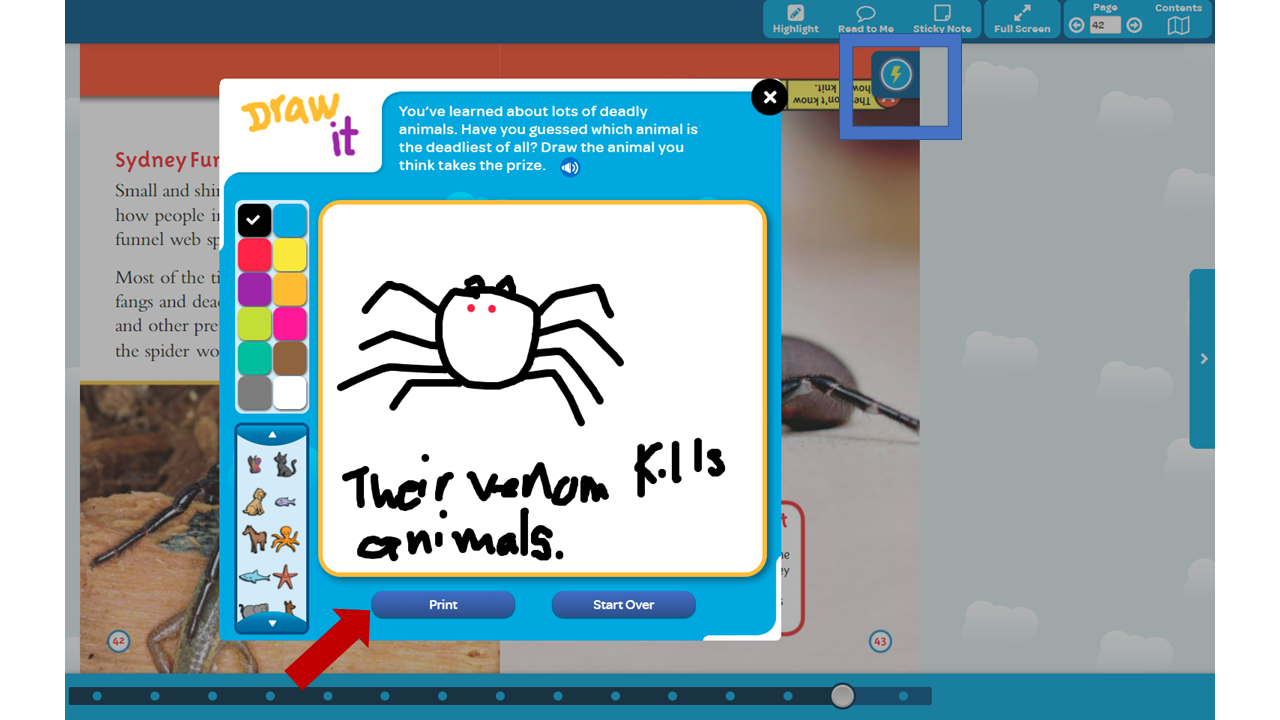 Not only can students create notes that you can view later, they can also highlight words and phrases that you can track in your teacher tools and reports. Ask students to highlight words they don't know, or to find phrases that show how the predator/prey relationship is important for the ecosystem.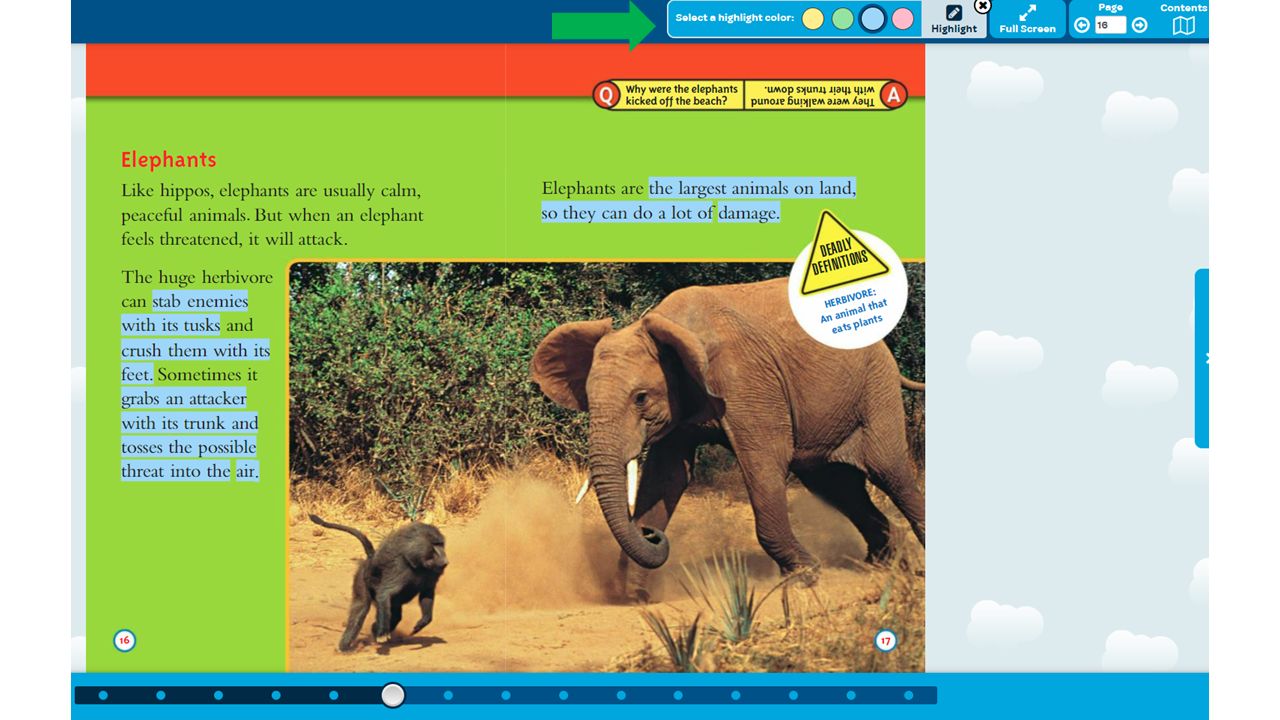 How well did your students read the text? Check progress with the quiz at the end of the book. Students can assess their knowledge and comprehension and you can monitor how well they did. You can even plan for some one-on-one time to go over their results using this formative assessment tool.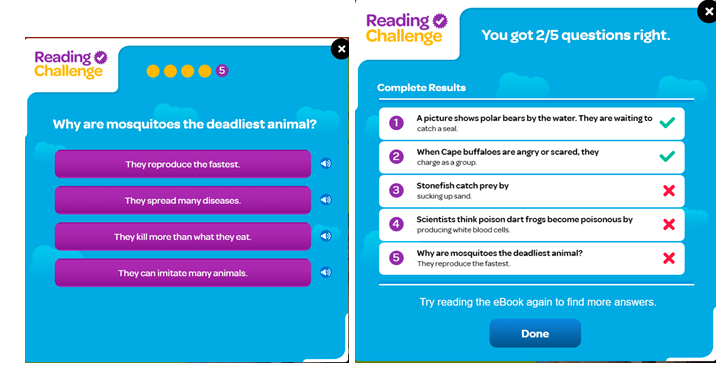 Finally, ask students to compose some content area writing. The Teacher Tip cards for the eBooks provide teachers with questions, ideas for discussion, and writing prompts. Alter the second writing prompt and ask students to write about two of the predator/prey relationships and how they affect the ecosystem. Notice there is also a guided reading level and a Lexile level provided for this title.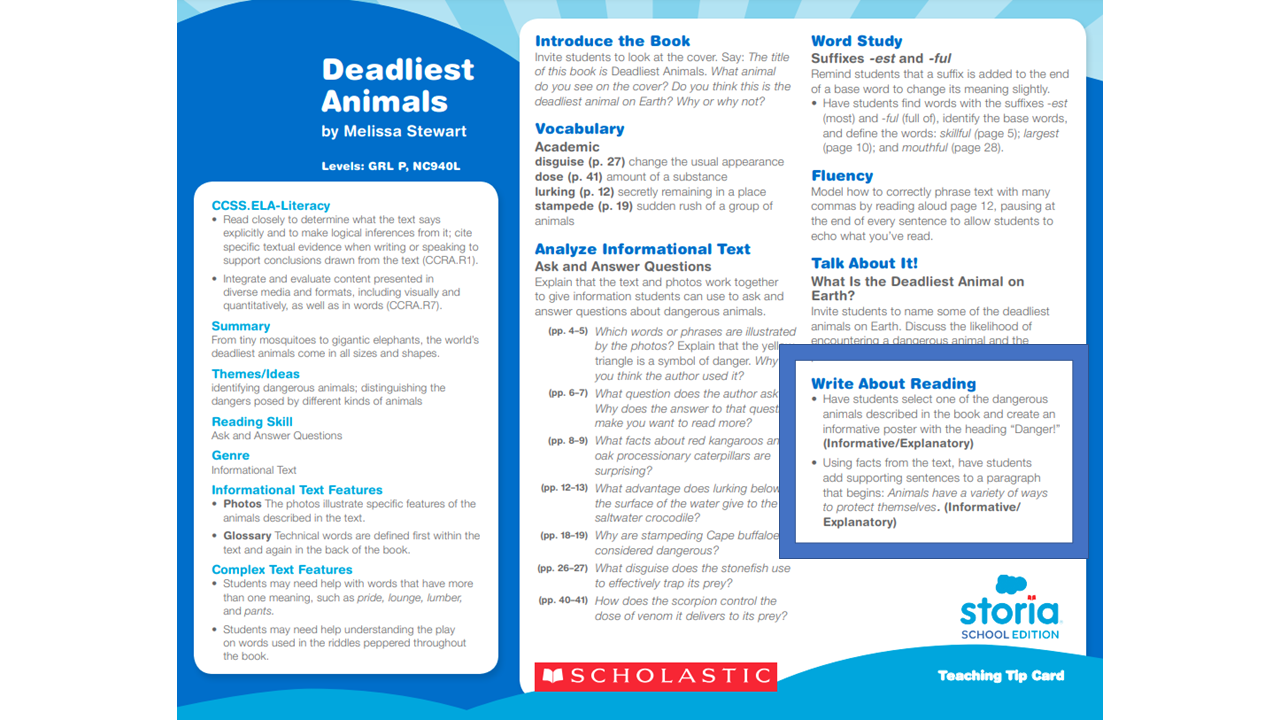 Visit the Storia training and support page to get started. If you have any questions, or if you wish to use Clever with Storia, visit support.infohio.org. Try it out and be sure to let us know how you are using Storia in your classroom--both in reading and other content areas!