If you haven't watched Simon Sinek's powerful Ted Talk on finding your "why," you can view it here. In short, your "why" is the reason that what you do matters. It is the sense of purpose you carry with you as you work, raise children, or volunteer in your community. Finding your "why" is essential to doing what you do better, and knowing how to do it. If we brainstorm and soul search here at INFOhio to find our "why," we could come up with many different possibilities: equitable access, college and career readiness, early learning foundations, professional development, and quality content. But the "why" we keep coming back to is student learning. The reason we do what we do is because we believe that improving student learning is the key to not only the state's future success, but also the world's.
Now that may seem pretty lofty: INFOhio's quality digital content available to all teachers, students, and parents in Ohio—no matter the socioeconomic status, location, or sub-group data—can have an impact on student learning. And that impact can help improve the way our future citizens interact, communicate, create, and lead. But before we get too carried away, I want to bring us back down to earth and ground our "why"—improving student learning—into two simple steps that educators can make using our tools and resources. The two steps are in the image below: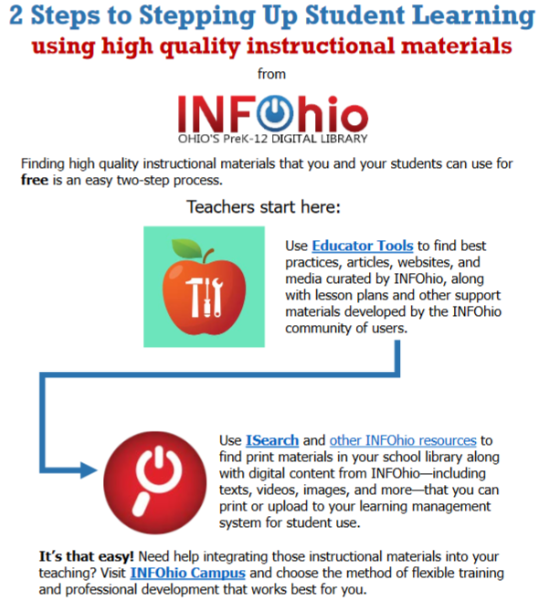 Step one: Go to Educator Tools to find instructional strategies, research, lesson plans, and media. Educator Tools, powered by INFOhio, now includes teacher-approved lesson plans, best practices, and other instructional materials to support personalized learning, project-based learning, and the inquiry process.
INFOhio's Educator Tools gives Ohio educators easy and free access to standards-aligned learning resources from exemplary K-12 content publishers. In INFOhio's Educator Tools, you'll find the best-in-class learning resources for all grades, all subject areas, and all learning resource types to differentiate and personalize learning for your Ohio PreK-12 students.
You can search for topics such as "financial literacy" or "reading informational text" in the search box. You can limit your results by grade level, subject area, or item type.
For more on using Educator Tools, watch the INFOhio video tutorial, Getting Started with Educator Tools.
Step Two: Go to ISearch to find digital texts, videos, images, and more that you can print or upload to your learning management system for student use. Results will come from nearly all of INFOhio's content providers—World Book, EBSCO, Scholastic, and more. It also returns results from your school library and the Digital Video Collection, providing you with a variety of content in a variety of media formats to challenge and engage students.
Two Steps In Action
What do the two steps look like in action? Try a search for "informational text" "common core: fact vs. fiction" and choose the article Common Core: Fact vs. Fiction.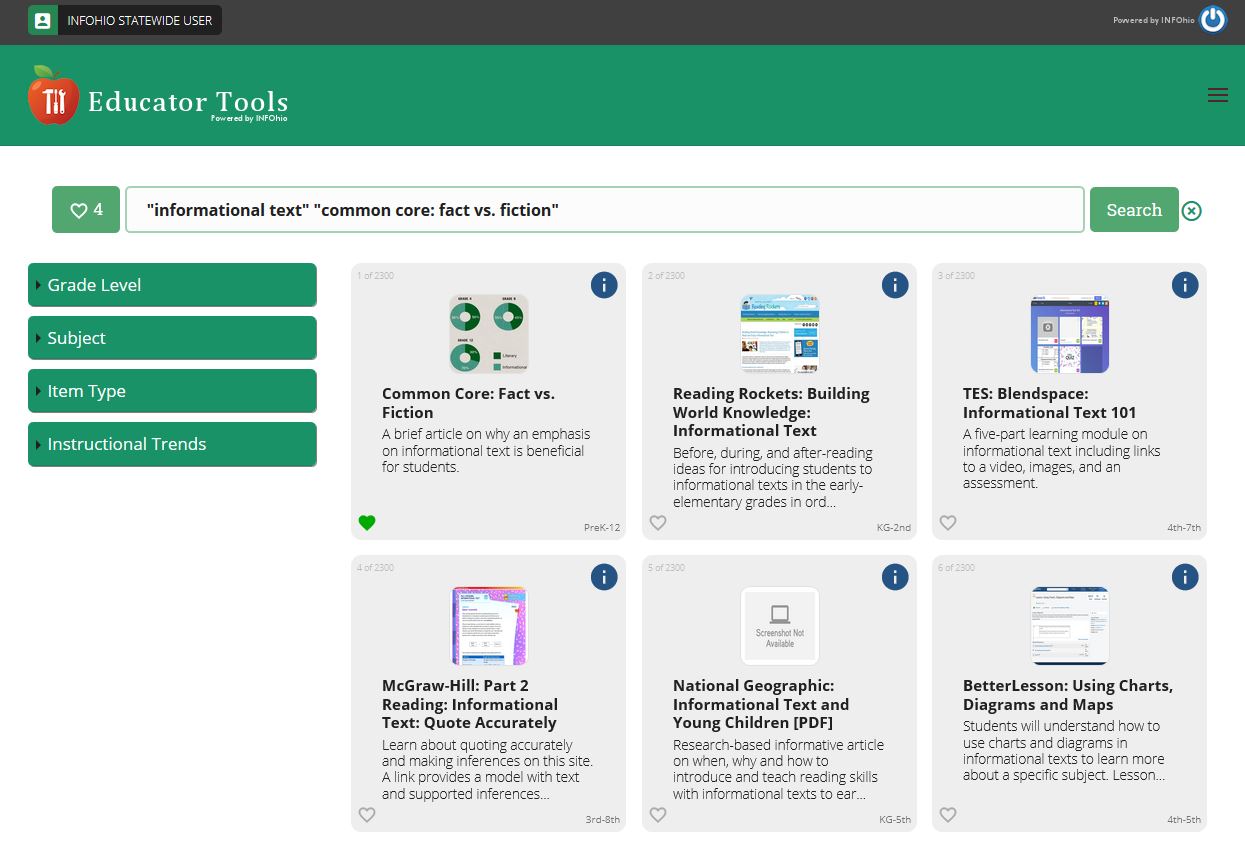 This article from Scholastic Instructor demonstrates why it is important to teach informational text, and includes mini lessons for informational text aligned to Ohio's Learning Standards. There are several lessons included for grades K-8. Two examples are below: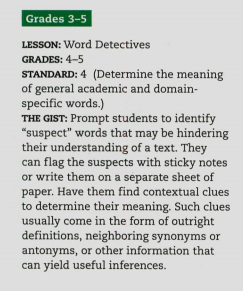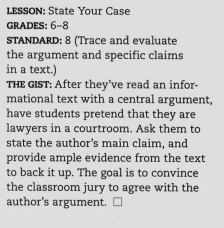 Both of these lessons require text, and ISearch is the fastest way to find authentic, vetted text to use in your lessons. Most articles have the Lexile Reading Level included, and using the PDF full text will give your students the experience of interacting with text features found in most informational text sources - magazines, journals, and newspapers. For example, if you search in ISearch for an article on "soil erosion" to use with fourth grade students, you can find magazine articles and encyclopedia articles that can be printed or annotated online using tools like those in Google docs or other extensions or add-ons.
Within this one lesson, students are learning:
a concept from Ohio 4th grade Science Standards
active reading skills for online text
to determine the meaning of general academic and domain-specific words or phrases in a text relevant to a grade 4 topic or subject area
skills for using digital tools for educational purposes
Using these two steps leads to a lot of student learning!
INFOhio's "why" is surely no different than that of the majority of schools in this nation. Figuring it out, implementing the what and the how, and putting these into practice can be the foundations for success for companies such as Apple, innovators like the Wright Brothers, and educators like you. If your "why" is student learning, try these two steps. Share your results, questions, and comments with us on social media using #INFOhioWorks. We want to hear about what you do and how it works—all small steps to changing the world!