Are you staying up-to-date on the changes and enhancements from INFOhio? Discover how updates to INFOhio's quality digital content and professional development can be paired with the top five digital teaching strategies from award-winning online educators and support teaching during remote, blended, and hybrid learning.
Teaching online is becoming more of a norm in society today. How can we make sure we are providing the best teaching and learning experiences for our students? A recent qualitative study was published that helps determine the best digital teaching strategies. The study, Award-Winning Faculty Online Teaching Practices: Elements of Award-Winning Courses, uncovers the top five digital teaching strategies that eight award-winning faculty members had in common. To access the full text article, available through ERIC, click on the full text URL within the record and then click on Download full text from the ERIC database.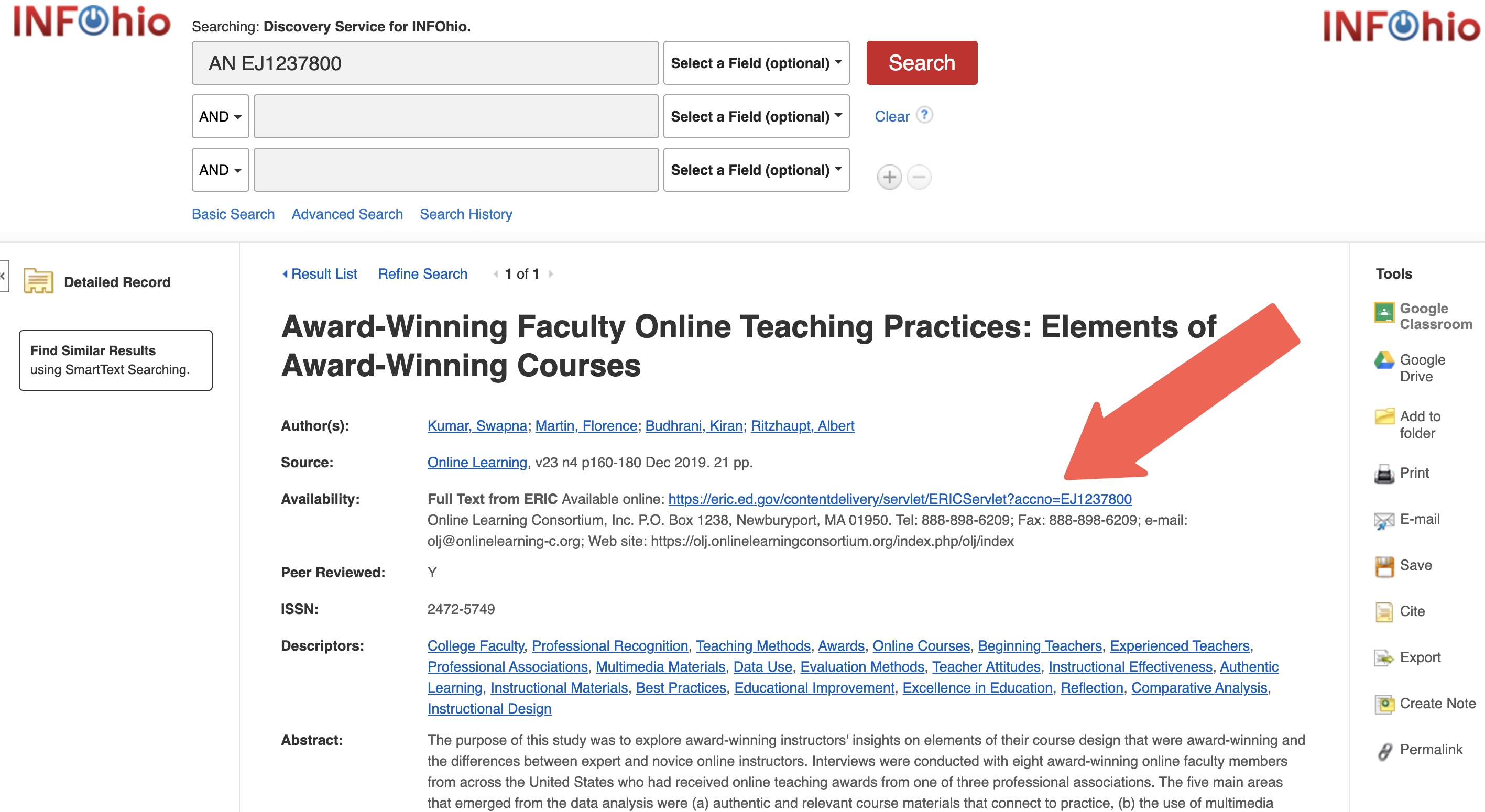 Although the study's focus was on higher education courses, teaching online for the K-12 population has many similarities and the strategies from this study apply to all student populations.
Top Five Digital Teaching Strategies
1. Using Authentic and Relevant Course Material
Using high-quality instructional materials that are current, relevant, and authentic is important for student engagement. INFOhio offers digital resources and standards-aligned digital content that will support students in core subjects. In addition, new INFOhio Learning Pathway classes provide instruction on how to integrate the authentic content into classroom instruction.
Gale In Context: Elementary, a visually appealing and engaging research database for elementary students includes videos, images, and digital text. Gale continues to add new, current content to their database regularly.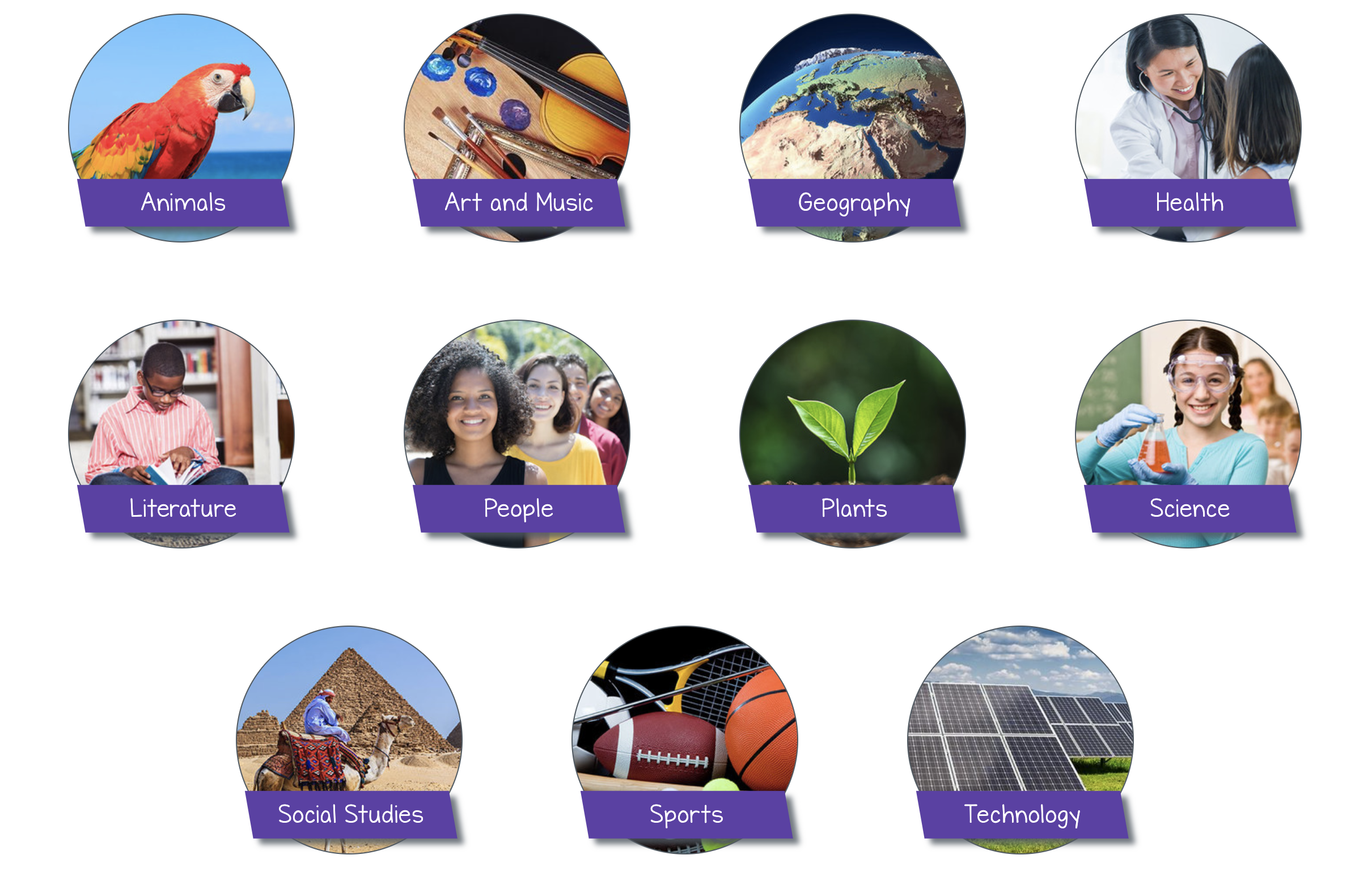 New content includes:
191 new entries covering over 100 topics and people in social studies and science. Some of these entries have been created at more than one reading level making differentiation simple.
28 new portal pages focusing on core English language arts, science, and government topics.
three new periodical titles have been added: Read to Know, Fun for Kidz and Babybug.
To learn more about how to use Gale In Context: Elementary in the classroom and earn contact hours take the self-paced professional development class on this resource available in our K-5 Digital Content Learning Pathway.
Another way to find relevant and authentic content from INFOhio is by using ISearch. Included within ISearch is up-to-date and relevant content across all disciplines. INFOhio's ISearch lets you search nearly all INFOhio resources from a single search box. It includes your school library if your school uses INFOhio's Integrated Library System and divides resources into tabs for easy navigation. In January, ISearch Mobile was enabled for all mobile devices. The desktop version of the ISearch interface displays the tabs of My Library, Encyclopedias, Basic Sources, Advanced Sources, STEAM, and Open Access all at one time at the top of the screen. Mobile view stream-lines this and changes it to show one tab at a time. The default is to begin on the My Library tab, but changing tabs is simple by choosing a new tab from the drop-down menu. On a desktop machine, ISearch Mobile can be switched by clicking on the accessibility icon at the top of the ISearch page to change your view.

For more details about ISearch Mobile, its features, and a tip sheet check out this post, ISearch Mobile Enabled in January.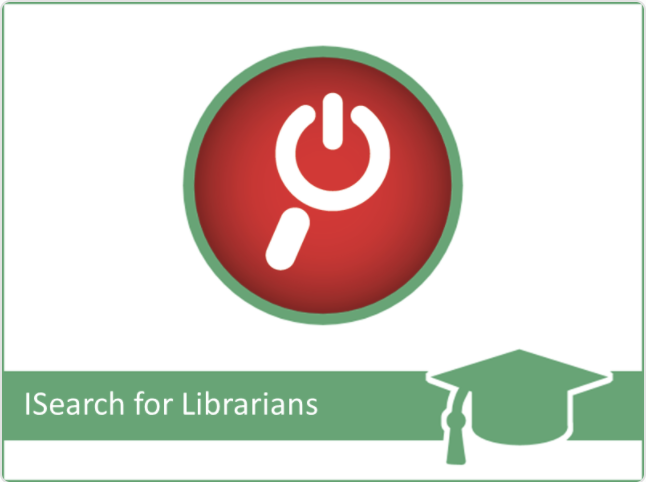 To help educators with navigation and to learn even more, three complete lessons have been added to the ISearch for Librarians Class.
These lessons include:
INFOhio also created a new professional development class that can help districts adopt relevant and authentic curriculum programs by using the Edreports.org site. EdReports.org is a nonprofit educational organization dedicated to providing thorough reviews of instructional materials through the use of a detailed, content-specific, rubric. EdReports reviews are transparent and this ensures school district curriculum teams will adopt curriculum programs of high quality and that meet their needs for relevant and authentic information.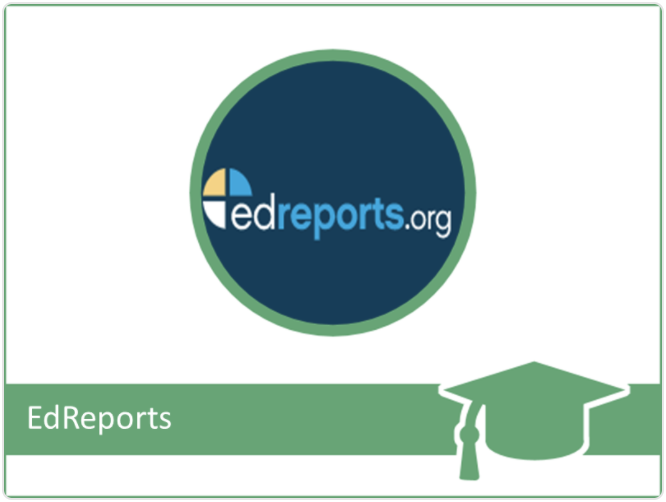 The new EdReports class is available within the High-Quality Instructional Materials for Each Child Learning Pathway to guide curriculum leaders and participants through details of the EdReports site and how to implement the reports into their material adoption process. Upon completion of this class, participants will earn 4 contact hours. For more details about what to expect from this self-paced, online class read this, EdReports Class Now Available!
INFOhio's resources provide current, relevant, and authentic information and instructional materials that support the PreK-12 curriculum. To support the teaching practice of providing relevant and authentic information use:
Gale In Context: Elementary to support learners with current content at their reading level.
ISearch to find relevant content to support Ohio's learning standards.
ISearch Mobile on the go to find authentic supporting content at your fingertips.
2. Using a Variety of Multimedia Content and Resources
Another highly rated teaching practice is using a variety of multimedia content and resources within your lessons. While teaching online, face-to-face, or in a hybrid teaching environment, using multiple forms of media that support all learners is important to increase student engagement and provide more than one way to learn the content. INFOhio resources and tools provide a variety of media to make it easier for all learners to understand the content. Recent updates have been added to Science Online and a new professional development class has been created on Sanborn Insurance Maps to help provide a variety of media to support all learners.
Science Online provides science, technology, engineering, and math resources in a variety of media including articles, diagrams, learning modules, videos, interactive virtual experiments, timelines, and biographies. Sharing media in different formats from Science Online can help students learn the content in multiple ways.
Science Online has recently updated their resource to include:
new articles from Today's Science on the topics of COVID-19, early hunting in the Americas, and black holes.

more than 100 new biologists, chemists, earth scientists, physicists and more have been added to the featured people carousel.

updates to Encyclopedia of World Scientists now includes information on the Nobel Prize Laureates Emmanuel Charpentier, Jennifer Doudna, and Andrea Ghez.
93 new videos added covering general science topics; a notable addition being Planet Earth II, a documentary on Earth's biomes including cities, deserts, grasslands, islands, jungles, and mountains.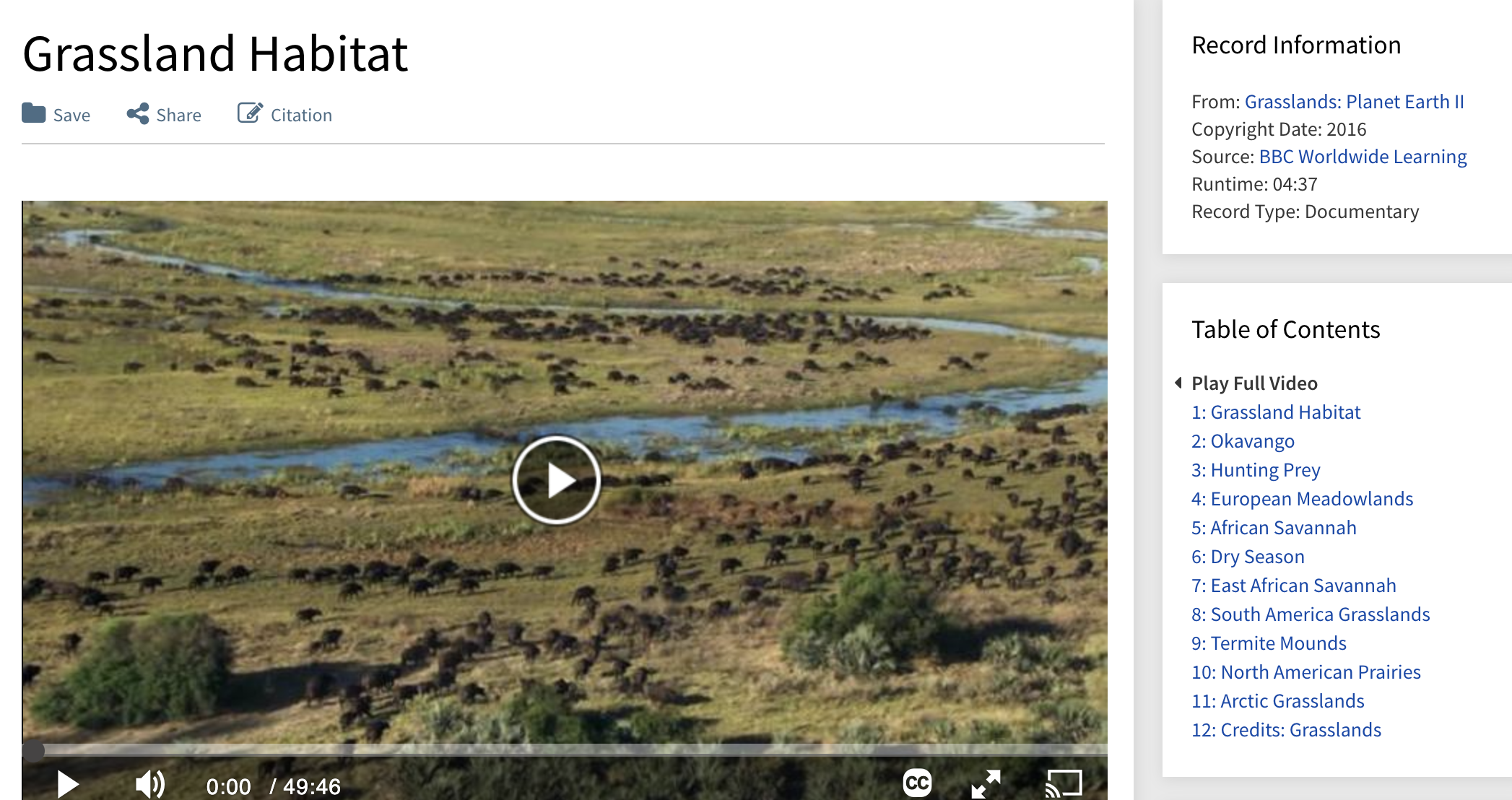 Another resource that brings different types of media into the classroom is Sanborn Insurance Maps, an INFOhio resource available at no cost to Ohio students, educators, and families. This database has over 40,000 historical Ohio city maps drawn between the years of 1882-1962.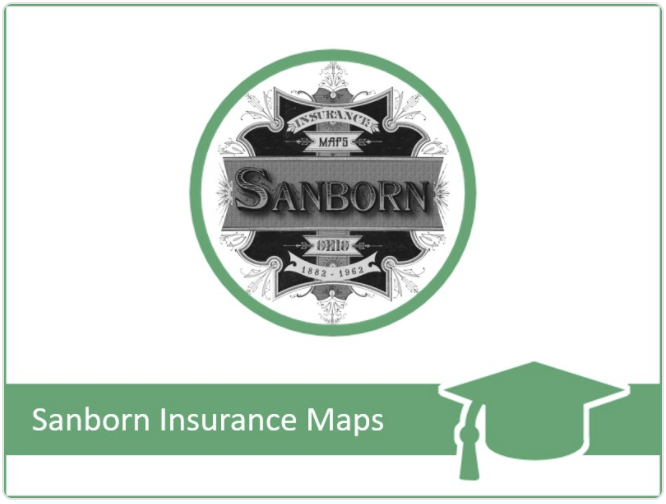 To support the use of this digital database and integrate primary source documents into the classroom, a new Sanborn Insurance Maps class has been created. Primary source documents include historical information and firsthand accounts of moments throughout history. Primary sources come in a variety of media including videos, images, newspapers, maps, audio recordings, and more. Lessons in this class include a basic overview of how to search and use Sanborn Insurance Maps, how to integrate primary source documents into classroom instruction, and how to teach using Sanborn Insurance Maps. Upon completion of this class and final quiz, available within the 6-12 Digital Content Learning Pathway, participants will earn 2 contact hours.
Sharing media in a variety of formats is optimal because it provides learners multiple ways to learn the content. To provide a variety of media within your classroom try these tips:
provide media to students from Science Online by sharing videos, images, and articles all on the same topic.
have students complete interactive simulations and experiments using Science Online.
use primary source documents in your classroom and compare city maps in Sanborn Insurance Maps from different time periods to see the changes over time.
3. Students Creating Content Both Individually and Collaboratively
Encouraging students to create content is another top teaching strategy. To create is a higher-order thinking skill that requires students to construct, design, and develop new content from the knowledge that they have learned. INFOhio encourages this creative process with the creation of book trailers with our tool, Book Nook.
Book Nook, powered by INFOhio, is a tool developed to promote the creative process in students. Skip the traditional book report and allow students to design, create, and publish book trailers. Over 20 new book trailers created by students and published by INFOhio have been added to Book Nook in the last two months.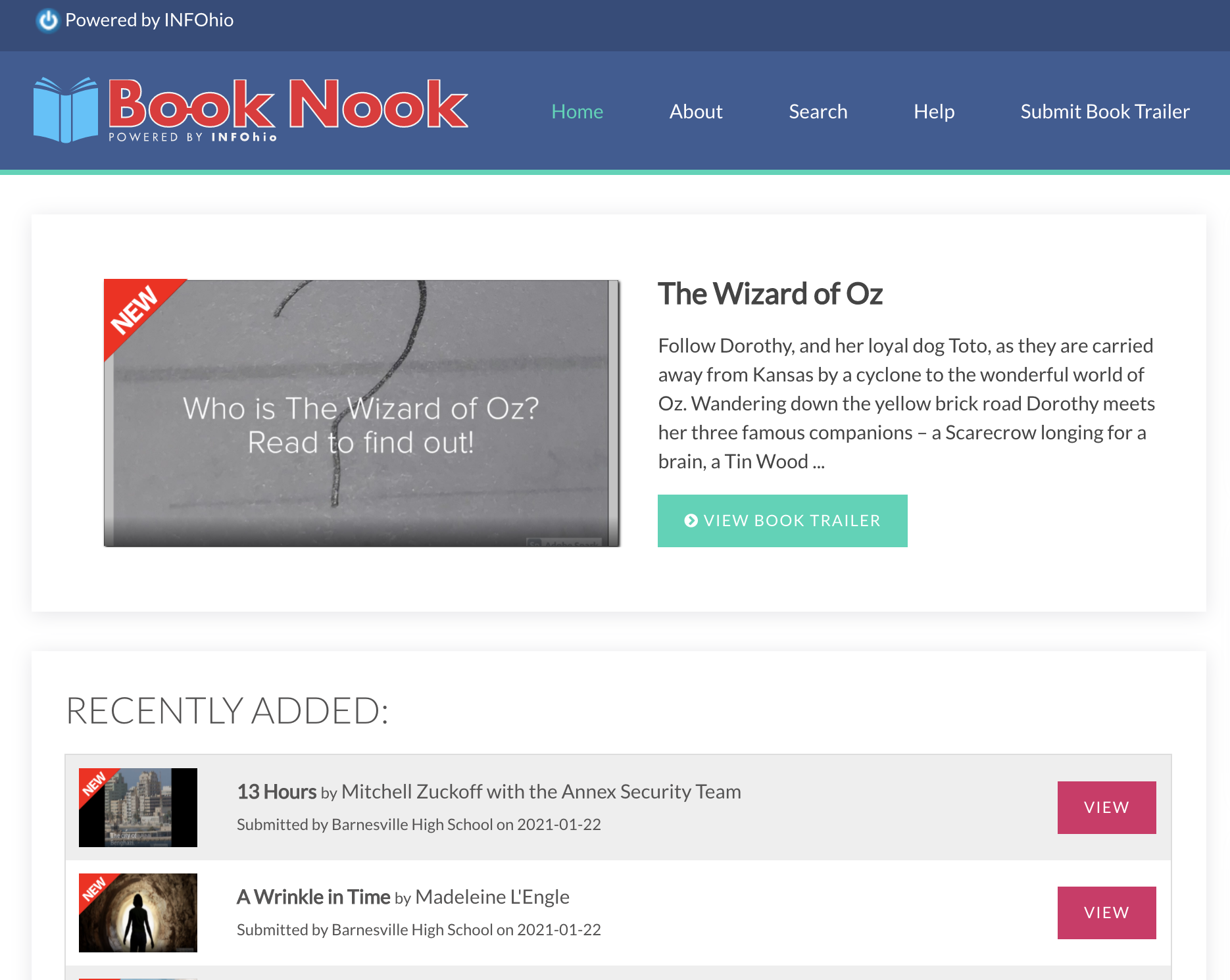 Some of these new titles include: The Fault in Our Stars by John Green, The Hunger Games by Suzanne Collins, Warriors: Into the Wild by Erin Hunter, The Wizard of Oz by L. Frank Baum, and A Wrinkle in Time by Madeline L'Engle. Support the creation process with Book Nook in your classroom by trying these ideas:
with students' independent reading books, have students create a book trailer to show their understanding of key elements in the text such as: character development, plot structure, and summary.
if using literature circles and small groups of students are reading the same book, have them collaborate and create a book trailer together to share with the class.
once book trailers are created and published with INFOhio, add a QR code to your classroom library books that will link to the student created book trailer.
4. Students Reflecting on Learning
Another recommended teaching strategy is to allow students to reflect on learning. The reflection process helps students think about what they have learned, understand and learn from their mistakes, and allows for continuous growth. Providing students with metacognitive activities that support reflection on learning helps students develop a strong growth mindset and in turn supports future success. Literature Online has a new platform which allows students to record what they are thinking with the use of bookmarks and note-taking tools.
Literature Online: American & English Literature, best suitable for 7-12 grade students, offers full text American and English literature including works of poetry, prose, and drama. Literature Online is funded in-part by a federal IMLS Library Services and Technology Act (LSTA) grant through the State Library of Ohio. Additional funding is provided by Libraries Connect Ohio partners INFOhio, OhioLINK, and OPLIN.
In December, Literature Online was updated with a new interface and platform. The collection is now hosted on BiblioBoard and after signing up for a free account gives access to enhanced features.

This new content-delivery platform supports the use of list-making, note-taking, bookmarking, downloading, online reading, and user-friendly browsing and searching. To encourage student reflection with Literature Online consider the following tips and ideas:
assign a specific text to students, provide guiding questions for reflection, and ask students to bookmark the text where they found the information.
have students use the note-taking feature to record their thoughts as they read the text.
put students in small groups to share and reflect on what they recorded during their reading.
5. Teacher Explanation of Purpose
Providing a purpose and sharing the why behind the curriculum is crucial for students to thoroughly understand the content and how it connects with the real world. Transparent Language Online has some new features and now offers professional language lessons, which would be helpful to students who will need a specific language for a future career or profession.
Transparent Language Online (TLO), provided through Libraries Connect Ohio, offers listening, speaking, and learning activities in over 110 languages. This could be easily used as a supplemental resource for World Language teachers or as a full curriculum.
Recent updates to TLO include:
an easier method of logging in to the mobile app that only requires a username and password. No more pesky activation code!
hands-free audio lessons have been added in the mobile app. Open any lesson in the app and it will allow you to work through 3 speaking and listening lessons hands-free.
professional vocabulary and dialogue lessons have been added for students needing to learn a language for a future career or job. TLO is adding professional language lessons in Arabic (Modern Standard), German, Indonesian, Italian, Portuguese (Brazilian), and Spanish. All of these include on-the-job vocabulary, phrases, and lessons for professionals.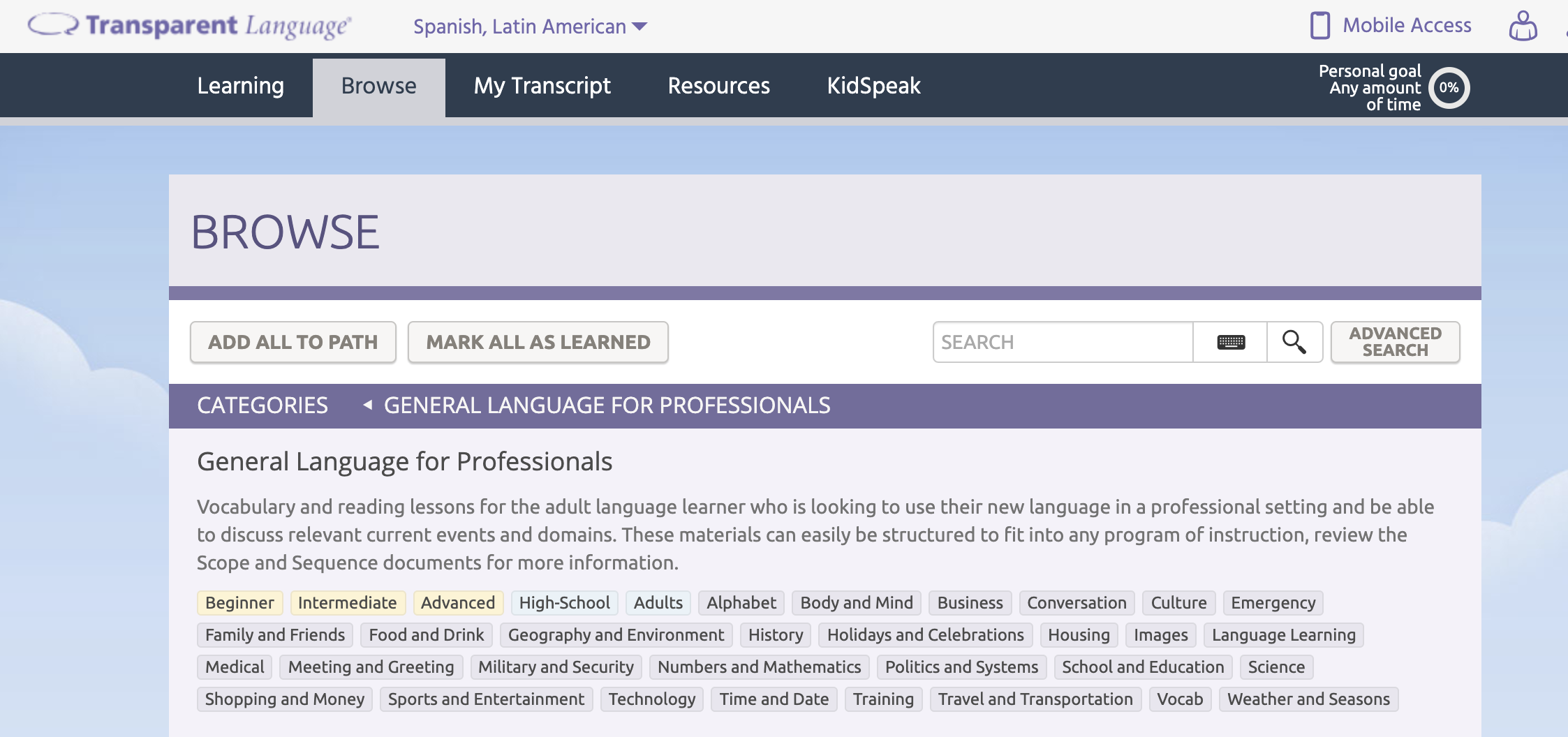 Connecting content to the real world and providing purpose is important to give students context for their learning and to increase student engagement. World Language teachers can use TLO in a variety of ways to support purpose:
assign students the professional dialogue and language lessons to those who may be studying abroad or taking a class trip.
use specific language vocabulary lessons and play out real-world scenarios like going to a restaurant, meeting a new person, or even going to school.
use the speaking lessons so students can get immediate feedback on the understandability of what they are saying.
Continue to access INFOhio resources, tools, and professional development classes to help develop and support the top five digital teaching strategies into classroom instruction:
Using Authentic and Relevant Course Material
Using a Variety of Multimedia Content and Resources
Students Creating Content Both Individually and Collaboratively
Students Reflecting on Learning
Teacher Explanation of Purpose
Do you have questions or need additional information? INFOhio is always happy to help, please contact support.infohio.org.