A new school year is upon us! The anticipation and excitement of meeting new students, cracking open a clean, crisp teacher planner, and sharpening number two pencils has begun. This is the time of year when a whirlwind of emotions, thoughts, ideas, and questions would start buzzing around in my head: How will I keep my students engaged? What can I do to make sure I'm continuing to improve my own teaching practice? How can I make sure that I'm using quality instructional materials?
If these thoughts sound familiar to you, you are not alone. As a former school library media specialist, I strived to share quality standards-aligned instructional materials with teachers to help supplement the curriculum and support student learning. This year, INFOhio offers new resources that engage students in meaningful learning opportunities with digital resources.
1. Engaging New Digital Resources
With RemotEDx funding, INFOhio and RemotEDx have been able to license additional digital resources with quality instructional materials from Capstone, EBSCO, Infobase, Scholastic, and Transparent Language Online. While most of these are new resources to INFOhio, some of the funding has expanded and added additional features and content to resources INFOhio already licensed.
Capstone Interactive eBooks
Capstone Interactive eBooks include science and social studies topics ideal for grades 3-6. This library of over 800 unlimited use eBooks has read aloud features and filters to help limit and find what you need. Searches can be limited by grade range, guided reading level, ATOS (AR), and Lexile range. A search tool is also available to look up items by keyword or topics.
To support equitable growth for all students, use the reading level limiter to find complex texts. In this example, I limited my search to the Lexile range of 955-1155. There are currently 88 books that fall in that specific Lexile range. Each book also has read-aloud features to support a variety of learners.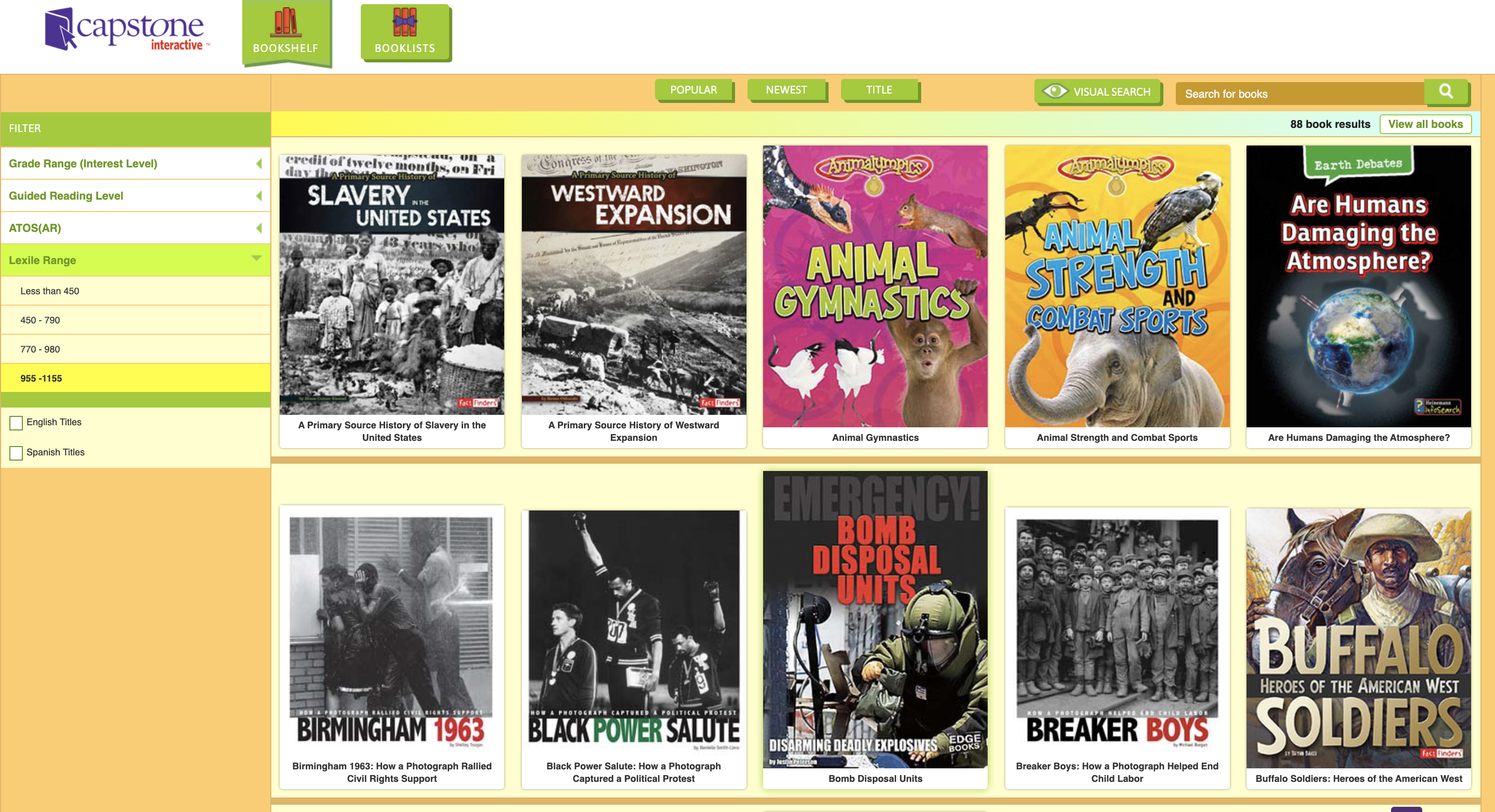 PebbleGo Next
PebbleGo Next, a Capstone product, is a resource designed to support grades 3-5 with five categories of topics: States, Science, American Indian History, Social Studies, and Biographies.
Students struggling to focus while reading online will benefit from the tab feature in articles, helping to focus on one part of the text at a time. An activity, video, and related articles are included with every article to help build background knowledge and support the learning for all students. Read-aloud is also available for this digital content.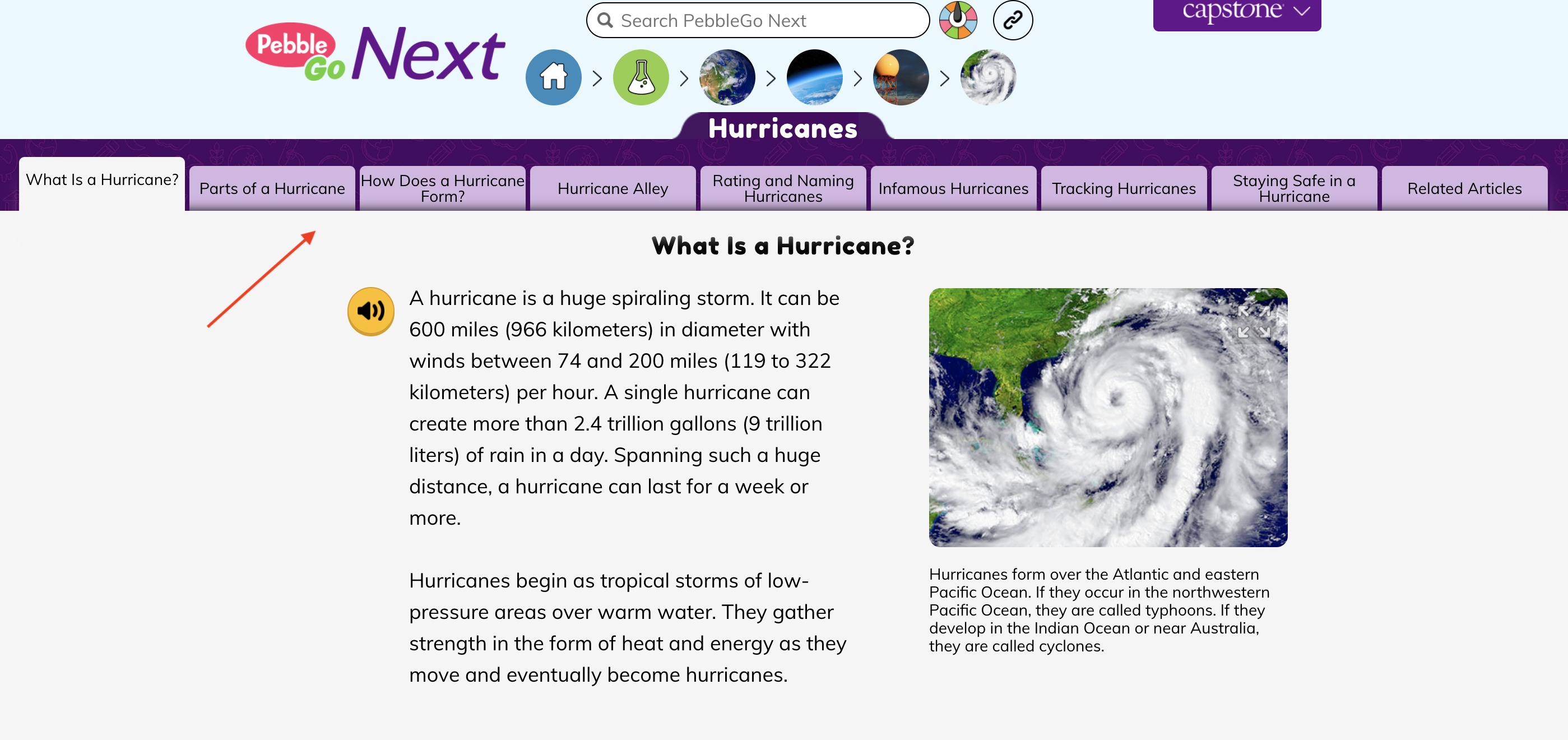 Capstone Connect
Capstone Connect is a resource for teachers only. Within this database, teachers can search by standard for instructional materials and digital content within Capstone Interactive eBooks and PebbleGo Next.
Searching by standard is simple and provides many quality materials that can be printed or used online, making it easy to share standards-aligned instructional materials with educators in your building that are accessible to all.
In this example I searched for the 4th grade Earth Science standard, 4.ESS.1: Earth's surface has specific characteristics and landforms that can be identified. 100 results appeared that include Capstone Interactive eBooks, PebbleGo Next articles, and Instructional Materials.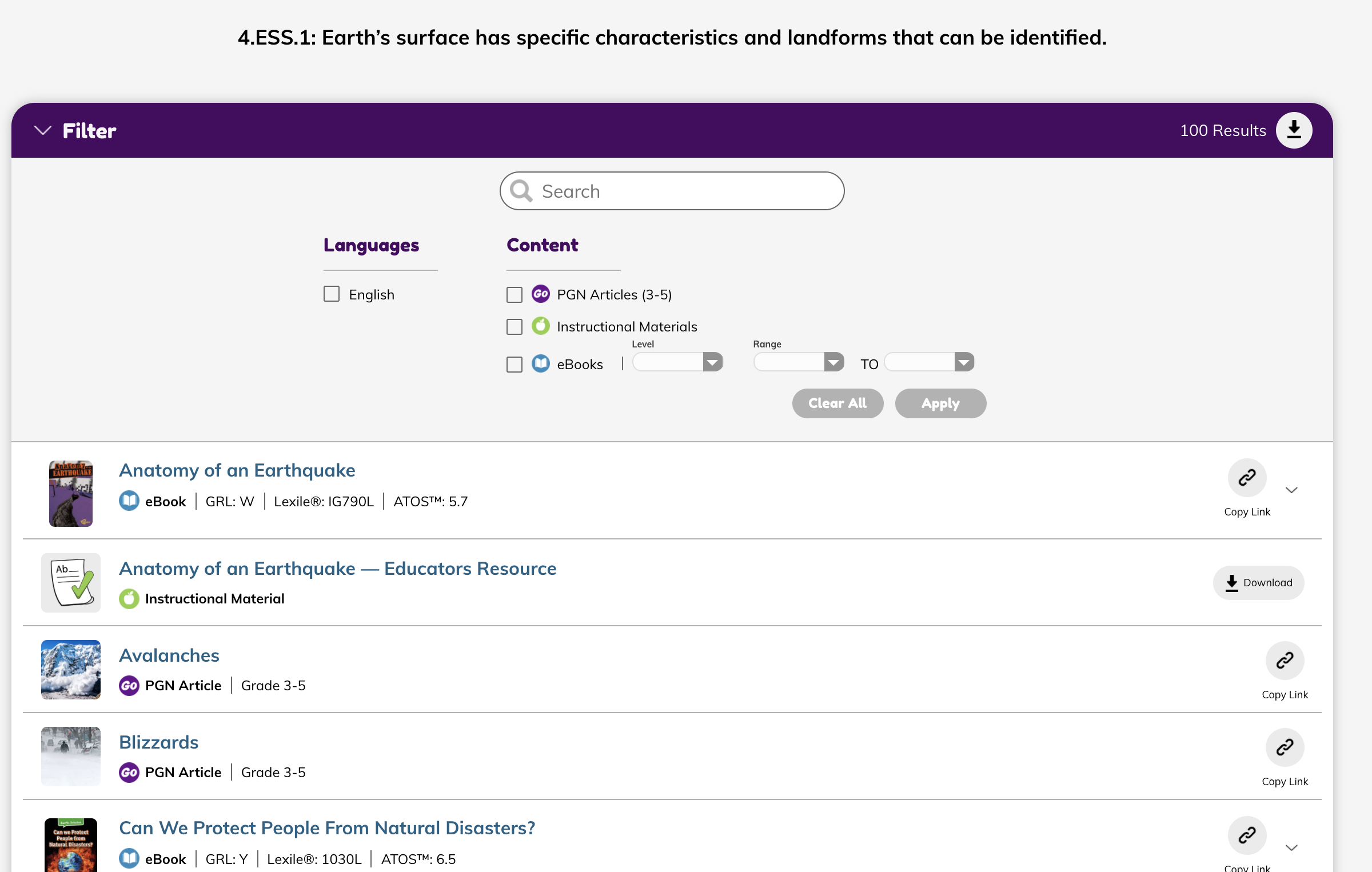 The World Almanac for Kids and The World Almanac for Kids Elementary
Two new Infobase resources have been licensed, The World Almanac for Kids, ideal for students in grades 6-8 and The World Almanac for Kids Elementary, ideal for students in grades K-5.
The World Almanac databases are rich in research content and are set up in a way that is visually appealing, making it easy for students to navigate. Both databases provide tabs across the top to help students find content by topic and explore videos and games to support learning and foster curiosity. Each one also has featured topics to spark student interest and all articles can be read aloud. The articles are also standards-aligned giving confidence to educators that they are sharing quality content with all students to move learning forward in their buildings and school districts. These resources would be a great place to start when students are looking for a research topic.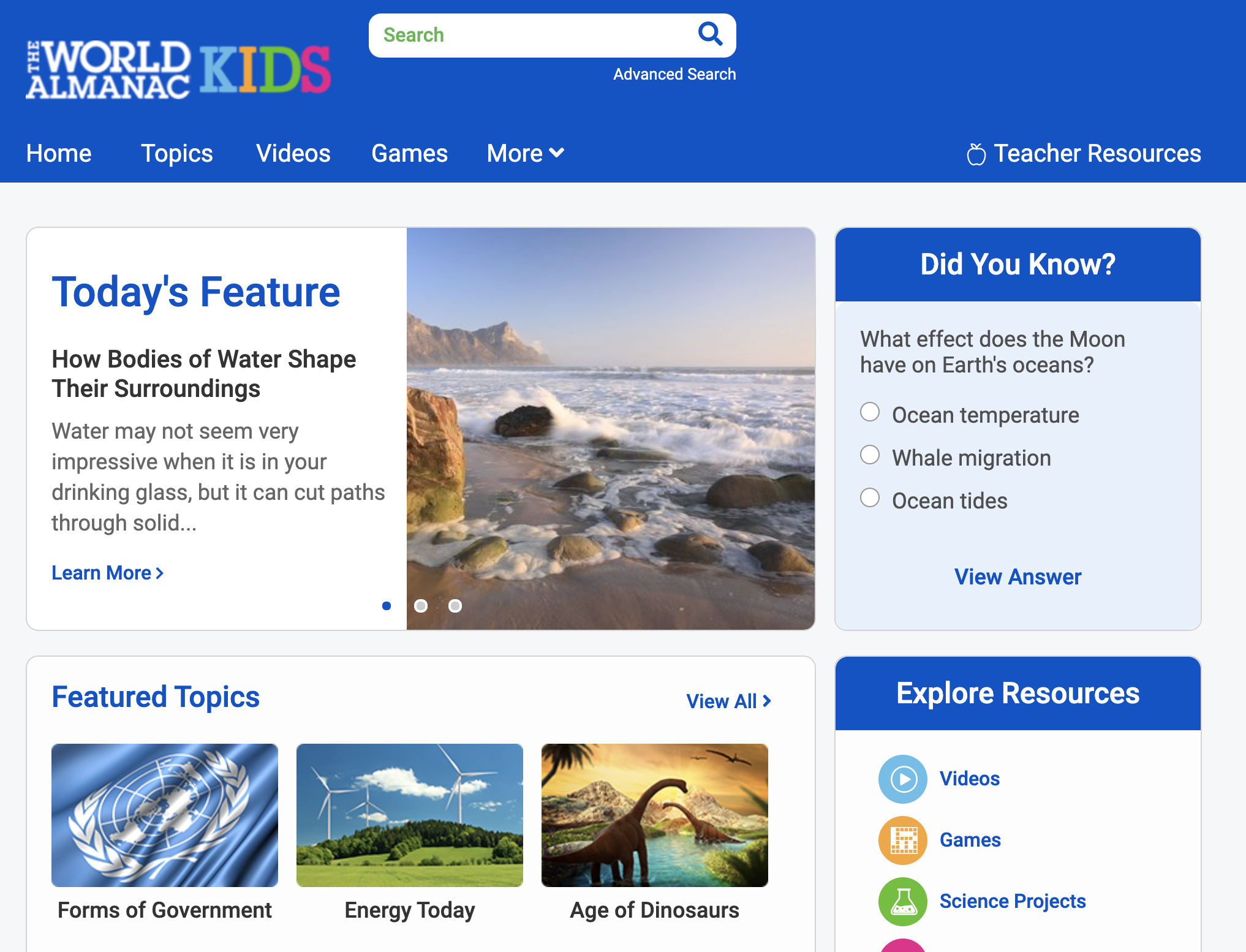 Today's Science
Today's Science, an additional Infobase product supporting grades 6-12, works in connection with Science Online and science classrooms providing authentic science news articles supporting the science curriculum.
In this example, I wanted to find standards-aligned articles that coincided with 8th grade Earth and Space Science standard 8.ESS.1: The composition and properties of Earth's interior are identified by the behavior of seismic waves. I clicked the Browse Standards button in the top right corner, searched for the specific standard and found that there are 17 articles that support this standard.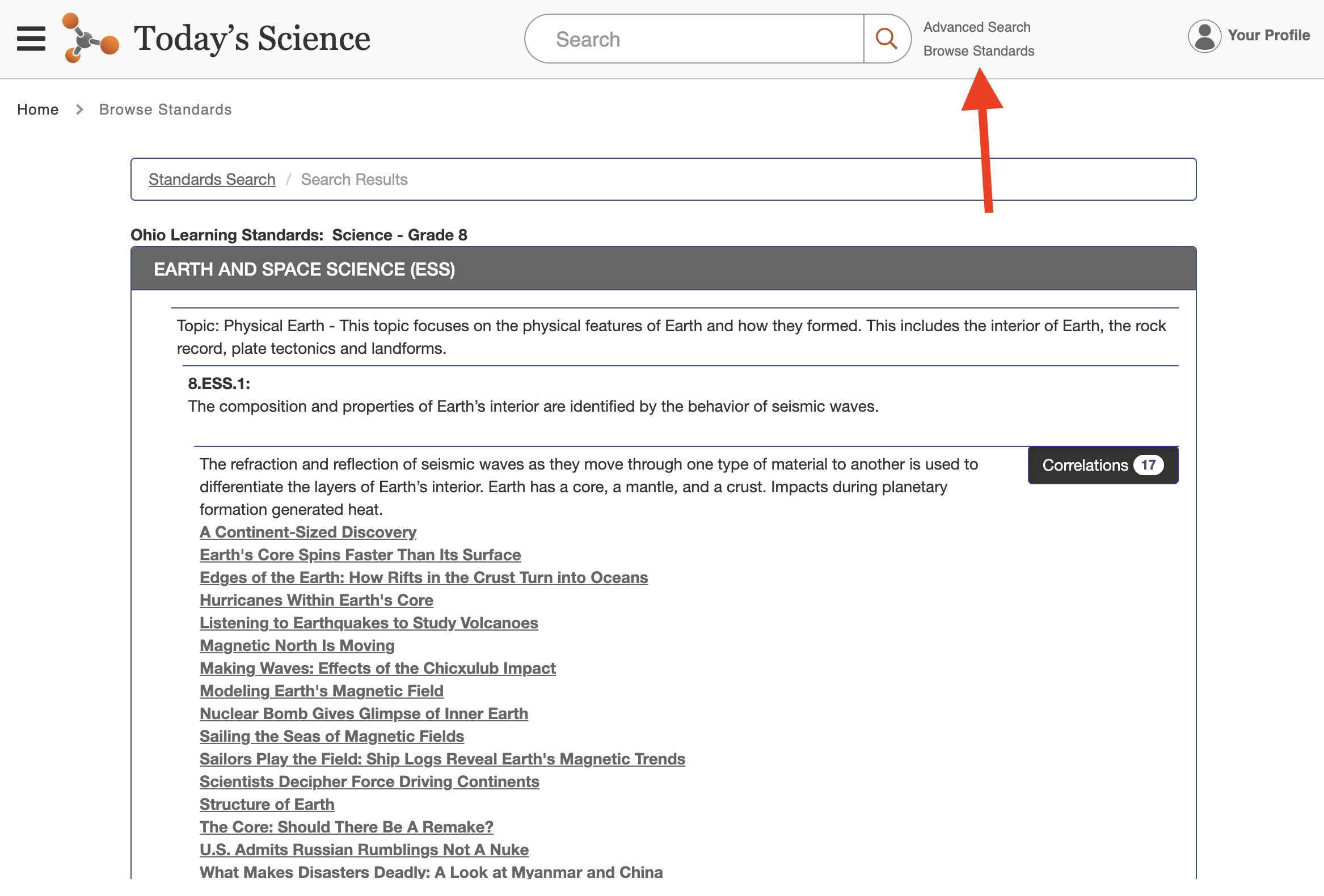 In addition to over 6,000 standards-aligned science news articles it also includes conversations with authentic scientists, editorial cartoons and questions, crossword puzzles, videos, and curriculum tools.
EBSCO EBook Collections
The EBSCO High School Collection eBooks has over 12,000 unlimited use eBooks ideal for grades 9-12. The titles cover all academic subject areas including classic literary works, important historical documents, and general reference materials.
EBooks can be read directly online from any web browser. All eBook titles have unlimited use meaning they can be read by any number of students at the same time, making this resource perfect for whole-class reading sets. Sections of each title can also be saved to Google Drive and shared with students to analyze and annotate chapters or parts of grade-level texts.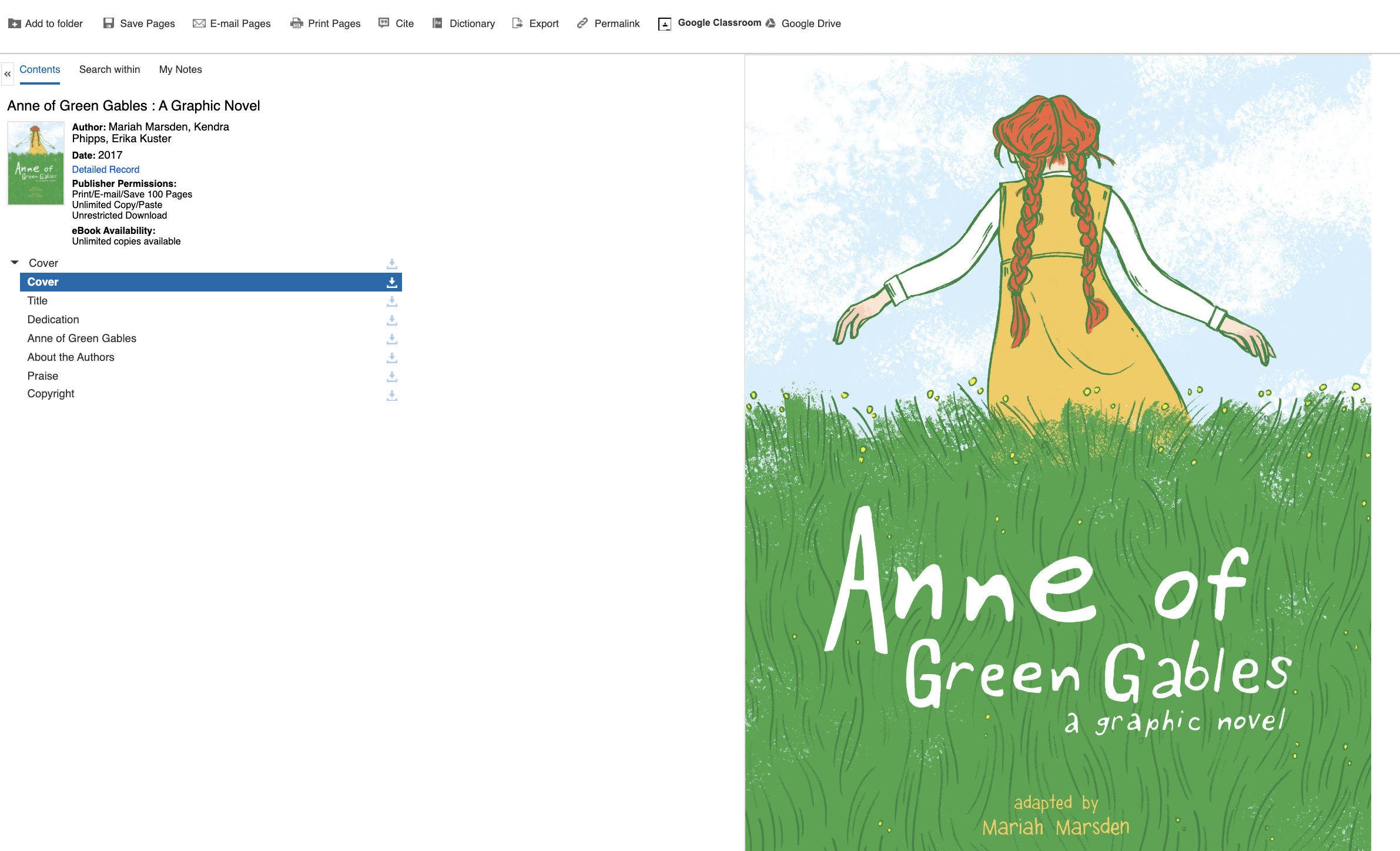 The EBSCO Education Collection eBooks has over 4600 eBooks that will help educators grow their practice with research-based professional books all about the field of education. These titles are unlimited use, making it easy to use for a teacher book study. Not only will this collection help undergraduate and new teachers, but also advanced scholars.
Scholastic's Storia
Additional grade levels have been added to Scholastic Storia. Now, students and teachers in grades 3-6 will be able to use this literacy resource in their classrooms.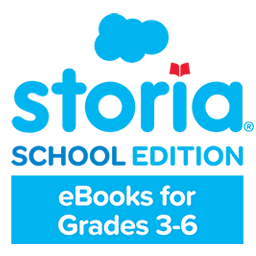 Storia provides teachers individual teacher accounts where they can roster students and monitor progress. Books can be assigned to individual students and reading groups. Students can choose from over 1200 eBooks to read and enjoy independently. Comprehension quizzes are included for each title as well as note-taking and highlighting features.
Read, Getting Started with Storia for the 2021-2022 School Year to find more details about using this resource in your classroom.
Transparent Language Online
Transparent Language Online (TLO), a world language resource perfect for grades 4 and up now includes an instructor portal. Teachers can sign up for an individual teacher account so they can add classes and students can join. Adding teacher accounts is the newest expansion to TLO and allows teachers to create assignments, share assignments, and monitor student success.
Teachers can also run reports to export important data needed to determine student understanding of the assigned world language content. The Educator's Guide to Transparent Language Online will be an important tool for world language instructors to use the portal efficiently.
2. Professional Development to Support Classroom Integration
Before using resources in your classroom or library, you may want to learn more about each resource. I always felt more confident when sharing new resources with students and staff after taking the time to explore the resource first, to learn more about it. Taking a self-paced, asynchronous class from INFOhio is simple and you can earn contact hours that support the renewal of your teaching license.
New classes and a new pathway have been developed and have been added to INFOhio Campus, INFOhio's professional development page. There are several new classes to take this fall.
In the K-5 Learning Pathway:
In the 6-12 Learning Pathway:
In the High-Quality Instructional Materials for Each Child Learning Pathway:
In the BLUEcloud Learning Pathway:
A new learning pathway School Library Basics contains classes created for new Ohio school librarians or Ohio school library staff who have not completed a graduate program in library science:
Participants in all INFOhio Learning Pathways classes will earn a contact hour certificate upon the completion of the final quiz for each class.
In addition to these learning pathway classes, tune in and register for the upcoming See What's New Webinar series that will feature our new digital resources and expansion of resources through funding by the RemotEDx initiative.
3. Quality Supplemental Instructional Materials
Finding quality supplemental instructional materials isn't always easy and it can take an overwhelming amount of time to find just what you need for your students. INFOhio has cut out the time and added standards-aligned, vetted, quality instructional materials for use in K-12 classrooms. New supplemental materials have been added from Ohio organizations such as COSI, Cleveland Museum of Natural History, and Greater Cincinnati STEM Collaborative and Hamilton County ESC. Additional vetted materials have been added from CK-12 Foundation, PBS LearningMedia, Quill and more.
INFOhio's curriculum repositories of instructional materials on Open Space and Educator Tools can be filtered by grade level, subject, and item type to make it easier and quicker to find just what you need.
Educator Tools, offers over 90,000 lesson plans, activities, videos, and other supplementary curriculum materials. Search by standard and favorite those that meet your instructional need. Email your favorite results to yourself or a colleague to find and use later.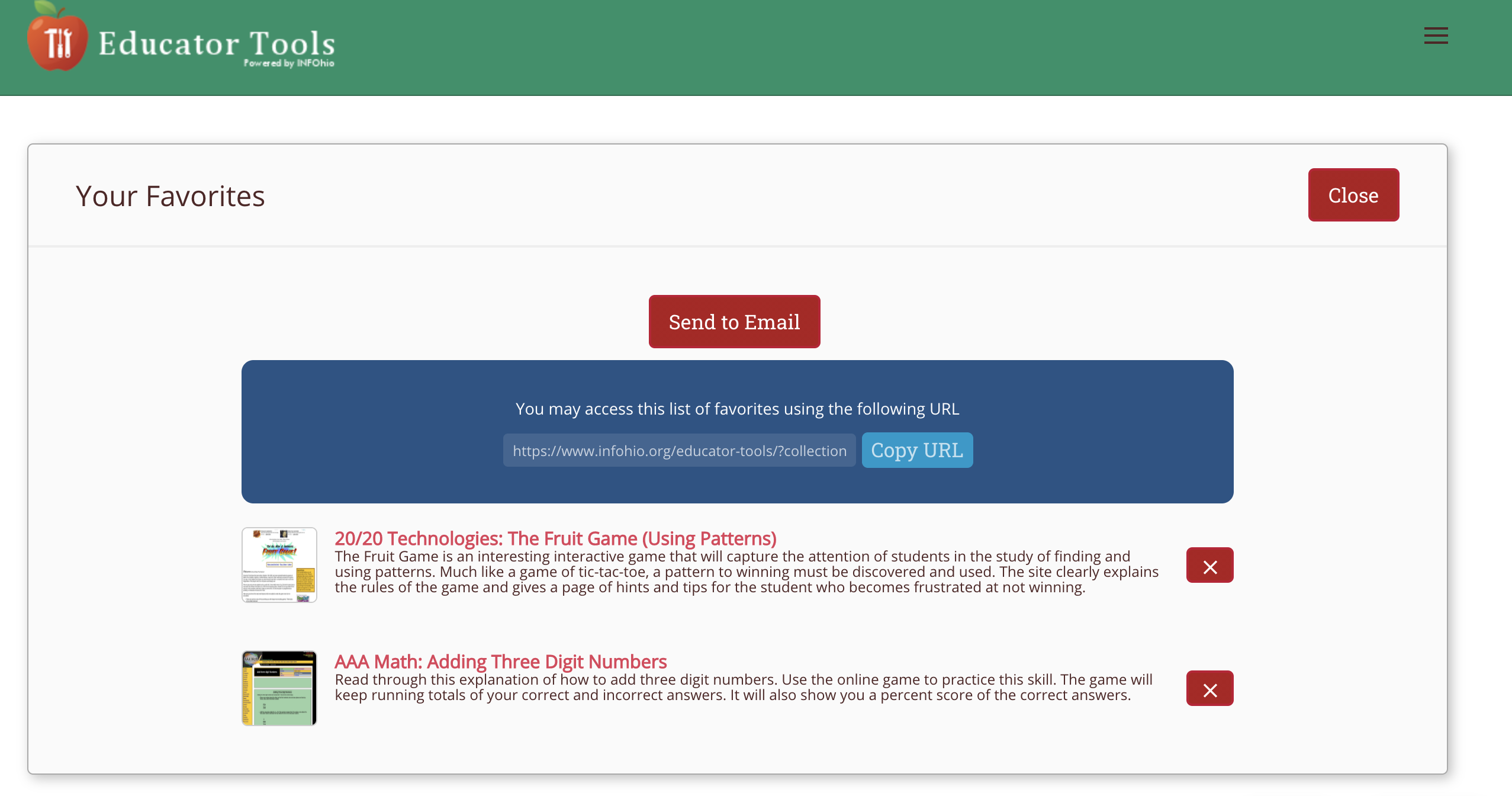 Open Space provides additional standards-aligned content and a unique collaborative experience. Creating an Open Space account allows educators to build community through groups. Grade-level, subject-based, or organizational groups can be created and joined. Educators also have access to curated collections and a repository of open educational resources (OER) giving educators the ability to share instructional materials, create content, and assign quality content to students.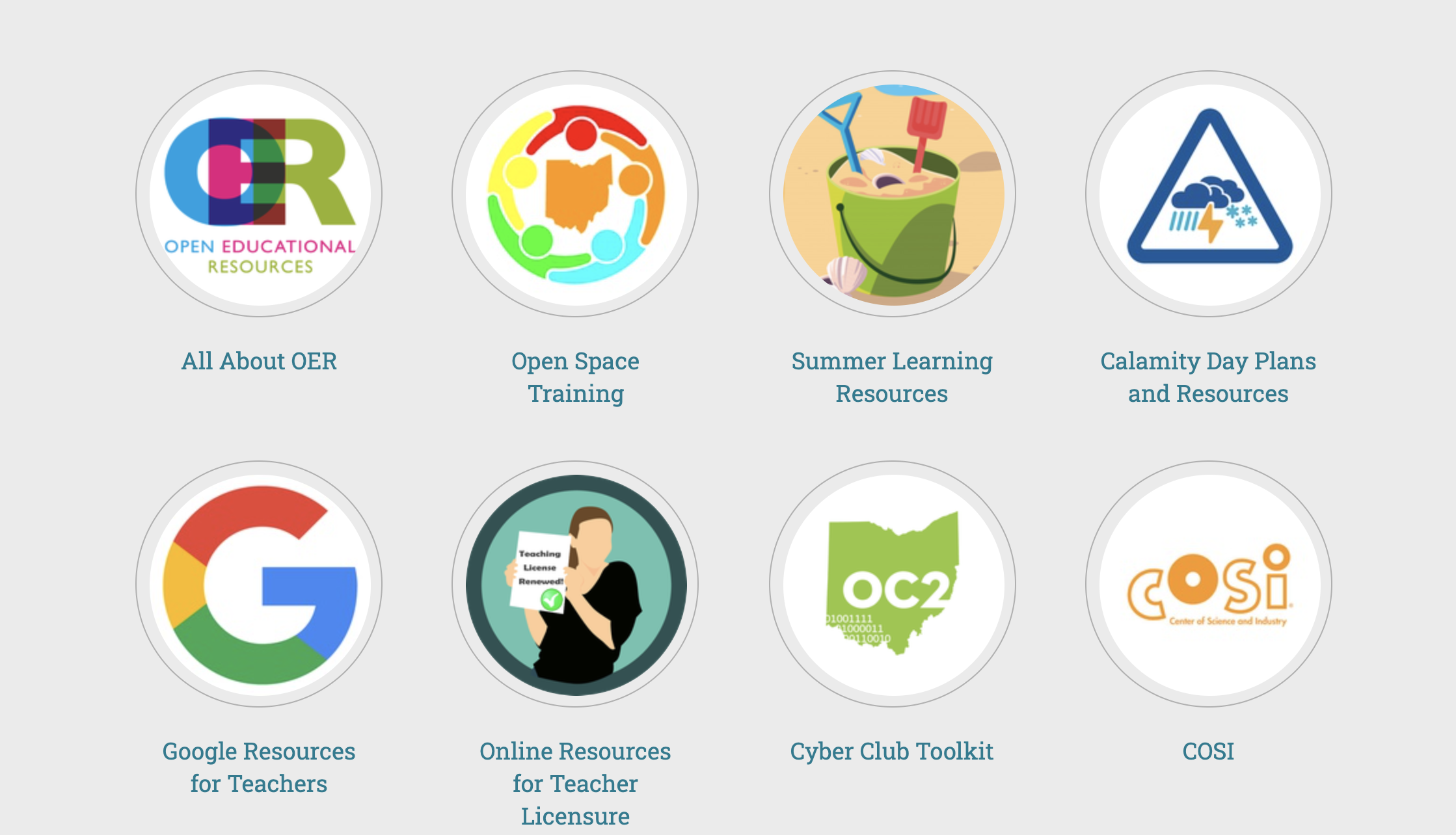 To learn more about all the digital content and tools that INFOhio offers, check out our Teach & Learn with INFOhio: Digital Resources for a Digital Age document. Each grade level band Ages 3-5, Grades K-5, Grades 6-8, and Grades 9-12 have their own flyer of resources, which makes it easier to determine what will be suitable for your students. Share these updates with staff at your school or with parents, with the Back to School 2021-2022 slideshow presentation.
As always, share how #INFOhioWorks for you on social media. Stay Connected by joining INFOhio's email list!
We are here to help! If you have questions visit support.infohio.org.