It's spring and many educators are beginning to wonder  what they can do to further their efficacy, effort, and influence in the classroom for the next school year. They will think back about this year, and ask, "How can I engage my students more?" What approach might work better for teaching this concept?" "Should I consider restructuring my reading program?" That's right—the end of the school year often means it's time for some serious professional development. "Summer is the perfect time to recharge," according this to this article from Educational Leadership about ways that being a better student will lead to being a better teacher. Often districts will have prescribed summer PD, but that doesn't mean there aren't easy options for developing your own PD plan—one that will answer your personal questions and build a better educator based on your needs and expectations. INFOhio can help with that. We like to think of it as Summer Reading—Teacher Style. It's free and all you need is time, some mindfulness, and a device with an Internet connection.
15 for Educators is a downloadable flyer you can find in the INFOhio Educator Tools. It lists 15 leading educational publications available at no cost to Ohio educators from Explora for Educators through INFOhio. There are over 750 high quality journals, and 540 of them are peer-reviewed. There are also 200 educational reports available in Explora for Educators. We have narrowed these options down for you using the 15 for Educators flyer. We chose the publications we think will be most useful to you. They are:
American Secondary Education
The Curriculum Journal
Early Childhood Education Journal
Education
Education Digest
Education Week
Educational Leadership
High School Journal
Internet@Schools
Journal of Adolescent and Adult Literacy
Journal of Education
Journal of Educational Research
Phi Delta Kappan

Reading Teacher
Scholastic Teacher
The flyer is hyperlinked and provides a brief description of each of the publications.
Personalized PD
There are a couple great ways to find articles that will interest you and help you develop more teaching super powers over the summer. One way is to search for a specific topic you would like to learn more about. For example, what if you are feeling like your summer reading initiative was flat this year? What if you could tell that students just weren't as excited about reading over their break as they had been in the past? This article by super-readers Pam Allyn and Ernest Morrel from Scholastic's Instructor offers educators "7 Strengths for 7 Weeks of Summer." This summer reading plan encourages readers—and teachers—to explore conditions such as curiosity and courage, to develop these traits with family, and to seek out reading material that will help them learn and apply these qualities. This is an engaging and rigorous way to help your students avoid the summer slump.
What if you have learned that you will have an EL student in your class next year? Are you prepared for this? Have you had a student in your class before whose primary language is not English? What did you learn from that? What more do you need to know? Research-based with data, strategies, and legal guidelines, Educations Week's article Teaching English Learners: What Does the Research Teach Us? is helpful for teachers who have never had an EL student, or for teachers who need to refresh their knowledge.
Are you a secondary math teacher? Were your end-of-course assessment results discouraging? Are you ready to disrupt your classroom with new approaches to teaching? "Guide on the Side: An Instructional Approach to Meet Mathematical Standards" could be a great choice for your summer reading! This journal article from High School Journal discusses how to use inquiry-based, constructivist approaches in the math classroom.
Search or Browse?
Searching for a specific topic is great if you know what you are looking for. Using 15 for Educators provides quality professional publications with the information you need to read this summer. Follow the steps below for best results in finding the article you want: 
Go to www.infohio.org and scroll to the Educator's section of the homepage.
Click Professional Databases.
Click Professional Development Collection.
Search for a topic of interest, such as "summer reading."
If you want to find information from a specific publications, follow the topic search terms with so: source. For example, type so:Instructor to narrow your results to articles from Scholastic's Instructor for articles that are more conversational, instructional-focused, and aligned with current trends. 
Now you can look at the results and decide which articles will be most useful for your personalized PD. Make sure to click on the title of the article to see the full text, and view the PDF if available for an authentic reading experience!
Browsing is helpful if you are not sure of a topic you would like to focus on, or you would like to read all the content from an entire issue.

If you want to read an issue of Educational Leadership, for example, choose the Advanced Search option in the Professional Development Collection(as seen in the image above).
In the Select a File dropdown menu, choose Journal Name and then type the name of the publication you wish to read. Limit the dates you want under the Published Date option and click Search.
From the results, choose an article. Choose the PDF option, if available. Use the menu on the left to browse through the articles from that issue of the publication. If the publication does not have a PDF option, you can always narrow your search to a specific issue in the Published Date option to browse the articles in the result list.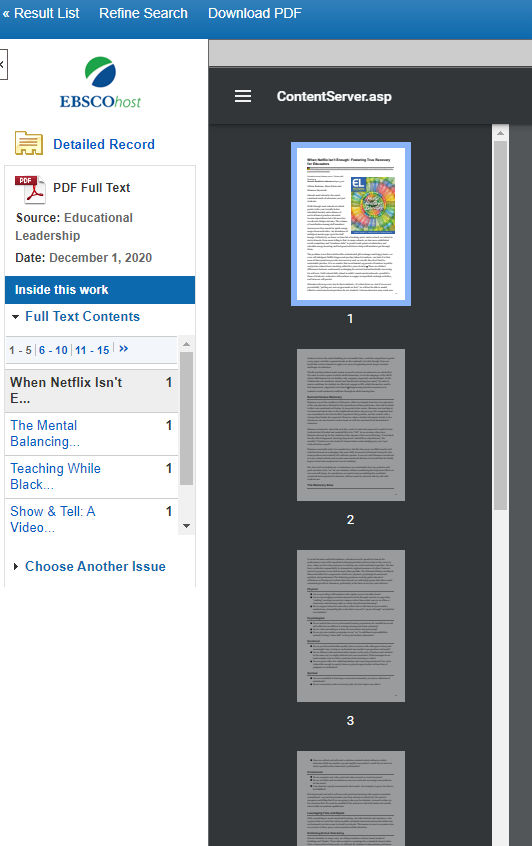 Collecting and Saving
One more way that INFOhio can streamline your personalized summer PD is by providing you with a variety of ways to collect and save your reading content. One option is an EBSCO folder to store the articles you have found to read later. To create a folder, you will need to have an EBSCO account. You can also choose to email the articles to yourself. The list of tools available for each article has an email option.
Finally, if the article is available as a PDF, you can send it to your Google Drive, your Dropbox, or OneDrive.

Use any device—tablet, phone, desktop, or laptop—to access your summer reading. Or, print them off if you wish. The best part about using INFOhio's 15 for Educators is the many options you have to customize your learning experience and prepare you for a new school year!