Social-emotional learning is trending lately. That may be related to language in the Every Student Succeeds Act that makes provisions for schools to count social and emotional growth toward their improvement strategies. To see how  this topic is making the news, try a search on your favorite social media platform for one of these:
#SocialEmotionalLearning
#SEL
#mindfulness
The March 2017 issue of Phi Delta Kappan focuses on social-emotional learning and includes articles that provide solid strategies teachers can use to help students develop their social and emotional skills. Ohio educators can read the full-text of the articles from that issue in ISearch.
In "Learning to Walk in Another's Shoes," Gehlbach advocates for focusing on teaching students to develop the "capacity to make sense of others' thoughts and feelings." He goes on to describe empathy, saying, "the motivation and ability to 'read' other people, vividly imagining their unique psychological experience, provides the compass by which we navigate our social world." Gelbach uses the language of literacy to describe empathy. His strategies for teaching students to "read other people" include, "[Encouraging] students to be social detectives, not judges." This reminded me of the Learn With INFOhio Webinar on the Close Reading Model in which Marcia Barnhart talked about teaching students to read complex texts like detectives (see slides 16 and 17). I wondered: is social-emotional learning really a new form of literacy?
In "Managing Stress for At-Risk Students," Spiegel details strategies employed by a Massachusetts school to help students deal with stress and manage their own wellness. These include:
Offering DEAR time (For them, DEAR stands for Drop Everything And Relax, but have you used DEAR time for Drop Everything and Read at your school?)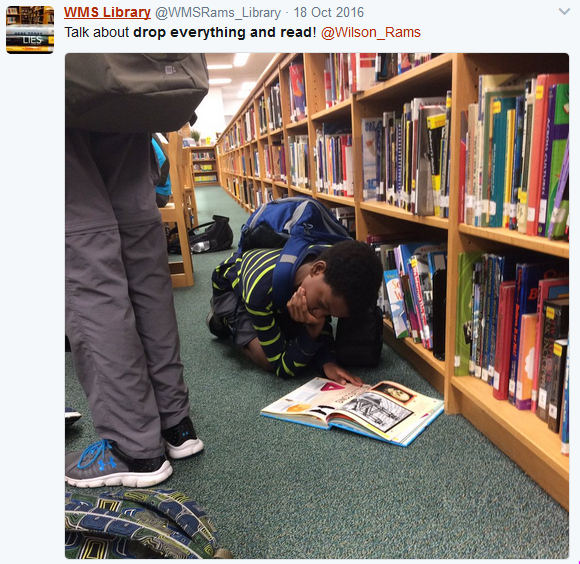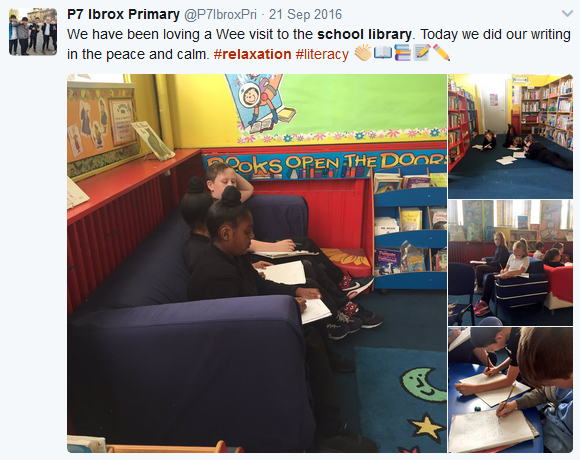 https://twitter.com/P7IbroxPri/status/778630898434605056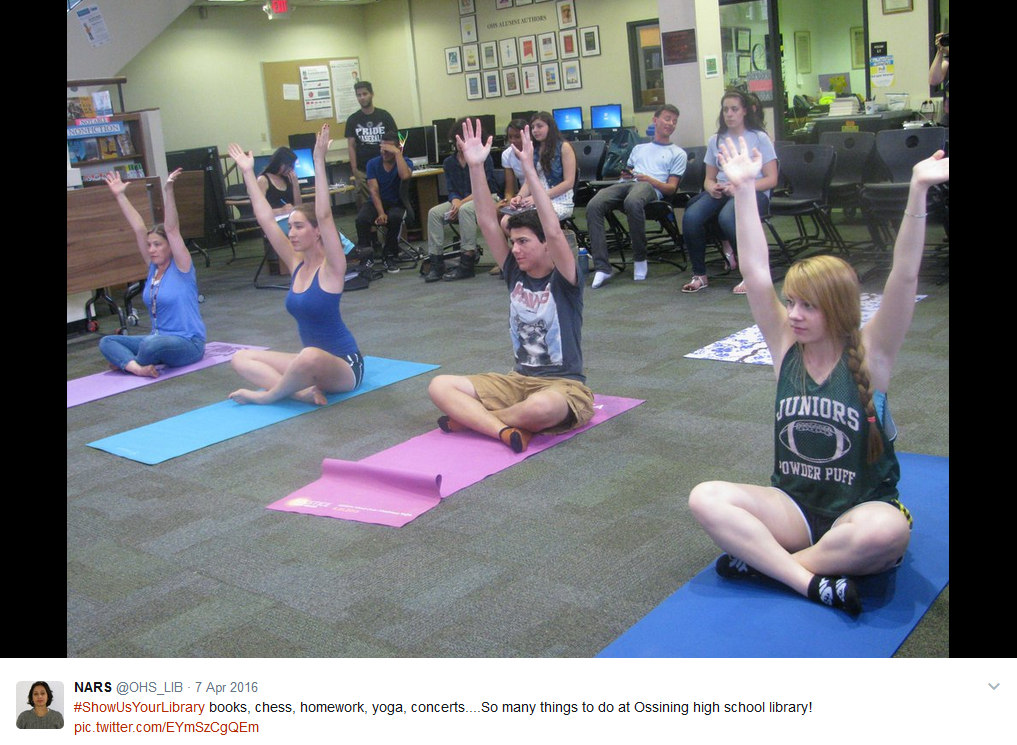 Bringing in therapy dogs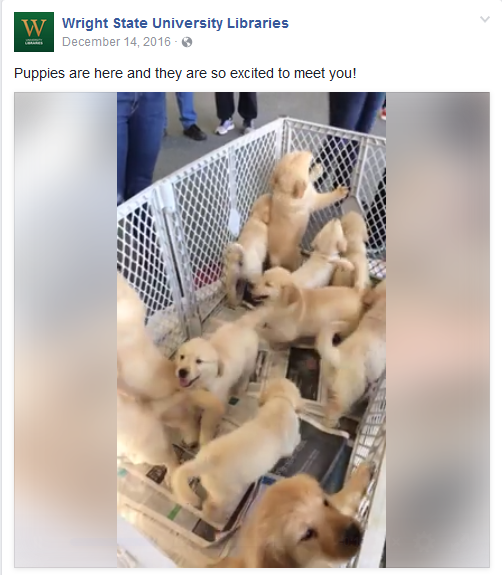 https://www.facebook.com/WrightStateUniversityLibraries/videos/1375228945821853/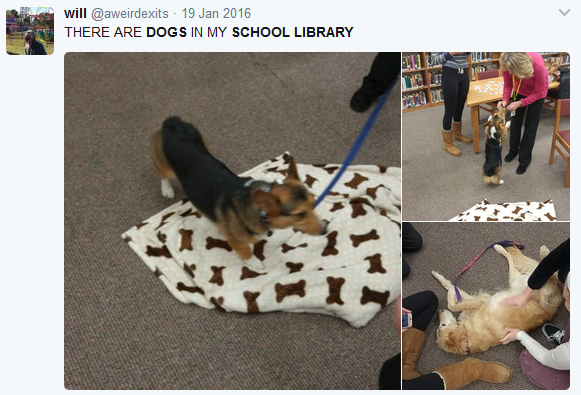 Providing space for students to be creative through coloring, drawing, or journaling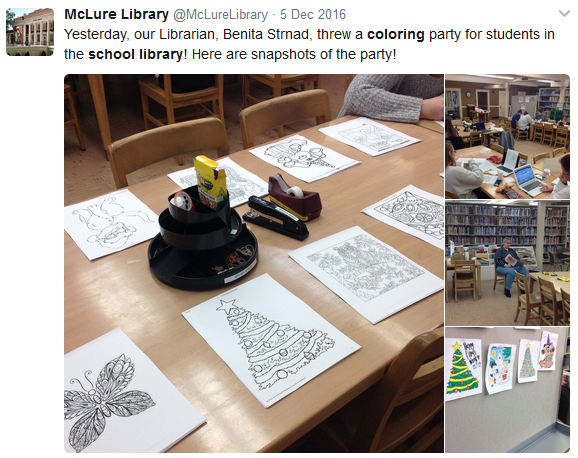 Giving students stress balls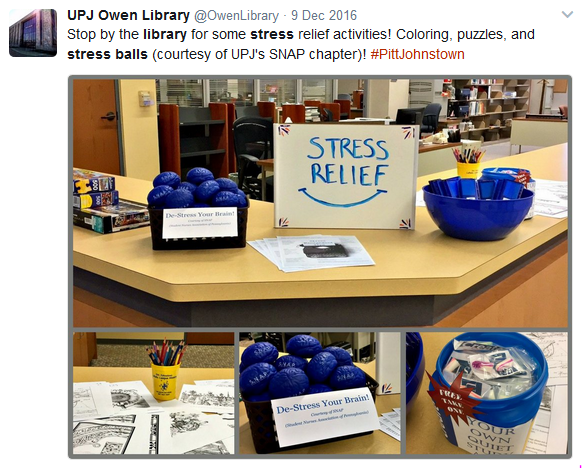 Provide space for students who need time alone to work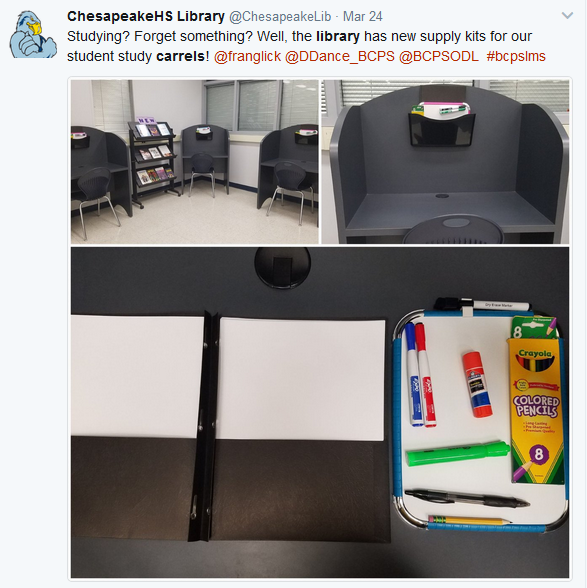 By now, the school librarians reading this post are making a mental checklist. Why? Because these strategies, which might seem novel in some classrooms, are commonplace in the library! In fact, in reading these articles, you might come to the conclusion that the school library is the optimal incubator for social-emotional learning and helping students develop social-emotional literacy skills.
School libraries and school librarians have been filling this role for a long time. In a 2006 article from Intervention in School and Clinic, Jurkowski says, "For many students who have a mild to moderate  learning, emotional, social, or mental problems, the school librarian is an unparalleled resource, and the library becomes a refuge and an important support system outside of the general classroom" (78). Jurkowski describes the school library environment using many of the same phrases Spiegel does when talking about the environment needed to help students manage their emotional learning: "Libraries  are  well-lighted, pleasant areas, and often great effort has been taken to make the library an inviting space with informal seating, welcoming  notices,  plants,  and  pictures. It  is important to have this variety of welcoming visuals" (81).
While the role of the school library as the incubator for social-emotional learning and the role of the school librarian as social-emotional literacy coach may have gone unnoticed by others, school librarians themselves are well aware of these roles. In "Invisible Care? The Role of Librarians in Caring for the 'Whole Pupil' in Secondary Schools," Shaper says that when surveyed about their responsibilities librarians included the following as important: "Creating and maintaining the right environment—safe, welcoming, peaceful,accessible and different from the classroom. Contributing to social inclusion, self-esteem and appropriate behaviour. Providing emotional support through professional engagement with individuals in a variety of ways—from encouraging reading and helping with schoolwork to fostering cultural engagement and bibliotherapy" (67-8).
Bibliotherapy is featured in the February 2017 School Library Journal article by Linda Jacobson, "Social Emotional Rescue." Jacobson notes that increasingly, school library makerspaces are more valued for the environment they create in which students can develop social-emotional learning skills than for the products the students make (28). In an added segment of the article, Anita Cellucci says, "The School Library is All About SEL" and she shares these Six Ways To Try SEL at Your Library.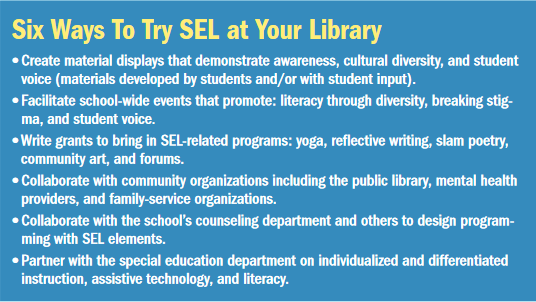 If you are a classroom teacher and not a school librarian, what can you do to help your students develop social-emotional literacy?
Be sure your students are getting plenty of quality school library time.
Advocate for your school library and school librarian. Encourage your administrators to ensure that your school library remains adequately staffed and funded.
Collaborate with your school librarian in the school library and in your classroom.
Finally, check out these books that help students learn about social-emotional literacy from your school library.
Barnhart, Marcia. "The Close Reading Model: Slow Down and Comprehend." Learn With INFOhio Webinar. 13 Nov. 2014.
Gehlbach, Hunter. "Learning to Walk in Another's Shoes." Phi Delta Kappan, vol. 98, no. 6, Mar. 2017, p. 8. ISearch, doi:10.1177/0031721717696471.
"Hearts & Minds." School Library Journal, vol. 63, no. 2, Feb. 2017, pp. 30-31.
Jacobson, Linda. "Social Emotional Rescue. (Cover Story)." School Library Journal, vol. 63, no. 2, Feb. 2017, p. 22.
Jurkowski, Odin L. "The Library as a Support System for Students." Intervention in School and Clinic, vol. 42, no. 2, 01 Nov. 2006, pp. 78-83.
Shaper, Sue and David Streatfield. "Invisible Care? The Role of Librarians in Caring for the "Whole Pupil" in Secondary Schools." Pastoral Care in Education, vol. 30, no. 1, 01 Jan. 2012, pp. 65-75.
Spiegel, Ellen J. "Managing Stress for At-Risk Students." Phi Delta Kappan, vol. 98, no. 6, Mar. 2017, p. 42. ISearch, doi:10.1177/0031721717696477.