Remote learning will be a new experience for most teachers and students. You and your students may be learning new applications. You'll be learning how to deliver instruction in a new environment. Your students will be learning how to learn in a new environment. You'll be trying to meet the needs of students with and without Internet access. It sounds daunting. But INFOhio has resources that can make it easy for you and your elementary, middle, and high school students to meet learning standards while you and your students adapt to your new teaching and learning environments.
Whether you teach second graders, seventh graders, or eleventh graders, during your first weeks of remote learning, keep things as simple as possible and give your students (and yourself!) time to adjust. The World Book webquests are an excellent way to keep things simple while still helping students build foundational knowledge.
Keep it Simple with World Book Webquests

There are webquests covering content in World Book Kids (for grades K-5),  World Book Student (for grades 5-10), and World Book Advanced (for grades 9-12). The World Book webquests cover a wide variety of topics and subject areas. In addition to supporting English Language Arts standards related to reading informational text, students will learn more about topics in social studies and science. While completing the webquests, students learn by reading text, seeing images, and hearing sounds—including text read aloud to them. Along the way, they will be learning and practicing basic research skills. Teachers should print and distribute the webquests in advance, making sure to remove the answer key. If you want to put webquests in your Google Classroom or learning management system, remember to save a version without the answer key page(s).
To answer the questions in the webquest, students need to read accompanying World Book articles. If students will not have Internet access or have limited typing skills, teachers can print the accompanying World Book articles.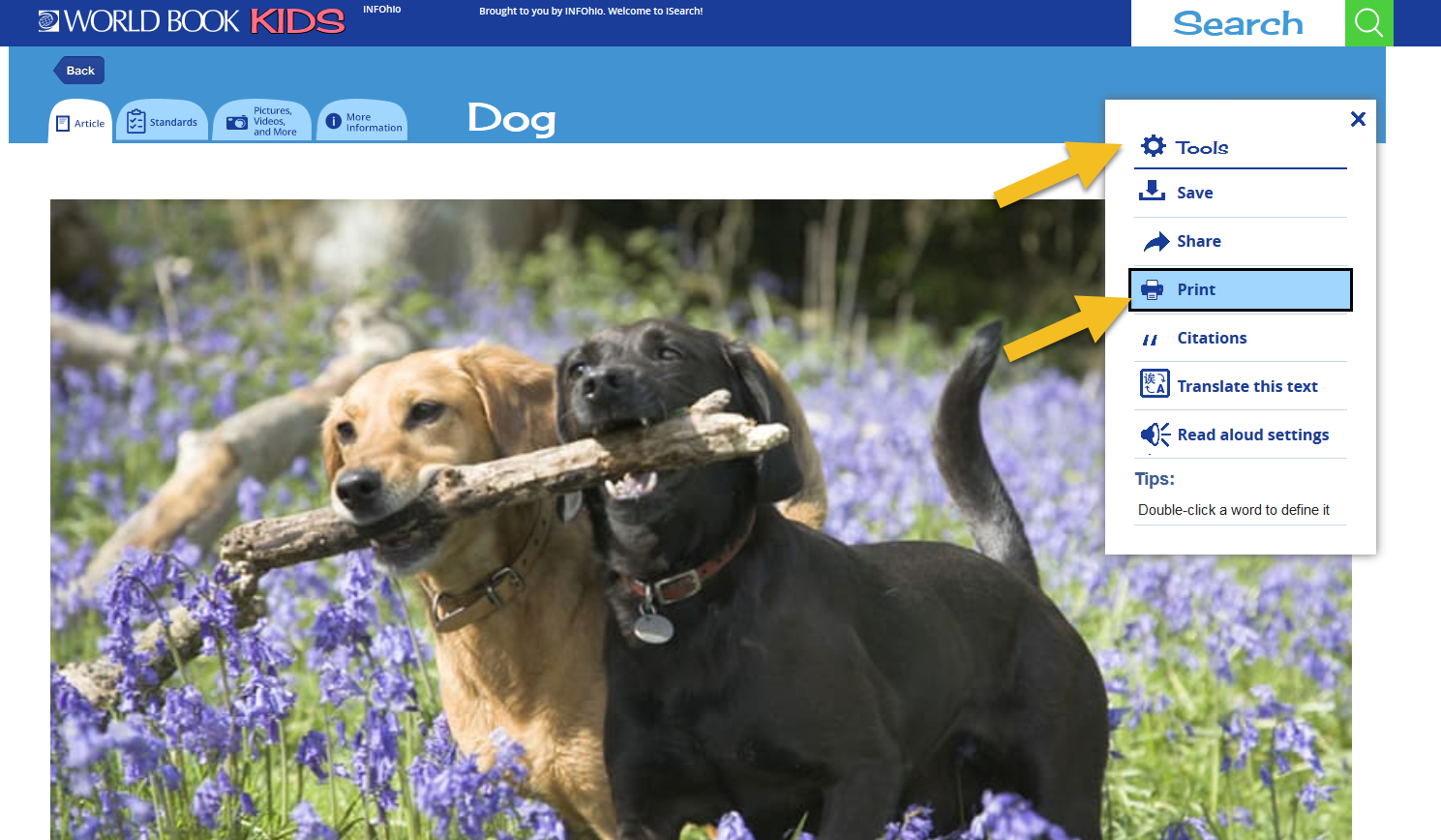 Finding the Webquests
You can now find all of the World Book webquests in INFOhio's Educator Tools. To browse all available webquests, use these links:
Webquests also appear in Educator Tools search results. For example, imagine you want to find learning activities for your fourth graders on amphibians. In Educator Tools:
Do a search for amphibians.
Click the Item Type limiter and check Activities & Lesson Plans.
Click the Grade Level limiter and check 4th Grade.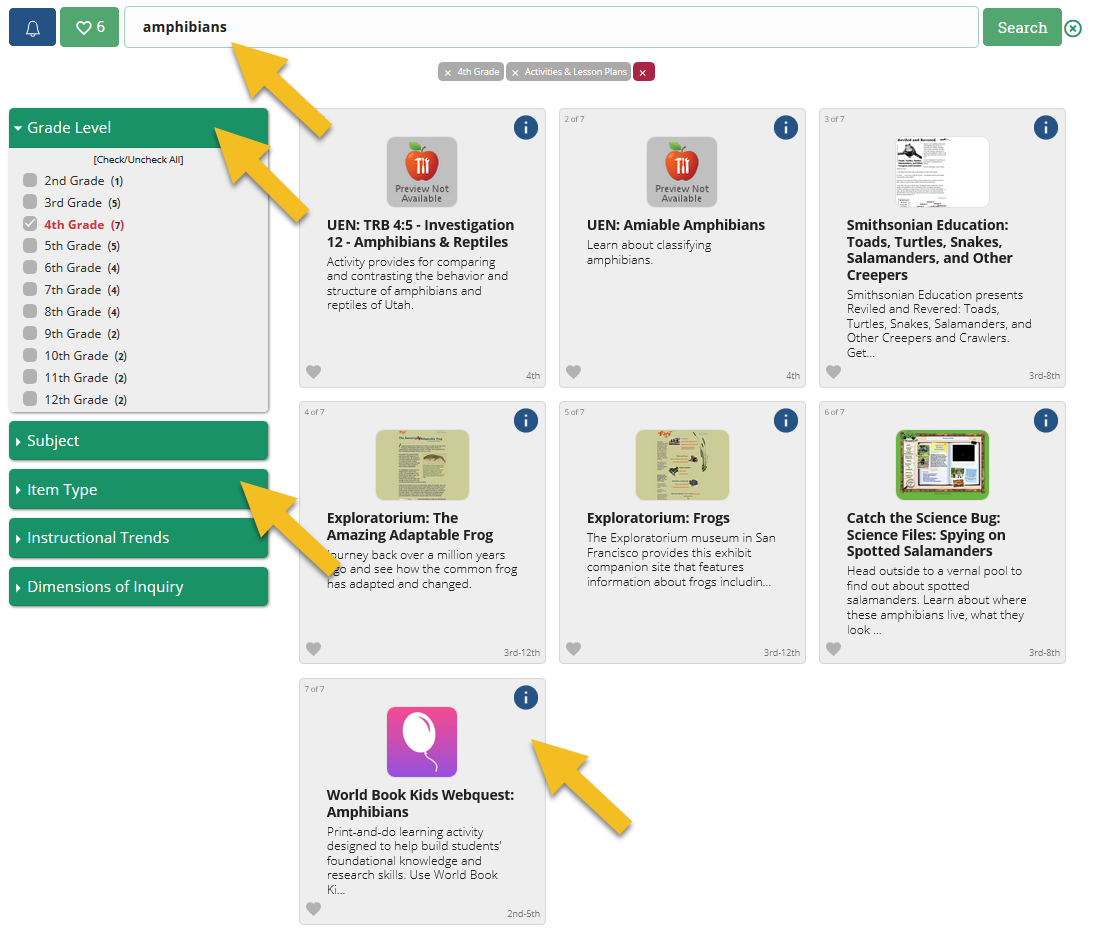 You'll find a World Book Kids webquest on amphibians along with other lesson plans and learning activities about amphibians.
Teaching with Webquests
During the first week of remote learning, use webquests that are sure to please, such as the webquest about cats and the webquest about dogs.
These are a few of the other webquests available in World Book Kids:
Remember to print the related articles for students without Internet access and for younger students who may have difficulty typing search terms.
These are a few of the webquests available from World Book Student: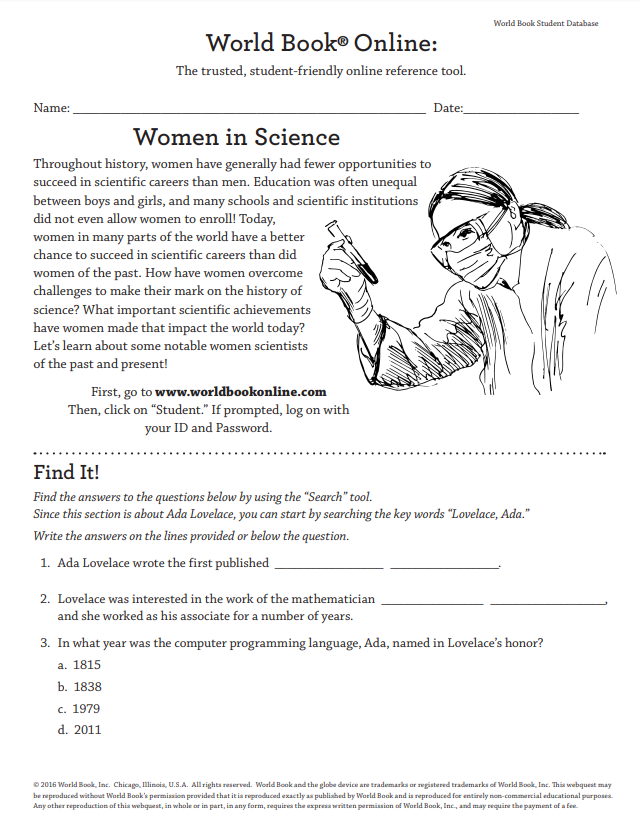 These are a few of the webquests available from World Book Advanced:
Each World Book webquest includes instructions for students to begin at www.worldbook.com. However, students need to start with the INFOhio website so that they can be properly authenticated. Use these URLs to direct students to the correct World Book resource for their webquest:
For students who will be using the World Book resources online from INFOhio, access is easy. Most students will not need to manually log into the INFOhio website from home; we can log most Ohio users in automatically. However, to help those users who may be using a mobile device or security software that does not allow IP recognition, share your district's INFOhio username and password with parents. Consider printing your INFOhio username and password on these customizable labels and sticking them on the printed webquests or on other papers or devices students will be using at home. If you don't know your district's INFOhio username and password, you can look it up here: https://www.infohio.org/login.
You are welcome to share your district's INFOhio username and password in password-protected environments or on printed documents, but please do not share any INFOhio usernames or passwords on open webpages or documents posted to the open web.
World Book webquests are easy for teachers to use without a lot of extra prep, and they are engaging for students. That makes them a great resource for easing your students into remote learning.
If you have any questions about how INFOhio can support you and your students with remote learning, please contact us at support.infohio.org.