As a parent of a K-12 student, the shift to remote learning has not been an easy one. Finding a routine, keeping a consistent schedule, overcoming screen-time fatigue, and selecting digital content and resources that will be effective for learning were all on my to-do list. I found myself thinking out loud, "Where do I start?"
My daughter's teacher was prepared and ready for online teaching and learning.
First, the teacher held an open house video conference for all remote students who were in her classroom and discussed technology needs including assistance with WiFi.

She then discussed the software programs they would be using to complement the curriculum.

She developed a consistent routine for times that students would meet as a whole class or in small groups throughout the day.

She also held open office hours at the same times every day, if students needed one-on-one help.
These strategies that the teacher has been implementing in her online classroom, gave me a sense of relief in knowing that my daughter would have the help she needed, when she needed it. To further support the learning at home, I wanted to find additional resources that were valid, reliable, and educational. I knew that INFOhio had the support resources and digital content that would continue the learning and provide me with peace of mind in knowing I am doing all I can in this joint-educational effort. 
With remote learning becoming increasingly part of the educational environment, support for families and parents is at the forefront of educators' minds. Students are learning from home now more than ever and INFOhio wants to help by sharing resources and tips to make this year as successful as possible. INFOhio offers a Parent Tools button that provides supports and resources organized by frequently asked questions. Although much more information is provided on this Parent Tools page, below you will find important highlights to share with parents and families.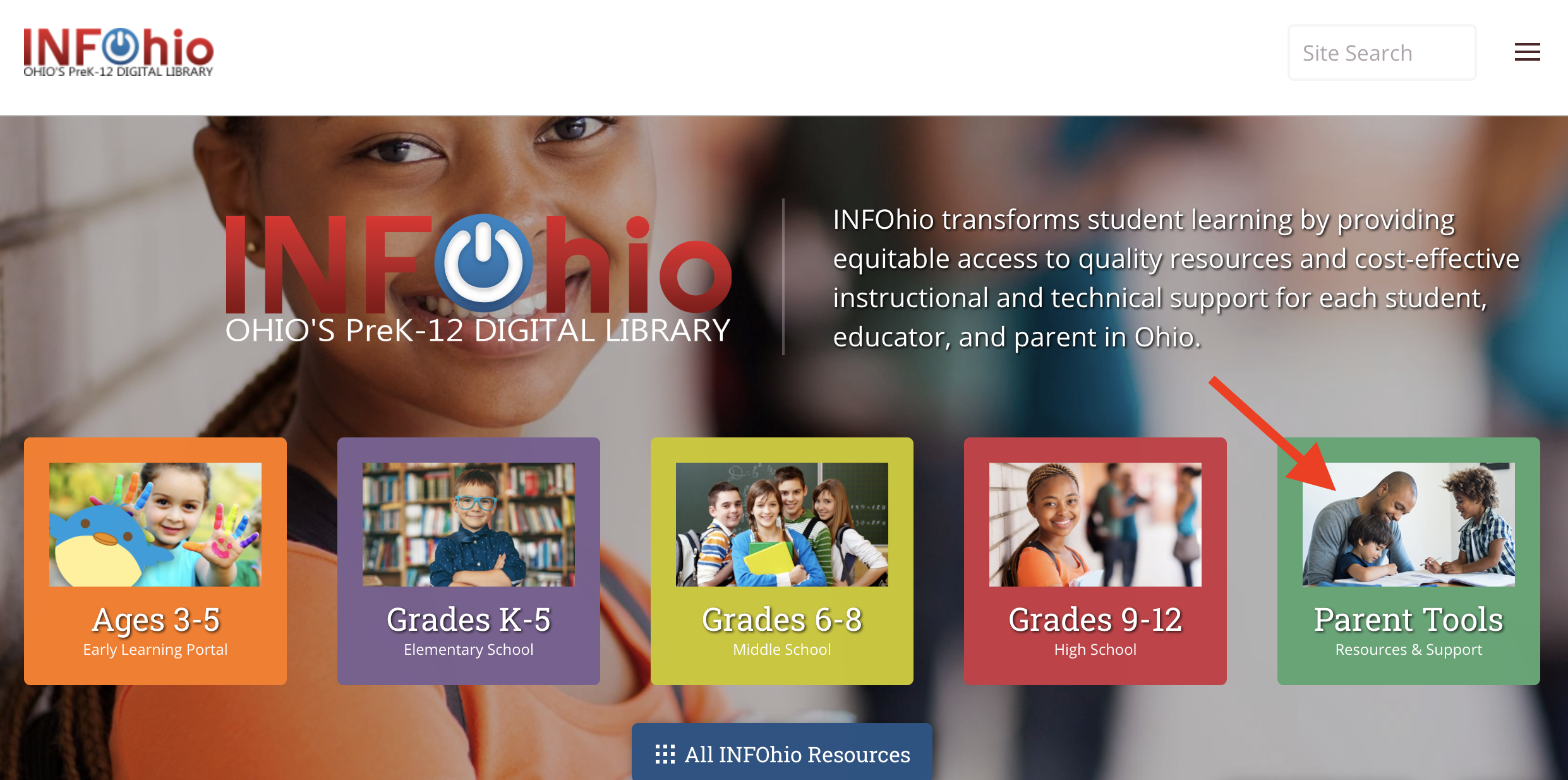 How can I help my child with remote learning? 
To start, getting connected to reliable internet is key. The RemotEDx Exchange, powered by INFOhio, provides support to parents and educators and gives easy access to all the services, and resources available through RemotEDx including assistance from the Connectivity Champions. The Connectivity Champions are the "boots-on-the-ground" team of people dedicated to working with families and schools to help students who may not have access to reliable internet at home. If reliable internet is a concern for students in your area, contact the Connectivity Champions for support. Explore additional contents and resources available on the Exchange at https://remotedx.infohio.org.

What is INFOhio?
Once internet connection is established, INFOhio has quality digital resources to support families. INFOhio is Ohio's PreK-12 Digital Library dedicated to providing equitable access to quality resources and cost-effective instructional and technical support for each student, educator, and parent in Ohio. Resources are licensed specifically for Ohio students, parents, and educators and come at no cost to you. For an overview of what INFOhio can do for parents and families, share this video, What is INFOhio for Parents. Resources are divided by grade level bands and students can access quality resources for school projects easily from the comfort of their own home. 
Also featured on the INFOhio website is a category of Parent Help Resources that have been curated to provide supporting documents for using INFOhio's digital resources and tools, and more specific grade level help. There is also a newly updated Parent Postcard, which could be sent to families as a simple reminder to add INFOhio into their at-home resources. 
Where can I find learning activities my child can use from home?
Resources are categorized by grade level bands. Share with parents and families the grade level appropriate resources and encourage exploring the resources together with their child. Do parents want to help their child develop better reading skills? Find beginning reader resources including videos and activities here. Do parents need to help students become more confident researchers? Share Go! Ask, Act, Achieve and Research 4 Success for digital tools, resources, and strategies to implement for problem-based learning and research projects.
Do you teach early learners? INFOhio also has an Early Learning Portal dedicated to helping students ages 3-5. Share with families the parents help section that gives tips for supporting early learners with early literacy and providing high-quality resources. To prepare Ohio's early learners for school and their future, INFOhio encourages adults to use the digital resources with children, providing guidance and support.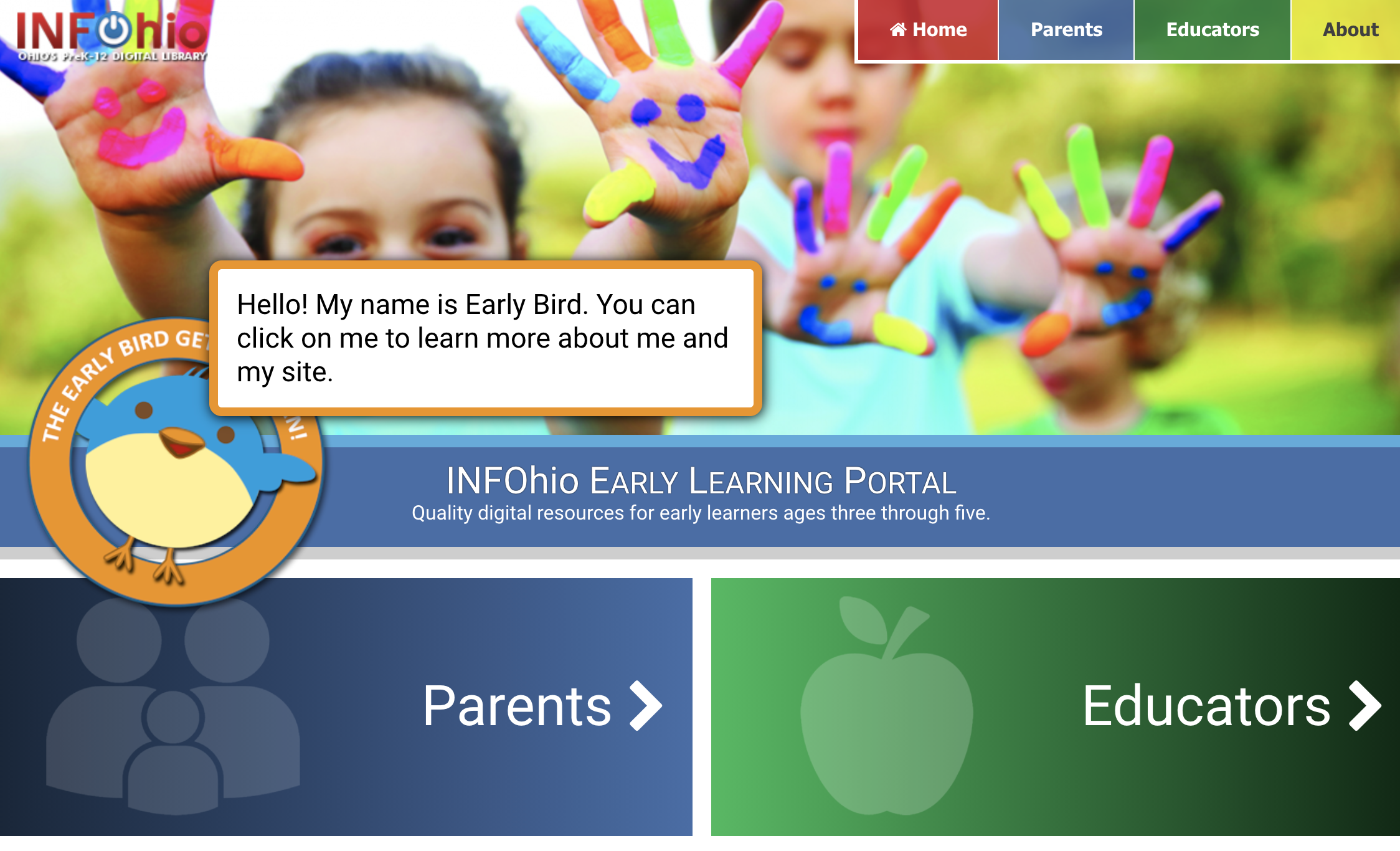 If you need more resources and information about how INFOhio can support parents and families, please contact support.infohio.org.