If you are a media literate adult that has been using Facebook, not only to connect with friends and family, but to read top stories of the day from your favorite news outlets, you may be wondering why your Facebook News Feed suddenly seems less, well, newsy. Facebook has been under pressure to make changes since investigations determined that the social network was "misused" with an attempt to influence 2016 U.S. presidential election results. This may be why Facebook recently changed their algorithm for what displays in your Facebook News Feed.
Prior to the explosion in use of social media networks like Facebook and Twitter, many of us used RSS feeds to gather and read news stories of interest from multiple news sites. Within the last 5 years, though, some feeds and feed readers have been discontinued. Remember Google Reader? There are still plenty of great RSS feed readers out there but, because it was so easy to "like" or "follow" a news outlet or an organization in Facebook and get news content that way, many of us have moved away from using RSS feeds. We've relied on Facebook as the place we go to get the news of the world mixed with that of our families and friends. We've had to put up with some viral videos of baby monkeys going backwards on pigs, but to be honest, we enjoyed them. We didn't enjoy when that wacky friend we've all got would post those bogus bits of "news" that a little fact checking could easily disprove—where does he find this stuff anyway?—but we would either be good digital citizens and gently point out the inaccuracies of his source or we would turn a blind eye because sometimes it's tiring to be hyper-vigilant about teaching media literacy, 24x7. We could have continued to share this graphic from Library Girl whenever we spotted something that we knew was fake news: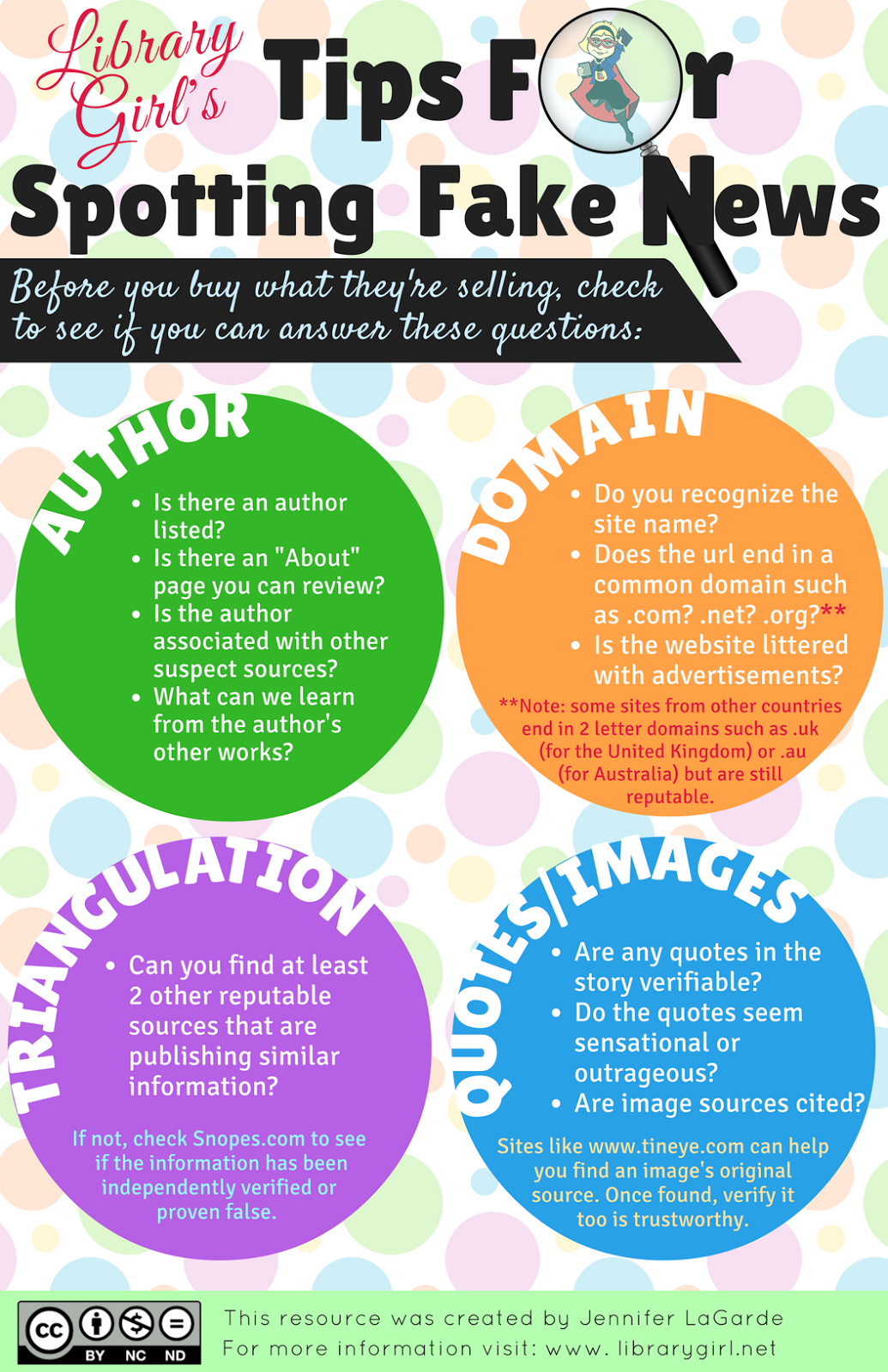 But we got tired, so maybe our blind eye is partially to blame.
Whatever the cause, we've got a new Facebook News Feed algorithm. Soon after announcing the new "friends and family first" plan, Facebook announced that it would add certain community-endorsed news outlets to a "trusted source" list and the trusted sources would appear higher in the news feed. That's great, but if you want to continue to get all the page posts from the trusted organizations you've followed, like INFOhio's Facebook page, you'll need to take some extra steps:
Log into your Facebook account and from your News Feed, click the hamburger menu (the icon with the three stacked lines). Then click "Settings."


 

Choose "News Feed Preferences."


 

Select "Prioritize who to see first."


 

Touch the icons for the friends, family, and organizations you want to see first in your News Feed. A star will appear next to them. There's a limit to the number of "firsts" you can set (approximately 30) but not selecting a friend's profile doesn't mean you'll never see her posts; she just won't appear in the top of your News Feed. Then click "Done" and return to your News Feed.

Now you'll never miss another post from your family, friends, trusted news sources, or trusted organizations like INFOhio! While you're visiting the INFOhio Facebook page, take a few seconds to pick a post to share with one of your educator friends.
INFOhio is also very active on Twitter and somewhat less active but definitely present on Instagram. You can even find us on YouTube. We think social media is a great way to connect with you! We especially like seeing how #INFOhioWorks for you and your students so please share your posts with us using that hashtag.