Storia is a valuable tool which can be used in teaching and for developing student independent online reading skills. Storia for 4th and 5th grade students is a great resource to use as a follow up to BookFlix, also offered by INFOhio for students in grades PreK-3 in Ohio. Like BookFlix, Storia will help students read, comprehend, and analyze digital text, creating learners who will are digital and media literate. Storia's note-taking and highlighting are two features that will help students progress in close and pleasure reading purposefully. Other features, such as read-aloud for some titles, interactive games and videos, and comprehension quizzes, also add to the reader's successful learning experience on the platform. Educators can monitor how many pages students have read, read the notes, and check quiz scores with Storia's educators' reports. Storia supports best practices for digital reading with its interactive features and educator tools. Here are a few other best practices for using Storia in the 4th and 5th grade classroom.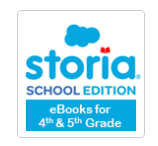 Best Practices: Using Storia in Instruction
The instructional techniques used below are effective strategies from John Hattie's Visible Learning for Teachers: Maximizing Impact on Learning. You can learn more about them in this Edutopia blog post by Rebecca Abler.
Teacher Clarity
Establish purpose, identify learning goals, present criteria, model processes 
Model for students how to use the note-taking feature and highlighting tool in Storia when finding and discussing vocabulary. Read one of the books together as a class, projecting the book on a screen if possible. Ask students to identify unknown words and model the dictionary tool. Highlight words as students identify them, and then create a note to record what the student believes the right answer to be. Model the process several times, and ask students to identify at least 5-7 more words to highlight and create a note for.
Class Discussion
Facilitate whole group discussion, encourage class interaction, assess understanding
Use a conversational approach with students to talk about a book and the concept or skill being taught. Read one of the books together as a class, projecting the book on a screen if possible. Ask students to think about the person, place or thing featured prominently in the text. Direct student discussion to match levels of inquiry—questioning, locating, evaluating, applying, sharing, reflecting. Request that the students support their thoughts with text. Highlight text and create notes reflecting the students' thoughts.
Formative Assessment
Frequently and routinely assess for understanding of skills,concepts, content
Use the in-text activities as well as the final assessment for the book to help monitor student understanding. Using a projector to display the text, integrate frequent formative assessments within daily instruction. Use tech-free options such as a thumbs-up for yes, and a thumbs-down for no. Students can take the assessments on their own device if possible. There are many fun and engaging formative tools online where assessments can be created as well. Kahoot and Plickers are two examples. You can also view the evaluation reports in Storia after you are finished with the lesson.
Feedback
Provide individual and whole group feedback on growth and areas of student need, encourage student feedback of teacher
Set a reasonable goal for the lesson, and give recognition when students achieve that goal. Ask students to locate information in the text to support a claim you provide. Read the projected book aloud, and ask students to create notes or highlight the text using their own devices. Monitor the activity, and ask students to show their work on the screen version. Provide feedback orally and written after the lesson is over,
Metacognitive Strategies
Allow students to plan, organize and reflect on learning
Encourage students to think about their learning and be responsible for it. Project a book for the class to read together, and identify a concept such as figurative language for a focus. Ask students to create a rubric or checklist that will help them identify examples in the text. As they read, students can use the tool, and when finished can be asked to evaluate their rubric and write steps to make it better for the next time.
Getting Started
Before integrating Storia in the classroom, there are some set up scenarios to consider. Every school with 4th/5th grade classrooms in Ohio has an access code. Educators can request that code and create an account. However, we recommend that students have only one account to remove confusion and error. There are several scenarios that can be helpful in determining how to best create accounts in your building.
Scenario 1 - Combination: One School Account for Students & Instructional Accounts for Teachers
* One teacher creates one accounts for all students and shares the access information with all teachers who work with 4th or 5th grade. Other teachers create their own accounts and use it for instruction only.
* Mrs. Shields teaches reading to all three classes of 4th grade at Main Street Elementary school. She will create an account using her email and will add all 4th graders as her students. She will share this account information with the other two 4th grade teachers, the school librarian, and the intervention specialists who work with the 4th grade. The other teachers create their own accounts and use it for teaching purposes only in multiple subjects.
Scenario 2 - Individual Teacher Accounts
* Each 4th/5th teacher creates her own account, and adds her own students. 
* Mrs. Long, Mrs. Johnson, and Mrs. Garcia all teach 5th grade at Oakwood Elementary. Each has her own reading class and students do not move from one teacher to another. The teachers create their own accounts and add only the students assigned to them. The classroom teacher shares her account information with the school librarian, gifted teacher, and intervention specialist who work with her students. These teachers also create their own accounts to use for instruction in multiple subjects.
Scenario 3 - Combination: One School Account for Students & Instructional Accounts for Teachers - Librarian Version
* A school librarian who works with 4th and 5th grade creates an account and adds all students. 
* Mr. Ross is the school librarian at Middletown Primary School. He works with the 4th and 5th grade students and creates a Storia account and adds all students to the account. He shares this information with the classroom teachers and other staff who work with the 4th or 5th grade grade, but each of the other teachers create his own account to use instructionally.
Each scenario involves collaboration and teamwork. Teachers should work together to determine the best titles for individual students.
Storia is one of many resources offered by INFOhio. Learn more about this eBook platform and other digital content by visiting www.infohio.org. For help, go to support.infohio.org.