In ongoing efforts to foster partnerships and promote equity in Ohio's PreK-12 schools, INFOhio has launched Open Space. Create your free account now and join Ohio's PreK-12 educators in Open Space.
---
Open Space is Ohio's premier OER creation and collaboration space for PreK-12 educators. Open Space empowers Ohio's PreK-12 educators to create and share open educational resources that promote innovative and collaborative learning.
Licensed and supported by INFOhio, Open Space was built on the OER Commons infrastructure and features all the authoring and collaboration tools found on OER Commons. INFOhio developed Open Space to provide Ohio's PreK-12 educators with a platform to collaborate, create, and share innovative teaching and learning resources.
Find a link to the Open Space platform in the "hamburger" menu near the top of most INFOhio web pages.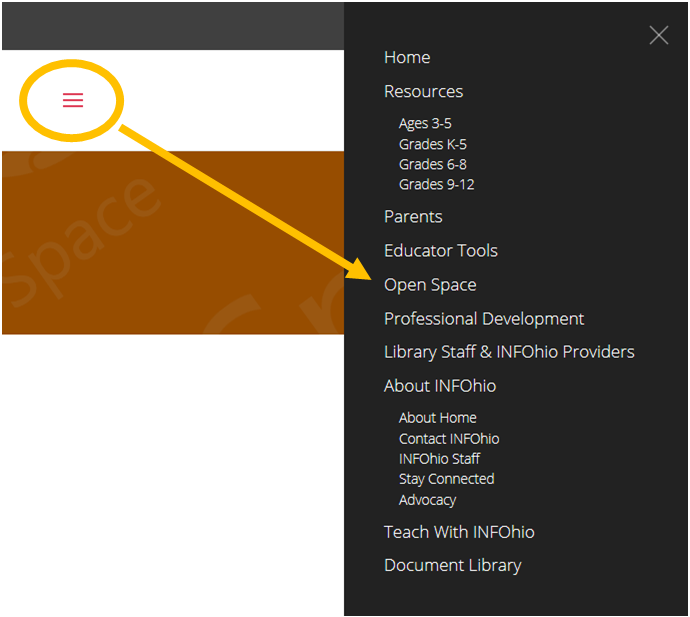 Open Space content that demonstrates strong alignment to Ohio Learning Standards can be recommended for inclusion in Educator Tools, INFOhio's collection of high-quality, standards-aligned OER for all subjects and all grade levels.

For nearly 20 years INFOhio has made high-quality, age-appropriate, standards-aligned digital content freely accessible to Ohio's PreK-12 students and educators. The goals of INFOhio's OER initiatives include identifying and curating standards-aligned student content and educator materials; improving access to low- and no-cost high-quality resources; and supporting the creation and sharing of high-quality resources.
INFOhio's Open Space Advisory Council has been instrumental in providing advisory support for Open Space. Learn more about the Advisory Council here.
To learn more about using Open Space, watch this brief INFOhio video tutorial.
Questions or comments? Contact us at https://support.infohio.org.