At OETC 2020, INFOhio offered a variety of conference experiences. OETC participants got their INFOhio goodies in our booth, joined us for hands-on learning in our playground, visited with us in the Network Nook, and learned how INFOhio can transform instruction in our regular sessions.
All OETC participants who attended any of our regular sessions, playgrounds, or Network Nook events were invited to enter our electronic drawing for an opportunity to win two hours of INFOhio-led professional development in their school, district, or agency for the 2019/2020 or 2020/2021 school year. Congratulations to our winners!
Amie Swope,

Norwalk City Schools




Ashley Sykes,

Lakewood Local Schools




Christina Fischer,

Buckeye Local Schools




Mark Holmes,

Bright Local School District




Erin Zeiler,

Bloom Carroll Local School District
Want to request INFOhio Professional Development for your district? Please contact us at support.infohio.org.
Find links to all of INFOhio's Regular Session OETC presentations and more in Open Space! From the Open Space homepage, try a search for OETC20. You'll find presentations delivered at OETC and content curated by Ohio educators during OETC presentations.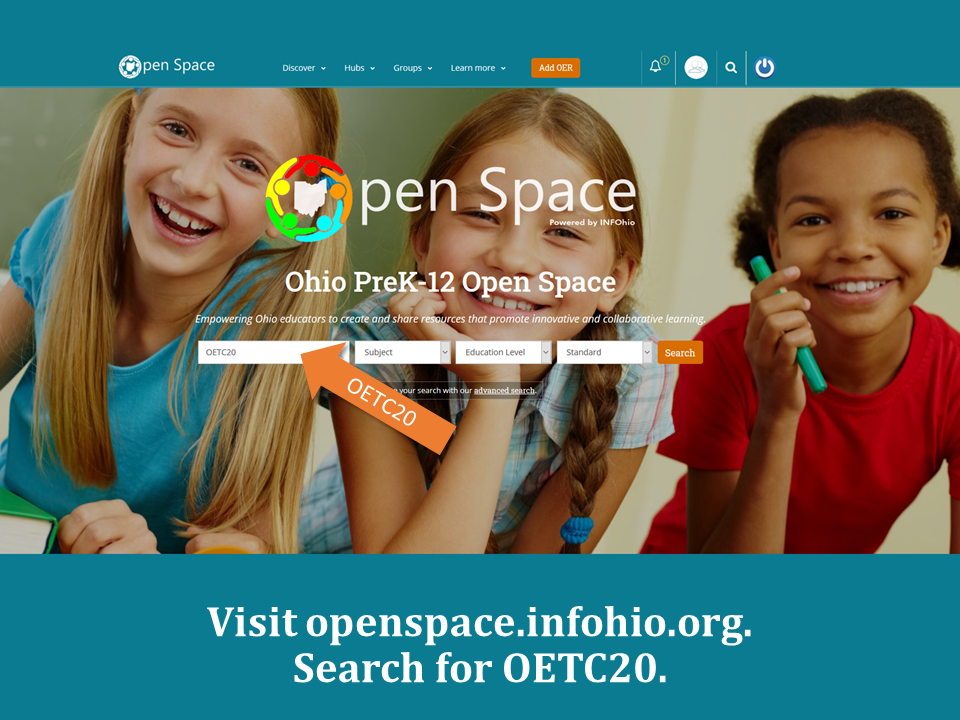 Were you a presenter at OETC? Consider sharing your presentation in Open Space and tagging it OETC20! If you're new to Open Space and need a little help sharing your presentation, contact us at support.infohio.org and we'll walk you through it.
Want to see what we were doing each day of the conference? View our schedule by day:
Tuesday, February 11, 2020
Wednesday, February 12, 2020
Thursday, February 13, 2020
Regular Sessions
Tuesday
9:15am–10:15am Differentiating for Gifted Learners with Technology Tools, Presenter: Tricia Ebner (ESC of the Western Reserve), Room A114
3:30pm–4:30pm Amp Up Research with INFOhio and Google Apps, Presenter: Lori Lee (Zanesville Schools), Room A214
Wednesday
Thursday
 2:15pm–3:15pm AR/VR in the Classroom, Presenter: Jim Martin (INFOhio), Room A214
Tuesday, February 11
9:15am–10:15am Differentiating for Gifted Learners with Technology Tools
Differentiating for our gifted students—and indeed, for all students—can feel challenging and time-consuming, but technology can help us work more efficiently, providing structure and support for students at the depth and complexity they need. This hands-on session shares ways we can utilize apps, web sites, and tools to efficiently, effectively provide differentiated learning activities and experiences for our students. Participants will use tools such as Nearpod, Padlet, and TES Blendspace as we look at how technology resources can support tiered activities, learning contracts, and menus. The session also explores how learning management systems can support differentiation. Next, we look at how formative assessment tools like Edulastic and Edcite can support decision-making around differentiation and also provide differentiated assessments. Finally, we look at how the resources and tools available through INFOhio can make preparing differentiated lessons and activities simpler for us as educators. Through hands-on exploration, partner and small group discussion, and whole-group sharing, we will come away with ideas and strategies to help us more efficiently and effectively address the wide range of strengths and needs in our classrooms.
Session Presenter: Tricia Ebner (ESC of the Western Reserve)
Room A114

12:30pm–12:45pm Everyday Lesson Planning with Educator Tools
Take the stress out of lesson planning with INFOhio's Educator Tools. Over 70,000 teacher-approved instructional materials to support personalized learning, project-based learning, and the inquiry process. Search, save, and send lesson plans, assessments, and learning activities straight to your inbox for free!
Playground Facilitator: Lori Lee (Zanesville Schools)
Exhibit Hall Booth 1340 Playground

12:50pm–1:05pm Discover INFOhio's Single Search Strategy—Try ISearch
Learn more about ISearch, INFOhio's discovery search interface. ISearch lets you search nearly all INFOhio's digital resources from a single search box, making it easier for you to find the right texts and other content for your students. Find quality, vetted materials to engage and inform students.
Playground Facilitator: Erica Clay (INFOhio)
Exhibit Hall Booth 1340 Playground

1:10pm–1:25pm Explore Open Space, INFOhio's OER Collaboration and Creation Platform
Use Open Space to collaborate with other Ohio Educators and create Open Educational Resources. Create your free Open Space account, join a group of like-minded educators to build and share learning resources, and contribute content to Open Space.
Playground Facilitator: Char Shryock (Bay Village City Schools)
Exhibit Hall Booth 1340 Playground

1:30pm–1:45pm Take a PD Journey with INFOhio's Learning Pathways
Explore INFOhio's Learning Pathways—flexible, personalized training and development to support the use and integration of INFOhio's digital content and web tools. Discover how these online classes can transform your instruction to impact student learning.
Playground Facilitator: Melissa Solema (INFOhio)
Exhibit Hall Booth 1340 Playground

2:00pm–2:15pm Scan Your Accountability Worries Goodbye—Manage Your Assets with INFOhio
You're accountable for every book, every tablet, every Chromebook, and every music stand in your school. Do you know that you already have a tool that can...Track all your books, digital and hardcopy? Manage all your digital devices and equipment? Report how many assets your school owns and who uses them? And it's sitting quietly in your library waiting for you. It's your INFOhio BLUEcloud System—a web-based asset tracking system.
Playground Facilitator: Jim Martin (INFOhio)
Exhibit Hall Booth 1340 Playground

2:30pm–2:45pm What's in Your Library? Experience New Library Automation with INFOhio
Keep your library organized and running smoothly with the newest products to join the INFOhio library automation family—BLUEcloud Circulation and BLUEcloud Cataloging. Its clean, modern, browser-based interface helps library staff work more effectively, and spend more time helping students and teachers discover all that the library and INFOhio resources have to offer. Join us as we demonstrate both BLUEcloud Circulation and BLUEcloud Cataloging, highlighting all the unique and time saving features.
Playground Facilitator: Juanita Markham (INFOhio)
Exhibit Hall Booth 1340 Playground

2:50pm–3:05pm INFOhio Through Your Eyes
Help INFOhio learn how you use educational and instructional technology tools and resources in your classroom. Participate in this interactive feedback session and share what you know!
Playground Facilitator: Erica Clay (INFOhio)
Exhibit Hall Booth 1340 Playground

3:10pm–3:25pm INFOhio Through Your Eyes
Help INFOhio learn how you use educational and instructional technology tools and resources in your classroom. Participate in this interactive feedback session and share what you know!
Playground Facilitator: Erica Clay (INFOhio)
Exhibit Hall Booth 1340 Playground

3:30pm–4:30pm Amp Up Research with INFOhio and Google Apps
Teaching writing and the research process can be a daunting task for any teacher. INFOhio is packed with resources, tools and support for teachers and students. Plus, many of these are now integrated with Google Apps. We will explore the INFOhio resources and how to use them with Google Apps, the power of Google Classroom, and Google tools that improve student writing and teacher feedback.
Session Presenter: Lori Lee (Zanesville Schools)
Room A214
Wednesday, February 12
9:15am–10:15am Get to Know INFOhio's Digital Tools and Resources for Educators
Looking for high-quality digital content and tools for your students to use in the classroom? Searching for lessons and resources to build an engaging learning environment? Then come shake hands with INFOhio and learn how you can utilize the premium content available in Ohio's PreK-12 Digital Library at no cost to your school. Connect with early literacy tools like Early Bird Learning Portal, foster close reading with Kids InfoBits, encourage inquiry-based learning with IWonder, and develop college and career readiness skills with ISearch—just to name a few! With INFOhio's updated website, finding what you need has never been easier. Join us to learn how INFOhio supports you with lesson preparation, student engagement, digital learning, and professional development.
Session Presenters: Mary Rowland (INFOhio), Melissa Solema (INFOhio)
Room B140

10:30am–11:30 Build Your Own Standards-Aligned Digital Curriculum...for Free!
Are you using textbooks that are more than 10 years old? Are you spending your weekend scouring the web for free instructional materials? When it comes to supplementing or building curriculum using Open Educational Resources, the challenges are many. With INFOhio, finding teacher-approved digital resources that you can use for free to build or supplement your curriculum is quick and easy. In this session, you'll dig into INFOhio's OER tools and the high-quality digital resources that INFOhio has licensed for all Ohio PreK-12 students, educators, and their parents. Using INFOhio's Educator Tools, which now includes over 80,000 lesson plans, assessments, and other instructional materials curated by education professionals, you will build a personal collection of standards-aligned lessons, labs, and other activities. Then you'll use ISearch to discover a wealth of digital content—including texts, videos, images, and more—that you can upload to your learning management system for student use. Take back your weekend by building your own standards-aligned digital curriculum for free with INFOhio's Open Educational Resources.
Session Presenter: Erica Clay (INFOhio)
Room B140

11:30pm–11:45pm Everyday Lesson Planning with Educator Tools
Take the stress out of lesson planning with INFOhio's Educator Tools. Over 70,000 teacher-approved instructional materials to support personalized learning, project-based learning, and the inquiry process. Search, save, and send lesson plans, assessments, and learning activities straight to your inbox for free!
Playground Facilitator: Lori Lee (Zanesville Schools)
Exhibit Hall Booth 1340 Playground

11:50pm–12:05pm Discover INFOhio's Single Search Strategy—Try ISearch
Learn more about ISearch, INFOhio's discovery search interface. ISearch lets you search nearly all INFOhio's digital resources from a single search box, making it easier for you to find the right texts and other content for your students. Find quality, vetted materials to engage and inform students.
Playground Facilitator: Erica Clay (INFOhio)
Exhibit Hall Booth 1340 Playground

12:10pm–12:25pm Explore Open Space, INFOhio's OER Collaboration and Creation Platform
Use Open Space to collaborate with other Ohio Educators and create Open Educational Resources. Create your free Open Space account, join a group of like-minded educators to build and share learning resources, and contribute content to Open Space.
Playground Facilitator: Stephanie Donofe Meeks (Columbus City Schools)
Exhibit Hall Booth 1340 Playground

12:30pm–12:45pm Take a PD Journey with INFOhio's Learning Pathways
Explore INFOhio's Learning Pathways—flexible, personalized training and development to support the use and integration of INFOhio's digital content and web tools. Discover how these online classes can transform your instruction to impact student learning.
Playground Facilitator: Emily Rozmus (INFOhio)
Exhibit Hall Booth 1340 Playground

1:00pm–2:00pm Build Problem Solvers and Critical Thinkers with INFOhio's Inquiry Framework
Curious about building critical thinking skills in your students? Interested in inquiry? Inquiry is a student-centered learning approach that focuses on helping students develop skills in three critical areas: questioning, critical thinking, and problem solving. Give your research process a redo with inquiry and INFOhio! This session will support teachers in grades 6-12 as they learn how INFOhio digital tools and resources can support inquiry-based learning in the classroom.
Session Presenter: Mary Rowland (INFOhio)
Room B140

1:30pm–1:45pm Scan Your Accountability Worries Goodbye—Manage Your Assets with INFOhio
You're accountable for every book, every tablet, every Chromebook, and every music stand in your school. Do you know that you already have a tool that can...Track all your books, digital and hardcopy? Manage all your digital devices and equipment? Report how many assets your school owns and who uses them? And it's sitting quietly in your library waiting for you. It's your INFOhio BLUEcloud System—a web-based asset tracking system.
Playground Facilitators: Jim Martin (INFOhio), Janah Shumaker (INFOhio)
Exhibit Hall Booth 1340 Playground

2:00pm–3:00pm INFOhio Wants to Know—How Do You Do PD?
Join us to talk about your district's professional development needs. Discuss the value of collaboration and reflection in the professional learning process. See what new PD opportunities await at INFOhio Campus—flexible, personalized training and development options to support the use and integration of INFOhio's web-based tools and digital content resources.
Networking Nook Facilitator: Emily Rozmus (INFOhio)
Exhibit Hall Booth 749 Networking Nook

2:15pm–3:15pm Grow Readers and Cultivate Literacy with INFOhio's Digital Text
Do your students comprehend, analyze, and synthesize when they read from a screen? Learn how you can harness the power of digital resources to engage young learners with INFOhio! This session will help K-5 educators investigate best practices for digital reading and implement how to model them in the classroom using INFOhio's quality eBooks and digital text available at no cost to Ohio schools.
Session Presenter: Melissa Solema (INFOhio)
Room B140

2:00pm–2:15pm What's in Your Library? Experience New Library Automation with INFOhio
Keep your library organized and running smoothly with the newest products to join the INFOhio library automation family—BLUEcloud Circulation and BLUEcloud Cataloging. Its clean, modern, browser-based interface helps library staff work more effectively, and spend more time helping students and teachers discover all that the library and INFOhio resources have to offer. Join us as we demonstrate both BLUEcloud Circulation and BLUEcloud Cataloging, highlighting all the unique and time saving features.
Playground Facilitators: Juanita Markham (INFOhio), Mike Ridinger (INFOhio)
Exhibit Hall Booth 1340 Playground

2:20pm–2:35pm INFOhio Through Your Eyes
Help INFOhio learn how you use educational and instructional technology tools and resources in your classroom. Participate in this interactive feedback session and share what you know!
Playground Facilitator: Erica Clay (INFOhio)
Exhibit Hall Booth 1340 Playground

2:40pm–2:55pm INFOhio Through Your Eyes
Help INFOhio learn how you use educational and instructional technology tools and resources in your classroom. Participate in this interactive feedback session and share what you know!
Playground Facilitator: Erica Clay (INFOhio)
Exhibit Hall Booth 1340 Playground
Thursday, February 13
11:30pm–11:45pm Everyday Lesson Planning with Educator Tools
Take the stress out of lesson planning with INFOhio's Educator Tools. Over 70,000 teacher-approved instructional materials to support personalized learning, project-based learning, and the inquiry process. Search, save, and send lesson plans, assessments, and learning activities straight to your inbox for free!
Playground Facilitator: Lori Lee (Zanesville Schools)
Exhibit Hall Booth 1340 Playground

11:50pm–12:05pm Discover INFOhio's Single Search Strategy—Try ISearch
Learn more about ISearch, INFOhio's discovery search interface. ISearch lets you search nearly all INFOhio's digital resources from a single search box, making it easier for you to find the right texts and other content for your students. Find quality, vetted materials to engage and inform students.
Playground Facilitator: Mary Rowland (INFOhio)
Exhibit Hall Booth 1340 Playground

11:00am–12:00pm INFOhio Wants to Know—How Do You Do PD?
Join us to talk about your district's professional development needs. Discuss the value of collaboration and reflection in the professional learning process. See what new PD opportunities await at INFOhio Campus—flexible, personalized training and development options to support the use and integration of INFOhio's web-based tools and digital content resources.
Networking Nook Facilitator: Emily Rozmus (INFOhio)
Exhibit Hall Booth 749 Networking Nook

12:10pm–12:25pm Explore Open Space, INFOhio's OER Collaboration and Creation Platform
Use Open Space to collaborate with other Ohio Educators and create Open Educational Resources. Create your free Open Space account, join a group of like-minded educators to build and share learning resources, and contribute content to Open Space.
Playground Facilitator: Roger Minier (NWOET)
Exhibit Hall Booth 1340 Playground

12:30pm–12:45pm Take a PD Journey with INFOhio's Learning Pathways
Explore INFOhio's Learning Pathways—flexible, personalized training and development to support the use and integration of INFOhio's digital content and web tools. Discover how these online classes can transform your instruction to impact student learning.
Playground Facilitator: Emily Rozmus (INFOhio)
Exhibit Hall Booth 1340 Playground

1:30pm–1:45pm Scan Your Accountability Worries Goodbye—Manage Your Assets with INFOhio
You're accountable for every book, every tablet, every Chromebook, and every music stand in your school. Do you know that you already have a tool that can...Track all your books, digital and hardcopy? Manage all your digital devices and equipment? Report how many assets your school owns and who uses them? And it's sitting quietly in your library waiting for you. It's your INFOhio BLUEcloud System—a web-based asset tracking system.
Playground Facilitators: Jim Martin (INFOhio), Janah Shumaker (INFOhio)
Exhibit Hall Booth 1340 Playground

2:00pm–2:15pm What's in Your Library? Experience New Library Automation with INFOhio
Keep your library organized and running smoothly with the newest products to join the INFOhio library automation family—BLUEcloud Circulation and BLUEcloud Cataloging. Its clean, modern, browser-based interface helps library staff work more effectively, and spend more time helping students and teachers discover all that the library and INFOhio resources have to offer. Join us as we demonstrate both BLUEcloud Circulation and BLUEcloud Cataloging, highlighting all the unique and time saving features.
Playground Facilitators: Janah Shumaker (INFOhio), Mike Ridinger (INFOhio)
Exhibit Hall Booth 1340 Playground

2:15pm–3:15pm AR/VR in the Classroom
Discover resources to use in project-based learning where students can explore and create their own 3D models and virtual worlds. Learn some basic tools, shortcuts, and important aspects of popular 3D modeling software. Then view your personally created model in your own virtual reality world (Co-Spaces EDU) or hold it in your hands as a hologram that you can manipulate (MergeCube). No 3D printers are needed. Are you limited in time and digital resources? Explore shared collections of 3D models in Google Poly and 360 degree views from Google Street View that can be incorporated into your lessons or your student's projects. All resources mentioned have a free component or are free for educational use. Enable your students to become creators of content instead of consumers.
Session Presenter: Jim Martin (INFOhio)
Room A214