Are you a teacher looking for supplemental resources for a lesson? Are you a curriculum team member looking for more comprehensive instructional materials? Are you an educator looking to help others identify lessons or activities with strong alignment to state standards? You may be starting from a different place or with a different purpose when looking for new resources, but luckily, INFOhio's web tools have everyone covered when it comes to curriculum and instructional materials!
If you want to learn about INFOhio's popular educational resource search tools, Educator Tools and Open Space, and refine your process to find quality instructional materials for your district or classroom, then this article is for you.
Educator Tools
With Educator Tools, access no-cost instructional materials, guides, articles, best practices, reference material, and a selection of INFOhio's premium licensed resources. With Educator Tools, you can:
Search from over 90,000 educational resources.
Find a range of material types, including lesson plans, modules, activities, interactive materials and games, videos, primary source documents, and more. 
Be confident in the resources' quality, as a majority of items are curated and reviewed by ACT.
Access several of INFOhio's premium licensed resources.
Discover helpful guides, articles, and other resources from INFOhio.
Use Cases
When or why would you want to use Educator Tools? Consider the following use cases:
Scenario #1: Looking for Lesson Plans. A teacher wants to find new lesson plans for use in their class. They start at Educator Tools for the most robust, comprehensive search results containing free and no-cost premium resources. Using limiters, they can focus the search results on the correct subject area, the "lesson plan" material type, and age range or grade level. They use the heart icon to favorite certain lessons then email that list to themselves for later use.
Scenario #2: Finding Interactive Content to Supplement Curriculum. An educator would like to help a new colleague by sharing a few instructional resources they think would help for a certain standard or topic—mainly interactive learning games to help students test their knowledge. They search Educator Tools to find the supplemental materials, then:
Apply the "Learning Game" and "Interactive Material" filters.
Use the heart icon on search results to favorite items.
Use the Send to Email option within favorites to send the list to themselves.
Copy and paste the list in a new email to the colleague with additional context and ideas.
Search Example
To find a learning module or unit about different types of rocks to satisfy certain Earth and Space Science standards for grades 3 or 4, type rocks in the search box. When the initial results appear, apply these limiters on the left to narrow the search:
Grade Level: 3rd Grade, 4th Grade
Subject: Science
Item Type: Learning Module
From here, scan through the search results to find the perfect instructional materials aligned to your curriculum. Click on the instructional material to open it or use the i button in the upper-right corner of the instructional material's result to view additional details.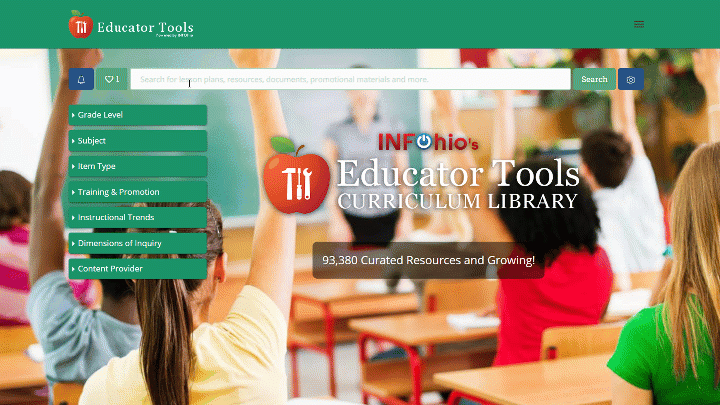 When you find a resource you like, click the heart on that resource in your result list. That will add it to your session Favorites. Before you exit Educator Tools, click the heart icon near the search box to see a list of all the resources you liked. You can share this URL or email the list of Favorites to others. Note: It is best practice to email the list of Favorites to yourself. Your Favorites will be saved for one session and may not be saved after you exit Educator Tools.
Learn More About Educator Tools
Open Space
INFOhio's other curriculum search tool, Open Space, allows educators to build community through groups, access curated collections, search for open educational resources (OER), and create and share new instructional materials. With Open Space, you can:
Community: 

Join and create groups, organized for different purposes.
Participate in discussion boards, allowing you to discuss ideas, seek feedback, and connect with other educators.
Save resources to groups and folders to help organize and present content to others.
Add comments and ratings to instructional materials.

Curation: 

Search from over 11,000 educational resources.
Find full courses, textbooks, units, modules, lesson plans, activities and labs, interactive materials and games, videos, primary source documents, and more. 
Search by Ohio Learning Standard.
Save, organize, and share resources to folders within Groups and user profiles.
Evaluate materials against the Achieve OER rubric and align them to Ohio's Learning Standards.

Creation: 

Submit existing resources found online using the Submit from Web option (including materials hosted in Google Drive or OneDrive).
Create completely new content using our Open Author tool. 
Use Cases
When or why would you want to use Open Space? Consider the following use cases:
Scenario #1: Building a Professional Network. A teacher wants to expand their professional learning network, so they join Open Space and:
Find or create a group dedicated to their subject area.
Invite colleagues to join the group.
Search Open Space for new materials and save the quality resources to the group for easy discovery by other teachers.
Using group discussions, ask questions and seek feedback about certain topics and resources.
Contribute and respond to ideas to integrate strategies, tools, and content into the curriculum.
Scenario #2: Collaborate on Curriculum. A small district curriculum team would like a space to collaborate with each other and find and organize resources for a new curriculum. They create an invite-only group on Open Space and add folders that represent each class that is a part of the curriculum pathway. Within each class folder, a curriculum alignment map is uploaded so team members can all find and reference outcomes. Also within each class folder, additional folders are created that represent each unit that will be in the class. They search Open Space to find materials that fit within each class and alignment map and save them to the unit folders. The group uses the discussions feature to post status updates and announcements, hold conversations in between in-person meetings, and seek feedback from each other.
Scenario #3: Create and Share Lessons With Others. A teacher wants to share a lesson they created because it has been one of their students' favorites on a topic where not many materials exist. They think it will help strengthen student understanding and assist other educators in teaching the topic. The teacher uses the Add OER button on Open Space to submit the lesson through the Submit from Web option, link to the lesson via Google Docs and fill in additional information like description, topic, tags, and Ohio standards. After submitting, it is reviewed and approved, and other educators will be able to search for and use the lesson on Open Space.
Search Example
To find a supplemental interactive learning activity for students in grade 8 English Language Arts (ELA) to practice forming and using verbs in the active and passive voice (Ohio Learning Standards OH.ELA-Literacy.L.8.3a and OH.ELA-Literacy.L.8.1b), first type active passive in the search box and hit Enter or click the Search button. After the initial results appear, apply the following limiters on the left side of the page to refine the search:
Education Standards: Ohio Standards for English Language Arts
Grade: Grade 8
Material Type: Interactive
The remaining results are now filtered to only show interactive items that are standards-aligned to grade 8 ELA. Scan through the list of results to find the perfect supplement to your lesson and click on the title or image to view the resource's details and explore it further.
Learn More About Open Space
Getting Started
Not sure where you and other colleagues should start? 
If you want to find standards-aligned, quality materials for your class(es)...
Start on Educator Tools. Use limiters such as subject, grade level, and item type to filter results to the most relevant results. Switch to Open Space to find additional user-submitted content, discover and participate in relevant groups, and/or contribute additional lessons and resources.
If you want to be a leader or member of a community of practice on a topic or subject area…
Start on Open Space. Find or create a group for your topic area, create or search for resources to share within the group, and start and participate in conversations within the group's discussion area. Switch to Educator Tools to find additional resources to bring to the conversation.
If you want to share a lesson you created for other teachers to use in their classroom…
Start on Open Space. Use the Add OER button to either Submit from Web if the lesson plan is available through the web already (like through Google Drive or Office 365) or Open Author if you'd like to host it through Open Space. Add details like title, description, grade level, and subject area(s). Submit the lesson for review. Read the article Creating and Sharing Open Educational Resources (OER) to see more about creating on Open Space.
If you want to help train other educators in the use of INFOhio resources like Educator Tools and Open Space…
Start with Educator Tools. The Educator Tools platform offers the most robust search for premium and no-cost resources, making it a good first stop to find the perfect lesson plan, activity, interactive material, or other supplemental resources for the classroom. Present Open Space next as the space where educators can collaborate in groups, curate existing resources, and create, submit, and share new materials. You should also consider joining INFOhio's ICoach program to gain the knowledge and skills to train others on the full spectrum of INFOhio tools and resources!
If you want to create a full OER course or textbook…
Start on Open Space. INFOhio staff can help set up a course or textbook shell for your project, provide a collaboration space for the team, offer training and recommendations for course/textbook development, and support you throughout the project lifecycle. Contact us at support.infohio.org to get your project started. INFOhio also has the ability to:
Create "hubs" dedicated to certain topics and organizations.
Curate resources into collections by topic, high-need material types, and provider.
Create and apply endorsements (badges) to materials that meet certain criteria.