Remember Research 4 Success? Developed to augment short or long-term research projects, Research 4 Success (R4S) is a collection of six modules designed to be used individually or together to support the instruction of research and inquiry skills necessary for post-secondary success. Each learning module contains three parts allowing students to learn, practice, and master each step of the research process.
Built on the concept of blended learning, Research 4 Success is perfect for face-to-face, hybrid, and remote learning. In her article, Prioritizing In-Class Writing: Blended learning models help teachers give writers more feedback, author Catlin Tucker shares how integrating technology and embracing new methods of delivering instruction can provide opportunities to support student writers. Using a station rotation model, Tucker describes how she can model approaches to good writing and provide the real-time feedback students need to grow as writers.
Research 4 Success incorporates blended learning approaches to instruction as each module uses videos, digital texts, and interactive learning resources along with print-based options to grow and develop research and inquiry skills. From dissecting the research question to locating and evaluating information, let's examine how Research 4 Success can be used to build critical thinking skills in students in a blended learning environment.
Use with Station Rotation in a Blended Learning Classroom
In her article, Catlin Tucker reminds us that, "for teachers to support students with a range of abilities in writing, we must embrace new approaches to teaching that use technology strategically" (Tucker). Built for blended learning, activities within each module can be assigned as tasks for stations.
Consider using the following Practice section activities from Module 1: Asking Good Questions.
Online Station: Ask students to use previous learning to complete a set of challenges in Activity #2: The Question Game.
Online Station: Pique student interest and practice keyword searching skills using Activity #4: Thirty Thinking Images.
Teacher-Led Station: Meet with a small group of students and use this time to provide feedback on student writing.
Implementing a station rotation, blended learning model can keep students engaged while providing teachers time to offer individual support to students during the writing process.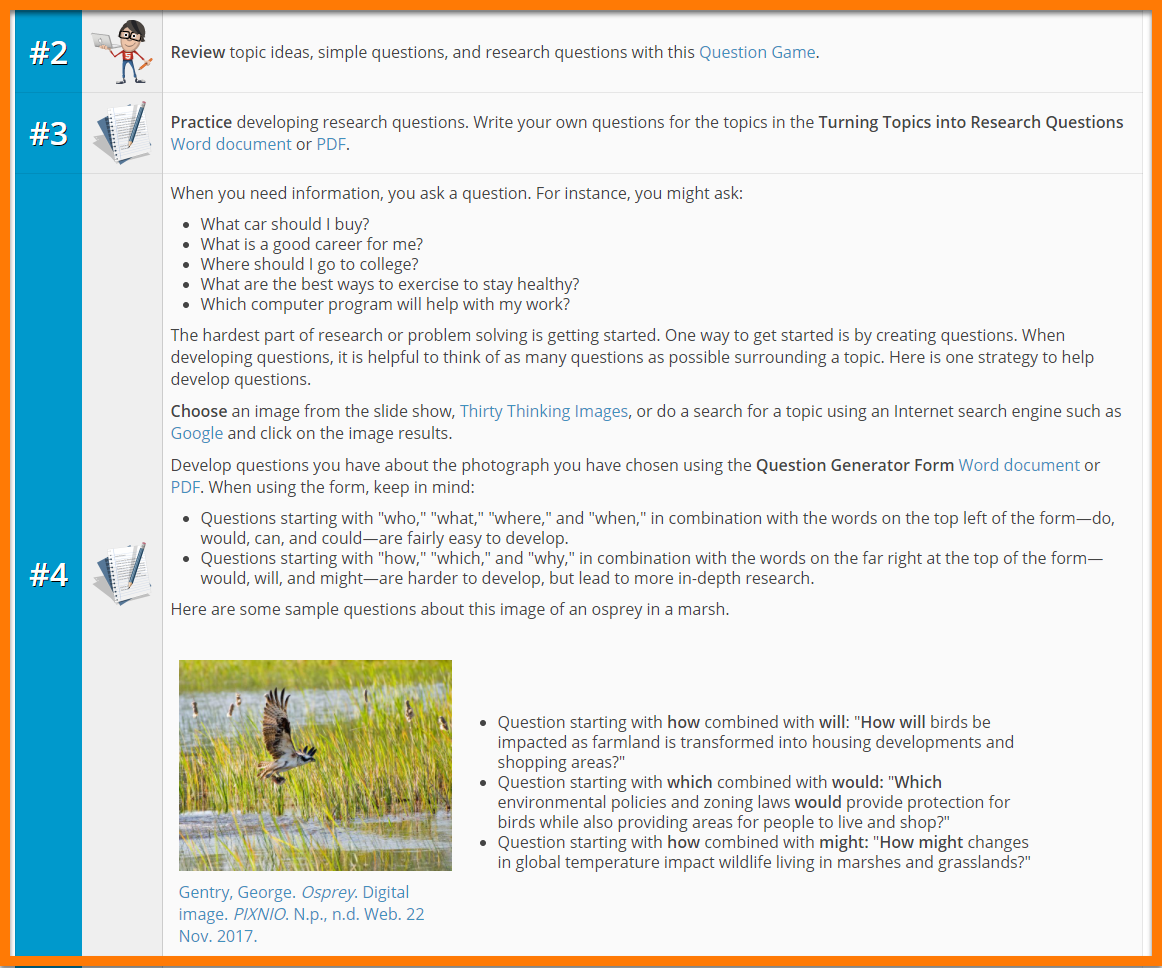 Use Modules to Provide Targeted Instruction
Don't have two weeks of instructional time to commit to a research or inquiry project? Break apart the modules asking students to complete specific lessons to develop targeted skills. Fight fake news with Module 3: Selecting the Best and teach students how to evaluate websites and articles for bias.
Test your student's ability to find fake news using the game Factitious in the Practice section of Module 3. Build-in blended learning and assign this interactive learning game to students to complete prior to class. Ask students to submit a screenshot of their score, the student with the highest score wins!
Use the Practice section in your classroom by providing students with a sample of real and fake news articles and websites. Use the C.R.A.P Website Evaluation Checklist together to identify fake news.
Demonstrate mastery by asking students to complete Activity #3 in the Master section. Students select a currently trending topic and search for information using INFOhio's ISearch and a search engine. Students can compare and contrast their search results.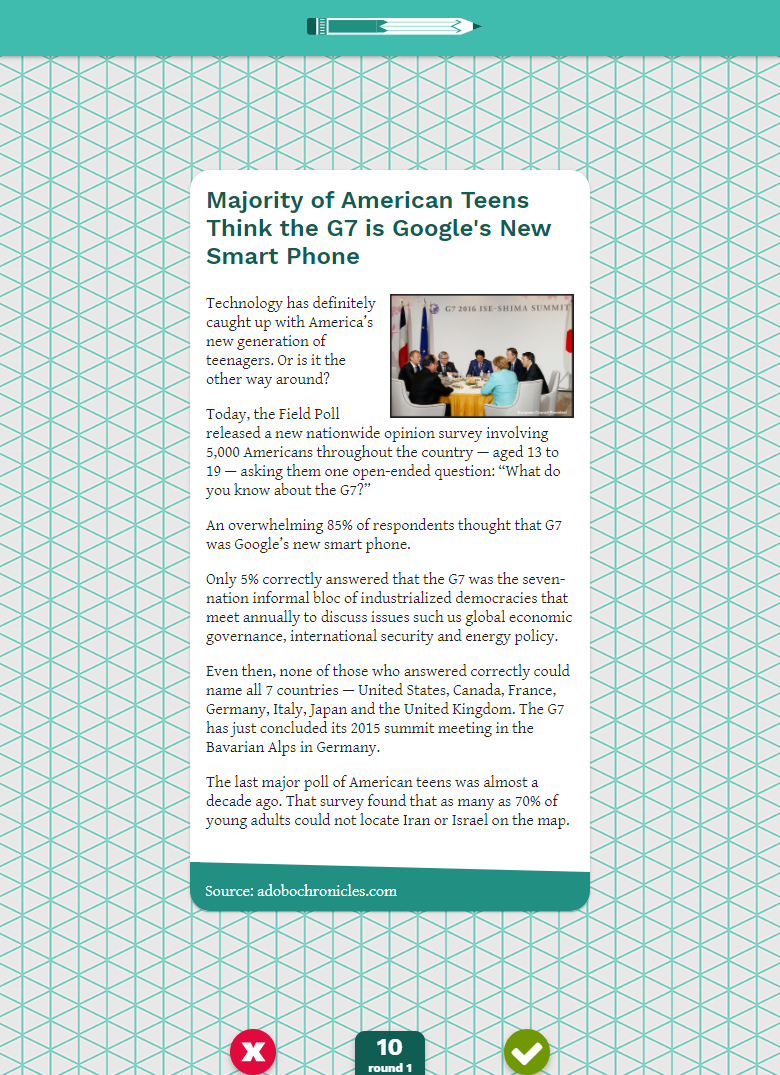 Build Your Own Class on Research and Inquiry
To provide 11th and 12th-grade students with the research and inquiry skills necessary for post-secondary success, INFOhio Assistant Director, Lori Lee remixed Research 4 Success lesson modules to create a blended learning class on research for students at Zanesville High School.
Lori used the content from each of the six modules from Research 4 Success to create a series of HyperDoc lessons using Google Slides.
Students selected a topic to research and completed the six modules at their own pace. As each student completed the lessons from Research 4 Success, they recorded their work in a Google Slide, creating an interactive notebook.
After reviewing completed student work, Lori could provide real-time feedback and individualized instructional support to students struggling with difficult research skills. The instant feedback Lori received from students in their interactive notebooks allowed her to select specific lessons from Research 4 Success for whole-group instruction.
Using content from the Research 4 Success modules to create a blended learning research semester course allowed Lori to work one-on-one with students, guiding them through the research process. Students appreciated the one-on-one interaction with the teacher, the time to ask questions, and receive feedback. Student engagement increased as they had the opportunity to explore, share, and discuss topics of personal interest. Lori learned more about her students based on the topics they selected and the conversations that emerged.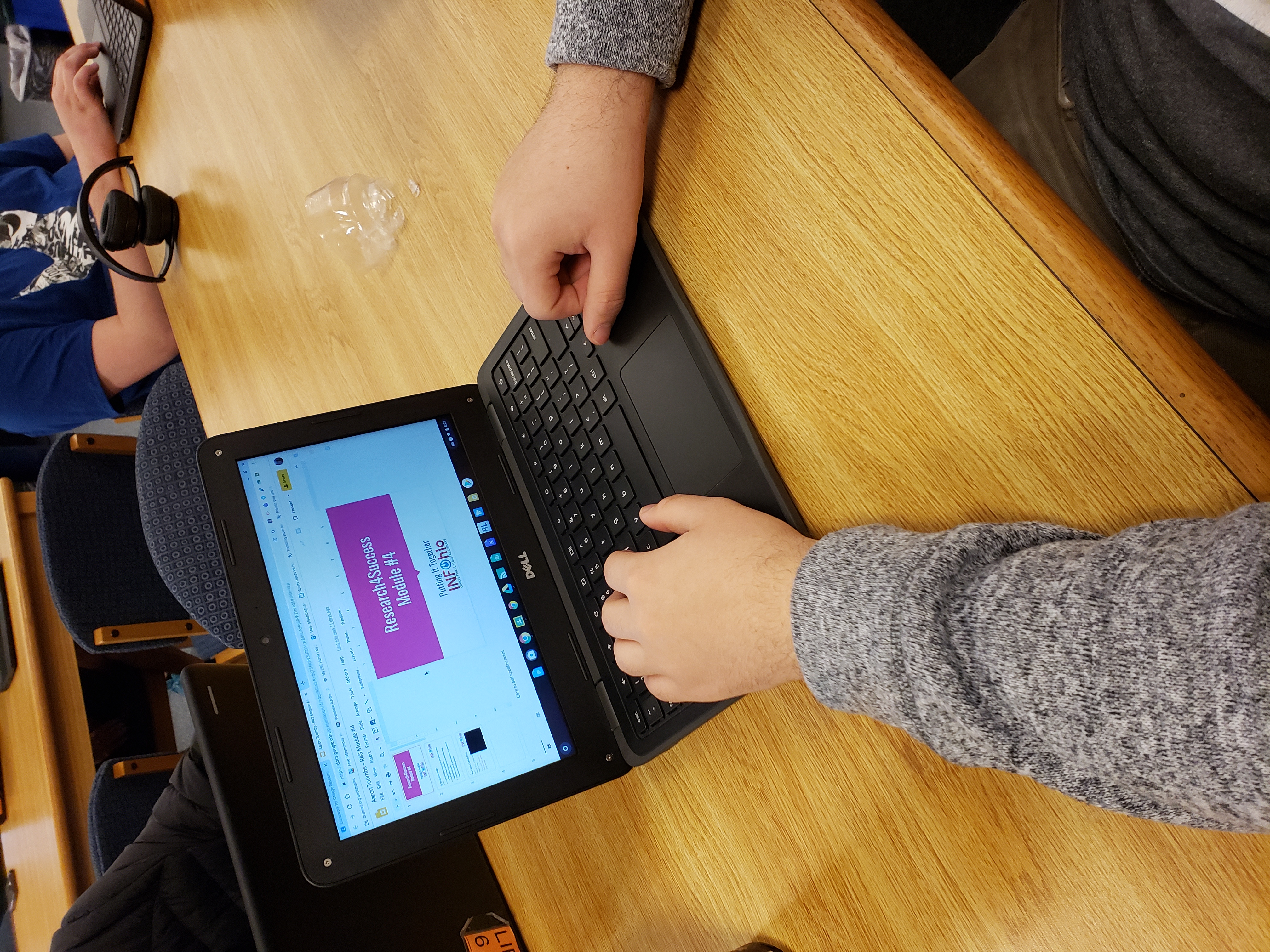 Just for Teachers
Looking for more ideas for using Research 4 Success? Visit the Getting Started for Teachers section to locate the Teacher Guide. The Teacher Guide is a series of HyperDocs that includes the standards, teacher tips, additional resources to extend student learning, and invitations for educators to reflect on their practice. Use the R4S Teacher Guide HyperDoc as a model for developing your own HyperDocs for students to use in your blended classroom. Note: The Teacher Guide is free to use, but you will need to request access to view this series of HyperDocs. To learn more about how to use Research 4 Success, visit the INFOhio 6-12 Digital Content Learning Pathway and check out the class, What is Inquiry? Complete the class and take a quiz to earn a certificate for four contact hours.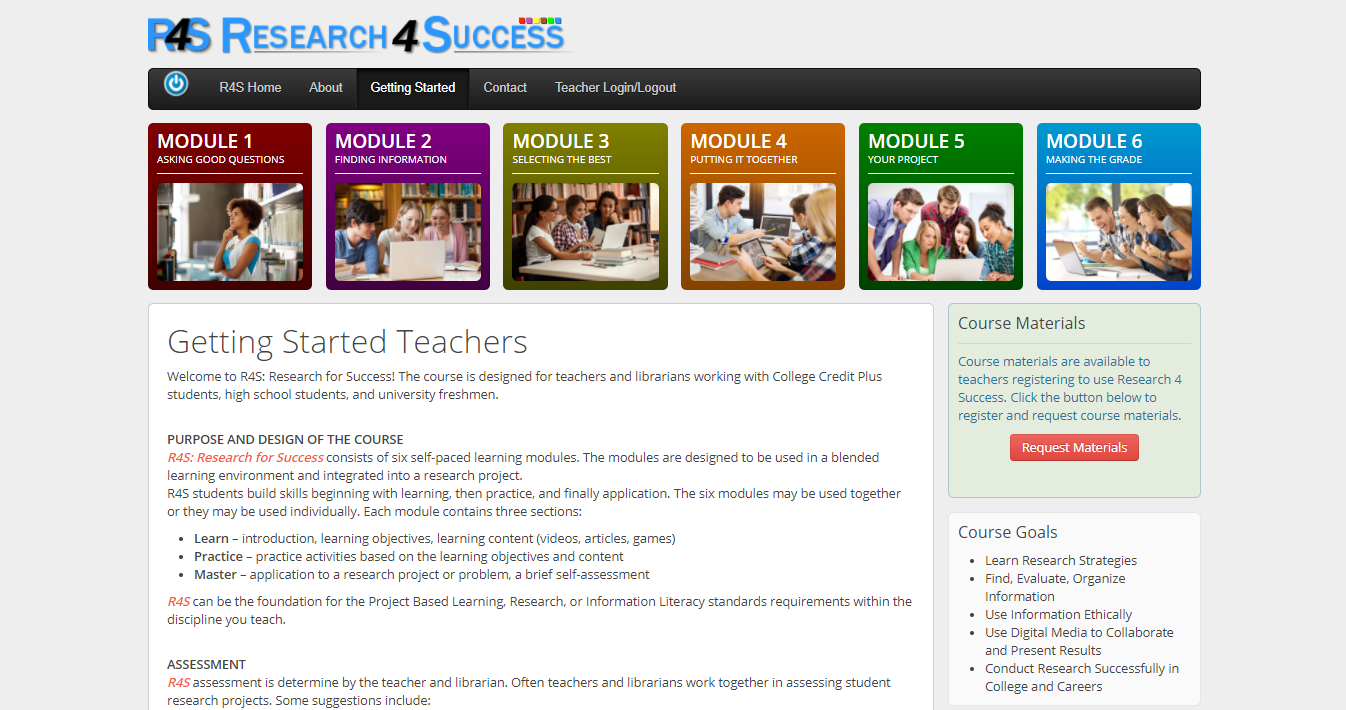 You can embrace blended learning models in your classroom with Research 4 Success. Using a combination of videos, online learning activities, and graphic organizers, for print or digital use, you can seamlessly transition instruction from the classroom to the kitchen table, ensuring that your students are supported throughout the inquiry process. To learn more about blended learning and INFOhio check out these additional resources from INFOhio.
Stay up to date on the latest news from INFOhio! Follow us on social media or sign up for our newsletter to get news, updates, and more. Need help using INFOhio resources with your students? Contact INFOhio Support at support.infohio.org