When sharing links to INFOhio resources with students and parents, please note the following:
To access the digital content, your students need to be coming from the INFOhio website.
The URLs you share with students should have www.infohio.org in them.
URLs that appear in the browser address bar when you are using INFOhio resources like BookFlix are not shareable URLs.
Looking for links you can share? Use these: https://www.infohio.org/erlinks.
---
Scholastic BookFlix, provided at no cost to Ohio schools by INFOhio, has a browsing interface that is intuitive and engaging for young students. While students will require little direction to get started using BookFlix, teachers may want to point students to specific titles for remote learning activities. To make lesson planning and collection curation easier, BookFlix titles are now available in INFOhio's Educator Tools.
To see all the BookFlix titles in Educator Tools, try a search for BookFlix or see the Scholastic BookFlix Title List.
Because each individual title has been added to Educator Tools, users who can't use the BookFlix/Google Classroom integration can still provide links to individual BookFlix titles.
For example, a user who does not have Google Classroom but wants to share a link to Dinosaur Bones with students and parents can locate the title in Educator Tools and click the More Info button. Note that all BookFlix titles in Educator Tools have the blue BookFlix icon.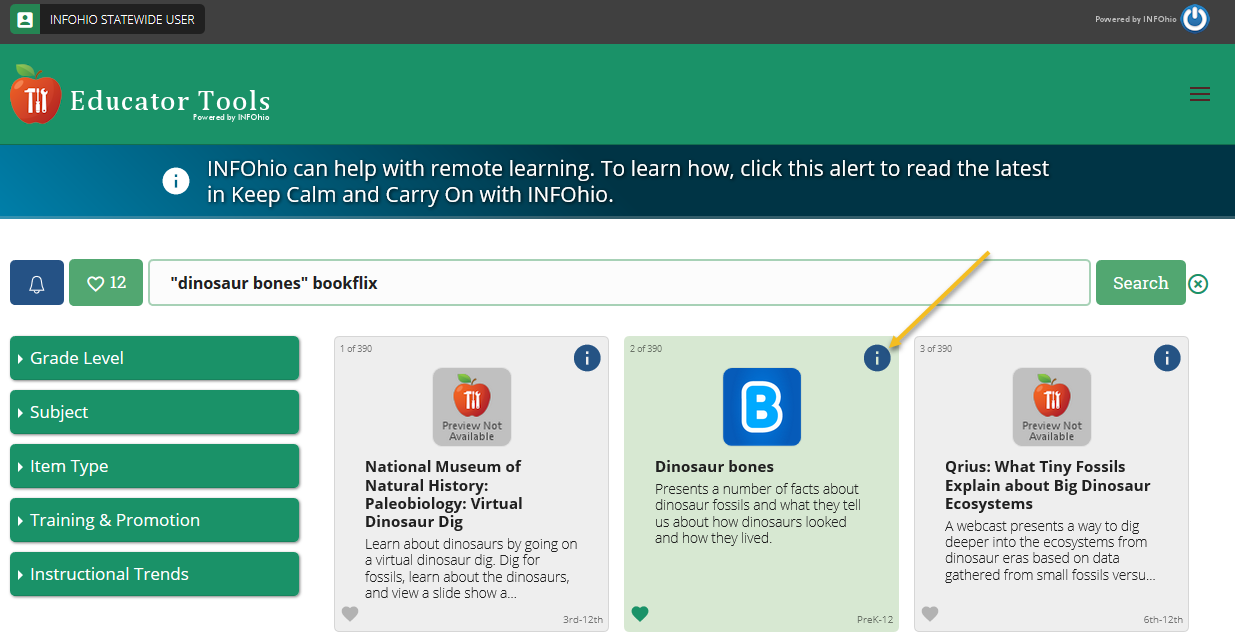 From the Educator Tools record for that BookFlix item, click the Bookmark button to find the URL you can use to link to this title.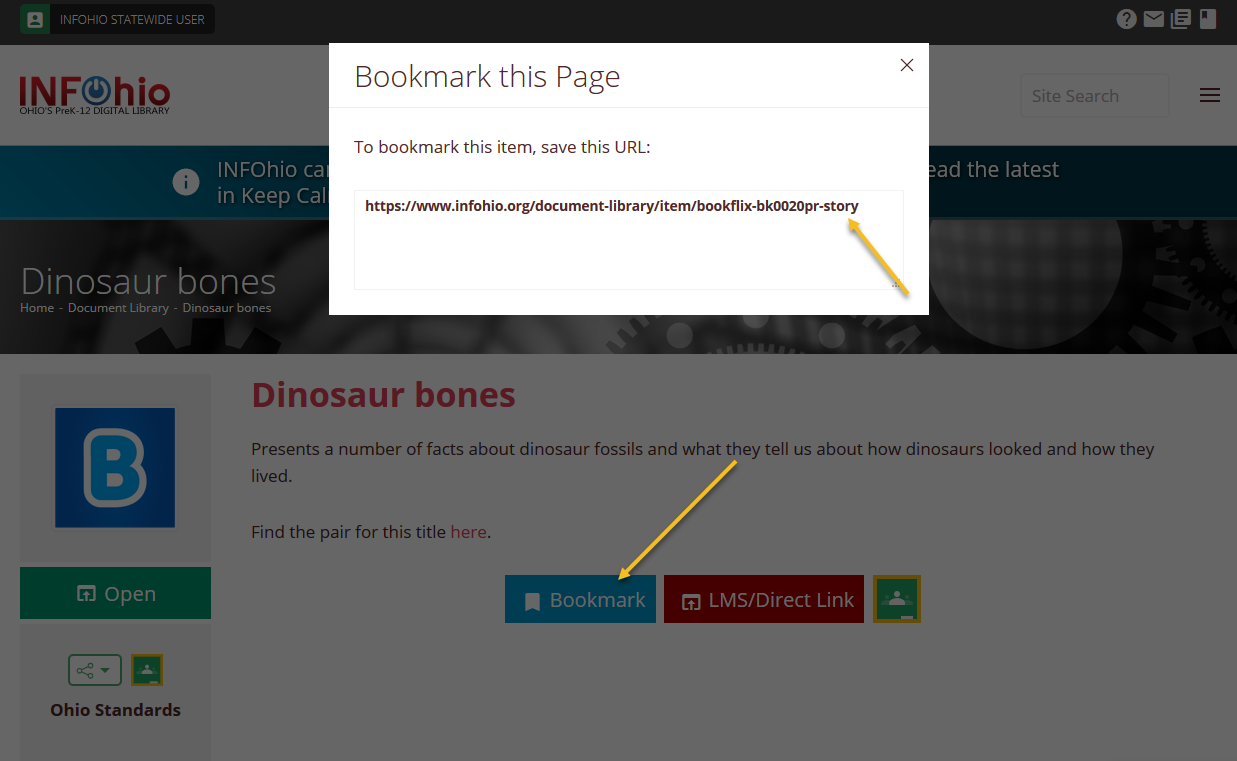 When students click your link, if they are already authenticated to the INFOhio website, they can click the green Open button to get to that title in BookFlix. If students are not authenticated, they can click the red Please Login button and log into the INFOhio website with your school's INFOhio username and password. Once they've logged in, they can click the green Open button to get to that title in BookFlix. Users who don't know their INFOhio and password can look it up here: https://www.infohio.org/login.
Want to share a collection of BookFlix titles? A recent enhancement to Educator Tools makes it possible to curate collections that you can share with others. To curate a collection of items in Educator Tools, click the heart on an item to add it to your favorites.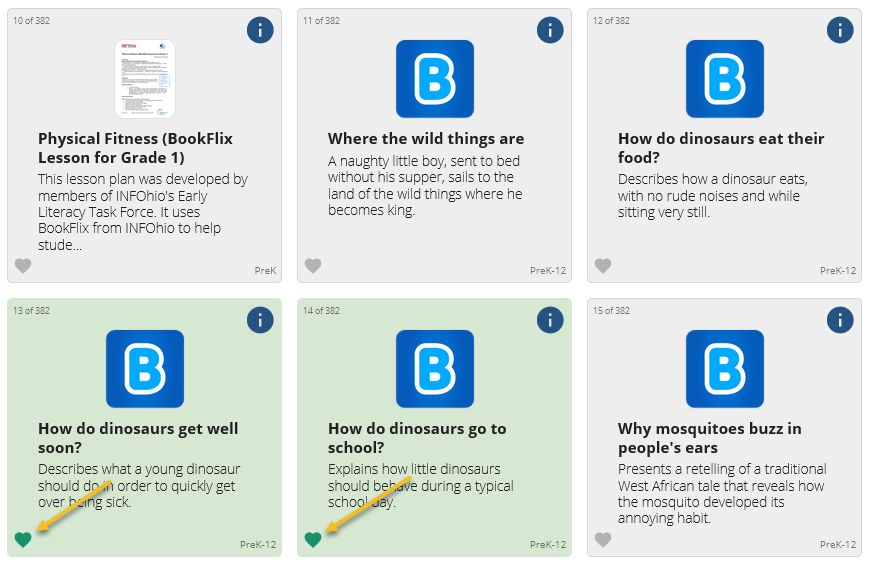 When you've collected your favorites, click the heart icon near the search box.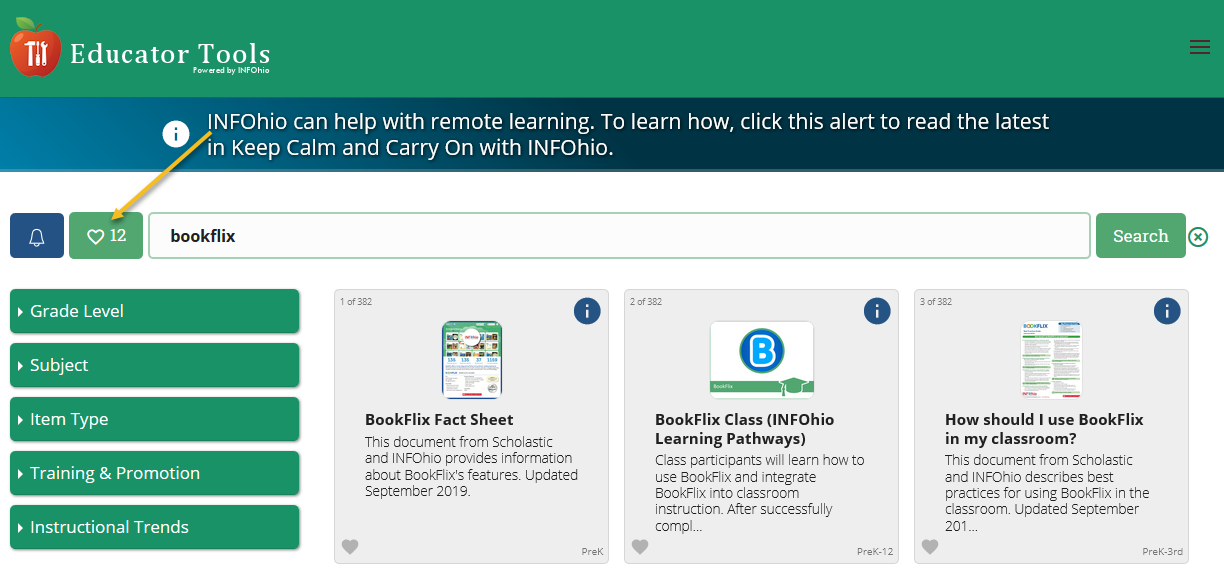 Check your list of favorites to make sure it has only the items you want in your collection. Then click the Copy URL button.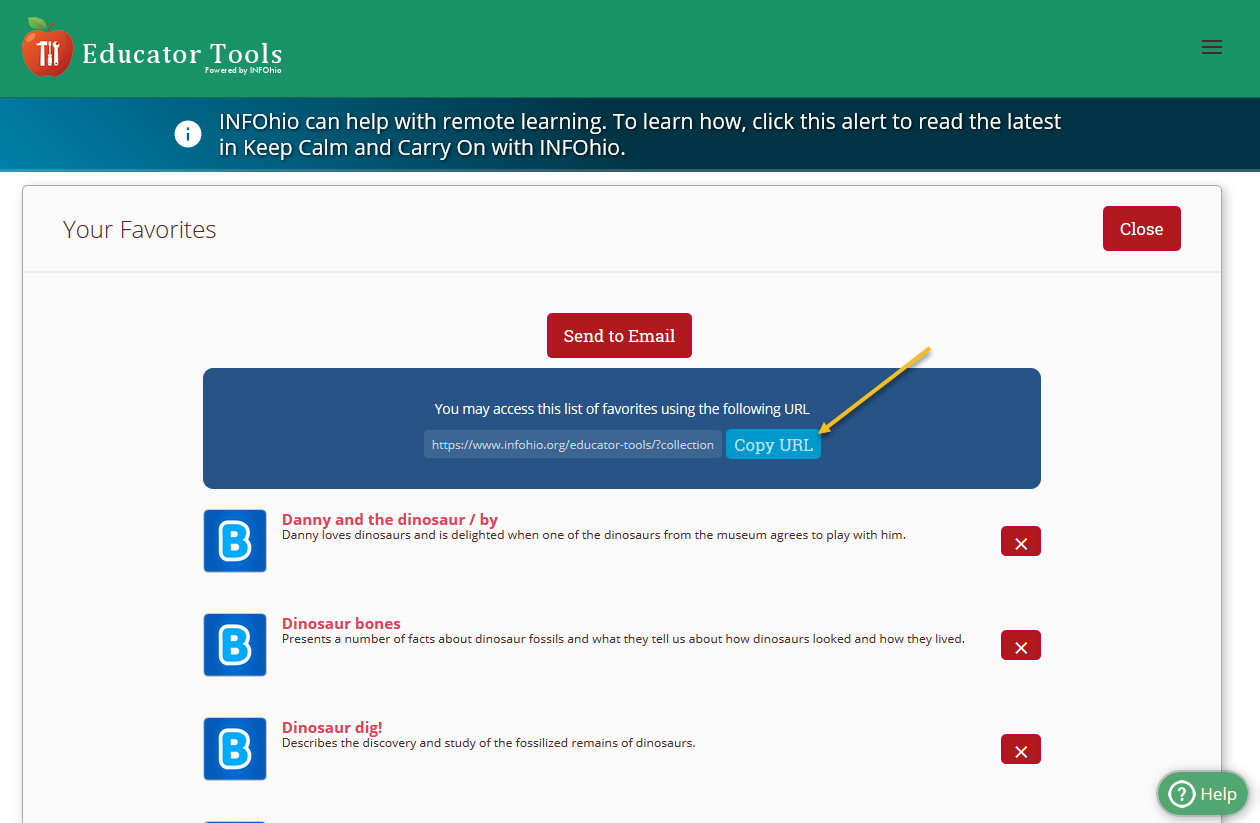 Paste that URL anywhere you want to be able to link to that collection. When users click the URL for your collection, they will see a list of the items you've curated. For example, this link is for a collection of BookFlix books that involve a dinosaur.
Want to see this action? Check out this GIF: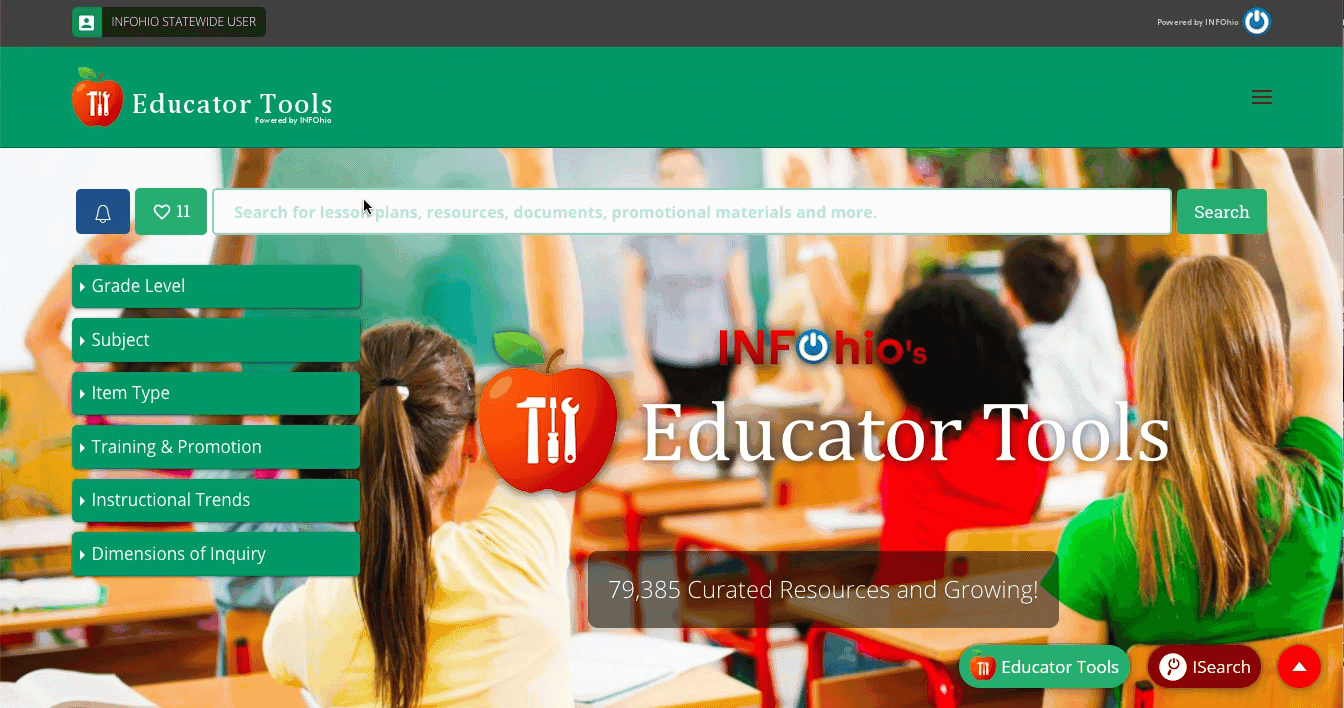 BookFlix titles are hotlinked in collections so users can click the title to get to the INFOhio landing page for that item. From there, users can click the green Open button to go directly to that title in BookFlix.
If you have any questions or need any help with BookFlix titles in Educator Tools, please contact INFOhio at support.infohio.org.