Ohio is a Future Ready state and is committed to ensuring that every student has a "rigorous, personalized learning environment filled with caring adults" (Ohio Department of Education). According to their website, Ohio Future Ready believes that students should own their learning, and that districts can maximize student learning with the alignment of technology and instructional goals. In their partnership with the Washington DC-based Alliance for Excellent Education, the Ohio Department of Education offers the Future Ready Framework, an interactive planning dashboard to help districts see the vision of, plan for, and build in personalized learning. When student learning is personalized, learners have the opportunity to develop skills such as critical thinking, problem solving, collaboration, effective communication, and metacognition.
INFOhio and the Management Council support personalized learning and encourage districts to pursue the Future Ready Ohio vision. The Are You Ready? blog series will help school and district leaders—superintendents, principals, tech integration specialists and coaches, and teachers and librarians—identify the INFOhio resources, tools, content, and features that contribute to the Future Ready Framework. These posts serve to foster district alignment with the goals established by the framework's assessments and guidelines. Each post in the series will address how INFOhio supports student learning by explaining how our content aligns with and supports the individual gears of the framework: Collaborative Leadership, Budget & Resources, Use of Space & Time, Curriculum, Instruction, & Assessment, Robust Infrastructure, Data & Privacy, Community Partnerships, and Personalized Professional Learning.
Use of Space and Time
21st Century learners expect shifts in how, where, and when they learn. Instructional practice, places, and pace must be flexible to meet the needs of today's students who use technology to collaborate and want to show competency via alternate methods. The use of space and time in the Future Ready Framework are supported by these elements:
Flexible Learning; Anytime, Anywhere
New Pedagogy, Schedules, and Learning Environment for Personalized Learning
Competency-Based Learning
Strategies for Providing Extended Time for Projects and Collaboration
INFOhio supports these elements by providing tools and resources that promote student choice, flexible scheduling, a transition from print to digital, and instructional practices for personalized learning. Teacher planning and approach must reflect these shifts in use of time and space as well. As districts and school leaders complete the Use of Space and Time Self-Assessment for this gear of the framework, keep in mind how INFOhio can help space and time transitions with no cost to the district or school.
Flexible Learning; Anytime, Anywhere
INFOhio's online resources and tools are available at no cost to students 24 hours a day, 7 days a week. Using IP and geo-authentication, student access to INFOhio's licensed digital content is immediate and easy. Schools that use learning management systems can easily implement direct links to the digital content, and even use widgets to search all of INFOhio's quality resources in one search. ISearch, INFOhio's discovery search layer, allows students to search almost all of the digital content available from INFOhio. Students are empowered to learn when they explore topics, analyze media, and evaluate digital content that is aligned to Ohio's Learning Standards. When students use ISearch, they are accessing a library full of journal articles, magazines, videos, eBooks, and encyclopedias. They are directing their own learning using valid information from reliable sources.  
Many schools also use Google's G Suite for Education to enhance and personalize student learning. Much of INFOhio's digital content can be sent to Google Drive or Google Classroom. This allows students to access digital content and save it for future use. Schools can learn more about how to use INFOhio and Google by reading the following blog posts.
Learning more about how to maximize the digital content available at no cost to Ohio's schools is a great way to encourage students to engage where, when, and how it is best for them.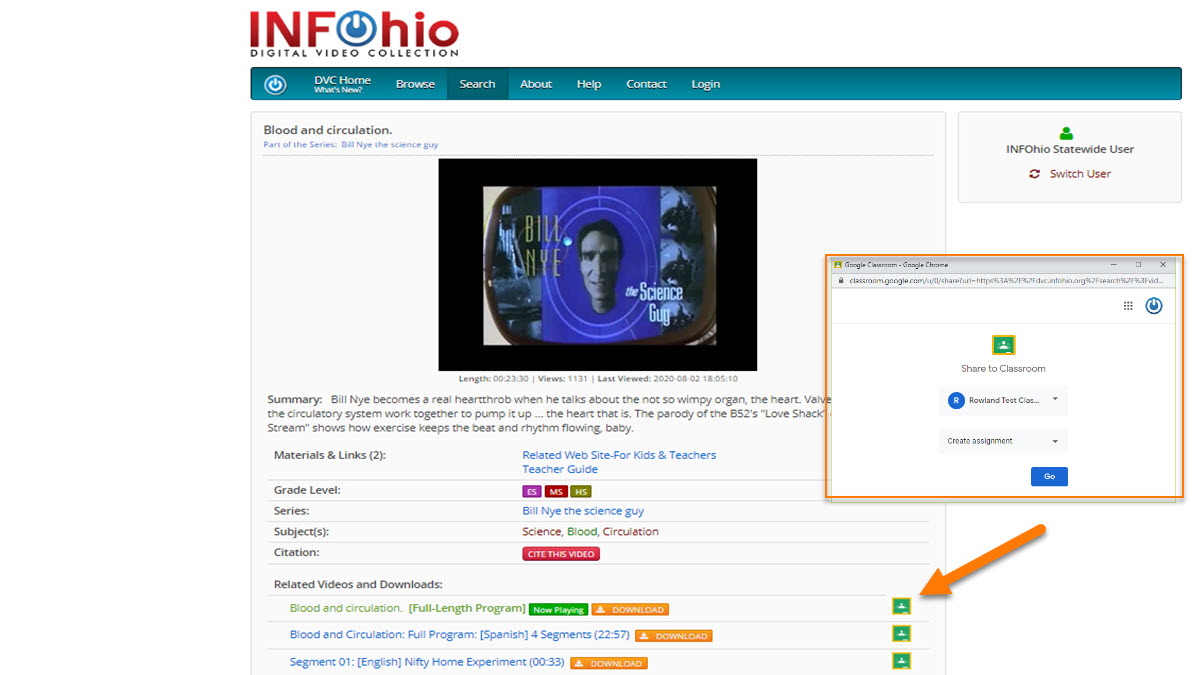 New Pedagogy, Schedules, and Learning Environment for Personalized Learning
Providing students with options and alternatives is a key part of creating Future Ready learners. Personalized learning and project-based learning require shifts in how students interact with teachers and how teachers plan instruction. INFOhio has developed web-based tools that can help schools explore and implement practices that encourage collaboration, project-based learning, and the print-to-digital transition. 
INFOhio believes that inquiry provides a foundation for all learning. When students actively engage in asking questions, locating, evaluating, applying and sharing information, and reflecting on the process and learning, they are cultivating the 21st Century skills essential to Future Ready. Using these inquiry tools can help with differentiation and promotes student choice. These INFOhio web-based tools use the inquiry process for student learning:
GO! Ask, Act, Achieve—Students are supported through the inquiry process to answer an essential question or solve a problem. The tool can be used by learners in grades 4-10, but content is targeted to teachers and learners in grades 6-8. An in-depth Teacher Guide is provided to scaffold the critical thinking and problem solving necessary for inquiry. 
IWonder—IWonder includes the "best of the best" sites hand selected by Ohio school librarians. These websites contain reliable information that supports what students are learning in school presented in an easy-to-use, engaging way. To promote 21st Century skills, use the IWonder Genius Hour activity which encourages students to ask, explore, evaluate, and create. IWonder is perfect for students in grades 3-9.
Research for Success (R4S)—Students who are preparing for college and careers will find support for the inquiry process by using R4S. Students in grades 11 and 12 and College Credit Plus classes can use R4S to break down the research process into manageable steps. Information literacy takes center stage in these online modules. A Teacher Guide is available to educators who sign up for an R4S account.
INFOhio's Educator Tools makes exploring new pedagogy and learning environments for 21st century instruction as simple as one search. INFOhio's Educator Tools is a curated collection of over 70,000 teaching and learning resources aligned to Ohio's learning standards. Content is evaluated by Knovation's team of trained educators and includes lesson plans, activities, videos, teaching modules, and more. Once teachers have found the quality lessons, theories, and strategies they need to help shift their instruction, they can collaborate and create in Open Space, powered by INFOhio. This online work area gives educators a platform where group thinking is encouraged and alternatives to traditional learning environments are presented.
Competency-Based Learning
The idea that students should stick with a concept until they have achieved mastery could be a new one for many schools with a traditional mindset. If you are completing the Future Ready self-assessments, and you need to help students, staff, and parents understand more about competency-based learning, do some research using INFOhio's Professional Databases. Databases such as Academic Search Premier and Professional Development Collection include articles, studies, and reports on educational topics and trends. Consider this article from a 2015 edition of District Administration. This concise article explains the "why" of competency-based learning and provides examples of what it looks like in various Ohio schools.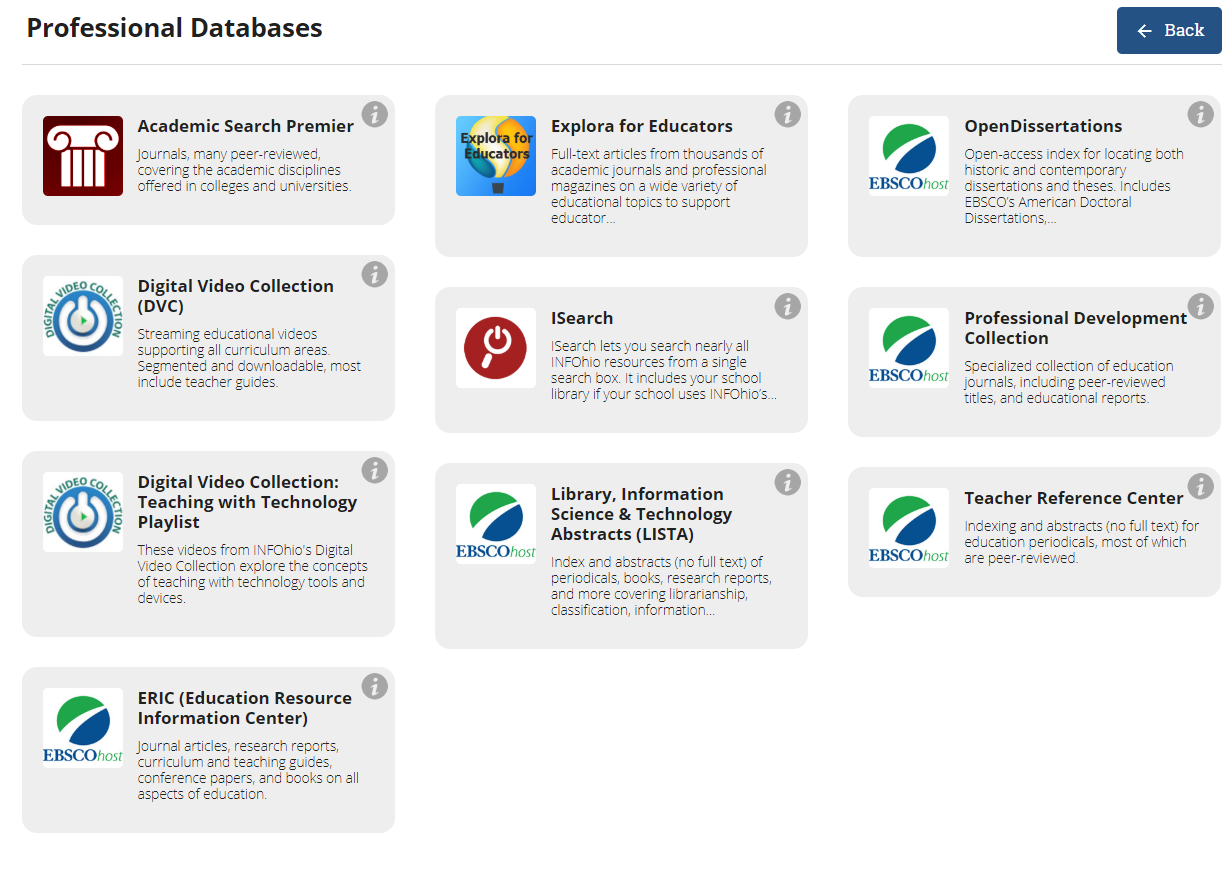 Strategies for Providing Extended Time for Projects and Collaboration
Similar to the idea of competency-based learning, extended time for learning can require a paradigm shift for staff and parents. INFOhio's Professional Databases provide examples of how extended time and creative planning can work. Search for articles that can help your leadership team find the right strategy to fit the needs of your school. This study from the Journal of Educational Technology Systems could be a good place to start.
Are You Ready?
Continue your Future Ready self-assessment using each of the blog posts aligned with the Future Ready Framework. Share how #INFOhioWorks for your district or school's Future Ready plan on social media. Tweet and post your #FutureReadyOH accomplishments!