Ohio is a Future Ready state and is committed to ensuring that every student has a "rigorous, personalized learning environment filled with caring adults" (Ohio Department of Education). According to their website, Ohio Future Ready believes that students should own their learning, and that districts can maximize student learning with the alignment of technology and instructional goals. In their partnership with the Washington DC-based Alliance for Excellent Education, the Ohio Department of Education offers the Future Ready Framework, an interactive planning dashboard to help districts see the vision of, plan for, and build in personalized learning. When student learning is personalized, learners have the opportunity to develop skills such as critical thinking, problem solving, collaboration, effective communication, and metacognition.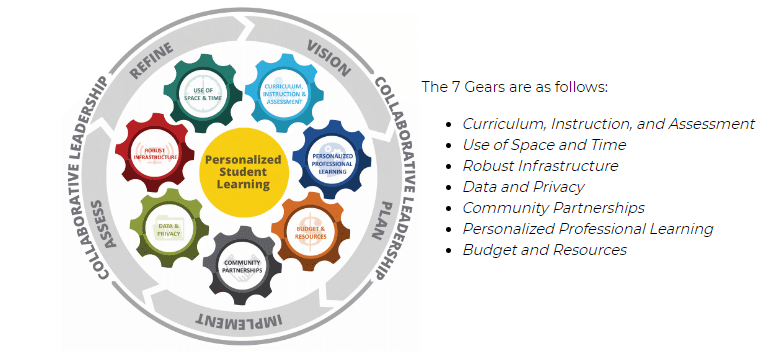 INFOhio and the Management Council support personalized learning and encourage districts to pursue the Future Ready Ohio vision. The Are You Ready? blog series will help school and district leaders—superintendents, principals, tech integration specialists and coaches, and teachers and librarians—identify the INFOhio resources, tools, content, and features that contribute to the Future Ready Framework. These posts serve to foster district alignment with the goals established by the framework's assessments and guidelines. Each post in the series will address how INFOhio supports student learning by explaining how our content aligns with and supports the individual gears of the framework: Collaborative Leadership, Budget & Resources, Use of Space & Time, Curriculum, Instruction, & Assessment, Robust Infrastructure, Data & Privacy, Community Partnerships, and Personalized Professional Learning.
Personalized Professional Learning
21st Century Educators use technology and digital learning to access high quality professional development. When dedicated school leaders participate in their own rigorous, authentic learning, students benefit. Personalized Professional Learning asks educators to trust each other, share and collaborate, use data for decision making, and produce best practices that disrupt the status quo and maximize learning outcomes and student success. The Personalized Professional Learning gear of the Future Ready Framework relies on these elements to produce Future Ready educators who model excellence for learners:
Shared Ownership and Responsibility for Professional Growth
21st Century Skill Set
Diverse Opportunities for Professional Learning Through Technology
Broad-Based, Participative Evaluation
INFOhio supports these elements by providing tools and resources that provide cost-effective, flexible professional development for today's educators. As districts and school leaders complete the Personalized Professional Learning Self Assessment for this gear of the framework, keep in mind how INFOhio can fulfill PD needs with no cost to the district or school.
Shared Ownership and Responsibility for Professional Growth
District-sponsored professional development in the Future Ready School helps staff engage in learning that is relevant and authentic. It should provide educators with the research foundation that will allow them to explore the application of 21st Century skills in curriculum, instruction, and assessment. INFOhio Campus offers districts, schools, and individuals many options for professional development.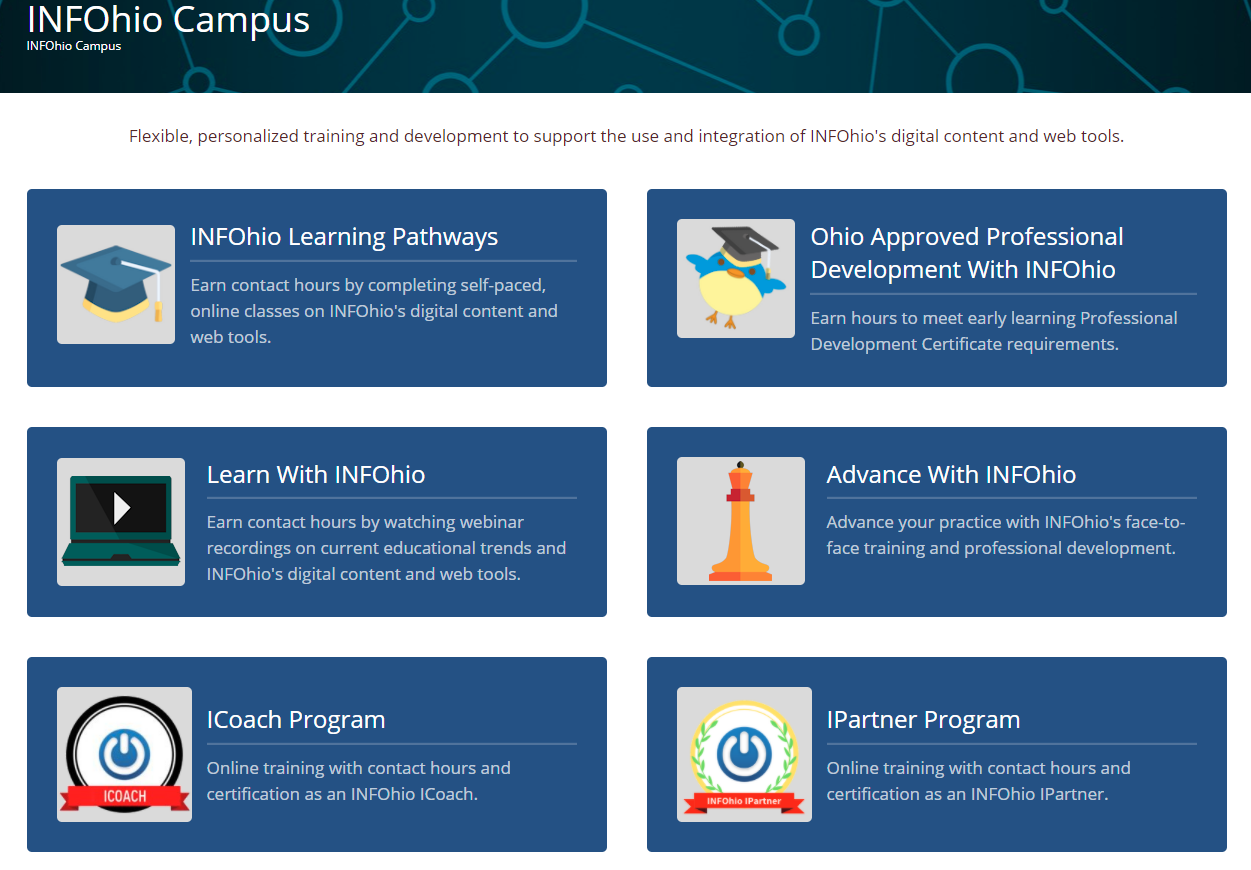 21st Century Skill Set
INFOhio Campus has learning options to fit the needs of adult learners wherever they may be. Because the professional development offered by INFOhio is flexible and can be personalized, districts can sponsor the learning opportunities best for their district needs. Inquiry is INFOhio's foundation, and the learning options found in INFOhio Campus not only help educators understand how to help their students develop critical thinking, problem solving, creativity, collaboration, and self-direction, but will also help participants develop these skills for their own growth. For example, INFOhio Learning Pathways are comprised of individual classes which train users on the freely available resources and web tools from INFOhio. Each class trains the user on how to use and navigate the resource or tool and includes lessons on how to integrate it into the classroom. The INFOhio Learning Pathways and classes can be used not only for learning, but also for district training as each class includes a trainer guide. The learning environment is accessible on all devices, helping districts no matter what devices are available.
Upon completion of each class, participants earn a certificate for contact hours. If participants choose to take all the classes in an INFOhio Learning Pathway, they earn a digital badge. There are many options available for learning with INFOhio's Learning Pathways. 
Diverse Opportunities for Learning Through Technology
Future Ready professional development is all about personal professional growth, and technology is the medium that enables districts to promote, provide, and model it for staff. INFOhio Campus has many learning options and uses online classes, webinars, face-to-face training and other platforms to encourage participants to learn at their own pace in flexible environments and adapt content to fit the needs of both the teacher participant and their students. Which of the following INFOhio Campus options works for your district staff?
Instructional Coach (ICoach) Training Course - INFOhio trains school employees on how to use and integrate INFOhio's digital content into teaching and learning. The 15 hour course is self-paced and provides districtss and buildings with in-house experts on the quality, vetted INFOhio content and tools provided at no cost to Ohio schools. How many ICoaches does your district or school have? Encourage staff to apply for this free training and clearly communicate to your stakeholders that you value 21st Century skills and will integrate them into student learning.
Instructional Partner (IPartner) Training Course - IPartners are a lot like ICoaches! They are trained on how to use and integrate INFOhio's digital content into teaching and learning. The difference is that IPartners are employed by educational support agencies such as ESCs, ITCs, Ed Techs, and public and academic libraries. IPartners are invaluable to INFOhio's as their outreach and training supports our mission. IPartners take a two-hour course and earn contact hours upon completion.  
Learn With INFOhio Webinars - LWI Webinar recordings on current educational trends that highlight the best of technology integration and innovative practices are available on demand to watch alone or as a group. With topics such as maker spaces, differentiation, paperless lit circles, and Genius Hour, the hour-long webinars provide educators with a wide spectrum of learning possibilities, flexible scheduling for PD, and a certificate for an hour of contact after the final quiz is passed. PLNs and TBTs, departments, and administrative teams can experiment with different methods of learning and share the content with others. Self-directed professional learners can search or browse over 60 archived Learn With INFOhio Webinars.
Advance With INFOhio Face-to-Face Training - Our newest stop on INFOhio Campus is our face-to-face training and PD option. Be strategic in your pd choices and advance your practice with INFOhio! Our hands-on training is based on research-based strategies and uses a training curriculum that can be discussed during consultation to find the topic that fits the needs of staff. INFOhio offers many flexible options to schools, districts, or other agencies who wish to learn more about how to use our resources and services to transform instruction and impact learning. 
Broad-based Participative Evaluation Aligned to Vision for Digital Learning
Future Ready schools work collaboratively, track progress, use data, have support systems, and share responsibility for professional development. INFOhio's PD options give these schools content and frameworks to achieve the learning goals of schools and educators. INFOhio Campus options allow educators to gain knowledge and experience on using technology as a learning and teaching tool.
Are You Ready?
Continue your Future Ready self-assessment using each of the blog posts aligned with the Future Ready Framework. Share how #INFOhioWorks for your district or school's Future Ready plan on social media. Tweet and post your #FutureReadyOH accomplishments!