When INFOhio licensed the quality eBooks from Scholastic's BookFlix for all Ohio students, parents and teachers five years ago, we knew we were into something good. With over 130 fiction and nonfiction pairs of popular titles, BookFlix is a resource that engages students, even reluctant readers, and brings them back again and again to read, listen to, and learn from digital text. Better yet, BookFlix offers some titles in Spanish, has games to reinforce crucial reading skills, and has a lesson plan for each of the title pairs. It's no wonder that BookFlix is consistently the most-used resource out of all the digital content we license for Ohio at no cost to the students, teachers, or parents who can access it anywhere there is an internet connection.
With a new interface and helpful features, BookFlix is now more user friendly than ever! And INFOhio users sure love the new interface. October 2018 was one of the highest use months BookFlix has had. While the same popular BookFlix content remains—Curious George, Click, Clack Moo, and the Little Red Hen just to name a few—Scholastic redesigned its interface to make it easy to find titles and instructional support materials. Students can still browse through the colorful covers, but teachers can use the title search to find the right book for their lesson. In addition, it is easier to sort titles by theme, reading level, and even length to make sure that teachers can align the digital content to standards and foundational reading skills addressed in the classroom.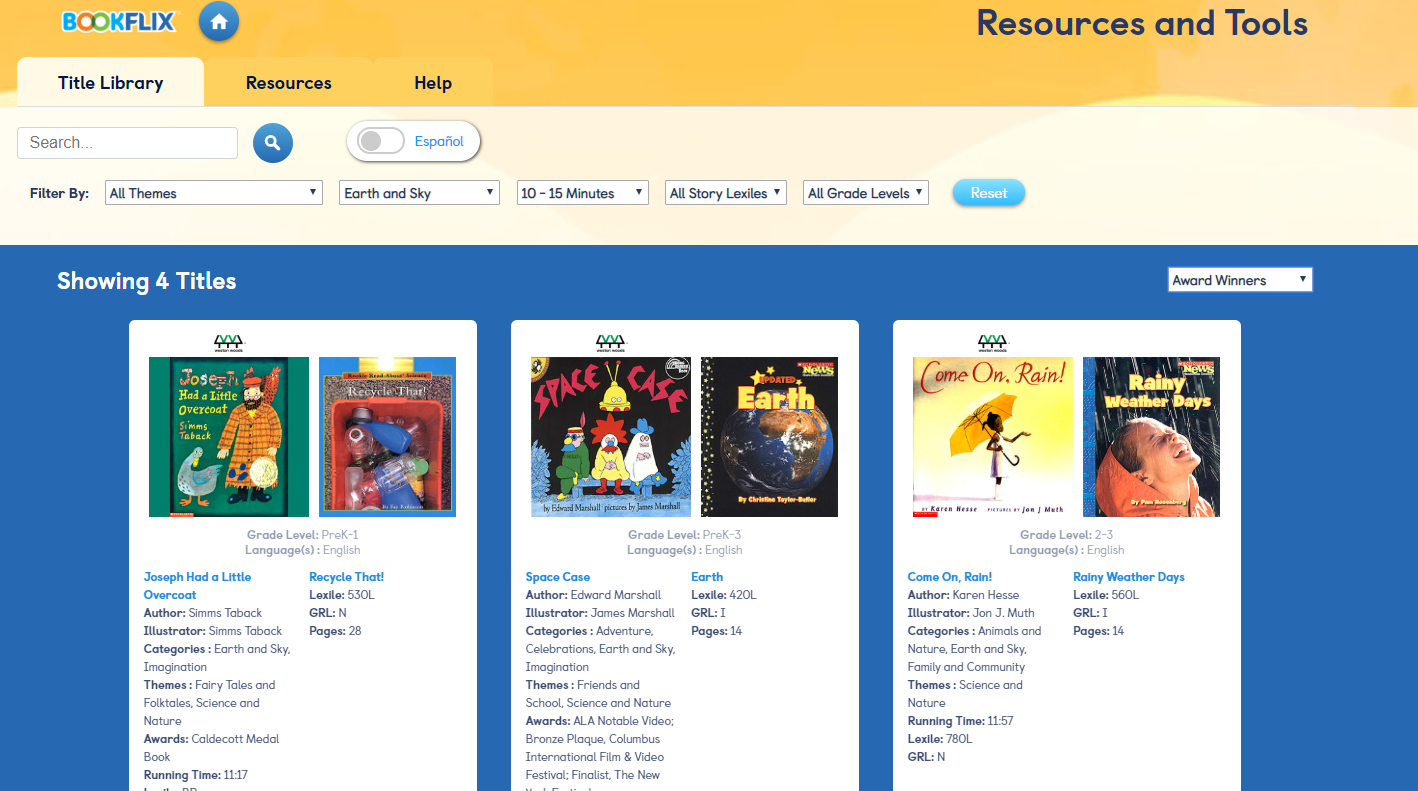 BookFlix Best Practices
There are so many great ways to integrate Bookflix into teaching, but here are a few popular methods shared by Ohio teachers:
While reading a BookFlix book together, stop the reading to discuss ideas or compare the written book versus the digital book. 
Provide students with writing prompts for a BookFlix book. After reading the story on BookFlix, students can write about what they learned or write their own story based on what they read. "My students read a story about Johnny Appleseed, then responded to a writing prompt about the ways he showed good citizenship."
Encourage students to keep a reading response journal and include an entry on what they read during their BookFlix reading time. Use the journal to monitor their comprehension and connection to what they have read.
These best practices are included in the BookFlix Best Practices flyer created after we surveyed our top BookFlix users across the state. You can browse useful tips and strategies that can be used in PreK-3 classrooms or at home.
BookFlix Class
Are you feeling excited by the idea of this great digital content available to you at no cost? Intrigued by integrating technology into your reading time, but still not sure how to start? Make sure you make the most of BookFlix by taking training designed just for busy teachers and districts looking for cost effective professional development. INFOhio has created the BookFlix Class to accommodate both individual teachers and groups of staff members who want to learn BookFlix basics and design instruction around digital content.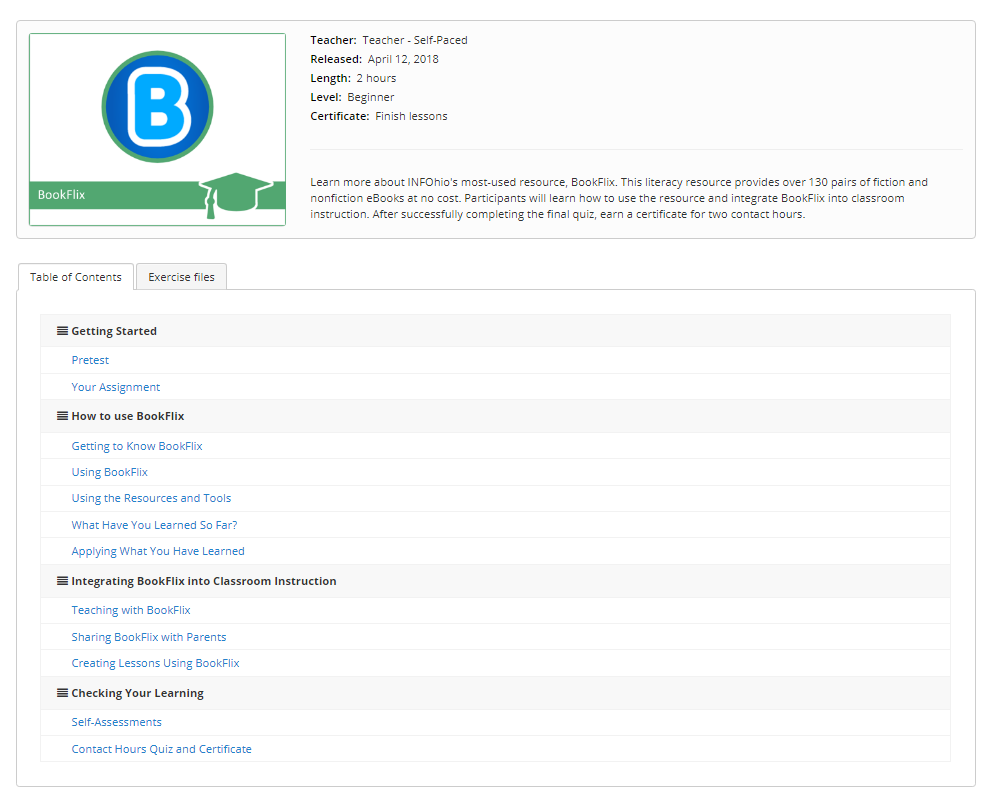 The objectives for the course are as follows:
Understand the importance of using digital print and other media in early learning curriculum. 
Find BookFlix on the INFOhio website.
Use the navigational tools to search and browse content to find the best title for students and instruction.
Find the instructional supports available in the resource.
Identify best practices for using BookFlix in the classroom.
Consider methods for sharing BookFlix with parents.
Create a lesson plan to integrate BookFlix into instruction.
Reflect on learning by sharing information with others. 
The online course is designed to be completed in two ways: alone or as part of a group. Even though individuals may move through the content at their own pace, the course outlines activities that will take about two hours, and once finished, attendees may take a quiz to receive a certificate for two contact hours that can be used for professional development requirements. There is also a Trainer Guide for face-to-face professional development.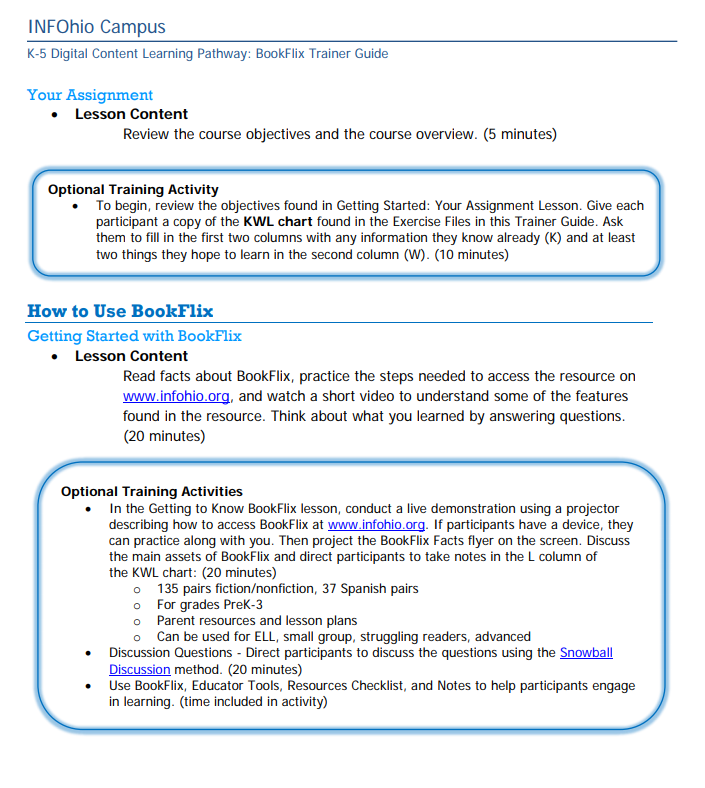 Even if you have been using BookFlix since INFOhio first licensed it for Ohio Schools, don't be afraid to take a look at the course and find new ideas, easy shortcuts, or lesson plans. If you want to learn about more digital content from INFOhio, you can complete the K-5 Digital Content Learning Pathway to earn additional contact hours. Share with us how BookFlix and #INFOhioWorks for you! Stay connected with us through social media, our newsletter, or email list.