A new year is a great time to plan ahead and set goals. It is a time of renewal, and for many, a fresh start. However, a new year is also a great time to look back at the year that was. INFOhio had a great 2018 with new and improved resources and tools and a fresh new look. Here is our countdown of the Best of 2018 from INFOhio.
6. Have No Fear, INFOhio is Here!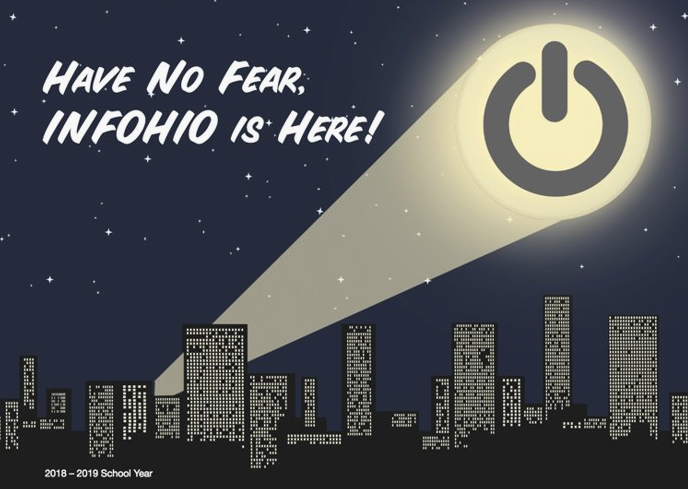 2018 was the dawn of a new INFOhio. After two years of hard work to restore our funding, Ohio's PreK-12 Digital Library was back in full force thanks to the hard work of teachers, librarians, students, and parents across the state. Calls, letters, emails, and face-to-face visits to Ohio state legislators made INFOhio a name known in every office of the statehouse. With restored funding, INFOhio set out to remind our users that we are still here - providing quality instructional digital content at no cost, automating school libraries, offering flexible professional development opportunities, and creating web-based tools to optimize student learning. Our Have No Fear, INFOhio is Here marketing series is a great way to remind our users that Ohio's PreK-12 Digital Library is still here to save the day.
5. Inquiry as a Foundation

INFOhio believes that inquiry is the foundation for learning, and the many tools we have developed use inquiry as the core for their structure. Research 4 Success, Book Nook, IWonder, and the INFOhio Early Learning Portal are all based on the idea that learning is a process and students must explore, evaluate, and create for a deeper understanding of a concept. GO! Ask, Act, Achieve got special attention in 2018, getting a full makeover which included turning PDFs into Google Docs, adding modules to scaffold student learning, and including robust web creation tools to help students in grades 4-10 succeed in project-based learning. Teachers will find a new, in-depth Teacher Guide which uses Google HyperDocs to provide a structured plan for leading students through the inquiry process. 2018 learners expect hands-on and self-directed learning. INFOhio's tools provide both teachers and learners with the opportunity to learn while improving collaboration and communication skills, both essential for leaders of the future.
4. Supporting Digital Natives

As schools continued to explore the ways to maximize their digital content collections in 2018, INFOhio developed a tool to help bring eBooks to students faster and easier. The ISearch eBook Connector provides schools that use the INFOhio Integrated Library System with seamless access to Overdrive titles in their collection. ISearch allows for easy searching and the eBook Connector makes accessing eBooks as easy as 1, 2, 3 - Find, download, read! Encouraging students to read digital content on a screen is one way to improve and support comprehension of digital text. INFOhio's ISearch eBook Connector is just one more resource to provide educators with the right information and tools to help students successfully learn the skills needed for reading on the screen. Learn more on the Teach With INFOhio Blog post Reading on the Screen: Why Supporting Digital Natives Matters.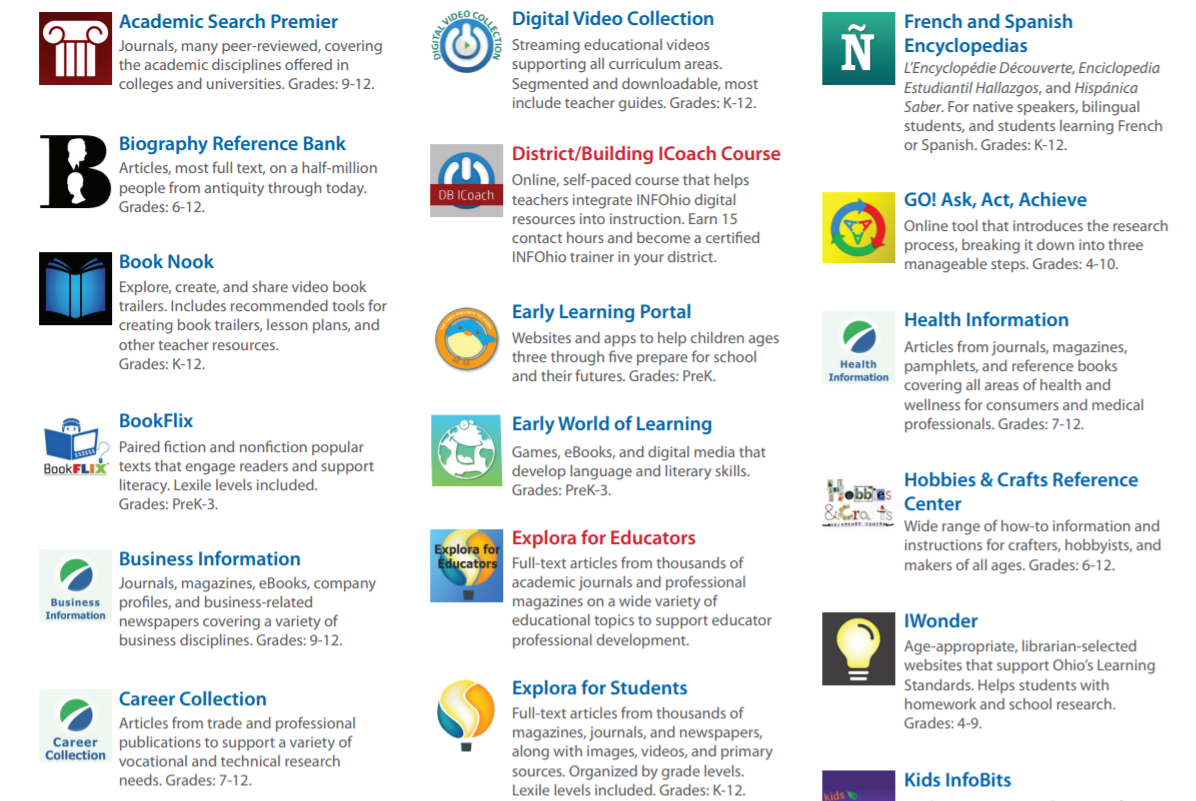 2018 was a big year for new and more quality digital content for educators, students, and parents. The Library Connect Ohio partnership which includes INFOhio, OhioLink, and OPLIN collaborated to bring new online resources to Ohio: Transparent Language Online, Gale's Kids InfoBits and Chilton's Library, and Oxford Research Encyclopedias and Very Short Introductions. In addition, the Libraries Connect Ohio added new content from EBSCO with Hobbies and Crafts Reference Center, Small Business Reference Center, and Home Improvement Reference Center. Whether exploring a topic, reading for information, or providing evidence for an argument, INFOhio's collection of digital resources provides quality articles, videos, eBooks, and encyclopedias for Ohio's PreK-12 schools.
INFOhio also provides digital resources through a grant from the Ohio Department of Education. Scholastic's BookFlix kicked off the 2018 school year with a new searchable interface that eliminated Flash but keeps the same much-loved content - 136 fiction/nonfiction eBooks. Scholastic's Storia has been available to Ohio 4th graders for three years, but in 2018, INFOhio added 5th graders. INFOhio's Storia collection now offers over 360 eBooks for Ohio's 4th and 5th grade students, teachers, and parents. BookFlix and Storia offer readers a strong eBook collection, helpful for creating a love of reading with popular titles and interactive features that engage students.
2. New Look and Easy Access
In 2018, we responded yet again to the requests of our users, "Make it easier to use your site!" We listened, and in July launched a new look for www.infohio.org. With our new mobile-first interface, most of our content can be accessed with one click from our home page. If what you are looking for isn't there, you will find it in fewer than three clicks! And we added some technical magic to help you access INFOhio's licensed content without having to type a username and password. Three things happen when Ohio users visit www.infohio.org:
We check to see if we recognize your IP. If we recognize your IP, we will log you in with your school username/password.​
If we don't recognize your IP, we'll check a cookie to see what school you logged in with last and will log you in with that school username/password.​
If we don't recognize your IP and there's no cookie, we'll check to see if you're currently in Ohio. If so, you will be logged in with the state wide username/password.
Users have let us know how much they appreciate their experience at www.infohio.org.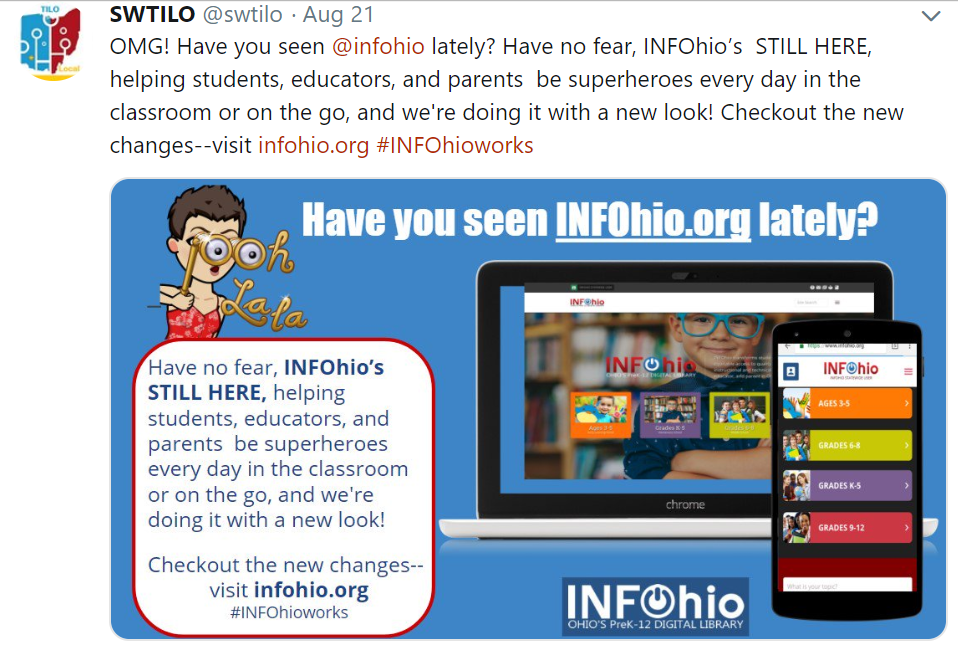 1. Open Education Resources

Since its inception, INFOhio has worked to provide quality instructional resources and tools available at no cost to educators and students. Open Education Resources—materials in print or digital that are in the public domain or have an open license that permits access at no cost as well as allowing for use, redistribution, or adaptation by others—are highly sought by educators in today's classrooms. Finding instructional resources on the internet to support student learning and improve district evaluation is at a premium in Ohio. In an effort to empower Ohio's students and teachers, INFOhio has continued its OER path in 2018. In August, we released the new Educator Tools. Materials in Educator Tools are aligned to Ohio's Learning Standards, and teachers can refine their search by grade, content area, and material type. But we aren't stopping there. In 2019, we will launch INFOhio's Open Space. Educators will be able to collaborate and contribute content for other Ohio educators to use. With the application of a Creative Commons licenses, this content may be retained, reused, revised, remixed, and redistributed to maximize student learning and minimize costs. Look for more on Open Space later this winter!
There's no doubt about it; all through 2018, INFOhio was working hard for Ohio students, parents, and teachers. You can bet that in 2019, #INFOhioWorks for you! Share your success stories using INFOHio with us on social media. Here's to a New Year!